This UP alumni-owned restaurant promises 'feel-good food' you'll come back to
Maximo promises an authentic ambience of nostalgic homecooking
info
Maximo Comfort Cuisine & Casual Dining

Filipino

11 a.m. to 11 p.m. Mondays to Thursdays, 11 a.m. to 12 a.m. Fridays and Saturdays, 10 a.m. to 10 p.m. Sundays

437-7661

₱

P950 for two people
Despite its narrow façade, the restaurant's parking area is always teeming with cars. Even from afar, you can see the flurry of activity inside through its glass windows, and you can't help but want to join in on the fun and discover Maximo's promise of comfort food and casual dining.
An easygoing vibe greets you as soon as you open Maximo's door. The cozy but no-frills interiors are a practical mix of couch and chair seating, occupied mostly by groups engaged in animated chatter. The atmosphere is exactly how the all-male, all-University of the Philippines Manila alumni owners envisioned it to be, a hangout where they can kick back and enjoy food that they grew up with.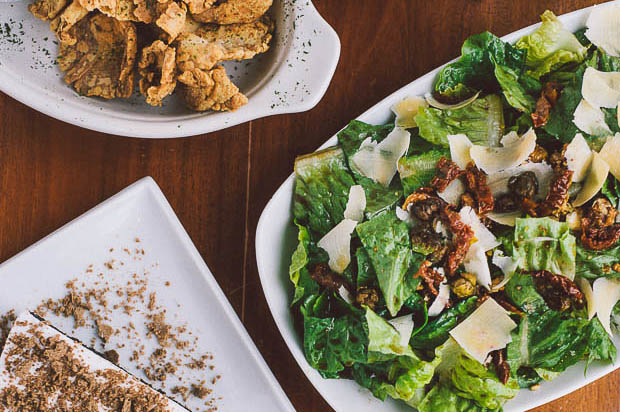 The menu is a lineup of items that marry the familiar with the interesting: lengua sisig, tuyo with farmer's cheese pasta, binagoongang bagnet, and galantina sandwich. The fast-selling lamb salpicao and mushroom chicharon with cilantro garlic dip are testaments to how chef Geth Savellano perfectly injects excitement into old favorites without muddling what we love about them. That holds true down to the healthy Maximo Salad, its flavors clean, each component recognizable, and every bite making a connection.
But the nostalgia really kicks in with the desserts. For the Flat Tops buchi, you have to work your way through the crisp exterior and the soft layer of camote before getting to the unmistakable taste of your childhood bonbon. The gratification from the Chocnut chocolate cake is more immediate, with the Chocnut shavings right on top of the very dense and lusciously moist chocolate slice.
With the selection of dishes available, Maximo is the type of place that you can and would want to frequent. And with its 60-seater second floor function room, it may just be where you'd want to hold your next party, too.
This story was originally published in Northern Living, September 2014.
TAGS: blue ridge casual dining comfort food filipino katipunan maximo Maximo Comfort Cuisine & Casual Dining nolisoliph
WHY GO?
Aside from the hearty meals that are perfect for sharing, Maximo's dense Chocnut cake will make you finish it all by yourself (and maybe order seconds!).
MENU