You'll only need P1,400 to try everything on Famry's menu
The Taiwanese resto offers comfort food perfect for the palate and the wallet
info
Famry

Taiwanese

11 a.m. to 10 p.m.

₱

P500
Found in between Milk Trade and Liberation Shawarma, Famry is the newest member of the Hole in the Wall family. The stall isn't as jazzy as Liberation on its left and not as vibrant as Milk Trade on its right—the wooden facade is only embellished with an emerald signage and a small logo on the side, but still, it stands out in its own way.
Famry specializes in Taiwanese cuisine and offers a menu with limited items, you can count them on your fingers (Okay, four dishes on their list when we went there, five next week as they're going to introduce one more, and one beverage offering with three flavors.). And according to Angela Lim, Hole in the Wall's events manager, these five dishes aren't going anywhere—they'll stick around until it becomes second nature to patrons to refer to Famry as that affordable but authentic Taiwanese comfort food place.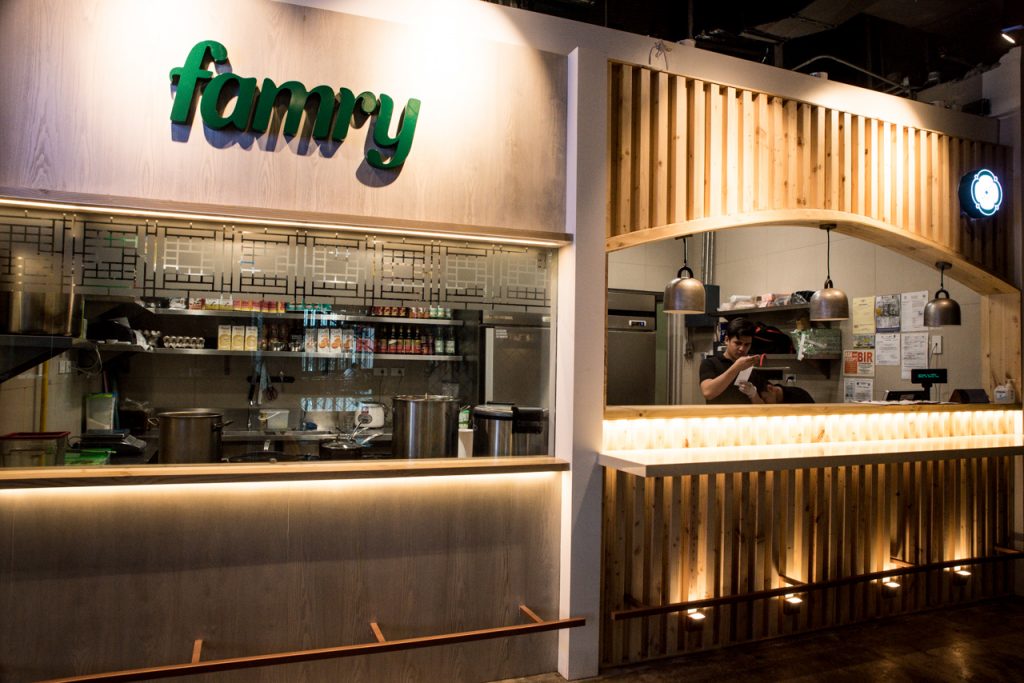 Thanks to the lack of Taiwanese options available in the market, Famry came to life. Sure, there are some restaurants focused on that particular cuisine, but they're either too expensive and inaccessible or just too fixated on dumplings. Famry brings economical but delectable items on the table that are basic and true to Taiwanese home cooking, like minced pork rice.
While we were feasting, our associate art director Danica shared that during her trip to Taiwan, she noticed that the minced pork there is like our pares here, a staple street food which draws lines of customers to the food stalls. True enough, Famry's own take of the rice bowl's savory goodness is the kind of comfort one would seek after a rigid day or downing glasses of alcohol—just like the good ol' pares but with Taiwanese five-spice.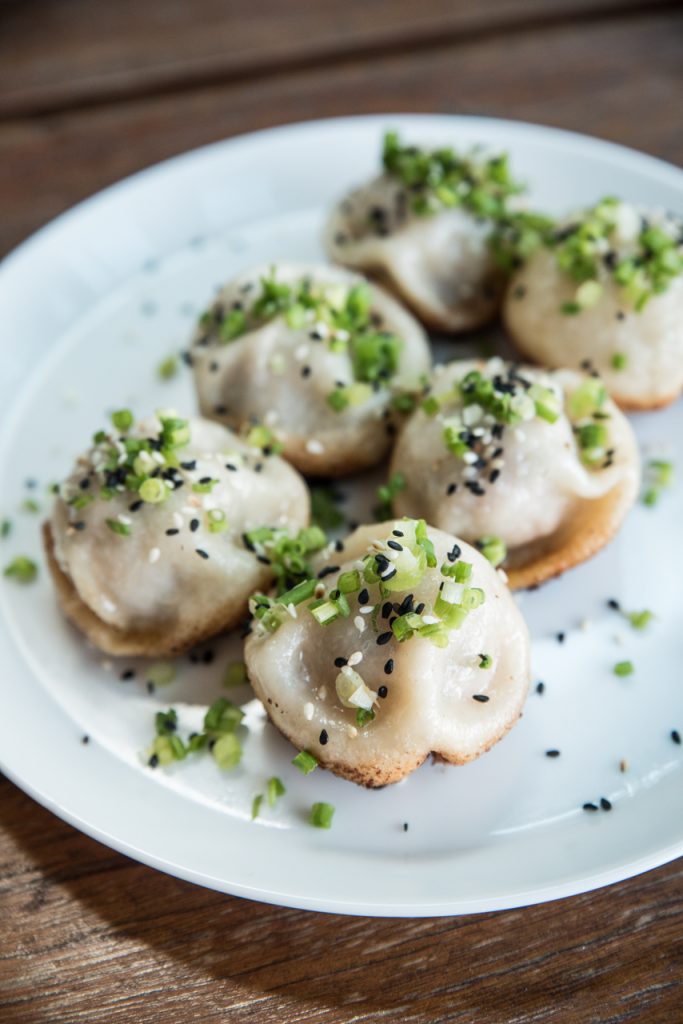 These duck broth-infused, half-fried dumplings are the hardest to perfect among the food offerings, said Lim. Since Famry makes the dough in-house, they need to polish it to be not as thick as siopao and not as thin as xiaolongbao. They also had to adjust the cooking and serving time. It's best to consume these shenjianbaos once they're served to get the most out of the soup inside; letting them sit out for too long allows the dough to absorb the liquid, thus making the dough less crispy. We don't pay for supple bunplings.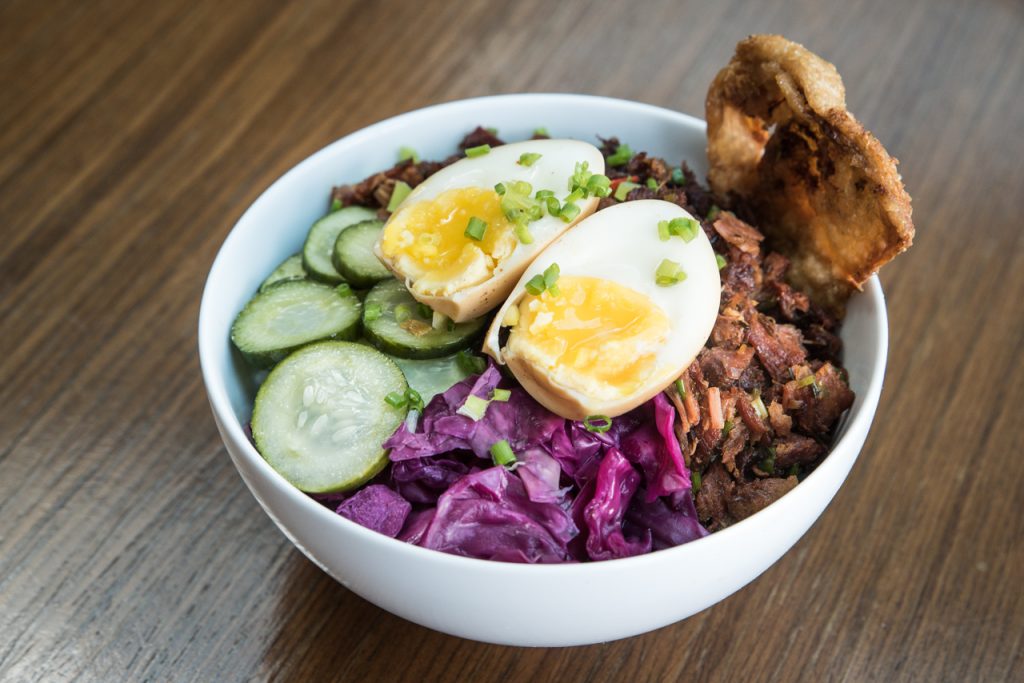 Crispy duck rice is also garnished with dill pickles and pickled cabbage that not only adds color to the dish but also texture and variety to the palate, cutting the umami flavor that can be overwhelming. It's like minced pork rice, but instead of pork, they serve it with duck. That bowlful of Taiwanese treats can actually feed two people, or just one if they've had a bad day.
The soy egg is optional for the two rice bowls, by the way. To add one, you'd only have to pay P40.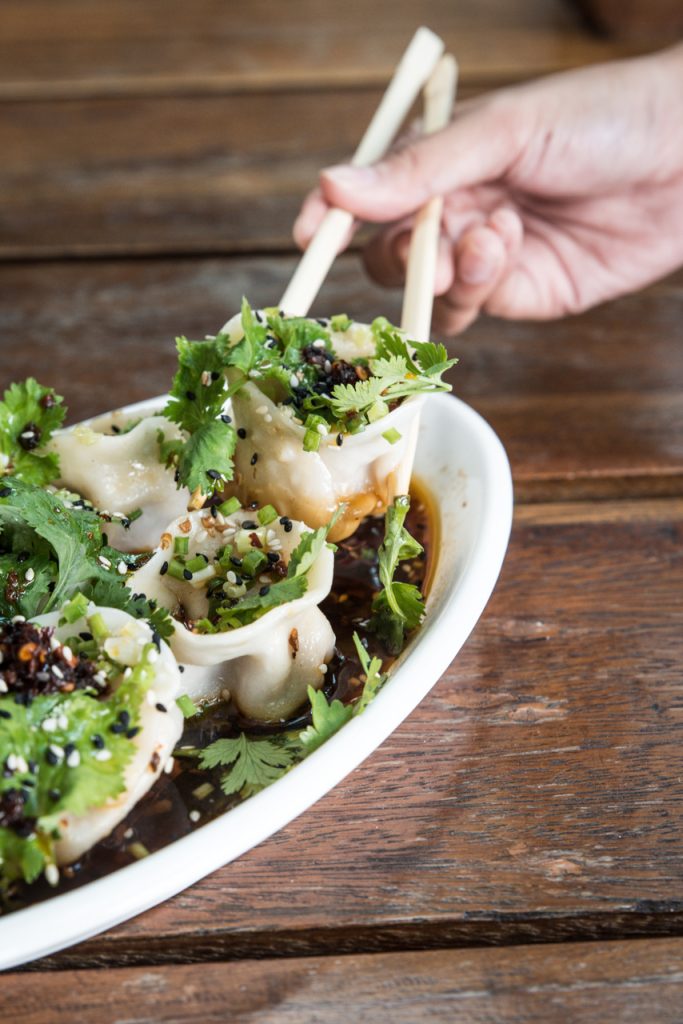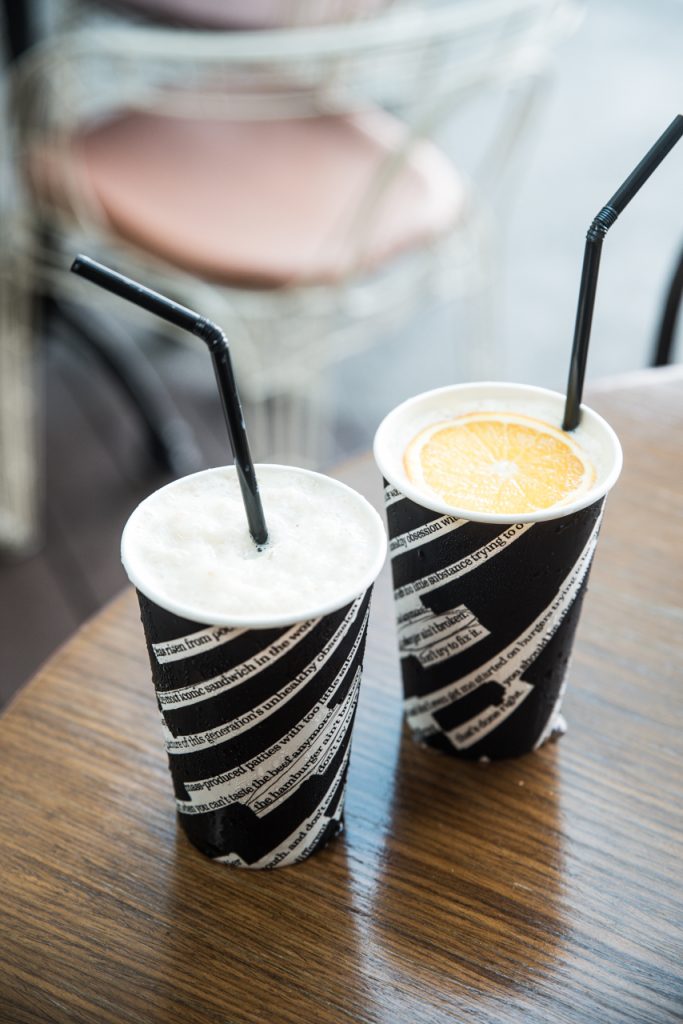 For those who can't stand fiery flavors, trust me when I say these spicy dumplings aren't as hot as they look. Just take those dried chilis on top away and you'll only taste some bite. The spiciness doesn't seep through the insides even on the duck broth, so spicy food lovers may be a little disappointed here. But the sauce compensates. If you've already devoured these dumplings, add the sauce to your crispy duck rice or minced pork rice to add more pungency and to not let the tasty sauce just go to waste.
Famry has the Taiwanese basic food that you don't know you're actually craving for. What's appealing, too, is the menu's affordable price range. If you're trying it out for the first time, bring a friend and you'll just need to shell out P1,400 to try everything on the menu.
TAGS: century city mall city guide eats famry Hole in the Wall makati nolisoliph restaurant south Taiwanese
WHY GO?
Bite into the bunplings and you'll be treated to a savory broth that delivers just the right dose of umami.
MENU