Since the pandemic, cycling or riding a bike has been a popular choice of transportation for everyone, either for going to work, recreation, or doing everyday activities. And it's not just in Metro Manila, where an estimated half a million people ride a bike to work based on a survey done in June by a group advocating environment-friendly modes of transportation.
Cities outside of the National Capital Region are making strides to ensure the pedaling public has a fair and safe share of the road. In Iloilo City, lauded for its bike-friendly infrastructures, a green bike tunnel is underway.
[READ:
Are we ready to have bikes as the "new normal" mode of transportation?
]
Mobility Awards aims to spotlight these cities, establishments, and workplaces that champion two wheels and the welfare of cyclists. The initiative by the Institute for Climate and Sustainable Cities, The Climate Reality Project PH, 350 Pilipinas, MNL Moves, and Pinay Bike Commuter was launched last year.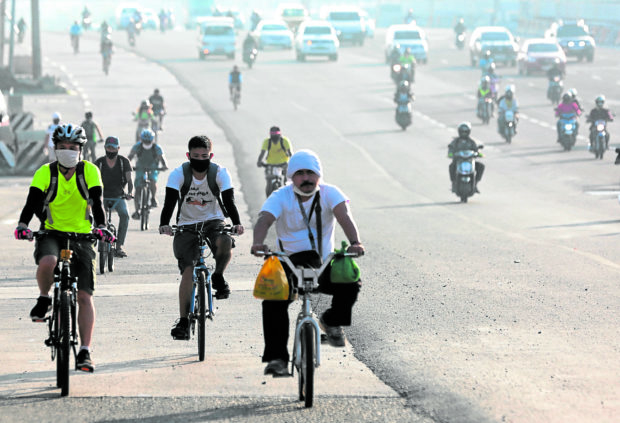 By recognizing leaders that are providing better infrastructure and facilities for alternative modes of transportation, ​​Mobility Awards hopes to help solve the problem of road inequality in Metro Manila and beyond. By its estimate in 2020, 88 percent of the population of Metro Manila and the Greater Metro Manila do not own cars and yet most of our infrastructure is designed for cars and car owners.
The competition asks the public to nominate local government units, establishments, and companies through an online survey.
Mobility Awards ranks nominees based on three criteria:
1. Infrastructure – level of presence of physical infrastructure or end-of-trip facilities dedicated to bicycle users (i.e. bike racks, storage areas, free tap refill water stations, changing rooms, showers)
2. Integration – level and variety of programs, policies, and plans that enable cycling, promote safety, and support the well-being of active mobility commuters such as education initiatives that aim to increase public awareness of car drivers to respect bicyclists and pedestrians, promote active mobility among children and youth, promote gender inclusion and sensitivity among commuters, protect women-cyclists from catcalling or harassment
3. Implementation of programs and enforcement of policies that encourage, promote, and protect the safety and well-being of cyclists.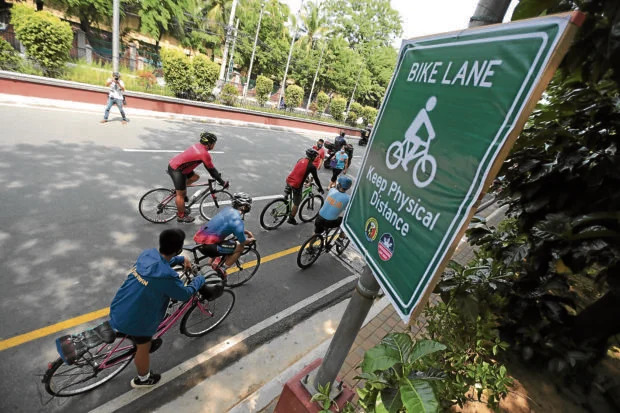 The inaugural Mobility Awards last year named Pasig, San Juan, and Marikina the most bike-friendly cities in Metro Manila. Two malls in Pasay and Marikina along with a commercial complex in Taguig won the most bike-friendly establishments award. And for the most bike-friendly workplace, The Medical City in Ortigas, Pasig Transport Office, and the Government Service Insurance System Pasay branch shared the gold.
This year, the Mobility Awards aims to reach a wider audience by opening the nominations for the most bike-friendly cities, commercial establishments, and workplaces in Luzon, Visayas, and Mindanao.
It has also added two new criteria for judging: innovation and inclusivity.
Mobility Awards 2021 will also recognize outstanding cyclist messengers and delivery riders through the Padyak Champion Special Awards. Bicycle delivery and courier companies are welcome to nominate distinguished cyclist-messengers who embody the qualities of citizenship: Makatao (Humanity), Masikap (Perseverance), and Maasahan (Trustworthiness).
The winners are entitled to up to P10,000 worth of vouchers depending on whether they get bronze, silver, or gold plaques.
Consistent winners will be awarded The Katipunan Award, the highest attainable recognition in the Mobility Awards. "It can be won two ways: reaching a score grade of 4.0 per year, or if a business, workplace or LGU entity wins three consecutive Gold awards," the award-giving body explains. "The Katipunan award can also be withdrawn if winners fail to maintain levels of support for active mobility responsible for their previous wins."
To nominate, you just need to go to mobilityawards.ph and click "Nominate Now." Alternatively, a Google Form is available to access via bitly.com/MAnomination. Nominations already started last week and will last until Nov. 5.