As the world is slowly swaying back and forth between near-normalcy and the ongoing p*ndemic (once again, I refuse to spell the word out), a new food concept dares to open its doors. Kiwami is The Standard Group's latest brainchild; a food hall housing four different Japanese restaurants—each famous and capable of standing alone in its own right—under one roof. 
The concept helps diners explore four important staples of Japanese cuisine: katsudon, ramen, yakitori, and tendon. Most of us are already familiar with the crowd favorite katsudon restaurant Yabu and world-famous ramen chain Ippudo—two of the four concepts you can find at Kiwami. Both are delicious and most likely already on your restaurant or delivery rotation. 
The two new concepts Kiwami wants to introduce are Yakitori Hachibei and Hannosuke, serving yakitori and tempura respectively.  Both Yakitori Hachibei and Hannosuke are imported straight from the land of the rising sun. Founded in 1983, Yakitori Hachibei started out as a family business with the dream of "bringing butabara to the world." What sets Yakitori Hachibei apart is the oak tree charcoal that burns dry and infuses extra flavor into whatever's on the grill.
Hannosuke is one of Japan's popular tempura restaurants. In its native Japan, hungry diners line up around the block to get a taste of its signature Hannosuke-style tempura. The recipe for its signature tendon sauce has been passed down since the '50s and accompanies every bowl of tendon.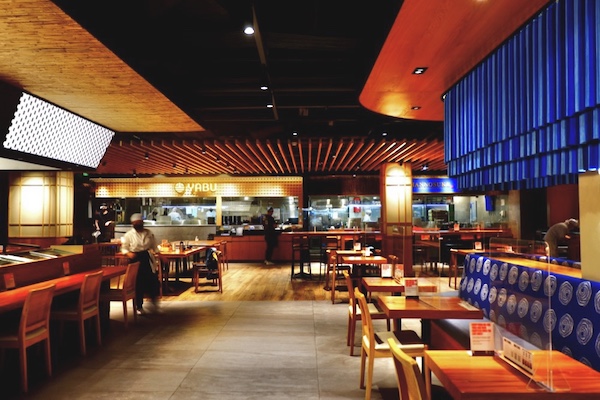 The venue itself is relatively spacious with enough indoor and covered outdoor seating to accommodate dinner rushes. A contemporary bar stocked with popular Japanese liquor is what first greets you. Blue and wood are the main themes of the food hall, tying the entire concept together. Each restaurant has a sizable, proscenium-type kitchen that allows diners to enjoy the view of their meal before digging in. 
If you ever plan on dining at Kiwami, it's best to come on an empty stomach. The menu is filled with options that both entice and excite. As a huge Japanese food fan, I wanted to order everything. The menu (which is also sizable) offers a huge selection of familiar and favorite dishes from Yabu and Ippudo, as well as new dishes that might break into your comfort meal list.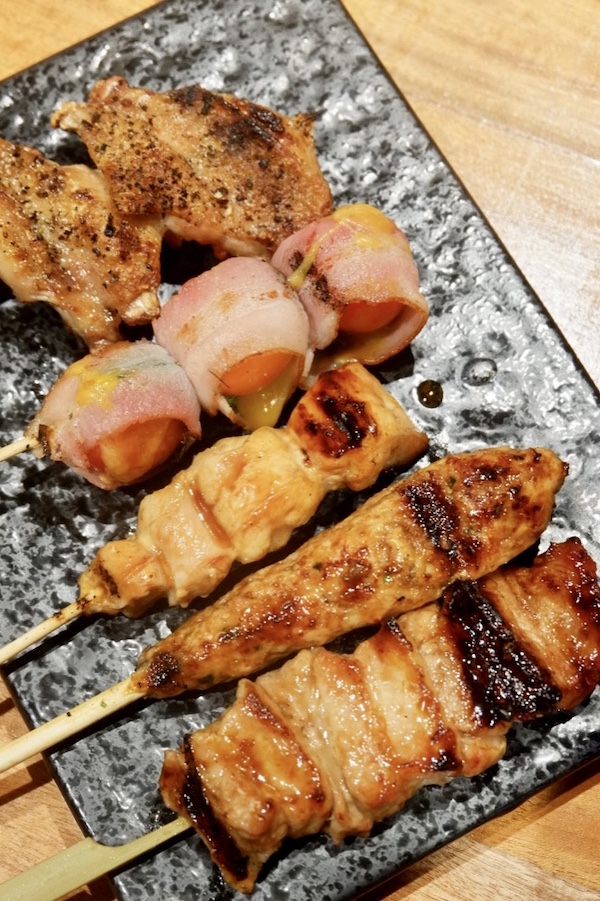 While every dish was delicious, there were definitely some standouts. Yakitori Hachibei's five-stick platter (P480) is a must-try. It exhibits the range of the restaurant by presenting five different types of yakitori and acts as a brief summary of the Hachibei experience.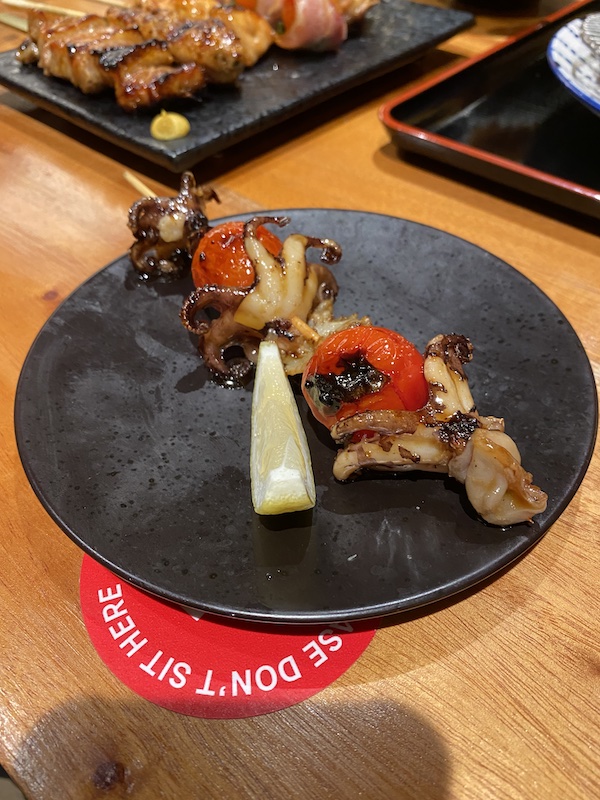 My personal favorite from Yakitori Hachibei, though, was not in the five-stick platter. As a diehard octopus lover, I tend to order any sort of octopus dish if I find it on a menu. The iikado or baby octopus (P185) activated my embarrassing happy food dance. The dish is made with freshly grilled, tender baby octopus and blistered cherry tomatoes. It's fresh, sweet, savory, and works very well with a squeeze of lemon. 
Hannosuke (along with Ippudo) has the most modest menu in terms of the number of offerings, but don't mistake quantity for quality. The tempura platter set (P790) comes with the restaurant's most coveted dishes: two pieces each of ebi tempura, squid and scallop kakiage, asohos, and a very generous portion of its famous unagi. The tempura platter comes with a set of different flavored salts that you can add to enhance your meal's flavor.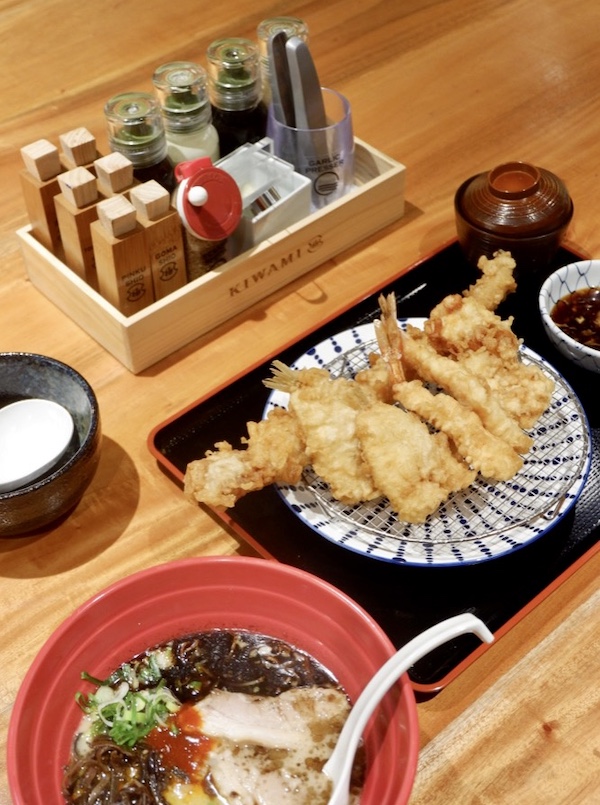 The unagi's serving was so generous that I had to meekly ask the staff to help us divide it into more manageable portions (and also because I know the unagi is bound to go flying if I did it myself). 
The two standouts from the tempura platter set were definitely the unagi and the squid and scallop kakiage. The batter was crisp, light, and not greasy at all. There was a balance between the amount of the batter and the unagi, and it was cooked very well. The eel was tender, sweet, and paired well with the heirloom tendon sauce.
The squid and scallop kakiage was a surprise. Most of us know squid to be a little on the tough and gummy side due to the cephalopod's temperature-sensitive composition, but the kakiage was tender to the bite and almost unfamiliar because of how well it was cooked.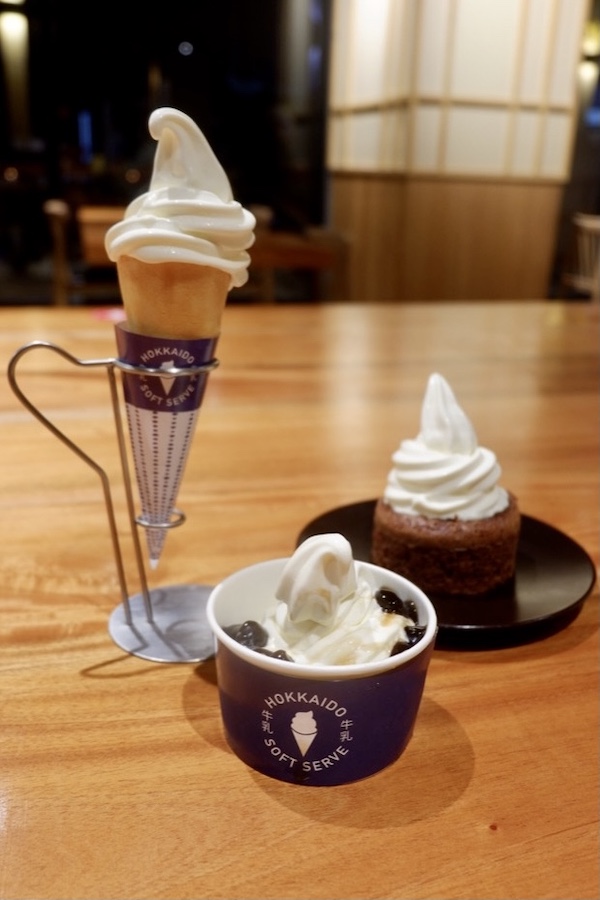 Even after a full and hearty meal, the universal truth still stands: There is always room for dessert. Standing by the dessert station gives you an olfactory preview of the sweet and tasty treat. The Hokkaido soft serve ice cream with a lengua de gato cone (P125) are both made fresh and in-house daily. The dessert attendant makes the cones right in front of you with a lengua de gato batter and a waffle iron.
The ice cream is creamy (of course), rich, and not too sweet. The cone is thick and crunchy with a chocolate-filled tip (which I may or may not have freaked out about).
Overall, Kiwami shines in its attention to detail. Every part of the meal has been meticulously planned and deftly executed. Opening a new concept—especially right now—is a risky move. What Kiwami and The Standard Group can bank on though is that from the interiors to the drinks, dishes, and service, everything was done well. Boldness gets rewarded, and with a concept like this, people are bound to notice.
Kiwami is located at Lower ground, C3 Bonifacio High Street Central, Taguig