The power of live music is palpable. In case you haven't felt it yet these past few months, live performances, down from the small bar gigs up to major concerts and full-scale theater productions have all resumed their rightful spots on stage and amid (masked and fully vaxxed) crowds.
"We Will Rock You," the latest musical to open in Manila, is one such demonstration of this power. The international production kicked off its tour in Manila last Oct. 28, and will be running at the Samsung Performing Arts Theater until Nov. 20. Soon after it will be touring South Korea, Singapore, and South Africa.
[READ:
Broadway classics, rock icons, and glimpses into history: Theater productions to catch this Q4
]
The jukebox musical based on the hits of the iconic rock band Queen is set in a dystopian future where the internet has taken over everything. In this centuries-far future, all nations have merged into a single "iPlanet" controlled by an international tech corporation called Globalsoft. In this tech-advanced planet, everyone is the same—the youth are constantly plugged into and immersed in the internet, social media, watching and listening to the same things, with no sense of nor desire for freedom and individuality.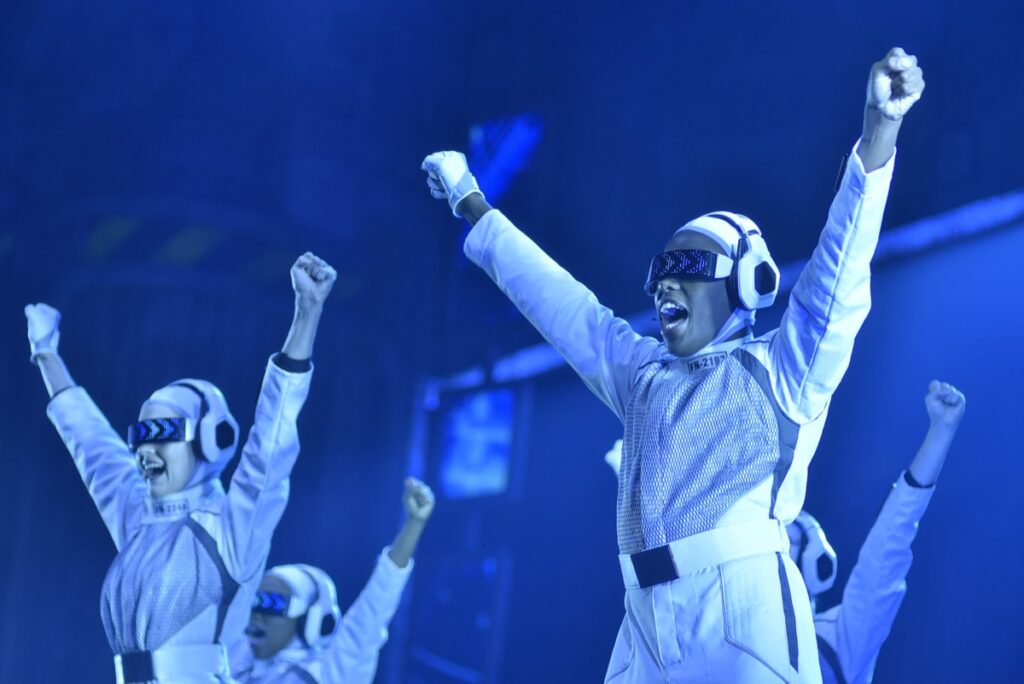 In this world, musical instruments and rock music have been forbidden, equated to rebellion, revolution, and basically non-conformity. Instead, "computer-generated pop" is the prevalent sound. Dreams are also non-existent. And so people who chase after freedom, music, and self-expression are considered anomalies that must be fixed or eliminated. A runaway group referred to as the Bohemians, meanwhile, are on the search for the "dreamer" who will restore rock music by finding the last remaining musical instrument on the planet—an electric guitar. All this, as allegedly prophesied in ancient records A.K.A. popular media of our time—video tapes, magazines, television.
Off the bat, it's one thing to call the computer-generated music of the story as soulless, but to also append "pop" to the fictional genre feels off. But while I'm not one for the vilification of pop (or any genre, for that matter), it does make for a good chuckle. This bit aside, the plot has all the classic elements of the classic quest, including the unlikely young hero, the feisty and strong leading lady, and of course, the legendary relic. This makes it easy to follow, in addition to the entertaining dialogue and banter, being rich in pop culture references that any music lover will catch on to. And these aren't just Queen references, but tidbits from all over the music industry, from Britney to the Beatles, Elvis (a major inspiration to Queen's Freddie Mercury) to Eminem. Even to Taylor Swift. The little nods to Filipino pop culture also make the international cast easier to warm up to.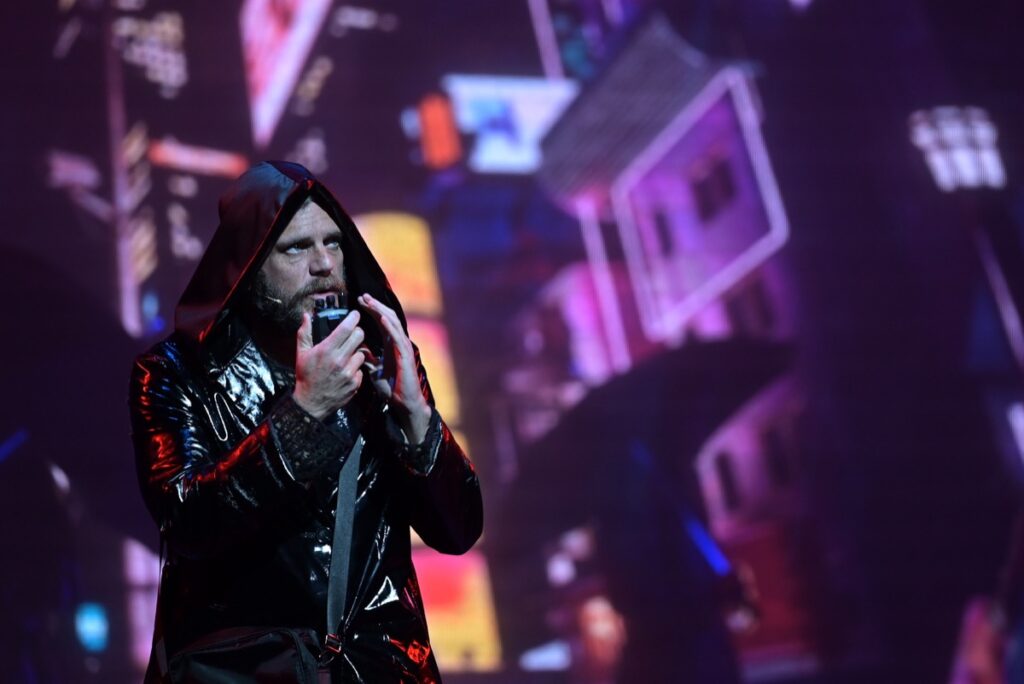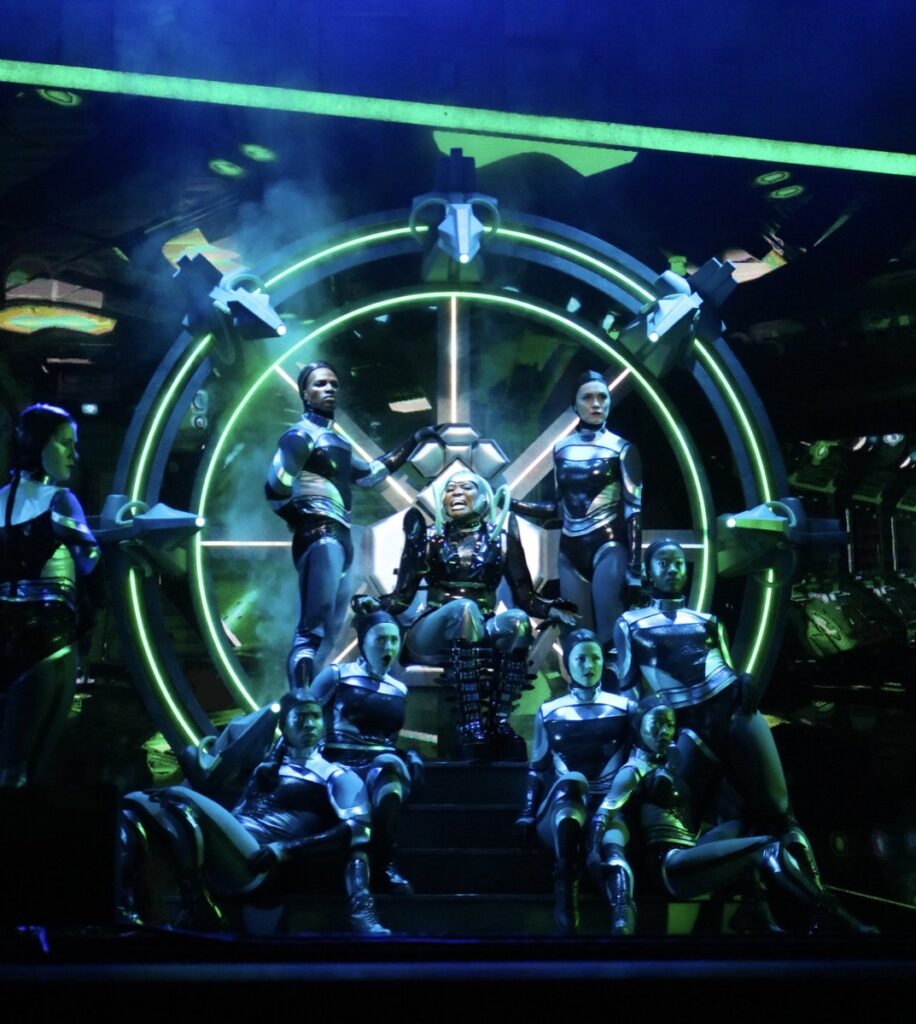 They also include a romance subplot (I'm not surprised), though it personally falls flat and forced—even for me, a self-professed hopeless romantic. The quest aspect would have sufficed; a more fleshed out struggle against the Globalsoft system would have made the story hold stronger. Suggestive scenes and choreography are also sprinkled throughout the musical, some warranted to add to the characterizations, while others could have been done without.
The musical thus makes up for its basic storyline through stunning visuals and sound. Aside from the futuristic set pieces that all harken to the sci-fi greats, the production also optimized the use of tech for the set. Screens serve not just to separate physical spaces, but to change entire sceneries, thanks to detailed video projections. It's like watching a half-movie, half-play.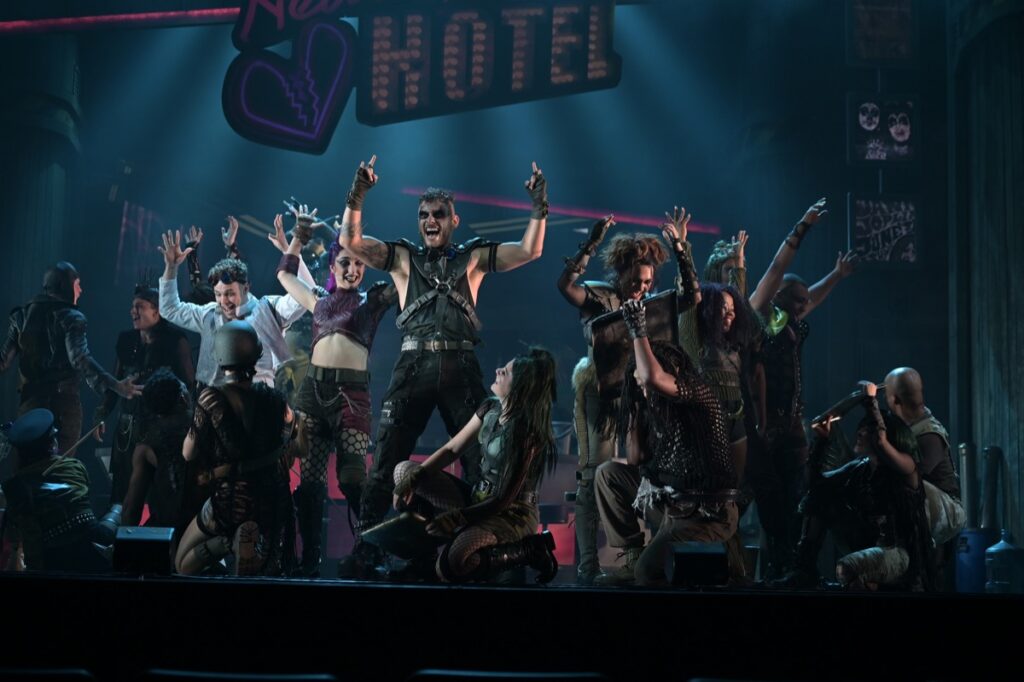 Ultimately the highlight of "We Will Rock You" is the music. It extensively features 24 of Queen's greatest hits, masterfully rendered by the international cast to much foot stomping, fist pumping, and clapping that at some point the musical feels more concert with story (call it interactive theater, if you will). The encore/curtain call, even more so. Several points in the musical also take a jab at how we have allowed technology and social media to control a good chunk of our lives, and the dystopian future the story presents is one far off but probably not impossible outcome if we let ourselves lose touch of the things that make us human: freedom, dreams, art, music, and real-life connections.
Blinding lights, futuristic set and costumes, and thundering music make "We Will Rock You" an electrifying spectacle of a show. If you're up for a good night to just shake off—or rather, break free from all inhibitions from the work week, this musical may be a good fix.
With music by Queen and book by Ben Elton, "We Will Rock You" is produced by GMG Productions. Direction and choreography by Nick Winston, set design by Tom Rogers, costume design by Sarah Mercade, video design by Douglas O'Connell, sound by Ben Harrison.