Mano Gonzales, artist and stylist
Jan Pineda, film studio creative manager
Mano and Jan's apartment was previously painted a drab brown. "We used to joke it looked like a mocha cake," the artist says pointing to the apartment's unique geometric crown molding. The pair has since painted it white, making vivid colors pop up against the parquet floors in one area and white marble in another: an Yves Klein blue couch in the living room and a cinema red carpet red rug in the bedroom.
The penthouse was a far cry from their previous tiny one-bedroom apartment in BGC, a rarity in the Metro Manila real estate market. So when the opportunity came, they jumped on it—despite having to hop and skip one more floor from the last elevator-serviced level. "We had to carry everything ourselves one extra floor," Mano says. "Get movers, guys," Jan adds.
READ: Home for the holidays and every moment in between
---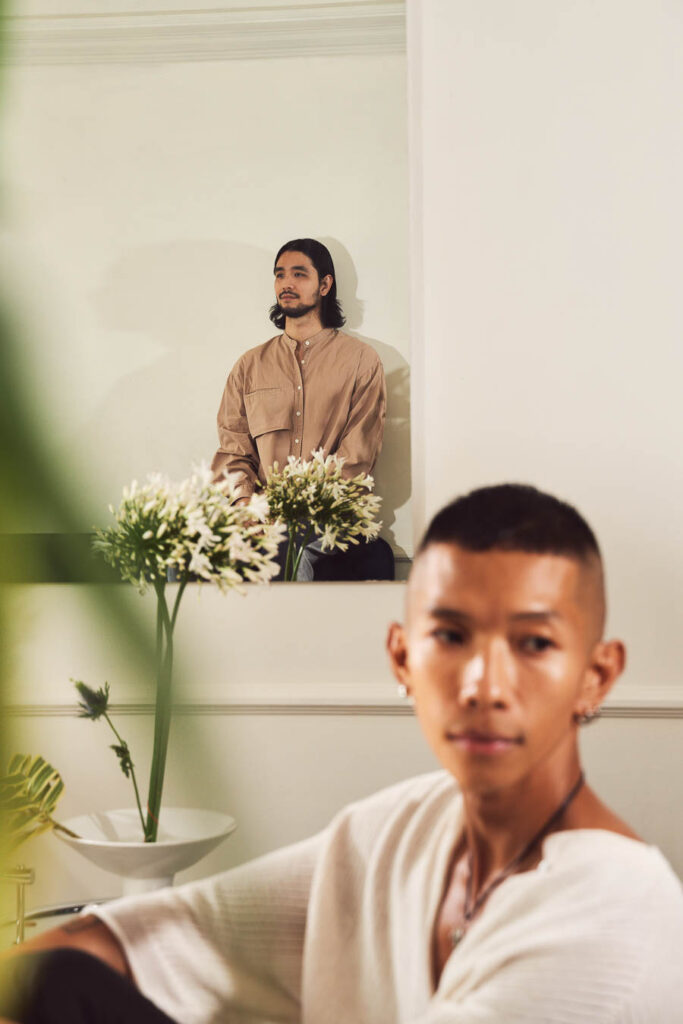 How important was it for you to have your own space in relation to your lifestyle and your work?
Jan: Well, I guess for me, we moved to work from home. So it's important to have that space where I can do my work but also share it with friends.
Mano: Basically to also have a bigger space to do our work and to thrive personally so we can create a space that's comfortable, that's also inspiring, and have enough space to do personal projects in. And like Jan said, to have friends over. Because we have a lot of friends who live in the building, there's a sense of community. We moved here during the lockdown, so that was a time when we can't go out, can't see people, because this is basically like a bubble for us. Para hindi namin masyado mafeel 'yung lockdown vibes kasi we always hang out together.
What's the best thing about living in Poblacion?
Jan: First, people didn't really want to go to BGC to visit us. Here parang it's mas central, it's easier to go to.
Mano: Yeah, things are happening everywhere, it's so easy to meet people and see our friends. During the lockdown, Poblacion was so quiet, walang ganap, because all the places were closed. But parang 'di rin naman namin siya masyado na-feel because all of our friends are here (in the building) anyway.
Jan: In Poblacion, we hardly go out. All our friends are here na. But, of course, when our friends play, like si Judd [Figuerres] or si Butta B (Bea Te) plays around Poblacion, it's easier to go.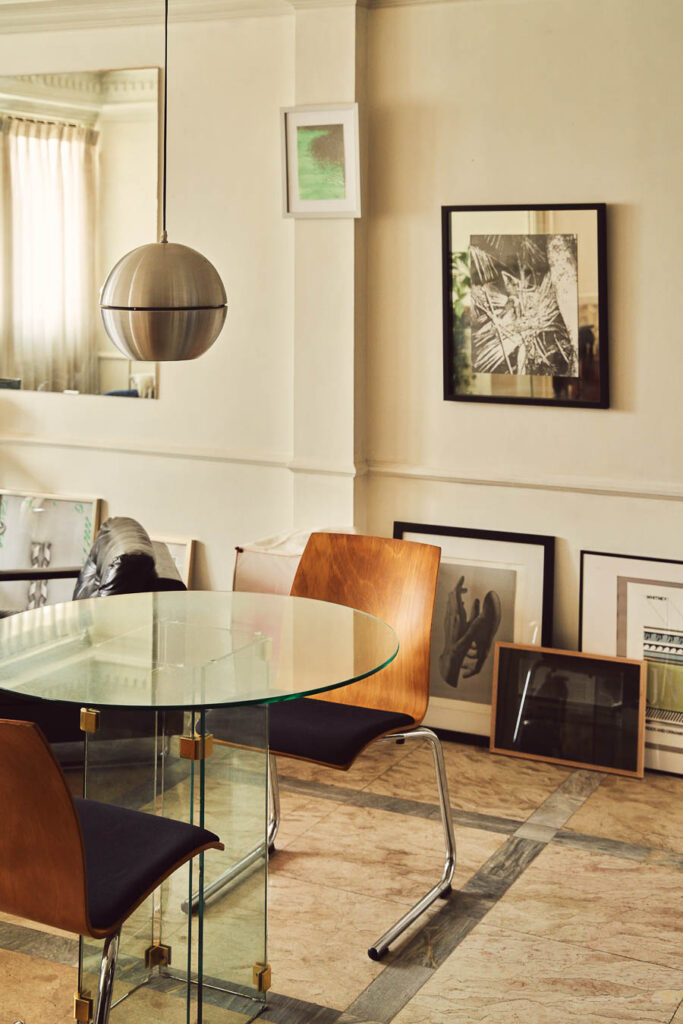 What was the vibe you were going for when putting together this space?
Jan: We built around the space lang.
Mano: We're both very visual people, so we get inspired by the things we surround ourselves with. So I think that's number one. Number two… is there a number two? [laughs]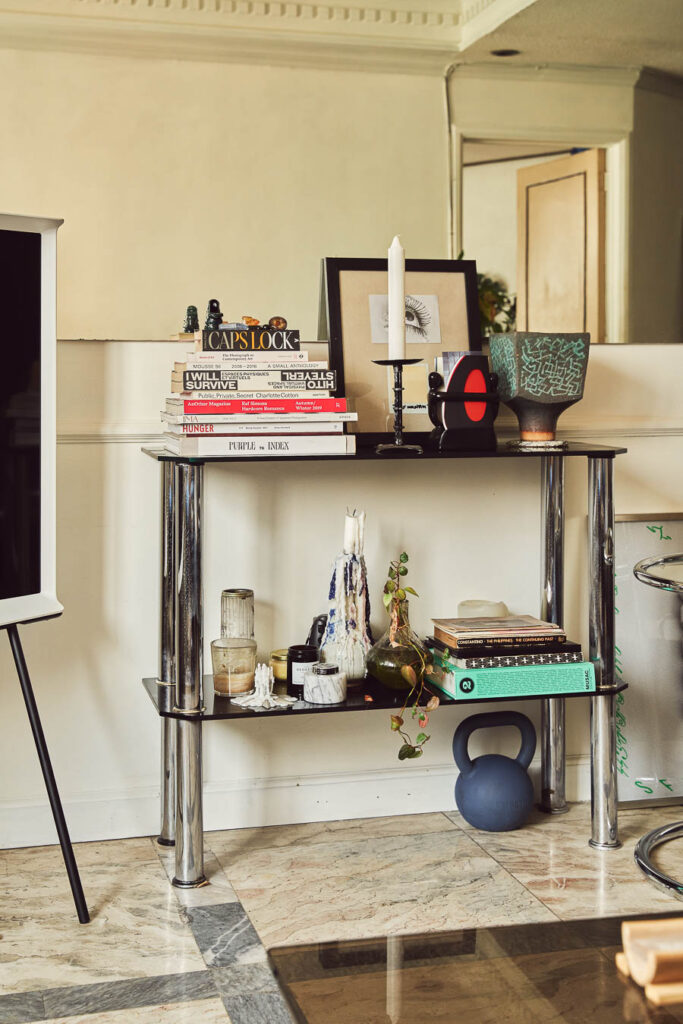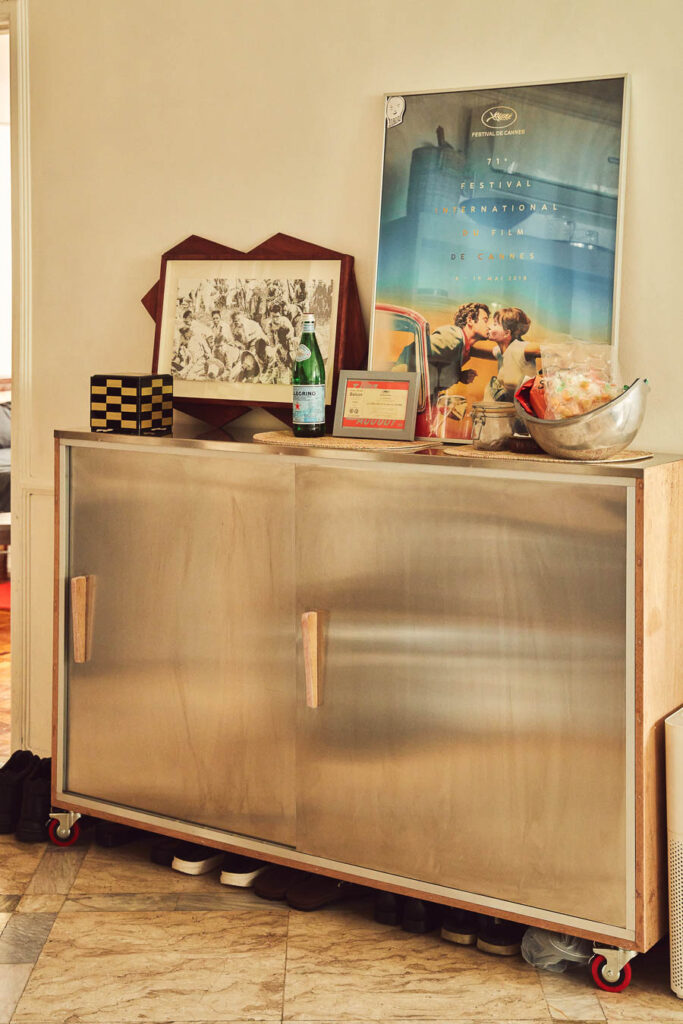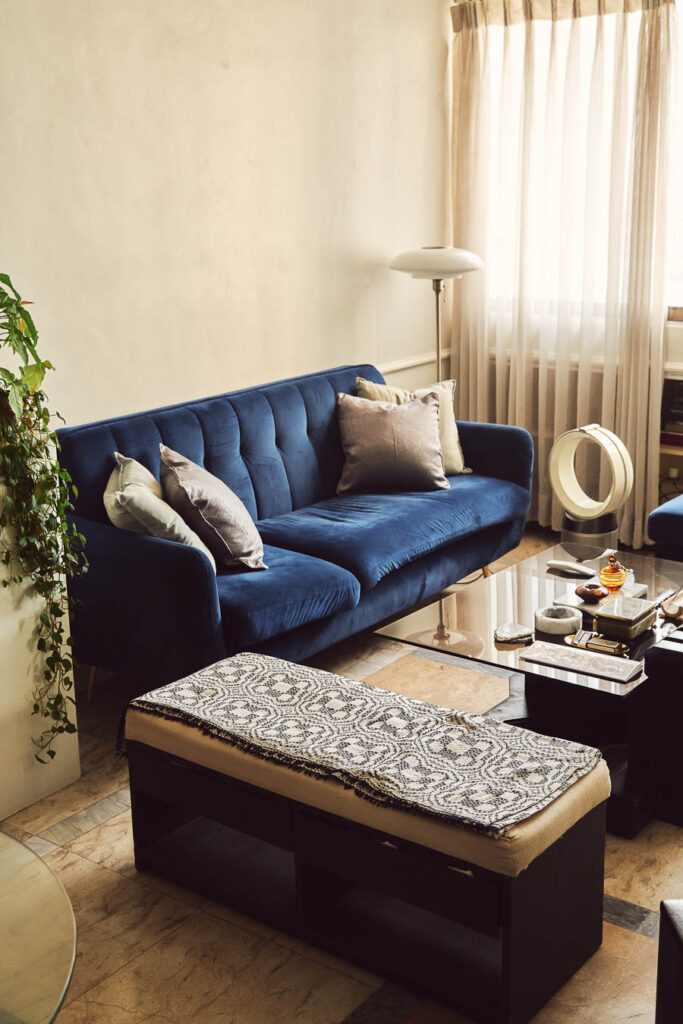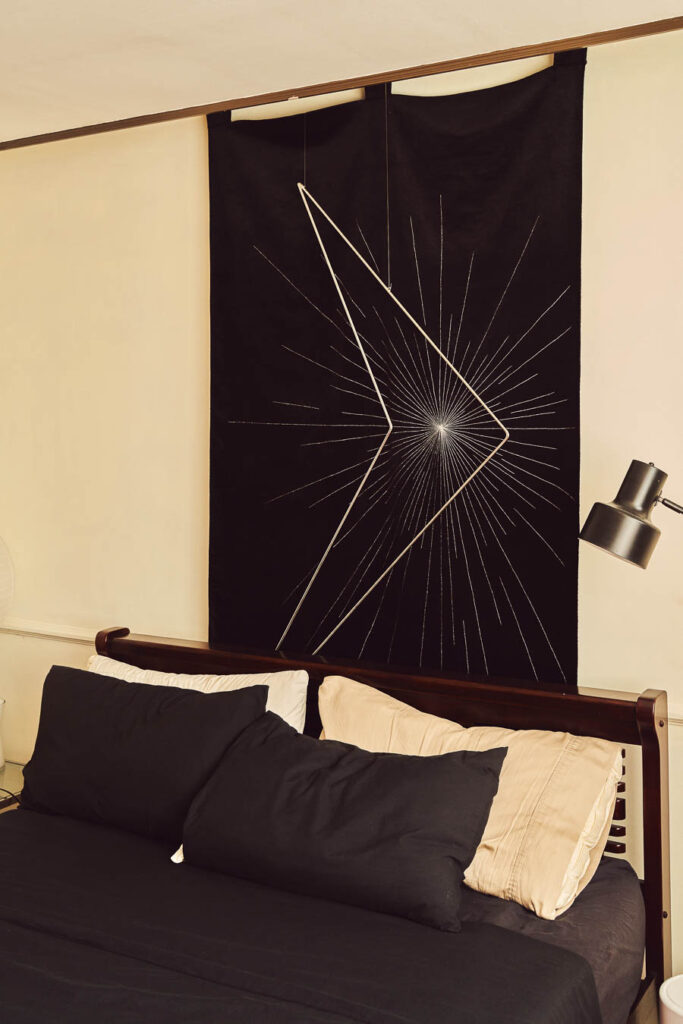 I guess things that make things comfortable and homey. Right now malakas 'yung araw but at night it gets really cozy here, and I think 'yun 'yung pinaka-[non-negotiable] namin ni Jan, that it's cozy. There's no design brief. Though we like collecting a lot of like, most of our stuff here are old stuff from our own houses, second-hand pieces we find online–
Jan: –or stuff from travels
Mano: So mga ganun. Basically, just things that inspire us.
What are your favorite parts of your home?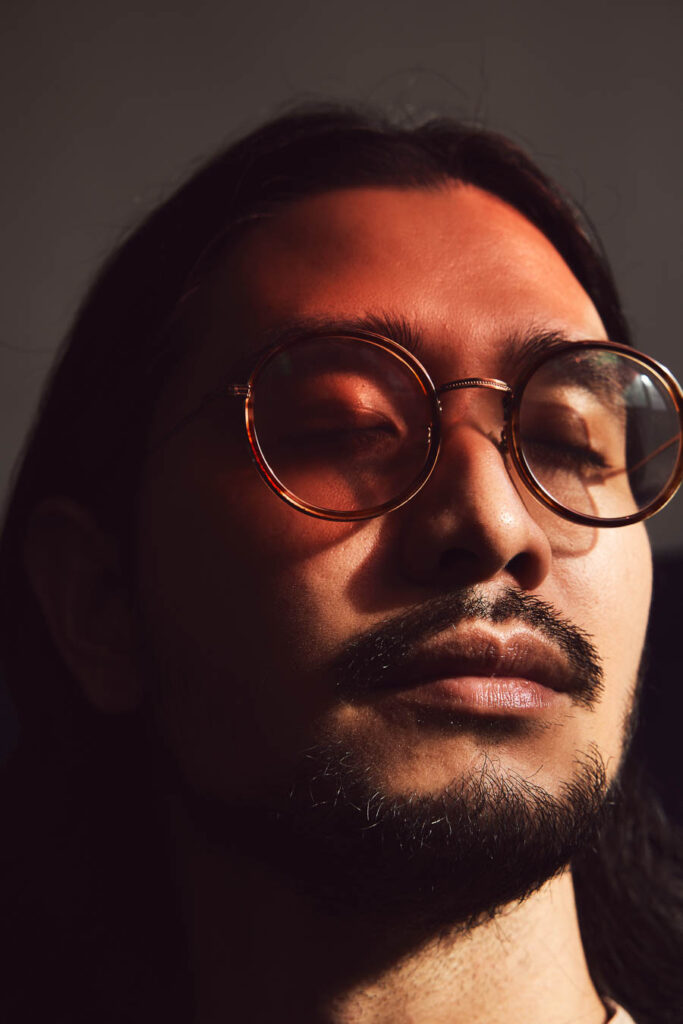 Jan: This studio work area that we also turn into a dining space when we have people over. And my favorite activity here now is hosting, having dinner parties with friends. Nung pandemic, other establishments are closed so we had to make do with the space. I think I discovered I liked that better—hosting—kasi mas intimate. Before, parang I'd hang out with friends sa bars or clubs, pero alam mo 'yon, ang daming nangyayari. With dinner parties or having people over, you learn more about them, mas personal. Also, we work here din.

Mano: It's the most active place. It changes a lot.
Jan: Yeah. Working on different projects, I also bring my team here sometimes. So 'yun, here 'yung pinakamaraming interactions.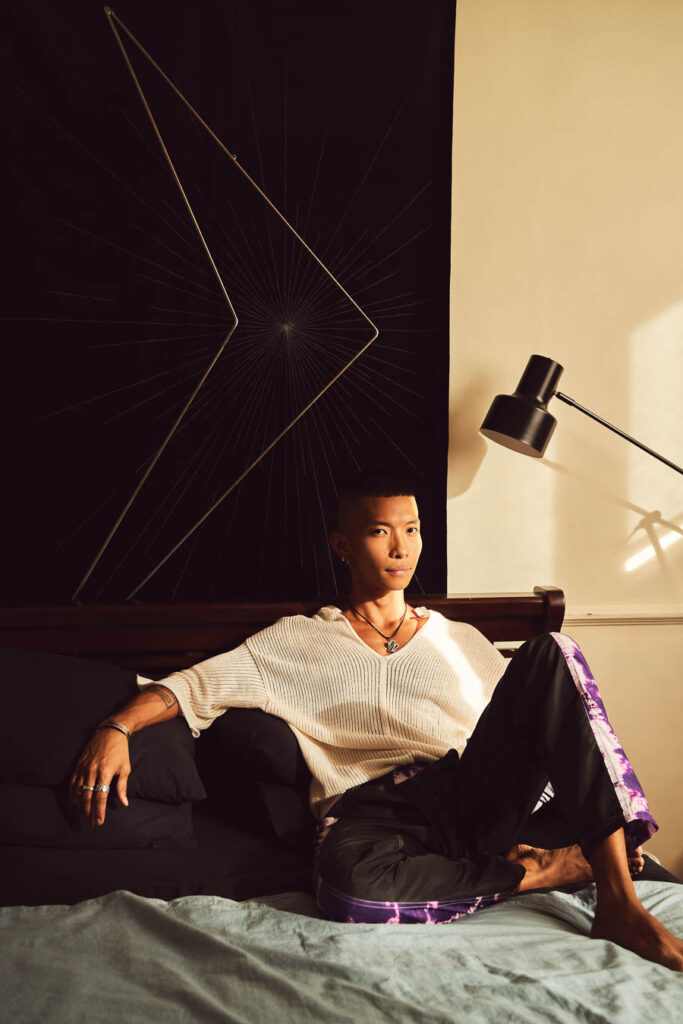 Mano: Ako naman, before we even moved here we would visit the building because we had friends who lived in this building na before. 'Yung pinaka-crush ko talaga 'yung view nung mga units here. Basically, you have an unobstructed view of—What is this district? CBD. This view also kind of informs how we design the space, or how we set up things.
A lot of the pieces we get here are kind of like inspired by what you see outside. 'Yun talaga yung favorite ko about here. The view. It's so hard to look for a view like this in Makati. And because our surroundings—Poblacion—are so active, parang naging project namin ni Jan 'yung to make a cozy space for us. I think that's why we never really go out anymore, we just hang out here.