Valentine's Day is approaching, which means it's crunch time for couples who want to enjoy a romantic dinner on the day itself. Though the focus of every relationship should always be each other, there's much to be gained by enjoying the company of your special someone over a spread of delicious food. 
Food is a love language. Regardless of relationship status, the act of sharing a meal with another person is a sign of affection. But in any romantic affair, the atmosphere of the restaurant can be just as important as the food on the table.
These restaurants don't just serve delicious fare, they also have a certain je nais se quoi that can serve as a backdrop for an intimate, passionate evening.
The Loggia
Palacio de Memoria, Roxas Blvd., Parañaque
Open daily from 11 a.m. to 9 p.m.
Instagram.com/theloggiaatpalacio
No matter what time of year, The Loggia never fails to provide an atmosphere conducive to romance. Located on the grounds of the grand Casa de Memoria, the Italian restaurant just exudes amore. The restaurant is al fresco, which means the cool evening breeze will keep you company while you dine. 
When the sun sets, the ornate shell lamps hung on the trees around the area light up—which gives the place an extra layer of charm. After having a romantic evening over some sumptuous pasta and pizza, you can take a stroll around the grounds or even have a nightcap at the vintage plane they converted into a bar.
One World Kitchen
8491 Kalayaan Ave., Brgy. Poblacion, Makati
Open Tuesday to Saturday from 5:30 p.m. to 9 p.m. and Sunday from 10:30 a.m. to 4 p.m.
Instagram.com/oneworldkitchen.ph
For serious, diehard foodies, One World Kitchen offers a "Chef's Table" type of experience that's sure to impress. They have an open kitchen concept that lets you see exactly how the chefs prepare your meal—which they serve directly to you as soon as it's done cooking. Talk about dinner and a show. 
The bar seating is communal, but there's definitely enough space for you to scoot your chair closer to your date to make it feel like just the two of you. The restaurant's slots are full for the night of Valentine's Day, but that doesn't mean you can't choose another day to impress your date.
The restaurant is also located on Poblacion's main street, which means you can hit the dance floor right after dinner if you want to burn off what you've eaten.
CRU Steakhouse
GF, Marriott Hotel, Pasay City
Open daily from 6 p.m. to 10:30 p.m.
No matter what the occasion, steak is always the right answer. Many restaurants in and around Manila serve delicious steaks, but Cru takes the experience to another level with their five-star interiors and service. 
The space is bathed in warm light and decorated with deep red and dark wood accents, which already gives a fantastic prelude to romance. There are also booths available if you want to enjoy another layer of privacy.
Aside from the excellent steak, the restaurant serves other classic steakhouse fare like fresh oysters, Norwegian salmon tartare, crab cakes, and grilled seafood.
12/10
8 Rockwell, Lopez Dr., Rockwell Center, Makati
Open Monday to Saturday from 6 p.m. to 11 p.m.
Instagram.com/twelvetenph
Just like steak, Japanese food is always the right answer. 12/10 isn't your typical Japanese restaurant, though. The popular modern omakase restaurant and izakaya (which we all thought was a casualty of the pandemic) has returned at a new location. 
For couples who want to spontaneously enjoy the evening even without making a reservation, the restaurant holds their bar area for walk-ins (but reservations are highly encouraged, though). The new space is modern and impressive, which is reflective of the restaurant's seasonal menu.
If you have allergies or dietary restrictions, the restaurant can accommodate your requests if you reserve and let them know at least 48 hours in advance so they can make the appropriate changes to their dishes.
Somm's Table
Basement level, Corner Exchange Bldg., Legazpi Village, Makati
Open daily from 11 a.m. to 2:30 p.m. and 6 p.m. to 9:30 p.m.
Instagram.com/somms_table
For couples who are looking to avoid the Valentine's Day rush, Somm's Table is making their special tasting menu available all week long. The restaurant is a good choice for couples who want to celebrate with something a little fancy but different from the typical. French-Asian fusion fare is the restaurant's specialty, which means you can expect both familiar and novel flavors. 
Artsy couple will also be delighted to know that fine pieces of art decorate the restaurant's concrete and wood-clad space. For wine lovers, Somm's Table offers a vast selection of fine wines to accompany your meal. Now that's wining and dining.
La Vie En Rose
Unit 2A, 6197 Gabaldon St., Brgy. Poblacion, Makati City
Instagram.com/lavieenrose_mnl
You know the restaurant is just going to exude romance when it's named after one of Edith Piaff's masterpieces. La Vie En Rose is a speakeasy-type bar and restaurant that serves craft cocktails and fine food. Located in a residential apartment in Poblacion, the bar is one of the best kept secrets of Poblacion. 
The establishment is decorated with ancient trinkets, vintage furniture, and warm, dim light. There are taxidermy animals (all ethically sourced, of course)—including an entire polar bear—and all types of artifacts collected from years of exploration that are present throughout the space. Part museum, part sanctuary, La Vie En Rose is the type of restaurant where lovers of culture and travel (or just lovers) converge over delicious food and excellent libations.
There are three different mains available for their five-course Valentine's Day menu: chicken, salmon, and of course, a ribeye steak. The bar and restaurant also offers add ons like wine, cocktails, and even a bouquet of flowers if you're aiming to impress.
Deo Gracias
No. 12, 11th Jamboree, Diliman, Quezon City
Open daily from 11 a.m. to 3 p.m. and 5 pm. to 11 p.m.
Instagram.com/deogracias.ph
Tucked away in an ancestral home in a more residential part of Quezon City, Deo Gracias is serving up fine Spanish fare. The restaurant has an intimate setup that exudes a certain charm reminiscent of a bygone era.
The interiors still closely resemble the home it used to be, with terracotta floors, wooden accents, and crown molding. There's also an al fresco area for those who want to enjoy an evening breeze with their meal.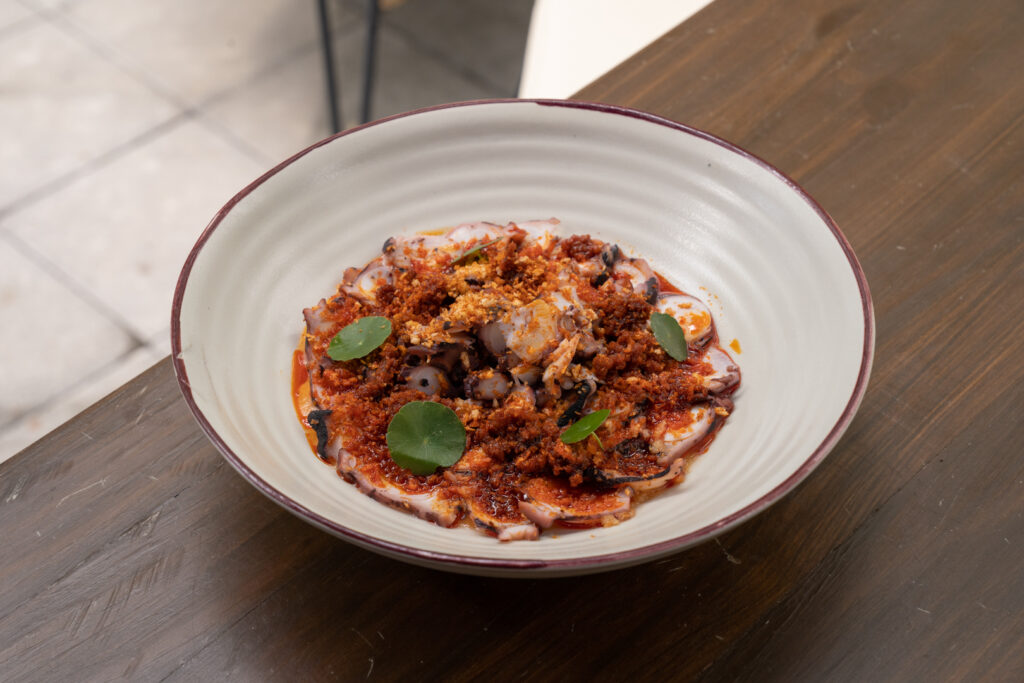 Couples are sure to have a (literally) delicious time with dishes like the pulpo a la gallega "Deo Gracias," a sous vide octopus dish with potatoes and drizzled with sobrasada cream and pimenton oil on the menu. 
On your way home, you can stop by their in-house deli to take home some wine and enjoy the rest of your evening.
Las Casas Filipinas Acuzar Quezon City
134 Roosevelt Ave, San Francisco del Monte, Quezon City
Open daily from 11 a.m. to 9 p.m.
Instagram.com/lascasasqc
While not strictly a restaurant, Las Casas Filipinas Acuzar's restored ancestral homes can be the most stunning backdrop for a romantic evening. There are two restaurants within the grounds to choose from for a Valentine's Day date: Kusina ni Maria and La Bella Teodora. 
Kusina ni Maria serves contemporary takes on classic Filipino dishes, while La Bella Teodora (named after Jose Rizal's mother) serves staple Italian dishes.
One of the highlights of the property is Plaza Juico, their central cobblestone courtyard. For the evening of the day of hearts, Las Casas Quezon City will transform the courtyard into an alfresco restaurant complete with candlelit tables to complete the ambiance.
Your Local
106 Esteban St., Legazpi Village, Makati
Open Monday to Saturday from 11 a.m. to 2 p.m. and 6 a.m. to 10 p.m and Sunday from 10 a.m. to 3 p.m.
Instagram.com/yourlocalph
For couples who love dining out, Your Local is a staple. The Makati restaurant with a cult following is known for serving Southeast Asian fusion cuisine that has become comfort food for its fans and regulars. 
This Valentine's Day, couples will be delighted by a seven-course dinner curated by the restaurant's head chef, Patrick Go. The special menu runs from Feb. 10 to 15, which means couples who want to beat the Valentine's rush can still enjoy the romantic mood without necessarily sticking to the date.