What does "proper" fish and chips mean for Cargofish?
Simple, reliable, and consistent, according to chef Matthew Bates
info
Cargofish

British

10 a.m. to 2 a.m., Mondays to Fridays, 10 a.m. to 11 p.m. Saturdays and Sundays

218-1086

₱

P500
Fish and chips is, admittedly, nothing new to Filipinos. But that doesn't have to be a bad thing, especially if after all this time, you realize you've yet to have the real thing.
Weave through a maze of shops and restaurants to spot this little hole-in-the-wall stall on a mall's roof deck. It's probably the last place you'd imagine to find such a shop, but there it is: the first spot for Cargofish, conceptualized by Early Bird Breakfast Club's Matthew John Hornsby-Bates and Matthew Kenneth Chan Lim.
"This was never meant to be a leasable space, and it's not meant for restaurants," Bates says. "But we put [a restaurant] in, we built it, and it's kind of opened a few doors. Now there's going to be [a different] restaurant next door as well." An interesting, serendipitous twist of fate.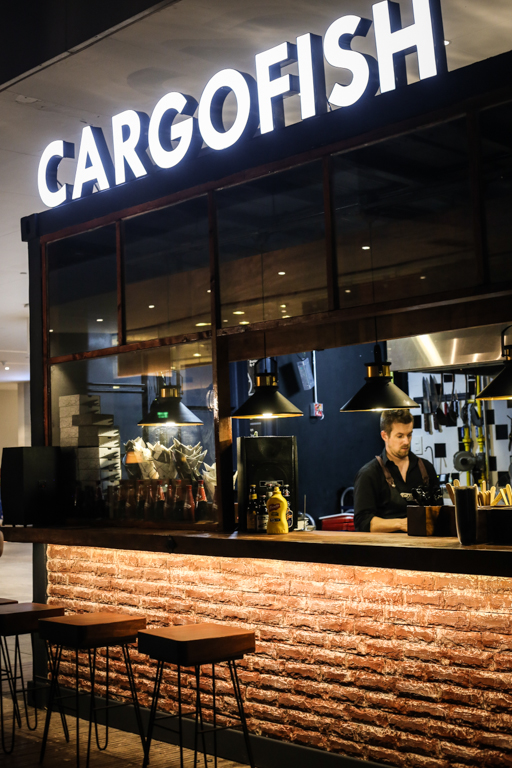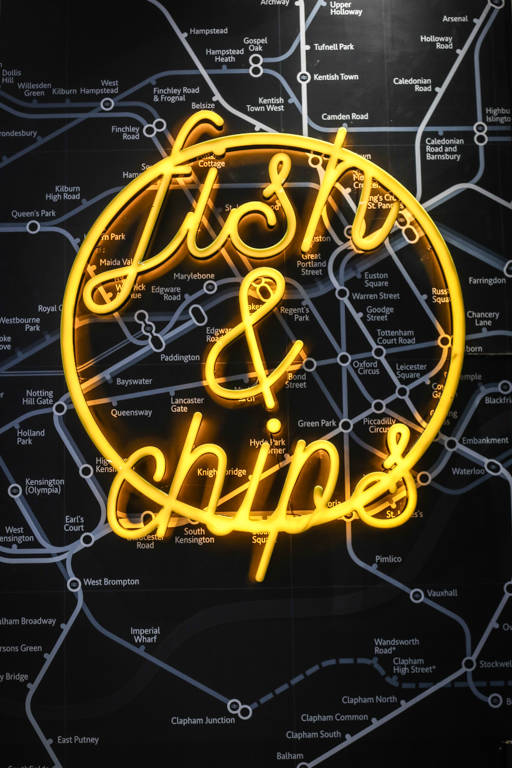 But that's where the twists and complications end for Cargofish. At its core, Cargofish aims to be your simple, straightforward fish and chips shop. By this, they mean no frills: choose your fish, choose your dip, and choose your sides. It is then all packed into a nifty little box and comes with a fish fork, too.
"Rather than going the route where we're trying to be just purely British, we worked together and [created] a fish and chips shop that is British if you want it to be, but if you don't, you've got other things that can go with it," says Bates. True enough, Cargofish goes beyond mere fish and chips, providing six fish options, five sides, and seven sauces.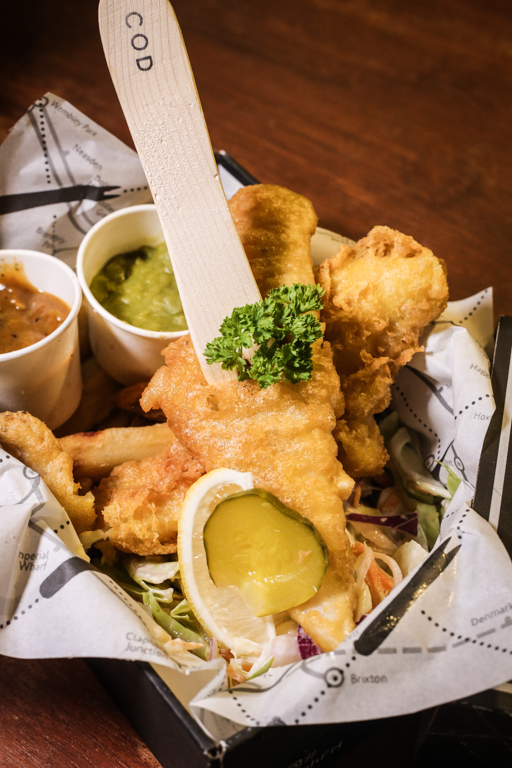 "There's a real sort of honesty with fish and chips. [In the UK], it's kind of part of the way of life." Matthew Hornsby-Bates
While they're all for customers to choose their own combinations for their fish and chips box, the chefs also have their own go-to pairings.
For Bates, cod fish will be best paired with mushy peas and chip shop curry sauce, or simply with salt and malt vinegar. Meanwhile, Lim recommends the salmon, paired with cargo rice. "He (Bates) was actually firm about not offering rice, but I said, 'no, Filipinos really want rice,'" he says, to which Bates laughs and says it's an argument he's proud Lim had won.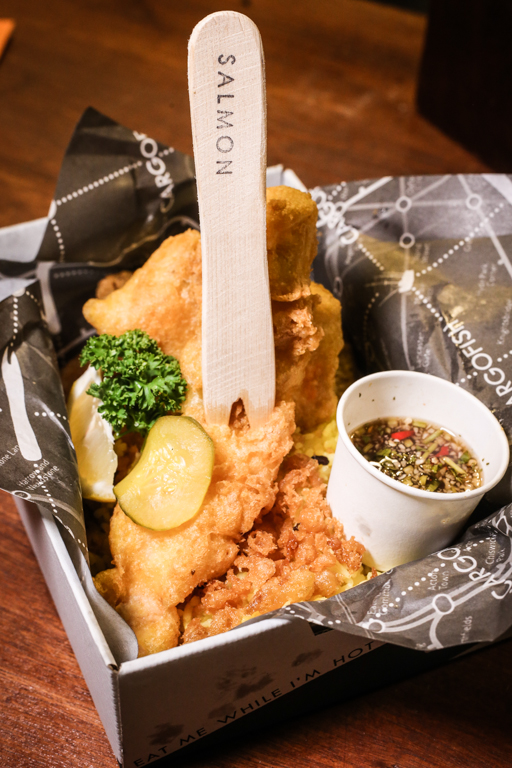 Finish off the meal with a cold bottle of beer, or a serving of some sweet-tangy lemonade—either one makes for a good thirst-quencher in the summer heat.
"There's a real sort of honesty with fish and chips," Bates shares. "[In the UK], it's kind of part of the way of life. We're trying to bring a little bit of that here. Sometimes concepts get carried away with trying to be so new and different that they lose the focus in simplicity. […] We want to be that reliable fish and chips shop that's still doing the same thing three or six years' time. It's [about] keeping things right and consistent."
TAGS: bgc cargofish fish fish and chips matthew bates matthew lim nolisoliph uptown mall
WHY GO?
No matter which fish you go for, try the chip shop curry sauce and the lime chili cilantro sauces—they add a good balance of slightly spicy savoriness to the fish. For sides, go for the sweet potato chips.
MENU