Ral Arrogante finds gold in scrap
Discarded materials brought this sculptor to local prominence
Jan 30, 2017
Ral Arrogante's art arsenal isn't your usual one. From .45 caliber bullet shells to defective computer microchips, the sculptor's desire to fashion art out of the strangest and most curious materials has intrigued many. So many, in fact, that after decades in the industry, his carelessly scribbled name may be likened more to an autograph than a signature.
Currently holding post as the president of the Society of Philippine Sculptors (SPS), Arrogante's work has found residence in the Ayala Museum, the Avellana Art Gallery, and at Art in the Park, to name a few. His meditations on movement have driven him to create works of art with pieces that may be played around with or set in motion: there are arms holding a guitar, poised to play a kundiman; a carabao under a house on stilts that sways back and forth; and of course, Arrogante's signature mobiles that manage to enchant not only little rascals off to slumber but curious adults as well.
Movement has always inspired warmth, and this is another theme Arrogante tirelessly explores. "I love using copper for my creations," the sculptor says. "I love earth colors because they're so warm with the different shades of brown, yellow, gold." The sculptor confesses to lacking welding knowledge and experience, but makes up for it with technical craftsmanship. "I was limited to using only my hands, I was forced to develop my skills to ensure that my art wouldn't suffer."
Another truthful admission from one of the Philippines' most famous sculptors? "I didn't know about fine arts or engineering when I started." It was only through a chance encounter with a book from American sculptor Alexander Calder that Arrogante's curiosity was ignited. "After that day in the Thomas Jefferson Library," he recalls, "I knew I wanted to try my hand at sculpting."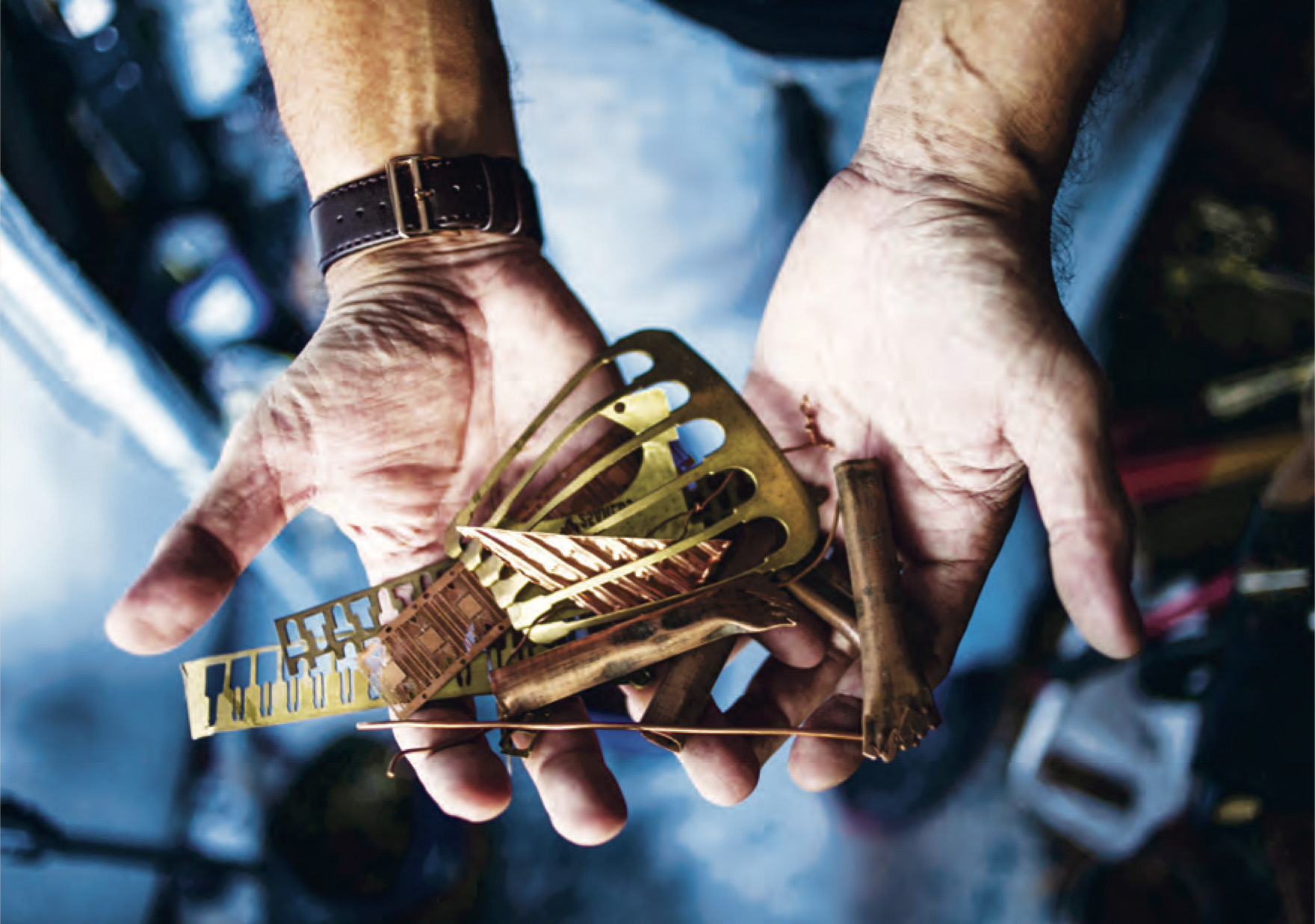 More than four decades later, Arrogante finds himself one of the art scene's heavyweights. Arrogante's artwork is born out of his search for strange treasures among mountains of junk. "It's really the materials that inspire new ideas and creations," says the sculptor. With the motto "Bawal mag-isip" written in almost every page of his sketch book, the artist lets the art flow as he breathes a largely decorative second life into the materials he uncovers.
This story was originally published in Northern Living, June 2014.
TAGS: art art ph gold nolisoliph ral arrogante sculptor sculpture