Meet the influential moms of Instagram
"That's the challenge, there's no manual in raising kids," says Nicole de los Angeles
Apr 27, 2017
The kids are not all right.
The kids got pneumonia, I hear Nicole Hernandez-de los Angeles say, while her husband Jaime has shingles. Everyone else in her household has caught something, and her only escape from the sick household are a few hours spent in a disease-free apartment, where Dunkin' Donuts await her like rewards for surviving a two-week-long house arrest.
Patty Laurel-Filart is excited about the sweets, too. From her makeup chair, she offers de los Angeles a pep talk and a slight distraction: stories about their sons and their craziest episodes yet, the birthday parties they'll go to in the next few weeks, and Kelly Misa-Fernandez. The latter arrives minutes later with her toddler Tristan, who marched his way into the room, a smug smile plastered on his face—the same kid who was carried around SoHo in his mother's arms until they were sore, as per Fernandez's Instagram update.
If not for chats about children and a son roaming in circles, the hosts of Eat, Drink, and Be Married, a web show for women on Industree.tv, could eerily pass as their teenager selves. They could still be the personalities that people watched on their bulky TVs in the 2000s, whether in cheesy Pond's commercials or half-times on court. They still have a cult following that lurks in the corners of the internet, waiting for any chance to express a decades-long dedication to the It girls they grew up with.
Nothing seems to have changed—except these old-time models, hosts, and bloggers are now mothers inspiring netizens with stories that range from tasty kitchen experiments to tips on calming down moody babies. As their combined number of at least 234,000 Instagram followers suggests, de los Angeles, Filart, and Fernandez are among the influential moms of this age.
And they're not sure how they got here.
"But you just have to have that self-awareness that you can't do it alone and that you have a lot of people on your team."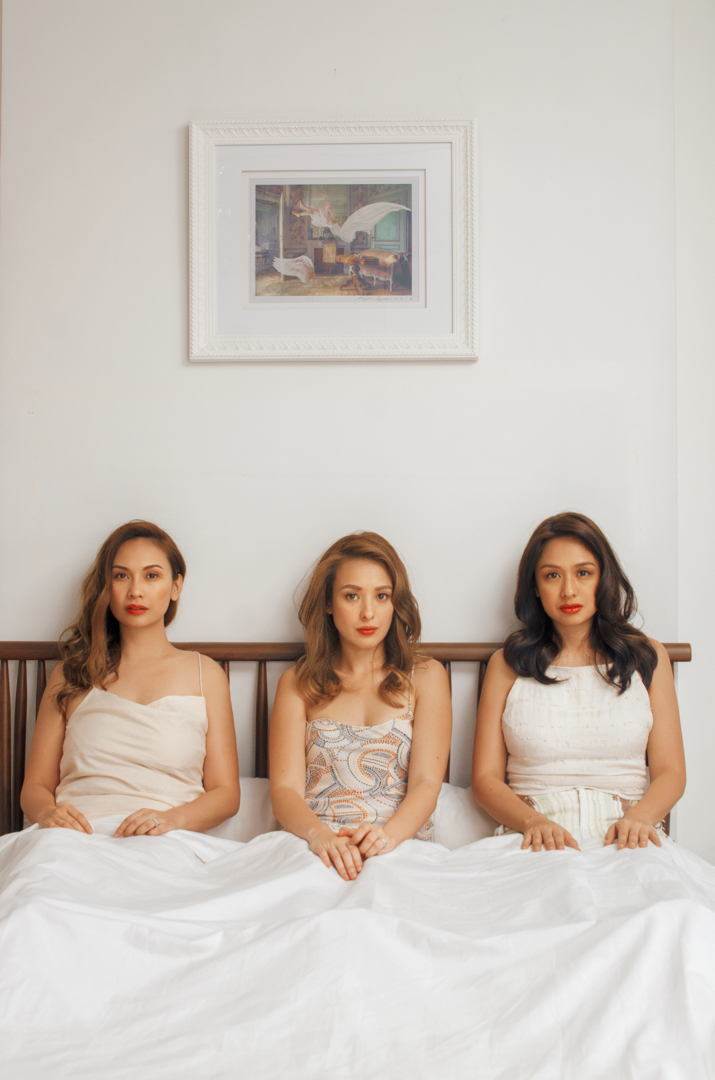 "What?" Filart asks, genuinely surprised when I tell her some people tag them as #momgoals. "Who told you?"
I didn't have to find the exact posts online because their hosting Eat, Drink, and Be Married already tells us that, in some way, they are. The job, after all, requires them to talk about certain life topics and give sound advice based on experience. While they're no experts in beating jet lag or wedding jitters, they give out life hacks even 20-somethings could use. Moms, yuppies, and millennials are watching. And if they aren't watching, they're reading these women's posts.
"It's nice to hear that compliment," says Filart, "We never really look in the mirror and say, 'Hey, we've figured this out!' Sometimes [when we get thrown questions for the show], there are things we don't really know the answer to… In the same way, we discover something. We're like, 'Hey, we didn't screw up pala in this aspect. I'm actually doing well as a mom.'"
Their proudest moments always spiral back to their (attempts at) parenting. "I'm proud that I'm still doing okay with two boys," de los Angeles tells me. "That's the challenge—there's no manual in raising kids, right? Sad to say but I have to admit, I wing it every single day. It's like a cut-and-paste formula that works… You think you got it all handed to you, but sometimes you don't. You realize, 'Oh my God, I'm in over my head' and it's normal. The best thing to do is just accept that, 'Oh shit, I need help.'"
"Their 20s were a whirlwind of parties—"My God, we were paid to party," Fernandez says—and none of them ever want to go back there again."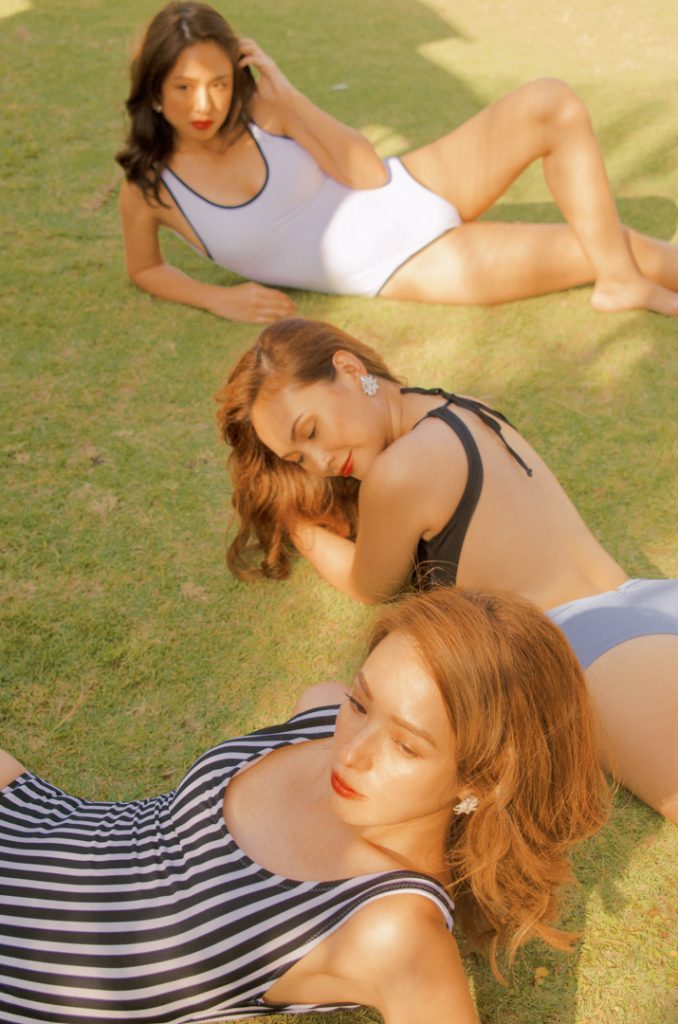 This self-awareness, de los Angeles thinks, is what moms need nowadays. "For some people, it's difficult to realize that they need help; it is also difficult to ask [for help]. But you just have to have that self-awareness that you can't do it alone and that you have a lot of people on your team."
Perhaps for their following, which is a sizable mass clamoring for answers they can't find themselves, there's some comfort in seeing genuinely close friends relate to their struggles and cheer them on even without knowing their names. There's a stark difference between Googling for gift ideas and listening to these three gush over DIY gift wraps. It's motherhood turned virtual sisterhood––bonds bound by sentiment and divided by screens.
"Their 20s were a whirlwind of parties—"My God, we were paid to party," Fernandez says—and none of them ever want to go back there again."
Parties for them nowadays are kiddie affairs. Their nights mostly consist of sit-down, catch-up dinners with the rest of the Baby Barangay, which is their own mom-and-pop support system with friends Cat Juan Ledesma and Bianca Santiago Reinoso, that often end at 10 or 11 p.m.
"But we're doing something tomorrow, right?" de los Angeles asks expectantly.
"Yeah, Beauty and the Beast!" Fernandez sing-songs. "Ugh," Filart joins in. "We're so bad, we're watching at 4 p.m.!"
Clocking in as full-time mothers guarantees they have time for other people yet ironically have so little for themselves. "I have to admit: as soon as I became a mom, it became about my baby," Fernandez says. "At first, I kind of got depressed, to be honest. I felt as if I were losing myself. I didn't feel like my old self anymore. So ever since I felt that, I really made an effort to make time for just myself."
Filart admits to moments of indulgence; loving chocolate is her sin. "I'm already having that pressure in me to think outside of my cravings," she says, almost in penance. "My son watches me hide the Choco Mallows for now but one day, he'll be old enough to make his own decisions when it comes to food."
De los Angeles has little regret this time. She's booked a session at The Spa—two full hours of calm away from the viral plague back home. She and Fernandez call escapes like this "a reboot," a window period of sanity. "So, guys," de los Angeles says as she fumbles with her red dangling earrings, "you better finish the shoot early 'cause I have a massage!"
Raising children is usually a job for two. Their husbands are hands-on, Fernandez says, and they have their own relationships with the kids. Their version of reboots includes playing basketball, PlayStation, anything they can do for the day as long as they make it home for dinner. It's their way of coping, after figuring things out with their wives and kids. They're under pressure—as everyone else is.
Parents are expected to be parenting all the time, leaving not enough space for the other roles they play in their lives: as lovers, as professionals, as sons or daughters to their own folks, as persons with cravings and insecurities, as giddy travelers. They say cool parents don't act like parents, but those who are truly cool just are—complete with flaws, screw-ups, wants, frustrations, and other roles thrown into the equation. Whereas tradition usually praises the effortless, it's equally inspiring to commend those who try.
But how "un-mom" can one be? Fernandez and Filart quickly point out de los Angeles' half-marathon run last year, to which she replies, "It's an un-Kelly, un-Patty thing to do, but not an un-mom thing!" The guilty pair giggles. "You can still do marathons. With time management and setting your priorities, you can still continue your life in that sense, just not as frequently and freely as [before]. It's not like you add mom to your title and the world changes," de Los Angeles adds. "It doesn't."
Yet we do. So eat, drink, get help, keep guessing—the kids will be fine soon.
This story originally appeared in Southern Living, May 2017.
TAGS: Baby Barangay celebrity Eat Drink and Be Married Kelly Misa-Fernandez motherhood Nicole Hernandez-de los Angeles Patty Laurel-Filart