There are no screaming signs to announce your arrival at Kyo-to. Its polished, almost zen garden-like plant box along the sidewalk and a sliding door beside a wooden marker bearing the restaurant's name are the only clues. Once you enter, there are no loud shouts greeting you; just a hallway that silently beckons you to venture further inside.
The halls form a short maze leading to rooms, but the highlight is the kappo—a 10-seater counter behind which Kyo-to's chef, Ryohei Kawamoto, crafts each piece of the day's kaiseki meal.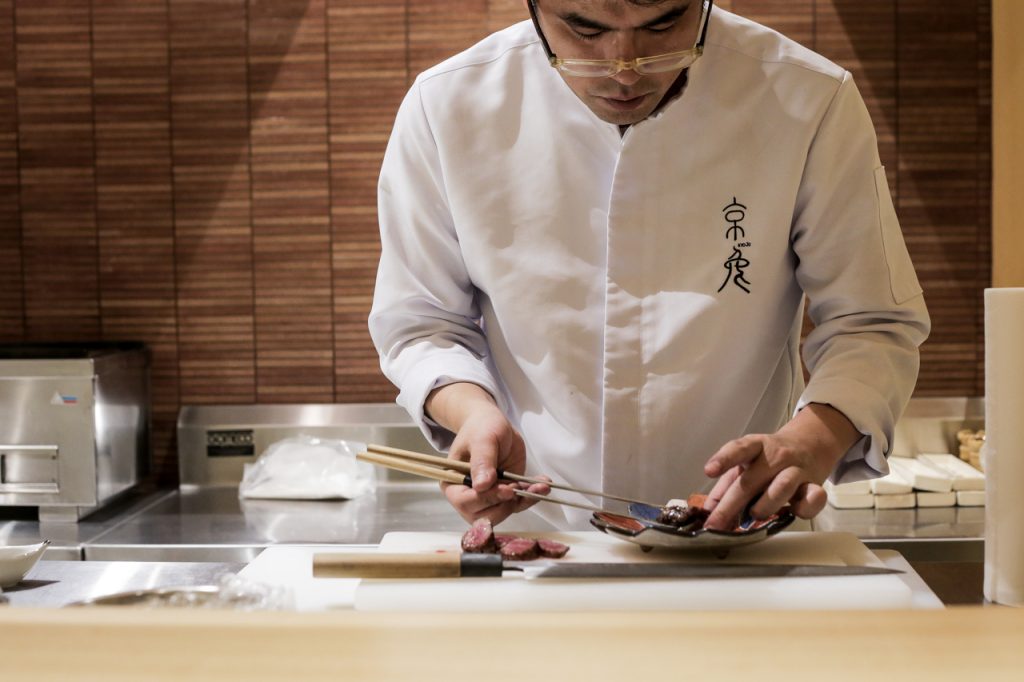 Kaiseki has its origins in Japanese tea ceremony as a light meal enjoyed by participants to "warm" the body. While there are also multiple variations of the meal, most notably from the number of courses served, what remains constant is the certainty that each course uses the freshest, most in-season ingredients.
Naomichi Ishige wrote in The History and Culture of Japanese Food: "Japanese haute cuisine is based on the paradoxical cooking philosophy that the ideal way of cooking is not to cook." It is not surprising then that the Japanese consider sashimi, in all its raw simplicity, the most refined form of cuisine.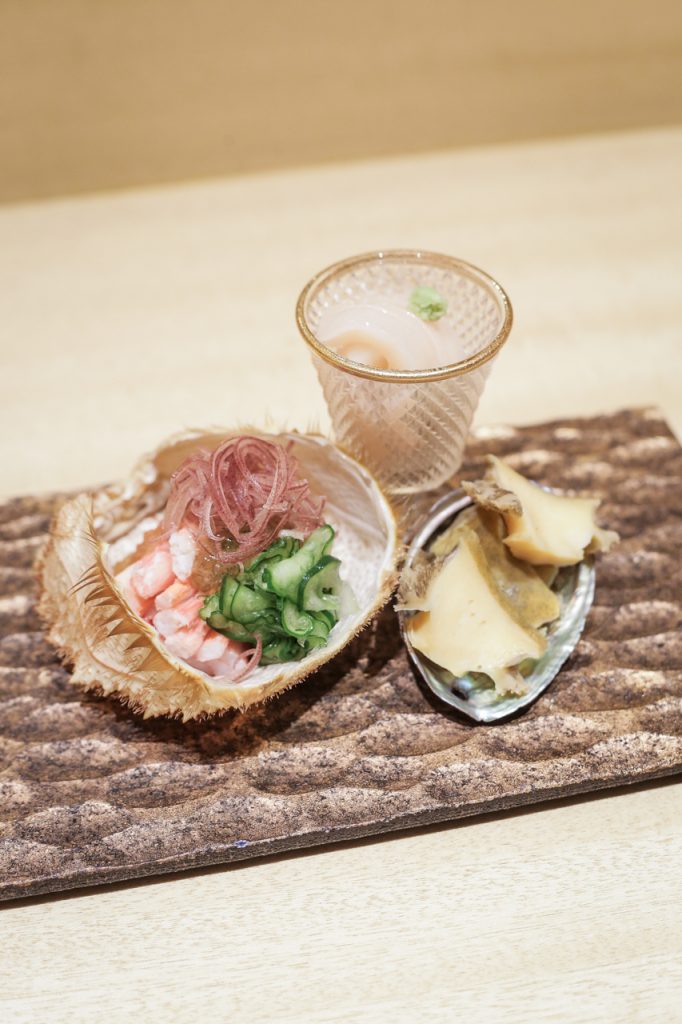 Kyo-to, in true kaiseki tradition, follows the multi-course, ever-changing menu practiced for centuries in Japan. It was also named after the country's traditional cultural capital, where tea ceremony originated.
Kawamoto trained for eight years at the prestigious Kitcho kaiseki restaurant in Osaka, working his way from dishwasher, to prep cook, and eventually being allowed to prepare mukouzuke, one of the kaiseki courses, which features the most refined dish, sashimi. After also working at Tokyo's famous Tsukiji Market and then serving as the private chef of the Japanese Ambassador to the Philippines, Kawamoto finds himself back in the world of kaiseki, this time as the head of the kitchen.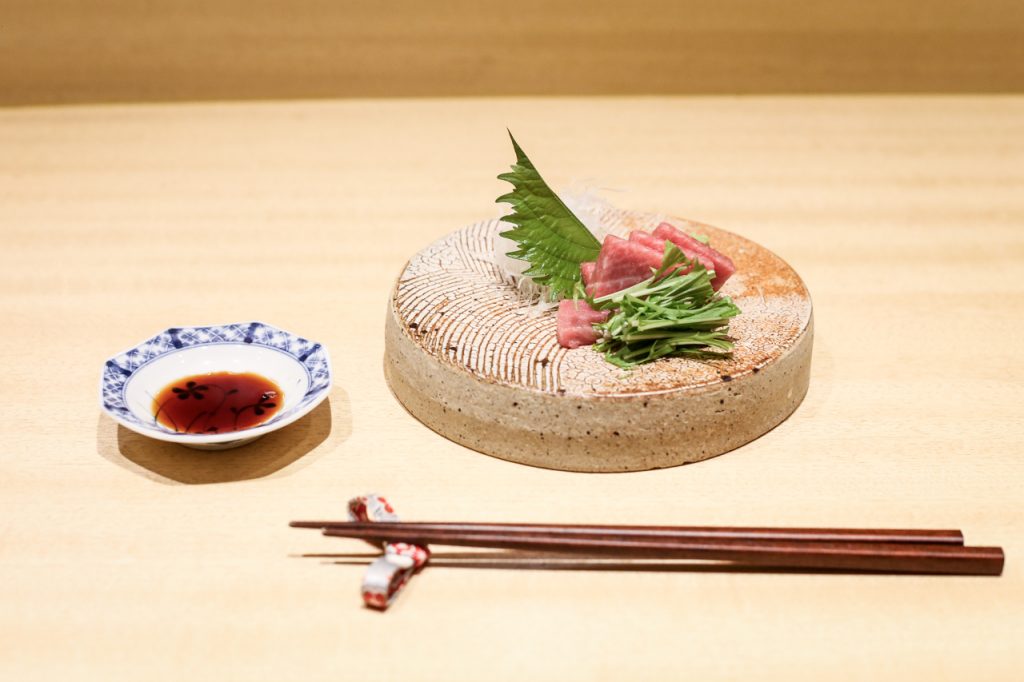 [blockquote author="Naomichi Ishige"] "Japanese haute cuisine is based on the paradoxical cooking philosophy that the ideal way of cooking is not to cook." [/blockquote]
Kyo-to's kaiseki meal follows the eight-course format, starting with appetizers, moving to sashimi, soup, broiled or grilled fish, fried fish, stewed dish, rice or noodles, and ending with dessert.
Kawamoto sources his ingredients at most a day before he uses them—at the least, a few hours before. On the day of our visit, we were first treated to an appetizer of crab meat in vinegar (kanizu), scallops (hotate tsukuri), and steamed abalone (awabi). The freshness of each item is evident in each bite, especially with the crab. Although served in vinegar, the seasoning is light enough to allow the flavor of the crab and the mild sweetness of the thinly sliced cucumbers to come through.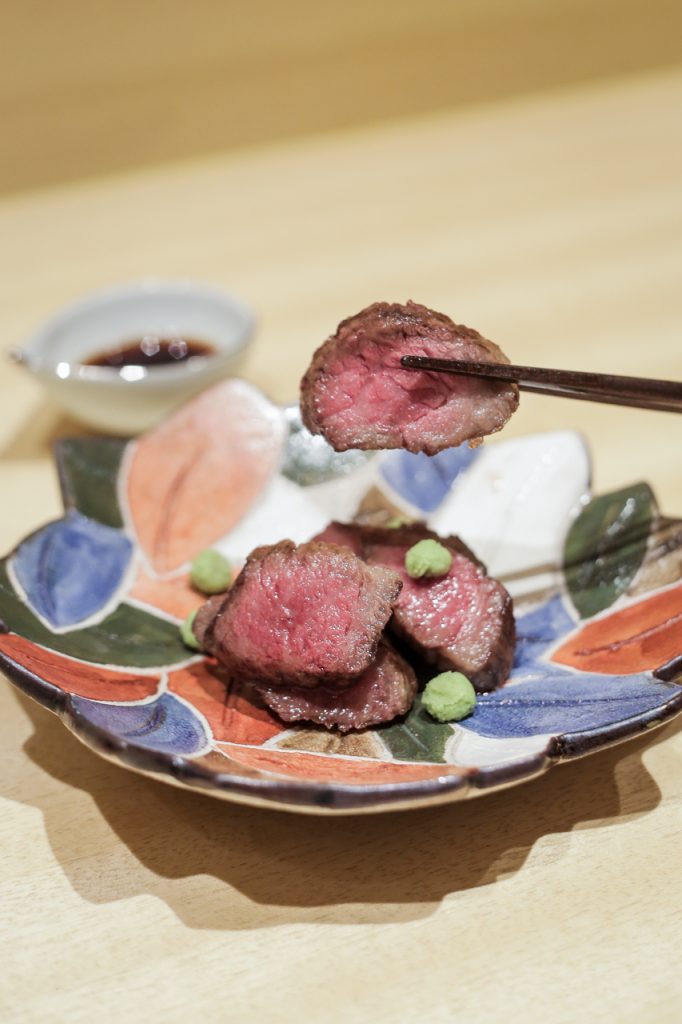 Next was a serving of toro sashimi, taken from the tuna's fatty belly portion. You can enjoy this at its rawest, without any hint of wasabi or soy sauce, or dipped and seasoned as much as you prefer. The next course is grilled hamachi or yellowtail—the jaw part, which is said to be the best part—which was perfectly tender, making it easy to break apart with chopsticks.
The main course, so to speak, was a plate of grilled A5 grade wagyu served with a bowl of rice. Although served with soy sauce on the side, each cut of beef is flavorful enough to not need it.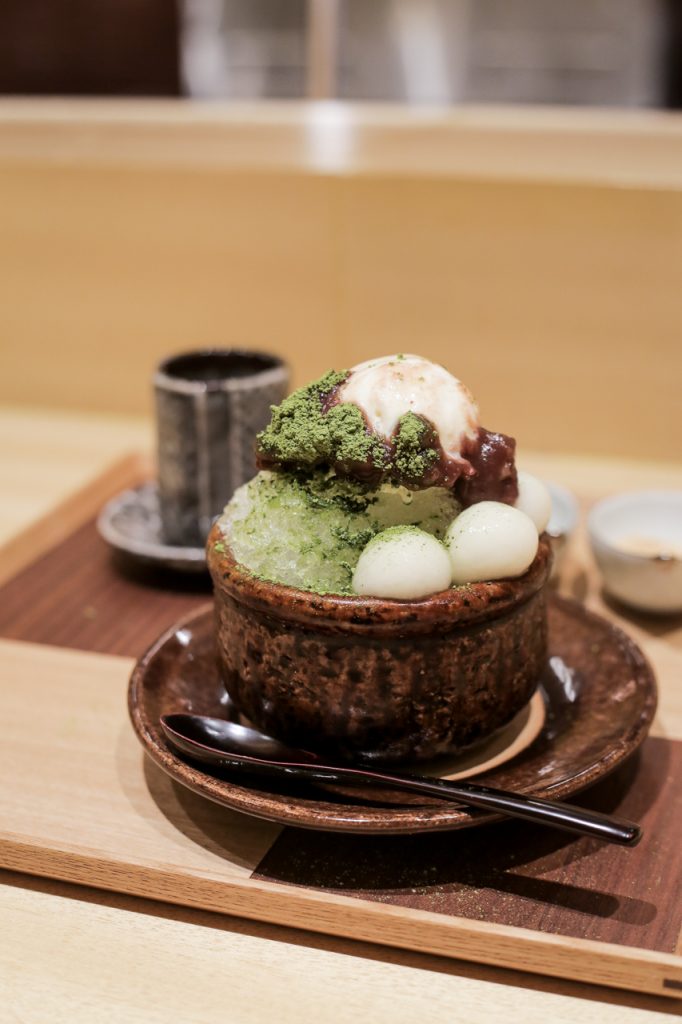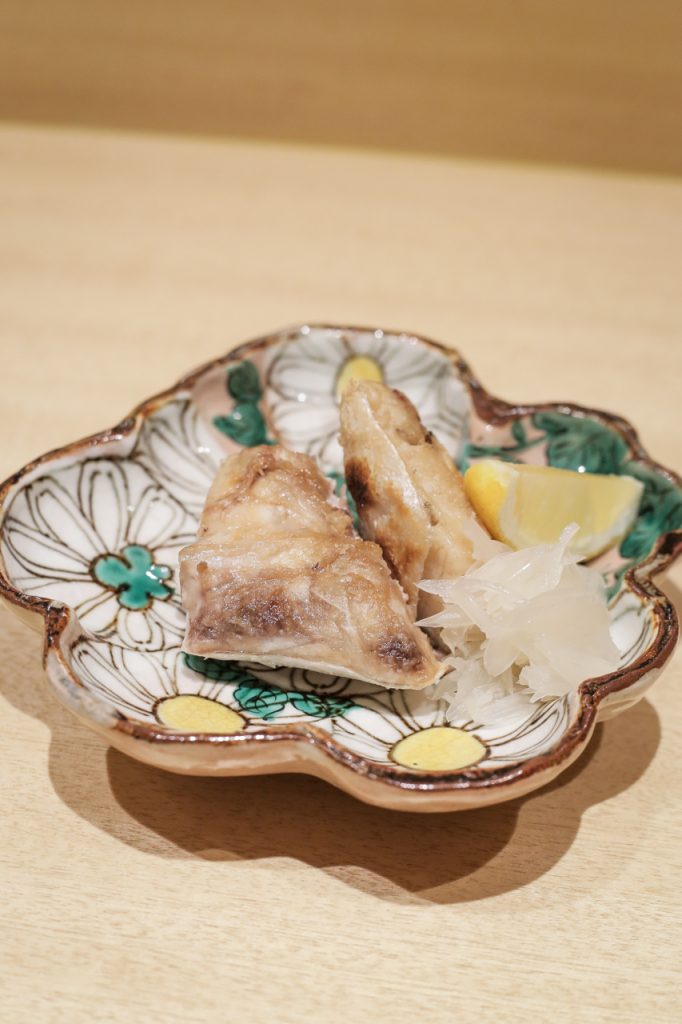 To end the meal, Kawamoto served a summer treat that is as much Japanese as it is "Filipino", as the chef calls it. "Japanese halo-halo," he told us, while setting down a tray laden with an assortment of bowls: one with a large mound of shaved ice (kakigori), turned green with matcha and topped with ice cream and a couple pieces of mochi, and two smaller ones with matcha syrup and kinako (roasted soybean flour). And just like our own national dessert, Kawamoto suggests mixing it all together in the bowl before eating.