This is how President Duterte ought to spend his vacation
Relax, he's not bed-ridden.
Jun 16, 2017
On June 15, the Malacañang released photos of President Duterte at work to dispel rumors of the president being seriously ill and bed-ridden.
"These ones [were] taken during his visit to Villamor Air Base in Pasay City on Thursday, June 15, 2017," the captions from Malacañang read. Special Assistant to the President Christopher "Bong" Go also shared two photos of President Duterte working in Balay Pagbabago. The photos serve to show the President in good health and fighting shape.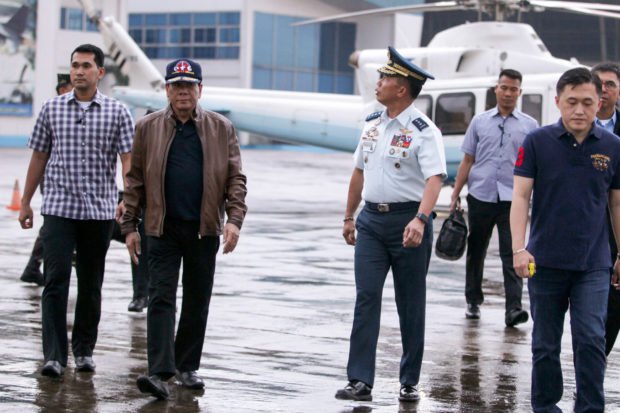 Rumors of the President suffering from a critical illness has been around since the elections. The controversy died down after he won the presidency, but sparked again due to his absence from the Independence Day rites at Rizal Park. The President gave no official reason for this absence, but Presidential spokesperson Ernesto Abella said the commander-in-chief was "just tired."
"The President just needs…after all, you have to consider that he has been on the road for at least 23 days in fulfilling his martial law supervision," Abella said. "I cannot give you definite date but he's just taking some time off to rejuvenate. Let's just put it this way, that he's resting for some time," he added.
Some might say that presidents shouldn't be going into indefinite leave of absences, especially in the middle of a rebellion and martial law. We say, fair enough. Even strong men like our commander-in-chief need a break every now and then. While staying at his hometown province of Davao, here are some of our suggestions on how President Rodrigo Duterte might take the edge off his stress.
Jogging
Some people might prefer taking a walk, but men like our president tend to go for the livelier alternative of jogging. Going on a run helps keep the body healthy and gives the mind time to meditate. His Excellency should take advantage of the security and familiarity of his hometown and go out for a jog to clear his mind.
Boxing 
When you're commander-in-chief, you're thinking about problems to solve and crisis to abate round the clock. The best way for men like the President to relieve the stress from such concerns is to engage the body and just let all the aggression out. Boxing is the perfect means for this. Unlike other martial arts, it isn't as taxing or pre-occupied with any special moves or fancy jumps. It allows participants to let instinct take control and zone out. An empty mind gives space for solutions other than dictatorship.
Ride a motorbike
The President is known to have a stationary bike at home that he uses as his daily exercise. We suggest he take it up a notch and maybe get himself a motorcycle. Then, he could take his motorbike out for a ride and pretend to live a less stressful life than that of a president.
Here's to hoping the President's little escape might finally give him the rest and peace of mind that he needs to keep on leading this country.
TAGS: Duterte philippines president duterte rodrigo duterte wellness