These five NCCA-awarded structures are a short trip away
We know where we're going this weekend
Jun 16, 2017
The National Commission for Culture and the Arts has recently announced the awardees of the annual Haligi ng Dangal Awards. The award recognizes "completed/executed works in architecture and its allied professions, namely: landscape architecture, interior design, and urban and environmental planning." The award also aims to promote good design and the "positive influence" it has.
Though conferred with a prestigious award, the winning structures and spaces are by no means inaccessible. This weekend, immerse in some of our modern architecture by visiting these locations.
Church of the Gesu
Architecture Honoree
Ateneo de Manila University, Katipunan Ave., Loyola Heights, Quezon City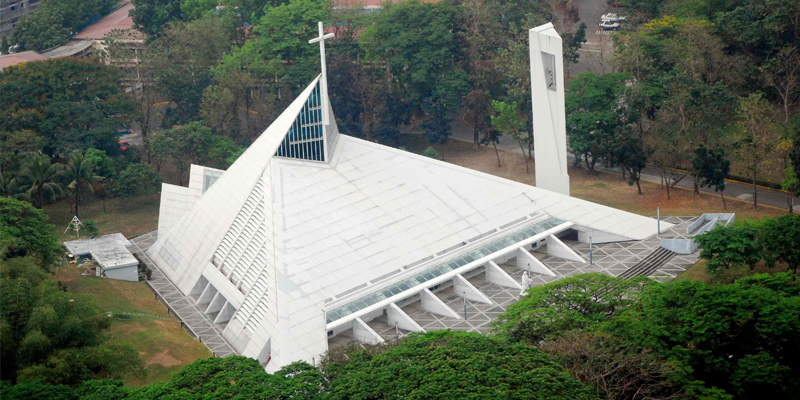 The Church of the Gesu is the main church inside Ateneo de Manila University. Major eucharistic celebrations, from thanksgiving masses to Simbang Gabi are held here. Designed by architect Jose Pedro Recio, formerly from Recio + Casas Architects, the church is a modern yet religious structure that "embodies the ideals of the [university]." The church is shaped like a pyramid. It also has a low energy design, making use of windows and vents to allow more natural light and air to circulate inside the church.
Arnaiz Residence
Architecture Honoree
Residential project
Designed by architect Dan Lichauco and Archion Architects, the Arnaiz residence features a generally contemporary form, but rendered with materials that exude the kind of warmth and homeyness expected of a Filipino home. Stilt structure on the first floor allows for air circulation, while the floor-to-ceiling windows and balconies allow for natural light and better views.
Lumot Lakehouse
Interior Design Honoree
Lumot Lake, Cavinti, Laguna
Budji+Royal's design for this weekend getaway updates the bahay kubo into a space that merges the modern with the natural. It uses bamboo furniture and a bamboo roof. The lakehouse has three units which are made of glass and crushed bamboo. The glass-walled guest house gives guests a full view of the lake.
U.P. Town Center
Landscape Architecture Honoree
Katipunan Ave., Diliman, Quezon City
This mixed-use development by Ayala Malls features retail and office areas, with landscaped gardens interspersed throughout the complex. These green spaces, designed by landscape architect Eric Estonido and Asea Design Group, provide areas for mall-goers to sit and rest.
Ronac Art Center
People's Choice Citation
424 Ortigas Avenue, Greenhills North, San Juan del Monte
Designed by architects sonny Sunga and Arnold Austria of Jagnus Design Studio, this art and retail hub makes it to the list by popular vote. It houses the headquarters of Jagnus Design Studio, as well as Secret Fresh Gallery. The Playground, located at the 3rd floor, can be rented out for events. Restaurants and shops are open at the ground floor and the deck.
TAGS: architecture haligi ng dangal interior design national commission for culture and the arts ncca nolisoliph