Save the planet with these natural beauty and skincare products
Plant-based and cruelty-free? Yes, please!
Aug 31, 2017
There's nothing we love more than seeing local brands step up with quality products, especially when it involves makeup and skincare. With the rise of foreign, independent beauty brands like Glossier, Drunk Elephant, Sachajuan, RMS, and 23.5°N, the need to produce our own is dire.
We have so many talented artisans in the country, not to mention abundant natural resources, which will allow us to infuse skin-loving ingredients in almost any beauty staple. We don't have to look far anymore for the sake of beauty. And shopping for local beauty and skincare products that are made mindfully is also getting more and more convenient as most of them are available online.
With that said, we rounded up noteworthy local beauty brands that you need in your arsenal, stat.
Vegans will get giddy when they see what RRAW has to offer. They carry a line of plant-powered products with the benefits of aromatherapy, from coffee scrubs to crystal cleansers. All crafted by hand, of course.
Everyday Love wants to build not just a brand, but a community for beauty aficionados as well. Their liquid lipsticks are up to par with the ones from Kat Von D, Hourglass, and Anastasia Beverly Hills but for more than a fraction of the price.
This brand is inspired by age-old beauty rituals, as all of their products are made from scratch and follow only 100% pure and premium recipes. Their line promises an all-natural experience, so you don't have to worry about getting your skin in trouble.
Lush has met its match, sans the crazy price tag. Their soaps do more than just clean—they awaken the senses while giving you happy vibes. Aside from the yummy and colorful soaps, they also have bath bombs, body oils, scrubs, and fragrances to make "me time" more relaxing and enjoyable.
Radioactive Mushrooms' products are "intended to transport you to a different realm." They only create in small batches to preserve the brand's authentic and intimate vibe. The brand's owner, Wiji Lacsamana, is also an advocate of a cruelty-free lifestyle. For the free-spirited, by the free-spirited.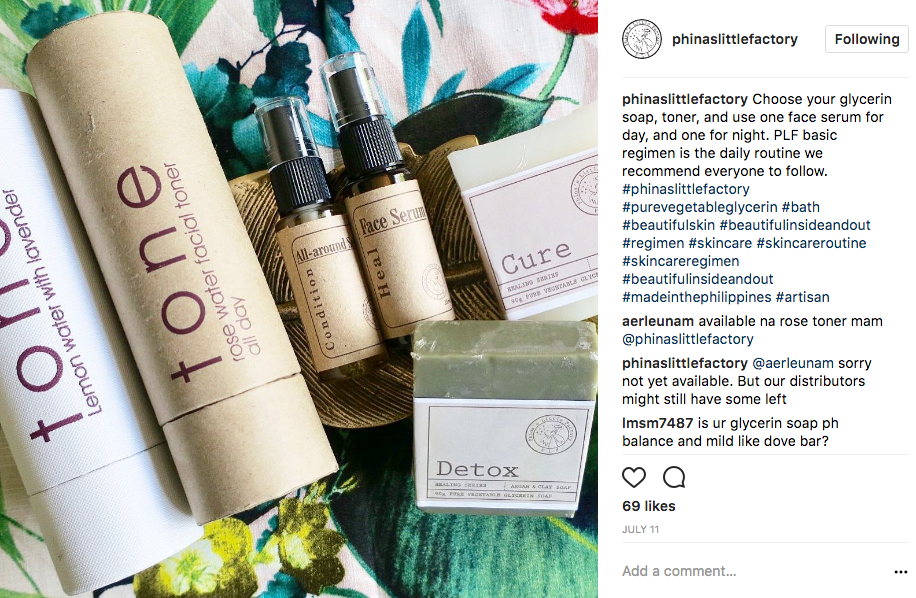 This "little factory" is where owner Phina creates handmade pure vegetable glycerin-based soap bars and shower gels, which come in different variants that address specific skincare needs. The first thing you'll notice when you get your hands on these babies is that they smell divine. Love, a moisturizing soap, comes with chamomile extract and an extra dose of olive oil, and has a sweet, candy-floral scent that isn't too overpowering. Other soap variants sound as interesting: Salted Caramel (dubbed the "glow bar"), Fresh (anti-aging), and Cuddles (safe for babies and sensitive skin). They also have soap bars that might appeal to those with more masculine tastes: Ice Soap (a.k.a "arctic soap") and Black Propaganda (infused with charcoal and bergamot for a luxurious detox sesh). Aside from soaps, Phina's also has a complete facial care range that includes toners, face oil-serums, and a DIY mask kit called "The Perfectionist."
Another local fragrance brand you can check out is Sparrow Fragrances, available online and in malls (Common Thread in Greenbelt 5 and Poweplant Mall). According to its website, Sparrow was put up by "two ordinary girls making extraordinary things." The scents are homemade and hand-mixed, and a few sprays go a long way. One of our staffers who use Sparrow recommends Snow, a lovely, light powder scent that lingers all throughout the day. They have aroma diffusers and an organic makeup brush cleaner as well. Sparrow also recently launched its Just Breathe Mist, a pocket-sized all-natural remedy made of 100% pure, therapeutic-grade oils. They say its "a magical blend of lavender, lime, vanilla, and cedarwood." Mmmm, we can smell it already.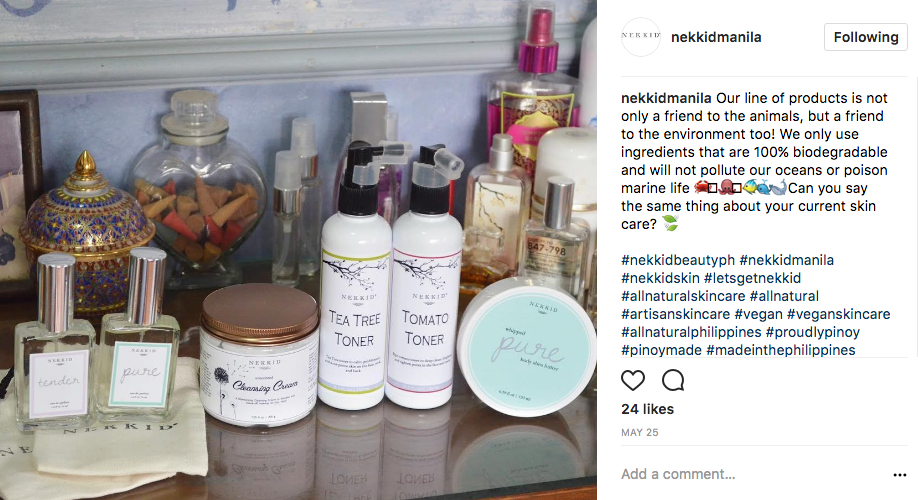 Right off the bat you should know that Nekkid only offers products that are organic, cruelty-free, gluten-free, and paraben-free. If you don't believe us, head over to their site to know the brand's story. Most of their products are infused with 100% pure, cold-pressed oils and are made in small batches to ensure freshness so don't be surprised if stocks are easily depleted—but we assure you that it's worth the wait! The brand was founded by Sabs Dy-Liaco, who is also known as @themakeupmaven on Instagram. She's a beauty junkie so you're assured of honest products that work. Aside from pure care oils, scrubs and masks, face and body soaps, fragrances, hair care, baby care, and body care (they have butter powder!), Nekkid also has a line called Nekkid Home, which even includes "Poopoo Sprays."
From the packaging alone, you can tell that SkinPotions is fun and flirty and for the young (and young at heart). Their water drop cushion pact is aptly called "I got a cush on you" and they have tinted lip balms called lip candies with great color payoff. One swipe stays on for half a day, we kid you not. Among their bestsellers are the Milk Tint, a tinted moisturizer infused with sunflower oil, and Lightning Bunny, a mild facial cleanser with Avena Sativa (wild oat) oil, Rosa Moschata oil, honey, and aloe.
When Ellana Minerals branded themselves as "the Philippines' No. 1 Mineral Makeup," we couldn't help but agree. Their mineral powders are finely milled, feel silky on the skin, and have a wide range of shades that were created with the Filipino complexion in mind. The coverage isn't bad too, considering that they're mineral cosmetics. Actually, some of their loose powder concealers can be used for full coverage. The brand is cruelty-free, 100% vegan, and talc-free as well. They also offer other mineral products from primers to brush cleaners to eyeshadow/brow powders and blushes. And if you aren't keen on using mineral products, Ellana gives you reasons why you should try theirs:
They offer sun protection

They have antioxidant benefits

They soothe the skin

They provide good oil control

They actually moisturize the skin
Read more:
Alpha lipoic acid is the missing ingredient in your skincare routine
Watch FPJ blush in technicolor in this restored footage of his wedding day
Cruelty-free beauty products are actually better for you, and here's why
TAGS: Ellana Minerals Everyday Love local beauty local makeup local products makeup natural beauty Nekkid nolisoliph philippines Phina's Little Factory Radioactive Mushrooms RRAW skincare SkinPotions Soak Artisan Sparrow V&M Naturals