On Monday, President Rodrigo Duterte
approved the national budget for 2018
during the 16th Cabinet meeting. According to Budget Secretary Benjamin Diokno, the 2018 national budget amounts to P3.676 trillion. The approved budget is 12.4 percent higher than the
P3.35-trillion
budget for 2017. But what will the administration prioritize? "The budget aims for a safer, greener, wealthier, and more beautiful country, making space for the youth, the poor, disadvantaged, and handicapped," Presidential Spokesperson Ernesto Abella quoted Diokno in a Palace briefing yesterday. According to
reports
, the Department of Education (DepEd) will get the highest budget. Next to that is the Department of Public Works and Highways (DPWH). In fact, the said budget is expected to improve infrastructure with 25.4 percent allocated for it. The 2017 national budget also
allocated the biggest portions
of the budget on DepEd and DPWH with P567.561 billion and P458.61 billion respectively. But why does the education sector deserve to get the biggest portion of the national budget?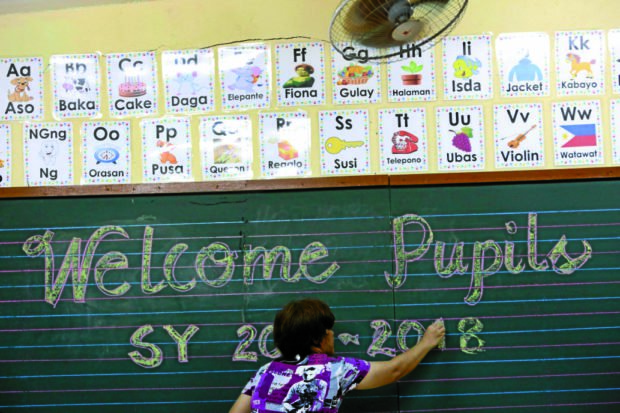 To improve the quality of teachers
A person can only teach another person what he or she knows. If that is the case, most of our teachers cannot teach general education subjects well in grade school. According to a
report
, most grade school teachers have low performance in math, science, and English. Hopefully, the higher budget on education will open more training opportunities to make our public school teachers more competent.
To provide sufficient materials to the increasing number of students
Although this issue has been on for years, there still seems a need for more classrooms and other materials. When the school year opened, there is a
six percent increase
 in students who go to 53,043 public schools. With this increase, there seems to be a lack of materials. According to Alliance of Concerned Teachers, DepEd lacked 235.4 million instructional and other learning materials, 2.2 million seats for 2016 and 66,492 tables and chairs, and 44,538 computer packages. Aside from that, there is still a need for more teachers in public schools. In 2018, the Duterte administration will also prioritize the Department of Interior and Local Government, Agriculture, Environment and Natural Resources, and the Autonomous Region in Muslim Mindanao. According to Diokno, the budget will be submitted on July 24, the day of President Duterte's second State of the Nation Address.
Header photo courtesy of Inquirer.net