Even Osaka Ohsho's chef Alfe Nadonza admits gyoza is best eaten with something else. While training in Osaka, Japan, months before the Philippine branch of the Japanese chain championing the side dish opened, he had slurped ramen with his original gyoza, like most of us do—or at least, in our first encounter of the Japanese' bigger, thicker take on the dumpling.
At Osaka Ohsho, you'll get six to 12 pieces a serving, enough to pinpoint what's special about their gyoza. It could be the filling. The original gyoza is made of three different cuts of quality Japanese pork, minced garlic, pounded ginger, and crisp, waterless cabbage grounded together—its order a secret, flown in fresh and regularly from the Osaka Ohsho commissary in Japan. Two classic variants, one with cheese, another with nori, are the first of Osaka Ohsho's experimentation.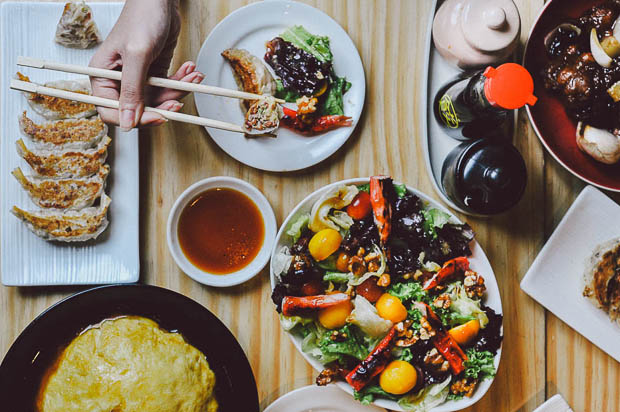 Relish Group's marketing manager Bobby Vallar recommends dipping them into a mixture of chilli and Osaka Ohsho's own miso sauce, a blend of Marukome Miso, ginger, and sugar. While the gyozas do burst with flavor on their own, the original sauce, a mix of Yamasa soy sauce, Mirin rice wine, and vinegar, adds a nice contrasting sourness.
Bacon and cheese gyoza and a dessert gyoza—banana and peanut butter with vanilla ice cream—keep things interesting. The bacon is fried until brown, adding a mouth-watering crunch to the thin crispness of the dumpling wrapper. The banana and peanut butter gyoza, meanwhile, comes in four pieces, and is like a bite-size crepe.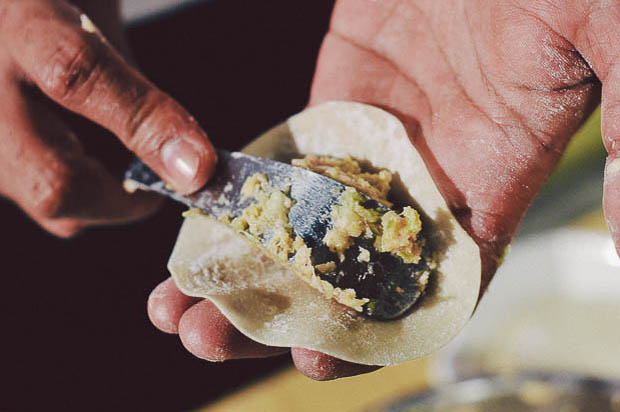 Their wraps are delicate, thinner than most gyozas' (but still thicker than wonton wrap). "Your hands touch it softly; don't press the wrap, otherwise the filling spills out," Nadonza says as he sways side to side, scooping, swooping, folding, and wrapping in a rhythm called the Gyoza Dance, taught to help chefs perfect the technique that has been passed down to those who have been making Japan's number one gyoza since 1969. Their gyozas' distinct, slight crisp and softness come from a cooking technique that requires grilling, steaming, and frying in exact time measurements and temperatures.
For a specialty restaurant, Osaka Ohsho's big menu offers an array of mains like Black Vinegar Chicken, stir-fried after marinated in the original sauce. But the sides, of course, get the special treatment. Gyoza's usual partner, ramen, requires another specialty, which, according to Vallar, Osaka Ohsho prefers to leave to those who have it; here, Nadonza likes his gyoza with Special Fuwatoro Tenshin Han, a rice bowl with scrambled egg and Japanese gravy good for two (or one carbo-loader). The Osaka Ohsho salad is basically kani salad, but each ingredient is bigger. The kani is grilled, and the mango bits are round, all succulent.
Their portion sizes are not for quick bites, as the warm lights, benches, and banquettes beckon lingering. You'll keep reaching for another gyoza, feel like you're having a light snack, until you're reaching for your last piece, already satisfied.