LOOK: Citizens react to President Duterte's SONA
"Ang bayan ay mulat... Meron pa ring kritikal mag-isip."
Jul 24, 2017
President Rodrigo Duterte just delivered a two-hour long speech for his State of the Nation Address last July 24, the second of his term so far. In his speech, he covered issues such as mining and the environment, martial law and the rebellion in Mindanao, taxes, food security and production, the war on drugs, and health. While the speech seems to touch on multiple points of interest, there remains to be mixed reactions to the president's report.
Edgar Samar, author and professor at the Ateneo de Manila University's Filipino Department, noted that the SONA lacked direction, as evidenced by the president's tendency to jump from topic to topic during the speech.
Repleksiyon nga ang #SONA2017 ng kondisyon ng bayan natin: magulo, walang direksiyon, at mapapamura ka na lang.

— Edgar Calabia Samar (@ecsamar) July 24, 2017
Others like radio host and writer Gang Badoy and Canvas founder Gigo Alampay, meanwhile, commented on specific points of the SONA:
President seems focused on mining, the effects of irresponsible mining methods, environment, maski mga kaibigan niya taga-mining. #SONA2017

— Gang Capati (@gangbadoy) July 24, 2017
Nothing wrong with instilling fear of punishment to deter crime. But due process and human rights are not trivial nor irrelevant. #SONA2017

— Gigo Alampay (@lookingforjuan) July 24, 2017
The president also went to meet with some dissenting groups after the SONA, in an attempt perhaps for discourse. The meeting ended with President Duterte calling for mutual respect.
I know it's probably a security protocol nightmare- but I appreciate that he tried. I always wondered why past Presidents didn't do this. 🤔 https://t.co/FiEqD35o7c

— Gang Capati (@gangbadoy) July 24, 2017
Historic, unpredecented moment, Duterte going out to the rally. He won a lot of points for this confrontation with the left.

— Tony La Viña (@tonylavs) July 24, 2017
Former Bayan Muna representative Teddy Casiño took to the stage after Duterte's statement, addressing the protesters: "Sa ating mga manggagawa, may sinabi ba siya tungkol sa kontraktwalisasyon? Sa magsasaka, may sinabi ba siya sa tunay na reporma sa lupa? Sa ating mga kapatid na Lumad, may sinabi ba siya? Sa ating kabataan, may sinabi ba siya tungkol sa edukasyon?" (To our laborers, did he say anything about contractualization? To our farmers, did he say anything about real land reform? To our Lumad brothers, did he say anything? To our youth, did he say anything about education?) To which the crowds responded with a "no".
Pakinggan ang tugon ng Dating Kinatawan ng Bayan Muna Teddy Casiño hinggil sa talumpati ni Duterte sa harap ng madla. #SONA2017 #SONAngBAYAN pic.twitter.com/UjPDSE48pE

— Matanglawin Ateneo (@MatanglawinADMU) July 24, 2017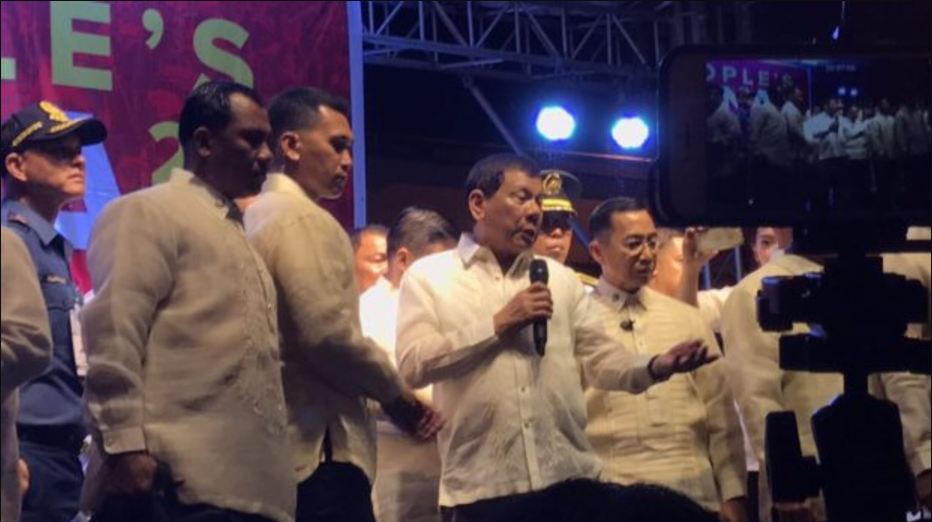 Activist Mae Paner, also known as Juana Change, was also present at one of the protests, clad in a military uniform. Despite the current events, she says she remains hopeful. "Ang bayan ay mulat, ang mga kabataan ay gising. Marami ang alam ang totoo, hindi naniniwala sa fake news, hindi nakukuha ng celebrity o endorser o agad-agad naniniwala sa mga troll. Meron paring mga kritikal mag-isip, at 'yan ang katakutan mo, presidente." (The nation is awake. Many know the truth, they don't believe in fake news, they aren't swayed by celebrities or endorsers, or believe in trolls. There are still people who think critically, and that's what you should be afraid of, Mr. President.)
Still others criticized the president's preference for letting out expletives during the ad-libbed segments of his speech, preferring to hear more concrete action plans.
Hindi pakakainin ng dose-dosenang PUTANG INA MO o ng PAMUMUTANG-INA MO sa media ang mahihirap na Filipino. Anong plano mo? #SONA2017

— Professional Heckler (@HecklerForever) July 24, 2017
Former Solicitor General Florin Hilbay also took to Twitter to express his sentiments:
Longing for SONA that inspires, uplifts, motivates, provides wisdom, positive direction. Not threats of gov't, but a plan of good governance

— florin hilbay (@fthilbay) July 24, 2017
On the other hand, celebrity and former presidential sister Kris Aquino posted on Instagram the points of Duterte's SONA she agreed with.
What did you think of Duterte's second SONA? Let us know in the comments.
Photo courtesy of Inquirer.net.
TAGS: Duterte government nolisoliph philippines politics president duterte rodrigo duterte Sona SONA 2017 State of the Nation Address