Here's a worldwide ranking that no country should be proud of: A ranking of who dumps plastic waste in the waters the most in the world. Our Pasig River earned second place in relation to its area, and eighth overall. Time to hide the #PinoyPride banner.
Although there have been efforts to rehabilitate the river, it is still biologically-dead, basically a repository of residential and industrial rubbish now. Every year, 63,700 tons of plastic are dumped into the river which goes into the ocean—almost twice as much as the minimum amount of waste it could take yearly.
The government's Pasig River Rehabilitation Commission, which was established in 1999, actually focuses on transforming the river and restoring its water quality to Class C level. It means that the waterway should be just right for fishing, boating, and supplying water for manufacturing processes after treatment. But until now, they haven't reached this goal.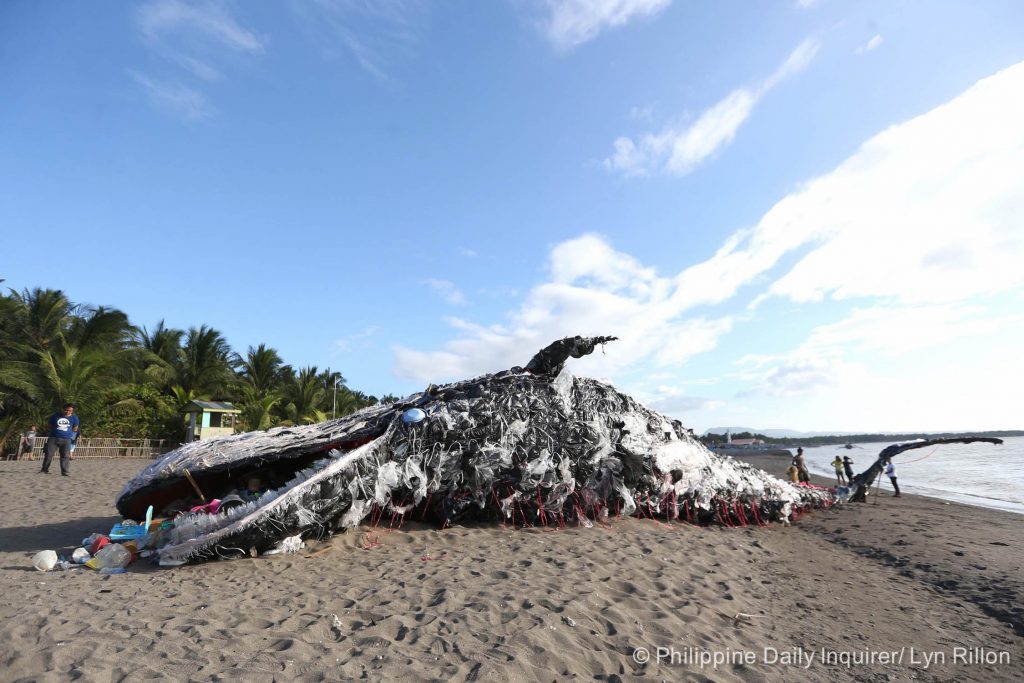 In May, Greenpeace Philippines even put up an art installation on a beach in Naic, Cavite to raise awareness on the effects of plastic waste on bodies of water and living things in them. It is an enormous sculpture of a dead whale, with tons of plastic waste gushing from its insides to its mouth.
According to a recent study conducted by researchers from the Netherlands and the US, around 86 percent of plastic waste in the ocean come from Asia. "A considerably high-population density combined with relatively large MPW production rates and episodes of heavy rainfalls" can be attributed to the continent's estimated annual waste contribution of 1.21 million tons.
Among the top 10 contributors, only two don't belong in Asia. China tops the list with the Yangtze River which runs through the populous city of Shanghai, followed by India's trans-boundary Ganges river which extends from northern India to Bangladesh. Xi River in Guangdong province of China, the country's most populous province, placed third.
Top rivers contributing most plastic waste:
Yangtze – China
Ganges – India, Bangladesh
Xi – China
Huangpu – China
Cross – Nigeria, Cameroon
Brantas – Indonesia
Amazon – Brazil, Peru, Columbia, and Ecuador
Pasig – Philippines
Irrawaddy – Myanmar
Solo – Indonesia
On the other hand, considering the catchment surface area, the Pasig River propels the second largest amount of plastic, with an estimate of 15.65 tons of plastic per year per square kilometer.
"Most of this river plastic input is coming from Asia, which emphasizes the need to focus on monitoring and mitigation efforts in Asian countries with rapid economic development and poor waste management," researchers said.
Imagine if the river's still as clean as this:
Plastics are functional and cheap to manufacture, but they are more harmful than helpful in the long run, especially to our environment. Pasig River is proof enough.
If you haven't started minimizing your plastic consumption, here are some few products you can begin avoiding:
Straws
Plastic utensils and cups
Plastic bags
Facial washes with plastic beads
Plastic food containers
Header image courtesy of Inquirer.net
Read more:
Manila Mayor Joseph Estrada's staff threw garbage into Manila Bay for publicity's sake
Here's another traffic problem: water hyacinths in Pasig River
A photographer took aerial photos of Manila and they're utterly suffocating
Writer: YAZHMIN MALAJITO