Do you want to be featured on Apple's Instagram?
Their new account puts the spotlight on iPhone photographers
Aug 9, 2017
Behind a beautifully produced photo are a number of influences. Essentially, capturing a fascinating moment depends on the eye and prowess of the photographer. But we should also regard their gear and the mastery of it.
Today, Apple enjoys an impeccable reputation when it comes to its phone's camera system. The iPhone's built-in camera is relatively better than what other smartphone brands offer—it's in the optics, post-processing system, and ultimately in what they call the brain behind a camera, their own Image Signal Processor, a chip that Apple designed from scratch.
With this sort of technology, it's about time Apple should celebrate photographers who have been using iPhones to meticulously frame and snap amazing photos and clips.
On Monday, the company launched its new Instagram account. Basically, it's a gallery of collections from different photographers. Some clips have the photographers' voice playing in the background, briefly explaining their creative process.
Their first post is a compilation of five short videos—a video of a honey bee kicking a bumblebee off a flower, a collection of portraits of people which focuses on the subjects' eyes, a short clip of a danseur doing a pirouette with surprises in between, photos that give off refreshing takes on round things around us, and an incredibly close photo of a shark underwater. The caption of the post includes short statements from featured photographers to provide more context, albeit limited, on their oeuvres.
The posts are short, impacting, and surprisingly, addicting.
The succeeding posts follow the same format. Apple just encourages photographers to use #ShotoniPhone on their own posts to take part. 
In just about 40 minutes, their new account managed to build up 40,000 followers. As of writing, it has 444,000 followers with only nine posts.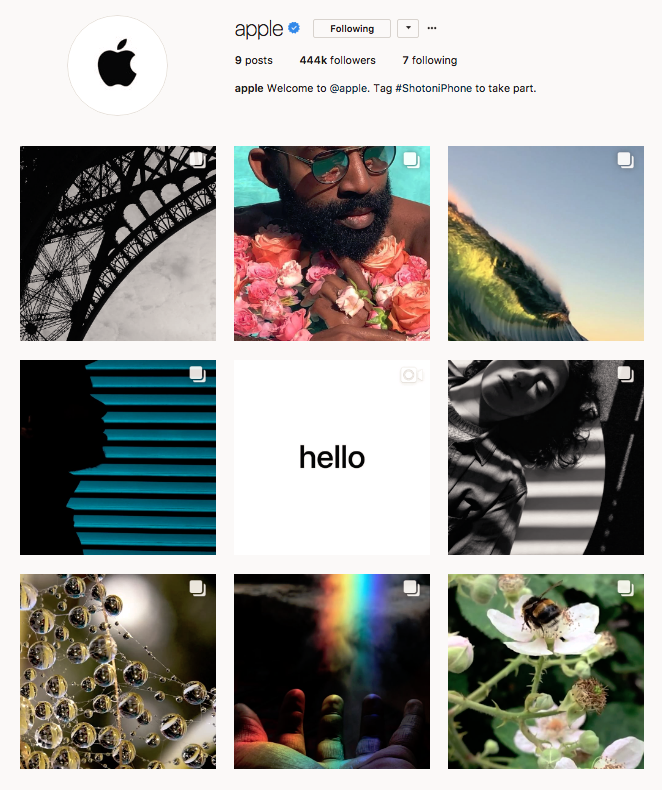 Header image courtesy of Unsplash
Read more:
A photographer took aerial photos of Manila and they're utterly suffocating
Curing anxiety through virtual reality
This app fights food wastage, helps others get filled
TAGS: app Apple camera Instagram nolisoliph Photographers photography ShotoniPhone