How Weightlifting Fairy changed my TV viewing habit
The series helped me understand people's obsession for K-dramas
Aug 11, 2017
My first foray into non-Tagalized Korean media is through Kim Ki Duk's Moebius, an extreme film where a mother castrates her son and eats the penis. With no genitalia, the son discovers painful yet effective ways to orgasm. It is quite a difficult film to watch. However, not too long ago, I discovered Korean media's softer and kyeopta (cute) side through a Korean drama or K-drama.
I've met a lot of people who are so invested in the Hallyu wave or the global popularity of Korean culture. In college, my friend's affinity towards the culture led us to do a research on its influence to the fans' beauty preferences. Although I always encounter K-pop or K-drama fans, I was never enticed to really delve into the culture. I would not deny that I've seen a few episodes of some Tagalog-dubbed dramas like Coffee Prince, but I never really watched any K-drama fervently. I was never really into it and I guess I just wanted to be anti-trend. This changed when I discovered Weightlifting Fairy.
My officemates have been obsessing over this K-drama since summer. It was a contagion. It started with some K-drama fans, a Korean skincare enthusiast, a co-worker who's going to Korea soon, a Thai drama fan, and an intrigued Japanese culture enthusiast. Every time a new person starts to watch the show, they'd ask about the last episode they saw, which would lead to a long discussion full of swooning.
It seemed like the show left a huge impact on them that they can remember numerous details through their everyday lives: a mini karaoke session in the office evoked a memory of how the characters sung Bigbang's Fantastic Baby in one scene, and Korean dinner reminded them of how the characters would eat their BBQ and chicken. What really enticed me to finally watch it is a local network's promo for a Tagalog-dubbed version.
On that Thursday night, I put aside La Luna Sangre (the third installment of Lobo starring Kathryn Bernardo and Daniel Padilla) and watched Weightlifting Fairy (WF) on Viu. What I didn't know was that I lured myself into a rabbit hole.
The show, if you don't know yet, revolves around student athletes Kim Bok-joo (Lee Sung-kyung) and Jung Joon-hyung (Nam Joo-hyuk). Bok-joo is a weightlifter who struggles with her romantic emotions due to standardized ideals of beauty and womanhood. Joon-hyung, on the other hand, is a swimmer who encounters trauma brought about by his estranged mother. As they help each other get through their difficulties, they fall in love.
On the first episode, I was already expecting myself to skip scenes and eventually end up not watching the whole series. But, I ended up finishing the 16-episode series in one weekend. For sure, K-drama stans could finish a whole series in one day. However, for someone skeptical like me, it's quite surprising how I easily succumbed to a cutesy K-drama.
Fandom, good-looking actors, and our curiosity in Korean culture are also good factors that entice us to watch K-dramas, but there seems to be a deeper reason for our obsession for these dramas.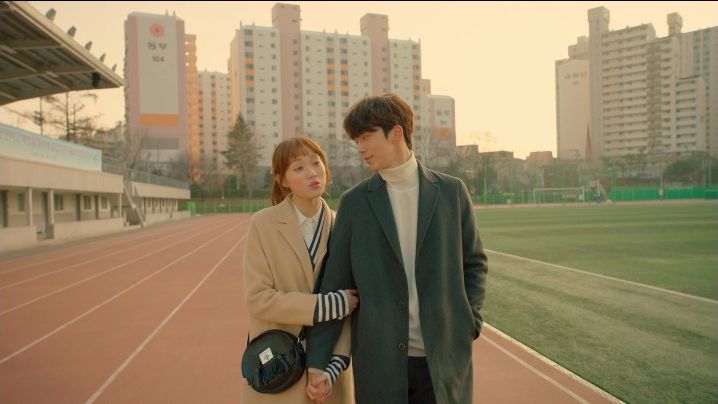 It is not without a doubt that K-dramas are well shot. WF, for example, uses camerawork to seamlessly transition from the present to a flashback. New York Times reported that Korean shows really invest in their scripts and production design. Perhaps, that's where the allure of K-dramas comes from.
K-dramas, at least the ones popular to the Filipino audience, have transformed. Although the early 2000s saw light dramas like Full House, Coffee Prince, and Princess Hours, most shows then were quite heavier than the ones we watch now. Autumn in My Heart, for example, has a Mara Clara-moment: main characters Choi Eun-suh and envious Yoon Shin-ae were interchanged as babies. Later on, Eun-suh develops romantic emotions toward her "brother" Yoon Joon-suh, which their parents oppose. To add to that, the drama ended with the death of Eun-suh due to leukemia. Winter Sonata and Stairway to Heaven, on the other hand, used the amnesia card to push the story further. This type of drama belongs to or uses the makjang style. Makjang is characterized by the use of outrageous storylines involving revenge, fatal illness, and etc.
Dramas hinged on history and myth, say Jewel in the Palace and the recently concluded Goblin, also did and still do well even today.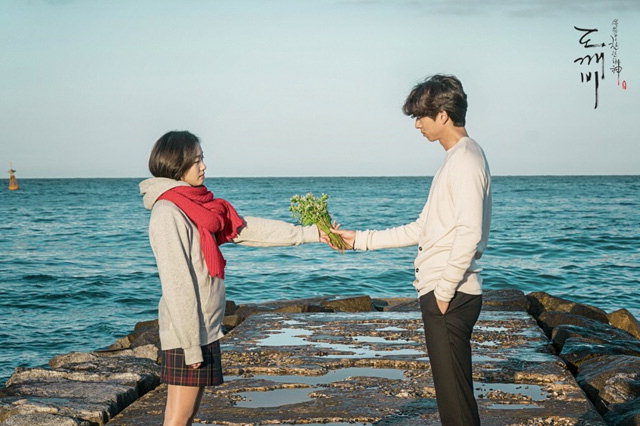 Most K-dramas prominent (at least to Filipino youth) these days have abandoned complicated plots, making the show easier to watch and digest. Dubbed as non-Makjang drama, these popular shows now are good-natured, with a non-complicated storyline. Case in point, look at Reply series, Cheese in the Trap, and Descendants of the Sun.
These non-makjang dramas appeal to the youth more than to older generations. And, it's because these shows tackle issues that the youth is interested in. In WF, female weightlifters are viewed in a more masculine light as they need to gain weight and often get hand calluses. They are also viewed inferior to gymnasts who maintain a slim figure, adhering to the notion of what is pleasing. This idea of beauty has led Bok-joo to believe that no man will love her. There's Joon-hyung who, although hesitant at first, consulted a psychiatrist to help him with his anxiety. And then, there's one moment where the passionate weightlifter Bok-joo experienced a slump. To think of it, all those issues are similar to what most young people encounter these days.
WF is just really adorable and easy to watch. It's like watching Unbreakable Kimmy Schmidt without becoming too much of a comedy. On the local landscape, it's probably comparable to On the Wings of Love and Forever Sucks. And I realized that these shows and WF have similarities including the absence of a purely evil antagonist. Perhaps, it's better to say that if they have one, he or she is just a difficult person.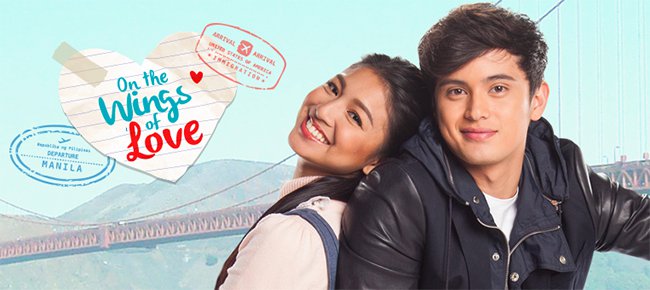 WF's own share of this character is in the form of Joon-hyung's crazy ex-girlfriend, gymnast Song Si-Ho. When she did something to put Bok-joo in a bad light to her father and the weightlifting team, I got extremely annoyed that I had to vent out my vexation on Twitter. As the show progresses, the reason why Si-ho tries to cling to Joon-hyung so much is unraveled, leading the audience to understand and even to empathize with her. Also, she's not annoying all throughout the show; she became friends with Bok-joo and Joon-hyung, and even supported their relationship.
It can be quite amusing to watch evil ladies like Claudia Buenavista in Pangako Sa'yo and Vera Cruz in Magkaribal (one of the best teleseryes, to be honest), but the absence of malevolent characters allow the main characters to be proactive, resulting to a more natural development of the story. With all the vengeance-filled shows dominating local primetime TV, dramas like WF are a breath of fresh air. Entertainment, without any regard to its origin and form, is one of the primary reasons behind media consumption. TV shows serve as a form of relaxation and escape from your everyday woes.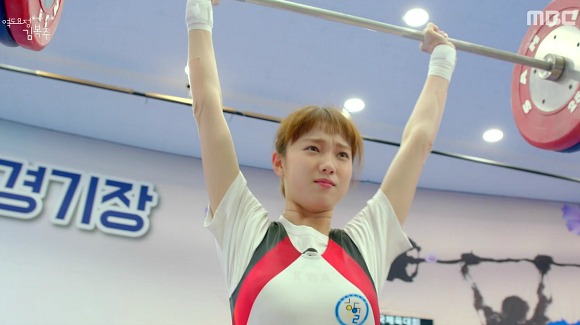 While there are so many elements that set K-dramas apart from teleseryes, both of them find a common ground in values. Scout's associate editor and K-culture fan Denise Fernandez told me that K-dramas appeal to many Filipinos because of our cultural similarities with them. "There's always a lot of romance, the filial family culture, conservatism, and the way of production, like corny songs playing over romantic scenes," she says.
While scrolling through various articles on K-dramas, I stumbled upon an essay from The New Yorker. The essay is about the nostalgic show Reply 1988 and the author briefly discusses the cultural trait called han. Although quite difficult to explain, han is "sorrow and the hope to overcome it, and it is injustice and the obsession to avenge it." Then, there's the concept of jeong that contrasts the han. "Jeong is love and loyalty and deep emotional attachment," Jun Michael Park writes in an article on Parts Unknown.
Although it's quite difficult to delve into the presence of han in WF, the concept of jeong is alive in the entire series. It's when Joon-hyung helps Bok-joo recover from her slump, when the show brings us back to the time Bok-joo saved Joon-hyung's life, and when Bok-joo and her friends bond over food. Jeong is about the brotherly, filial, and romantic love. And the whole show is simply about it.
It's full of love that, as cheesy as it is already, we swoon and feel the kilig. And for a person who's forgotten about the concept of kilig, I admit that the show's effective reinforcement of such feeling is the primary reason why I fervently watched and rewatched WF.
WF has ended and I'm back to binge-watching all the episodes of La Luna Sanggre that I missed. As of now, I still do not consider myself a K-drama stan who can sacrifice some hours of sleep for a few episodes of a series. While the Viu app notifies me about the newest episode of the latest K-dramas, I haven't really watched another K-drama yet. I'm still surrounded with friends who love K-dramas. And it seems like the Hallyu wave will linger longer. In fact, it seems like it won't die down, not even a bit. It will only continue to grow and we will only be drawn more and more to its varied components. That's okay as long as we don't forget to patronize and nourish our own.
Read more:
These podcasts will get you running before, during, and after work hours
Watching your favorite TV series has some health benefits
What would Jesus, Batman, and Jon Snow do?
TAGS: drama K-drama Korean culture Korean drama Lee Sung-kyung makjang Nam Joo-hyuk nolisoliph teleserye TV Weightlifting Fairy