The director of 100 Tula Para Kay Stella lashes out at critics
Director Jason Paul Laxamana's responses are turning off audiences
Aug 22, 2017
It's the final day of Pista ng Pelikulang Pilipino, and it looks like film director Jason Paul Laxamana might be the reason why movie buffs won't bother catching 100 Tula Para Kay Stella's last full show.
The indie romance film starring JC Santos (as Fidel Lansangan) and Bela Padilla (as Stella Puno) has been receiving mixed reviews online. At first, people were mostly raving about how much they loved the film or rating it as an entertaining but mediocre romantic movie. Laxamana reacted to these positive reviews by liking and retweeting them. 
This movie was so heartbreaking one. Like srsly. I cried, laughed, smiled, I felt everything esp. Fidel's heartbreak. #100TulaparaKayEstella

— #AIIYL (@Beulpingbabies) August 20, 2017
@jplaxamana I also have a speech disorder and your film feels like home. Thank you. 😍💕#PistangPelikulangPilipino #100TulaparaKayEstella

— Bono Chavez (@ItsBonoBitch) August 22, 2017
100 tula para kay Stella! A must watch movie. It will give you mixed emotions after watching it! Kudos! 😍💔😭❤️ #100TulaparaKayEstella

— Kcpatricio (@Kcpatriciooo) August 21, 2017
Then, as is the nature of every film, negative reviews started coming. Safe to say, the film director didn't take criticism well.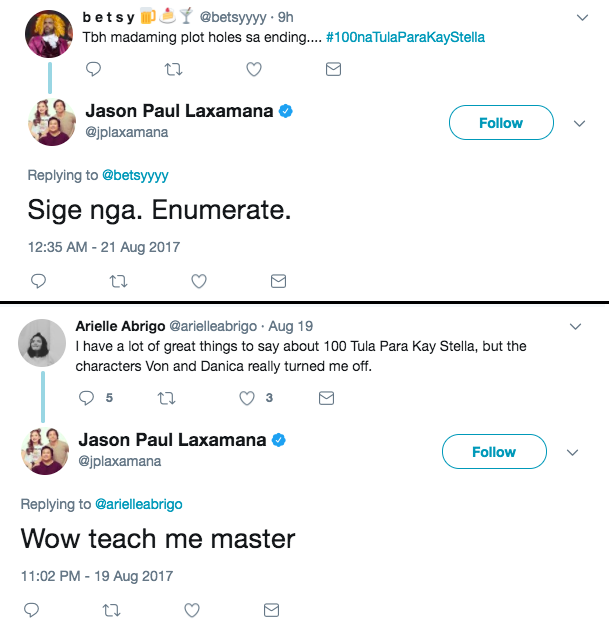 People began posting about the flaws of the movie on Twitter, pointing out plot holes, lack of character development, and inconsistencies in the details of the film. 
Ever watchful, Laxamana actively defended his work.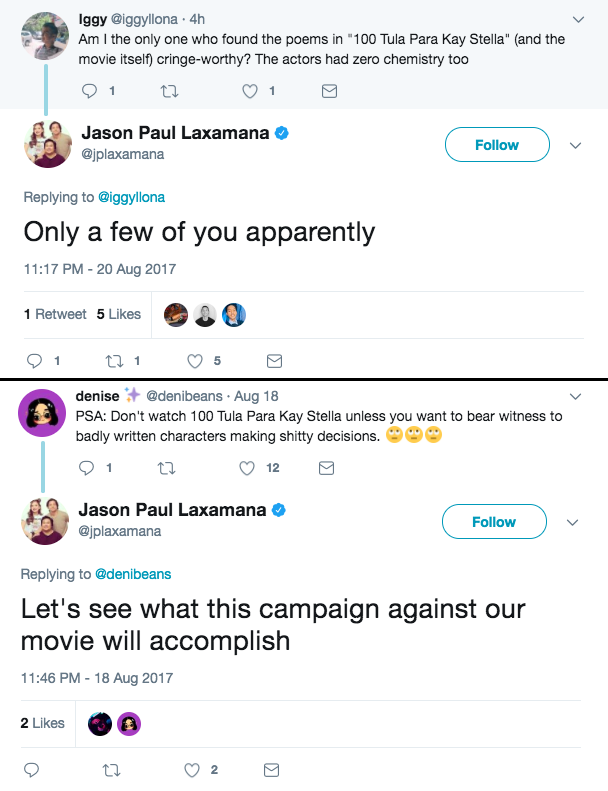 Now, I personally believe there's nothing wrong with defending your work from trolls or unfounded criticisms. This, however, is not the case with Laxamana.
Regardless if it's a troll or a valid criticism, the film director has taken to replying through rude remarks and "witty" comebacks to those who dare post anything bad about his film on social media.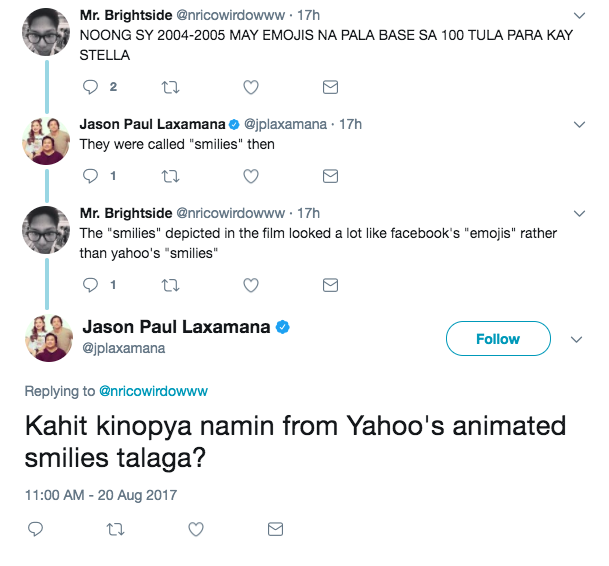 His responses are sending out a clear message: As far as this director is concerned, his work is perfect. If you think otherwise, you're a social media hog without a life who can't get on his level.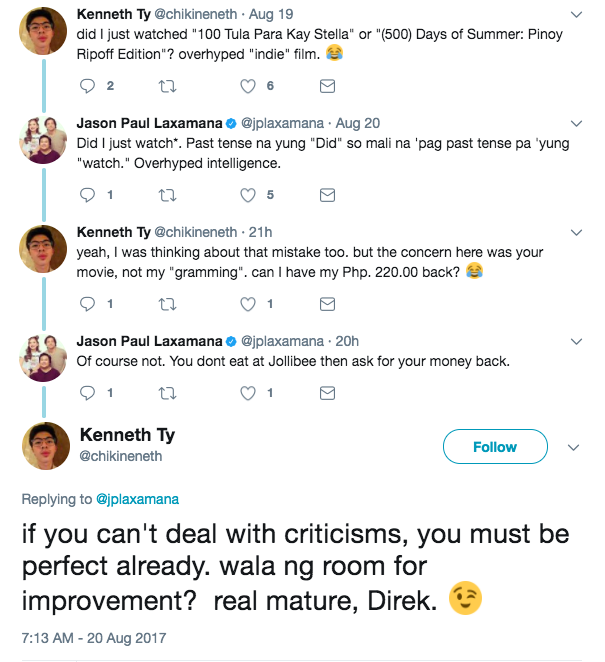 Prior to all of this fuss, people have already been hesitant to support the film because of Laxamana's political beliefs (he's a die-hard supporter of the current president). Nevertheless, people readily set their reservations aside for the sake of art. They wanted to give the film a chance, and let the work speak for itself. 
With this kind of behavior, Laxamana only gave people more reason not to entertain his work.
Good morning. Again, do not support the works of assholes.

— Irish Christianne (@IrishDDizon) August 21, 2017
I guess this begs the age-old question, can we separate the artist from their craft?
As much as I agree that the director could have handled the critics of his film with more finesse, a friend of mine pointed out that the film was born from the combined efforts of people other than Laxamana. The actors, the writer, and the production staff also worked hard on this movie. For their sake, maybe the film still deserves to be given a chance.
TAGS: 100 Tula para kay Stella Bela Padilla Film fixture JC Castro JP Laxamana Pista ng Pelikulang Pilipino