Nov 17, 2017
What to order now: Sugar-free jams, truffle chicken spread, and fancy four cheese
Buy as a gift or eat alone, these spreads work for everyone
This is a list of spreads (or jams) you need to try now. Like, as you read this your finger should be hovering over your phone ready to text or Whatsapp or Telegram all of these fine purveyors of spreads.
Why? Because unlike your fitness goals, you don't need to do much work to reap the benefits of a good spread. Simply: 1) Spread on toast or carb of choice; 2) if avoiding carbs, stick it straight into your oral cavity and chew.
Below is a not-quite definitive list on a few spreads you need to try ASAP:
Fruit & Nut Butter by Comer y Comic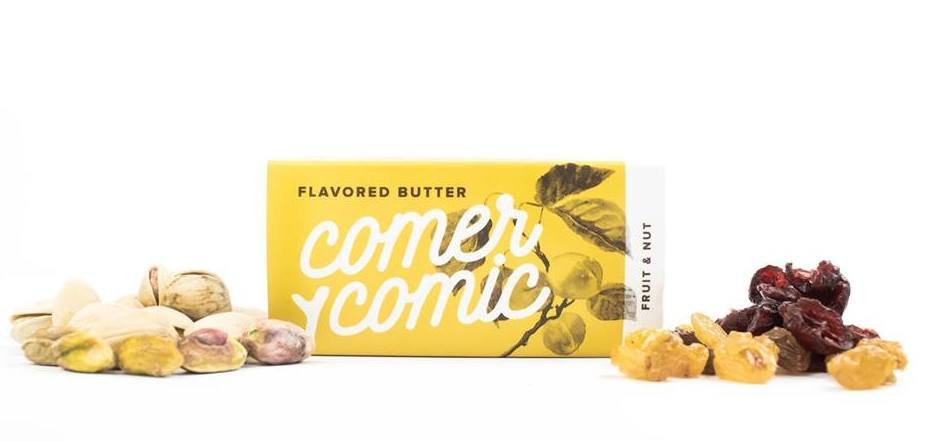 Made with: Butter, roasted pistachios, apricots, cranberries, honey, sea salt
What's the deal: Flavored butters are as retro as Gucci. But both are back in the limelight for a reason. Comer y Comic's fruit and nut butter is the ideal holiday sampler: Spoon into a bowl with some crackers on the side and you're a millennial Martha.
Like Sam Smith and nubby knits, flavored butters only recently made a timely return. While flavored duos make for classic pairings (rosemary-thyme butter, etc), Comer y Comic's versions consist of the traditional (white whine and onion) and the adventurous (foie gras, Scotch and thyme). Spread it on bread or on your protein of choice (grilled fish? a nice steak?) and wonder why comforting staples like flavored butters don't occupy a special place in your fridge.
Other varieties: Truffle, Balsamic & Apricot (P200/100g), Salted Caramel & Brandy (P200/100g), Sundried Tomato, Basil & Roasted Garlic (P200/100g), Foie gras, Scotch & Thyme (P350/100g) and Caviar, White Wine and Onion Butter (P200/100g)
Contact: 0906-3301292,  [email protected], @comerycomic
Holiday Truffle Chicken Spread by Nicole Ortega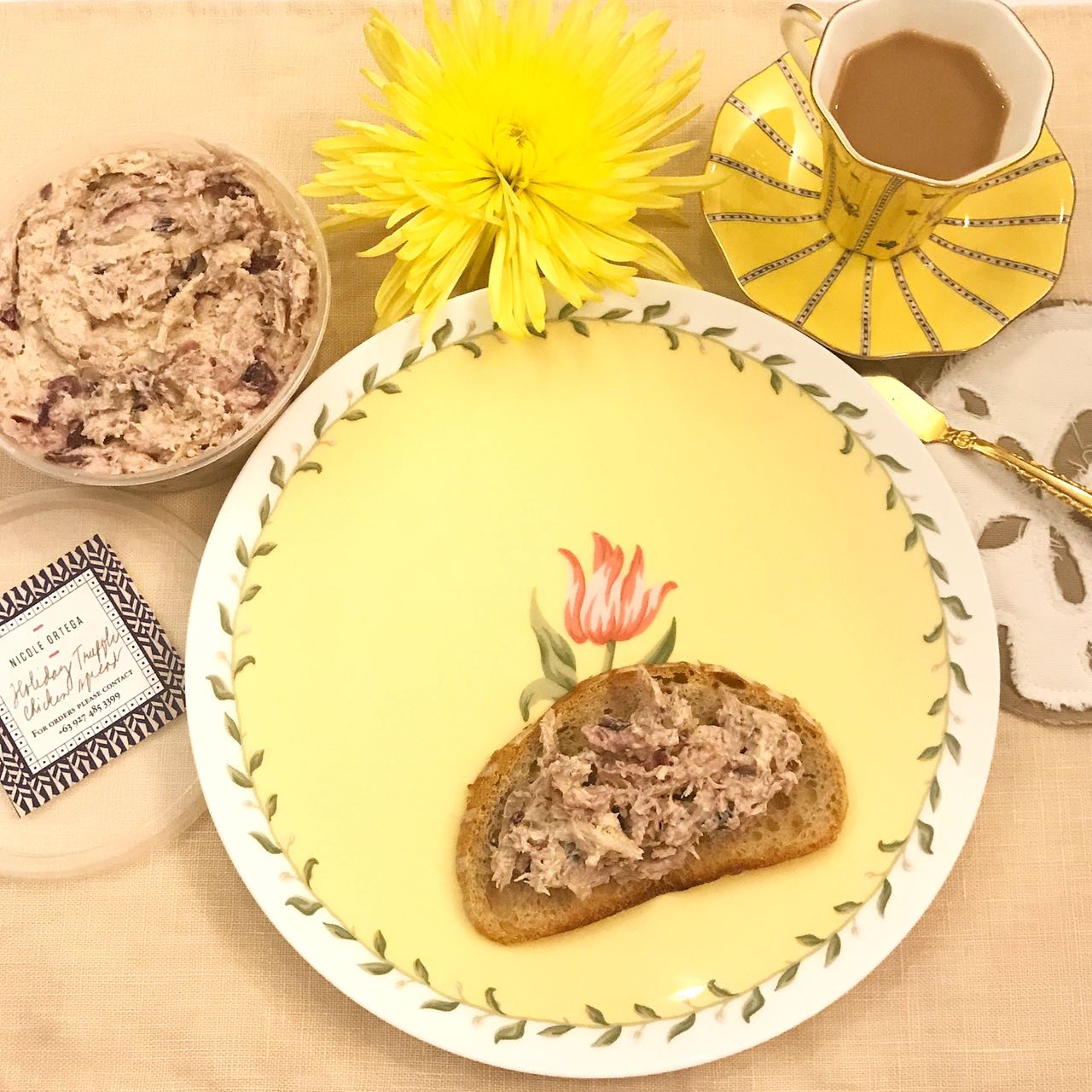 Made with: All-natural organic chicken, cream cheese, cranberries and truffle, no preservatives
Cost: P650
What's the deal: This is Nicole Ortega's limited-edition holiday spread, designed to evoke the holidays with its combination of chicken and cranberry. It's good enough to eat on its own—no bread, just a spoon.
Contact: 0927-4853399, @nicoleortega.ph
Sugar-free fruit jams by Gourmet Gypsy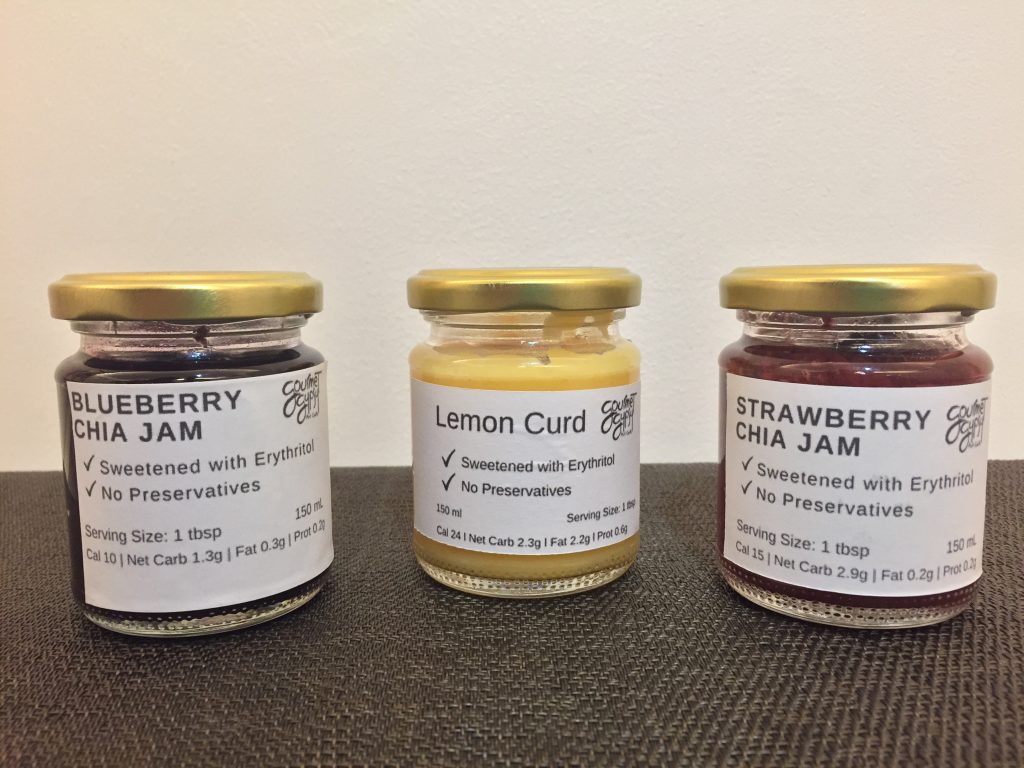 Made with: Xylitol and real berries
Cost: Blueberry Chia (P195/150ml), Strawberry Chia (P175/150ml) and Lemon Curd (P180/150ml)
What's the deal: These Keto- and diabetic-safe jams are manna for anyone on the lookout for low-sugar options. Instead of sugar or Stevia, Gourmet Gypsy utilizes Xylitol, an alternative sweetener that falls under sugar alcohols (considered better tasting than Stevia and doesn't spike your glycemic index). Instead of using sugar to thicken, chia seeds add heft and substance to the jam. If you're watching your weight or your blood sugar, these are decent alternatives.
Contact: @gourmetgypsy, [email protected]
Quattro Formaggio Spread with Pink Peppercorns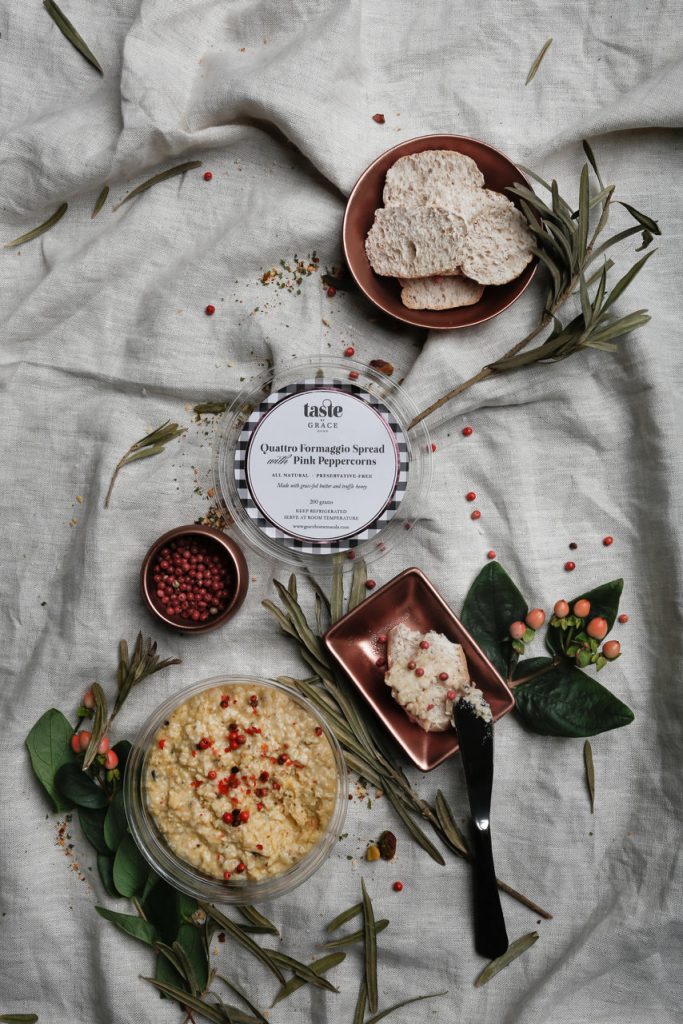 Made with: Grass-fed butter, truffle honey, pink peppercorns
Cost: P695/200g
What's the deal: Call it "Fancy Four Cheese" aka the Cheese Whiz of rich people, made by Grace Barbers Baja of The Spoiled Mummy. "Instead of using just one kind of supermarket cheese sweetened by condensed milk, I turned this into a more luxurious version by the addition of four different kinds of cheeses," she says, "plus local artisanal ingredients such as grass-fed butter, truffle honey, and a generous sprinkling of pink peppercorns to give that added kick—and as an ode to my love for all things pink, of course!"
Contact: [email protected], 0906-3618374
Cheese-pairing jams by Taste by Grace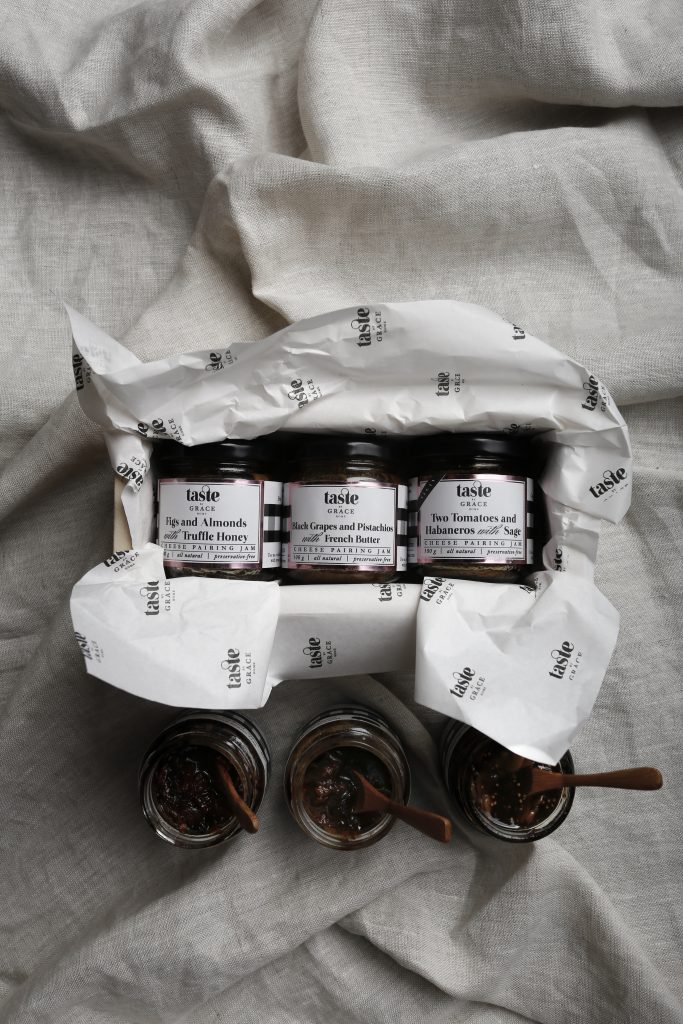 Made with: No additives, no refined sugar and no artificial flavoring
Cost: Figs and Almonds with Truffle Honey; Grapes and Pistachios with French Butter; and Two Tomatoes and Habaneros with Sage (P1,295/assorted boxed set)
What's the deal: Her cheese spreads are legit, but so are these jams, which were crafted specifically for the modern party essential: the cheese platter. Spoon on a cracker with your favorite dairy product (manchego, gouda, Cheese Whiz—this is a judgement-free zone). Personally, I like this with a nice pungent blue cheese but they even work on their own. Like modern employee prerequisites, all good jams must subscribe to both requirements: they need to be independent workers and team players.
"They can also be served as relishes or condiments with your favorite grilled and baked meats," says creator Grace Barbers Baja. "And just recently, I was also surprised to discover another use for it: You can actually turn these jams into dips and spreads simply by mixing them with cream cheese."
Contact: [email protected], 0906-3618374
Basil Chicken Curry Spread by Nicole Ortega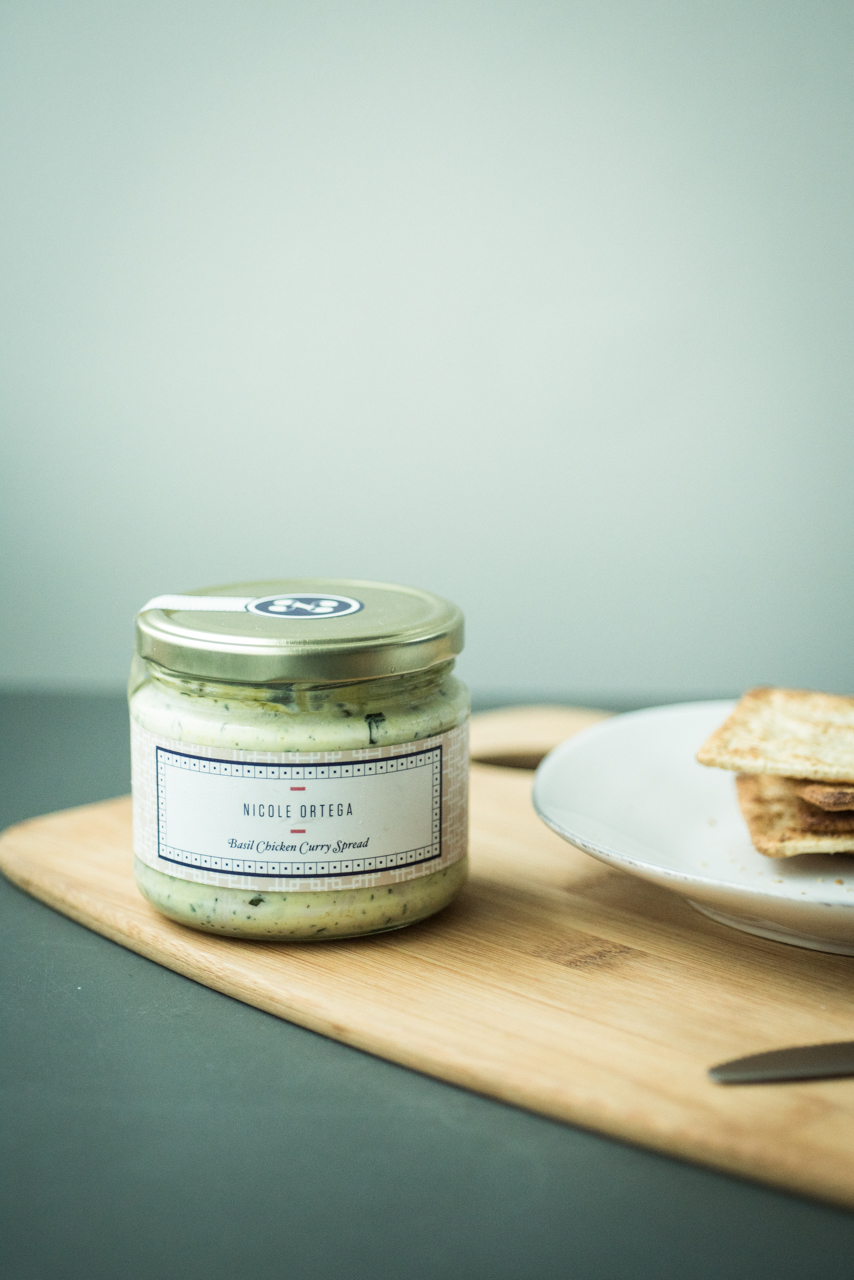 Made with: All-natural fresh chicken, organic basil, homemade mayonnaise and natural yellow curry, no preservatives
Cost: P400
What's the deal: This is Nicole's classic creation, meant to be spread over a thick slice of toast or crackers. The basil and curry add character, ideal for people who enjoy punchy flavors, or Thai food.
Contact: 0927-4853399, @nicoleortega.ph
Tinapa Pate Dip by Delight
Made with: Tinapa, cheese, parsley, spices
Cost: P250/200g
What's the deal: These spreads come in easy, inoffensive flavors. That's not a slight, by the way. That just means this trio of spreads (or dips, whatever you want to call it) make an ideal gift for anyone. Coming from a family of picky eaters, that's high praise.
Other varieties: Spinach Artichoke Dip (made with spinach, artichoke, cheese, mayonnaise, garlic, spices)  and Smoked Salmon Dip (made with smoked salmon, cheese, sour cream, lemon spices)
Contact: 0917-8131812, [email protected],  @delightph
TAGS: butter christmas Comer y Comic Delight food gift ideas Gourmet Gypsy Jams Nicole Ortega nolisoli.ph Spreads Taste by Grace