Nov 27, 2017
Interesting, a beef adobo recipe with coconut milk
This version is more like a stew, richer and more substantial
In Regina Tolentino Newport's Coconut Kitchen, a compendium of recipes for the coconut enthusiast, she proposed an alternative to traditional adobo: beef coconut adobo.
Now, for many people, adobo is a sacred dish—made sacrosanct with its key ingredients: vinegar, soy sauce, bay leaf and peppercorns.
But Newport's version, an adaptation of Amy Besa and Romy Dorotan's Beef Short-Ribs Adobo recipe from Memories of Philippine Kitchens, includes chicken broth as well as coconut milk.
"I use well-marbled beef chuck because it is not always easy to find meaty beef short ribs, unless you are running a restaurant," Newport advises. "I also use coconut vinegar instead of sherry or cider vinegar. Serve this with plenty of steamed rice."
While I don't eat red meat, a friend who has attempted the recipe enjoyed the addition of coconut milk. "It's not salty and acidic like the adobo I'm used to," he mused. "But tasty. Definitely tasty."
Beef Coconut Adobo
Serves 6 to 8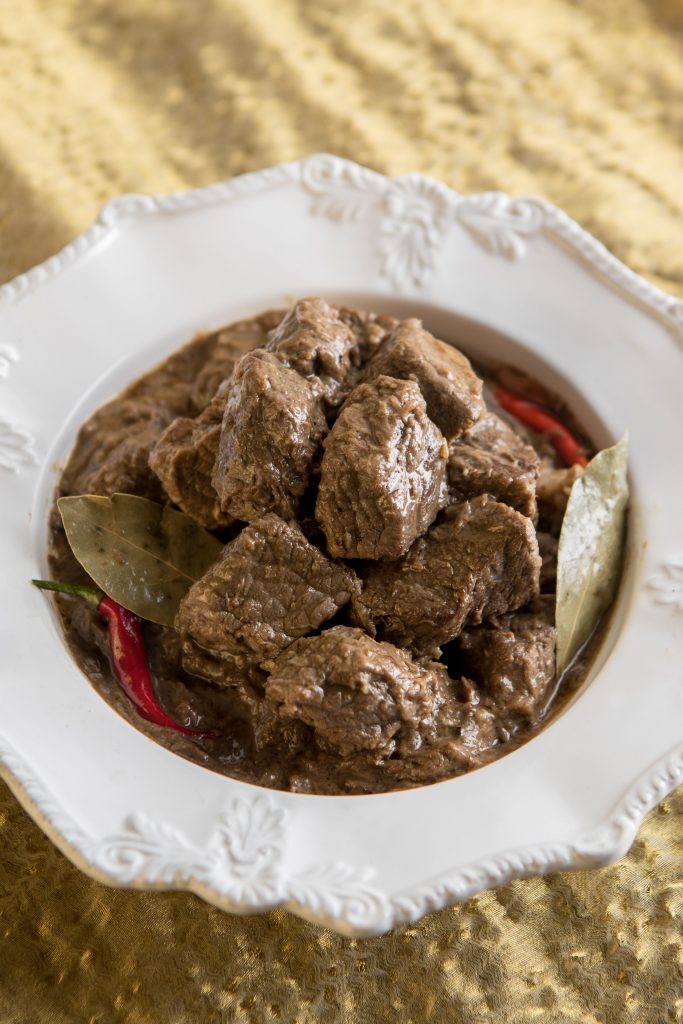 Ingredients
¾ cup coconut milk
½ cup chicken broth
¾ cup coconut, sherry or cider vinegar
½ cup soy sauce
12 large cloves garlic, peeled and smashed
4 large bay leaves
½ teaspoon whole or coarsely ground black pepper
4 pounds (about 2 kilos) well-marbled beef chuck, cut into 1-inch pieces
½ teaspoon salt
½ teaspoon coarsely ground black pepper
3 tablespoons coconut oil
Procedure
1. In a bowl, whisk together the coconut milk, chicken broth, vinegar, soy sauce, garlic, bay leaves and ground pepper. Set aside.
2. Pat dry the beef cubes with paper towels. Season with salt and pepper.
3. In a large heavy-bottomed pan, heat the oil until hot but not smoking. Brown the beef pieces on all sides, in batches. Do not crowd the pan, or the meat will exude its liquid. Return all the cooked meat to the pan. Pour the coconut milk mixture into the pan, making sure all the meat pieces are just covered by the mixture.
4. Bring to a boil, then decrease the heat and simmer, partially covered, for about 1 to 1 ½ hours, or until the meat is fork-tender but not falling apart; skim off excess fat occasionally. Transfer the meat pieces into an ovenproof serving dish large enough to hold the pieces in one layer. Remove garlic solids and bay leaves and continue to simmer the sauce until desired thickness is achieved, occasionally
skimming off excess fat.
5. Set the oven to broil, and broil the meat for a few minutes just until nicely browned and starting to get crispy at the edges; watch that it does not burn. Transfer to a serving dish and pour the thickened sauce over the broiled meat, or serve the sauce on the side. Serve hot or warm.
Recipe excerpted from Coconut Kitchen by Maria Regina Tolentino Newport. Published by Anvil Food Publishing, 2017. Styled by Tina Concepcion Diaz, photographed by Paulo Antonio Valenzuela.
TAGS: adobo beef Coconut Kitchen coconut milk food Maria Regina Tolentino-Newport nolisoli.ph recipe