Recreating history on a plate
Three artists recreate the last meal of some famous people, including Hitler
Nov 20, 2016
In capturing the last meals of these notable—mostly notorious—figures, history offers a brief yet succinct peek at their inner lives. Three artists attempt to recreate and, in their own style, redefine these famous individuals' final bite—or, in the case of Hemingway, a final blowout.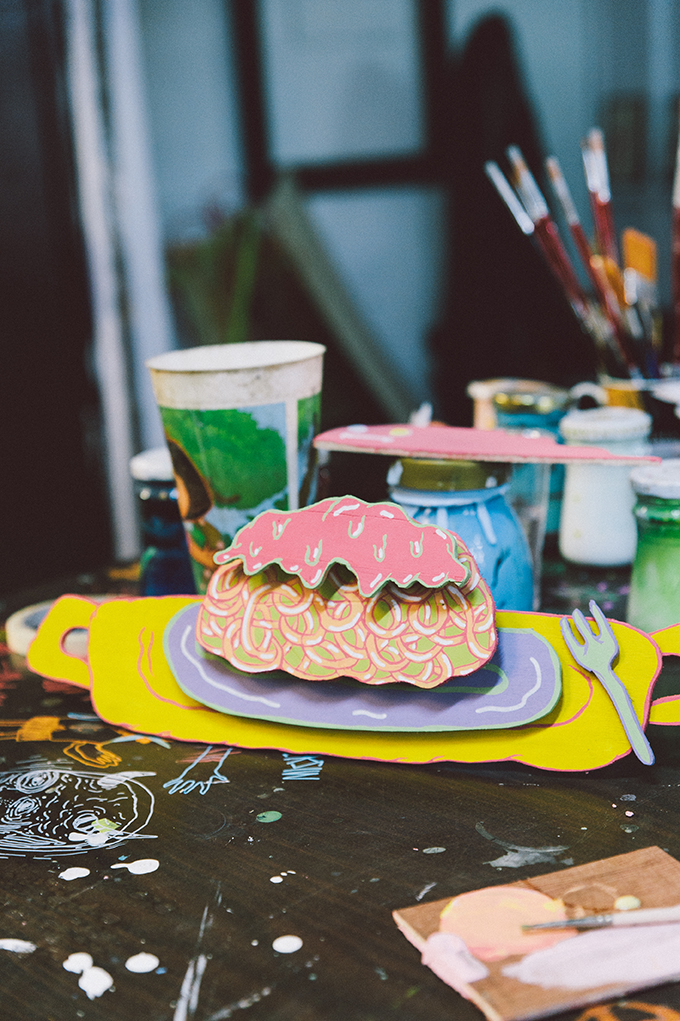 Life Taker
The ferocious dictator Adolf Hitler was, in fact, a vegetarian. "He never ate any meat during the entire time I was there," shares Margot Woelk, one of 15 girls who were commissioned to taste his food to ensure that it wasn't poisoned. Upon realizing his defeat, Hitler and his wife, Eva Braun, took their lives together on April 30, 1945. He reportedly ate a simple meal of spaghetti with a light sauce before they both swallowed vials of cyanide. Not one for taking chances, Hitler then shot himself in the head.
About the artist: Despite being assigned to a personality with a dark history, Karyel "Tyang" Santos retains her quirky and colorful artistic style in recreating Adolf Hitler's last meal. She fabricates the food with plywood, wood glue and acrylic. This budding artist cuts and shapes each element of the meal with a jigsaw, scroll saw and a rotary tool, then assembles it accordingly to give the illusion of a three-dimensional image.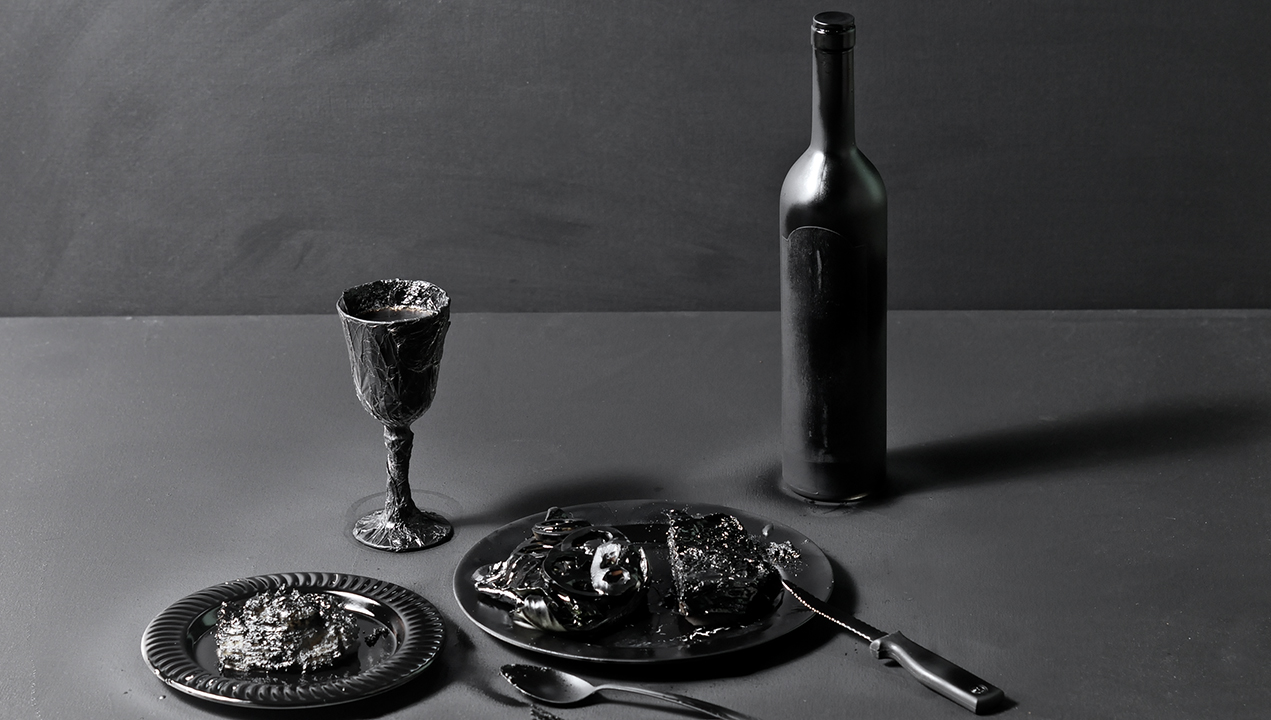 Cunning Narrator
"Mr. Hemingway accidentally killed himself while cleaning a gun this morning at 7:30 a.m.," read a statement issued by the writer's fourth wife, Mary Welsh Hemingway. She claimed it was an accident, but others have said that severe depression pushed Hemingway to put a gun to his own head. Whether or not intentional, the famed writer made sure to devour a sumptuous meal before drawing his final breath: New York strip steak, a baked potato, Caesar salad, and Bordeaux wine.
In recreating Ernest Hemingway's last meal, Costantino "Cos" Zicarelli prepared as though someone would actually eat it. He bought ingredients, cooked them, and set the table. He then proceeded to spray paint it black, rendering it inedible and monochromatic—a recurrent theme in the majority of his pieces.
About the artist: Cos is known for his artwork which takes elements of graffiti and other underground subcultures. His work is usually flat—oil on canvas, paper on graphite and even a Post-It installation— but he has also worked with wood, metal, mirrors and resin to create sculptures.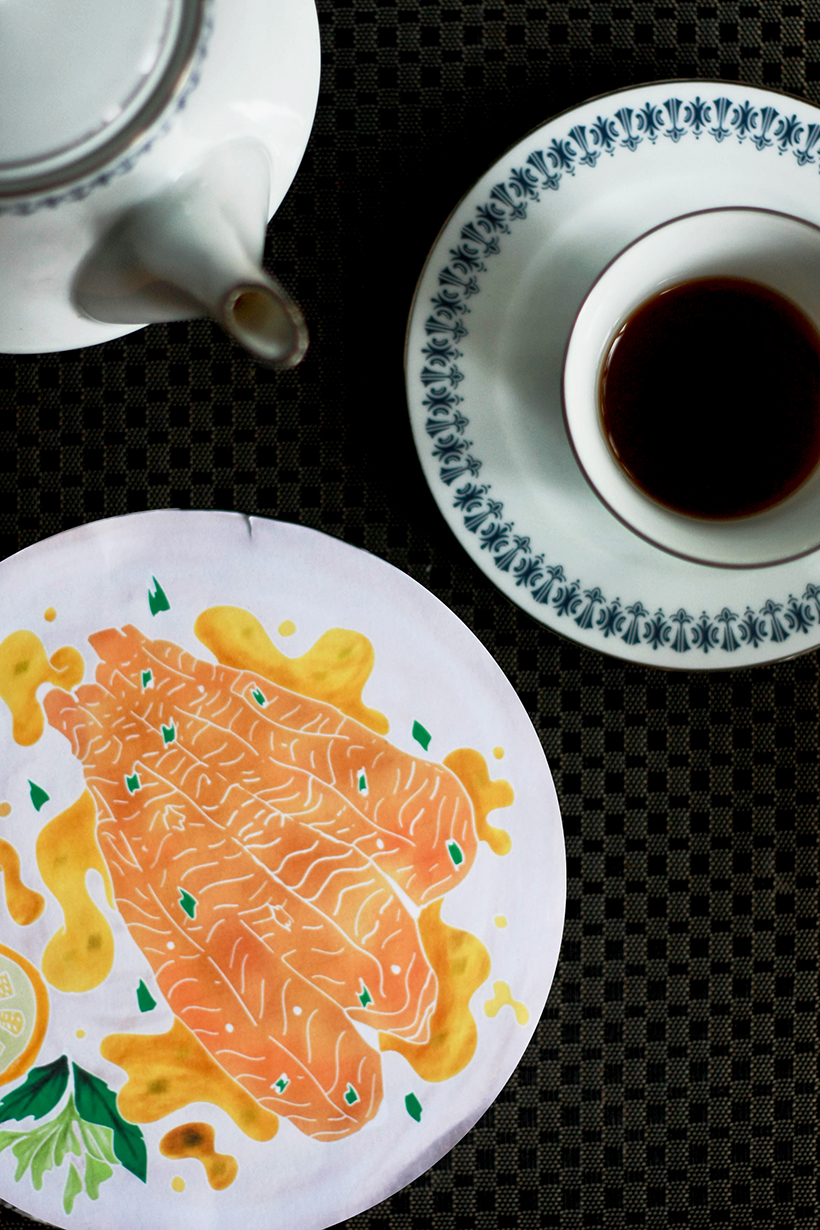 The People's Princess
Taking a break from her regal duties, Princess Diana Spencer ate at the Hôtel Ritz Paris after a failed attempt to dine at a restaurant with her boyfriend Dodi Fayed. Harassment from the paparazzi, who followed the Princess of Wales relentlessly, forced her to make a hasty retreat. She ate a mushroom and asparagus omelet, Dover sole, and vegetable tempura shortly before her fatal car crash.
About the artist: Always working with lines in her doodles and depth and perspective in her photographs, Chesca Agoncillo pushes her creativity in making a fitting representation of Princess Diana and Marilyn Monroe's last meals. She combines her style and the icons' respective personalities by juxtaposing watercolored pieces with different table settings in an attempt to convey the last meals of the two famed and mysterious women.
TAGS: artist Cos Zicarelli food Karyel Santos last meal nolisoliph