Anti-Marcos student protester is one of 2017's most influential teens
Beauty vlogger Bretman Rock joins the lineup, too
Nov 3, 2017
When Shibby De Guzman proclaimed, "Please do not underestimate the youth…" even the Time Magazine was listening.
Now, even Time's acknowledged her gravitas. The online news magazine published yesterday one of its year-ender lists, Time's 30 Most Influential Teens of 2017. And we're proud to say that two Filipinos got in the list and this includes De Guzman.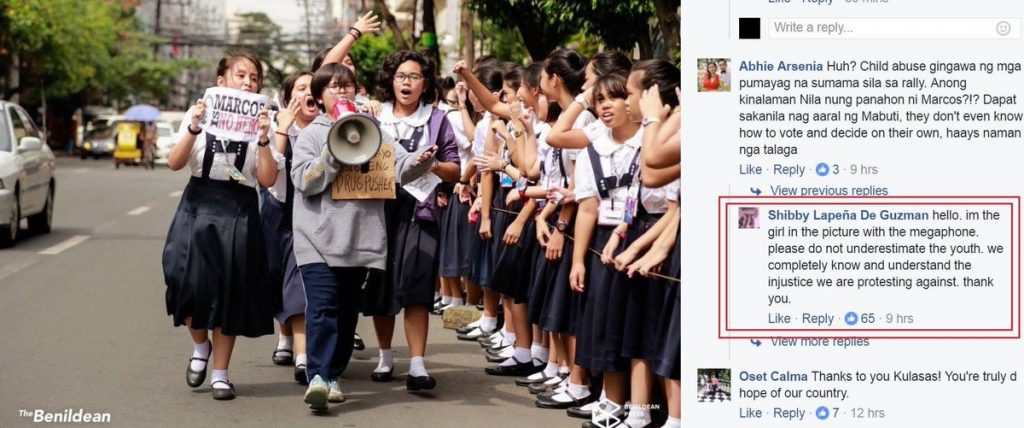 De Guzman, 13, rose to fame on the internet when she was photographed in a protest against late dictator Ferdinand Marcos' burial at Libingan ng mga Bayani. She's that marching bob-haired schoolgirl from St. Scholastica's College, Manila who seemed to lead her fellow schoolmates with a megaphone. She was criticized online for being "brainwashed," which she quickly shut down.
"Please do not underestimate the youth. We completely know and understand the injustice we are protesting against. Thank you," replies the ninth-grader to a critic on Facebook.
She's also vocal about her disagreement with President Rodrigo Duterte's war on drugs, being one of the student leaders at the #YouthResist rallies against the current administration last July.
YouTube vlogger and online sensation Bretman Rock is on the list, too.
"The real reason Rock (born Bretman Rock Sacayanan) has racked up nearly 9 million Instagram followers is his larger-than-life personality, best seen in the musings he posts alongside his glam how-tos," writes Time.
The Hawaii-based Filipino has also hosted the Miss Universe red-carpet preshow last January and has been touring in the United States since September for fan meets. Time said that Rock is now "building a career off that cheeky candor."
For its list, Time considered "accolades across numerous fields, global impact through social media, and overall ability to drive news." They've also included actress Millie Bobbie Brown, businesswoman Mikaila Ulmer, and the woman who voiced Disney's Moana, Auli'i Cravalho, in this lineup.
Read more:
Voting for Duterte was a mistake
The strangest, creepiest places on the internet
Ever dreamt of leaving your corporate life and pursuing your passion? Meet the people who have
TAGS: be bretman rock fixture most influential teens 2017 nolisoliph shibby de guzman time magazine youth