How Anne Curtis and Erwan Heussaff achieved a picture perfect wedding
Apart from getting a good photographer, they had well-mannered guests as well
Nov 12, 2017
Anne Curtis and Erwan Heussaff finally tied the knot today. After speculations about their wedding date made rounds on social media, the couple locked their seven-year relationship in an intimate ceremony in Queensland, New Zealand.
Since Nov. 11, photographer BJ Pascual, designer Rajo Laurel, and other guests have been posting photos of the couple's pre-wedding party with hashtag #TheWanForAnne. Today, there's also an influx of photographs of the newlyweds. Surprisingly, you would hardly find photos from the ceremony itself except those taken by official wedding photographer Pat Dy.
In the age of social media, a lot of people are so attached to their phones that they record almost everything they see even mundane objects and sacred events like a wedding ceremony. Thankfully, the guests of the Anne-Erwan wedding are kind enough to keep their phones in their pockets and purses.
In a Facebook post, videographer Jason Magbanua attests that guests didn't use their mobile devices at all. He further calls it the "most beautiful thing about Erwan and Anne's wedding." The couple has been trying to keep their relationship and wedding details private, so it's not surprising if they requested guests to not use their phones.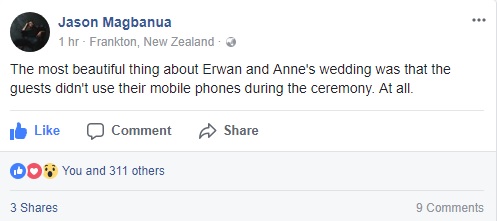 Aside from privacy, mobile devices are also distracting not only to the couple but also to videographers and photographers. In many ceremonies, guests who use mobile devices pose a challenge in the creative direction of many photographers and videographers. It's difficult to avoid that it sometimes ruins photographs and video.
A wedding ceremony is a sacred and intimate affair, so guests should at least have the proper etiquette and that includes appreciating the ceremony right there and then—photographers and videographers are there to document the precious moments, anyway.
Congratulations, Anne and Erwan Heussaff!
Header image courtesy of Pat Dy
Read more:
Watch FPJ blush in technicolor in this restored footage of his wedding day
A case against diamond engagement rings
TAGS: #theWanforAnne Anne Curtis Erwan Heussaff Jason Magbanua Mobile device New Zealand nolisoli.ph Pat Dy photography wedding