Nov 23, 2017
Why a cookbook on coconuts is the best thing I read today
There's a recipe for meat lasagna with coconut milk
When I first encountered Coconut Kitchen, Regina Tolentino Newport's ode to coconuts, I laughed. How oddly specific, I thought. And niche.
And yet the cookbook, which was inspired by Newport's encounter with Dr. Conrado Dayrit's tome on the benefits of coconut oil, asks us to simply adapt traditional recipes with the addition of various coconut products—and the results are eye-opening, allowing us to re-examine timeworn recipes and bring them to life again.
Newport, an IMF DC alum (that's International Monetary Fund in Washington) who got a culinary degree at the age of 55, was inspired by the coconut. She has over 60 recipes featuring coconuts in the context of vegetables, seafood, meat, poultry and sauces.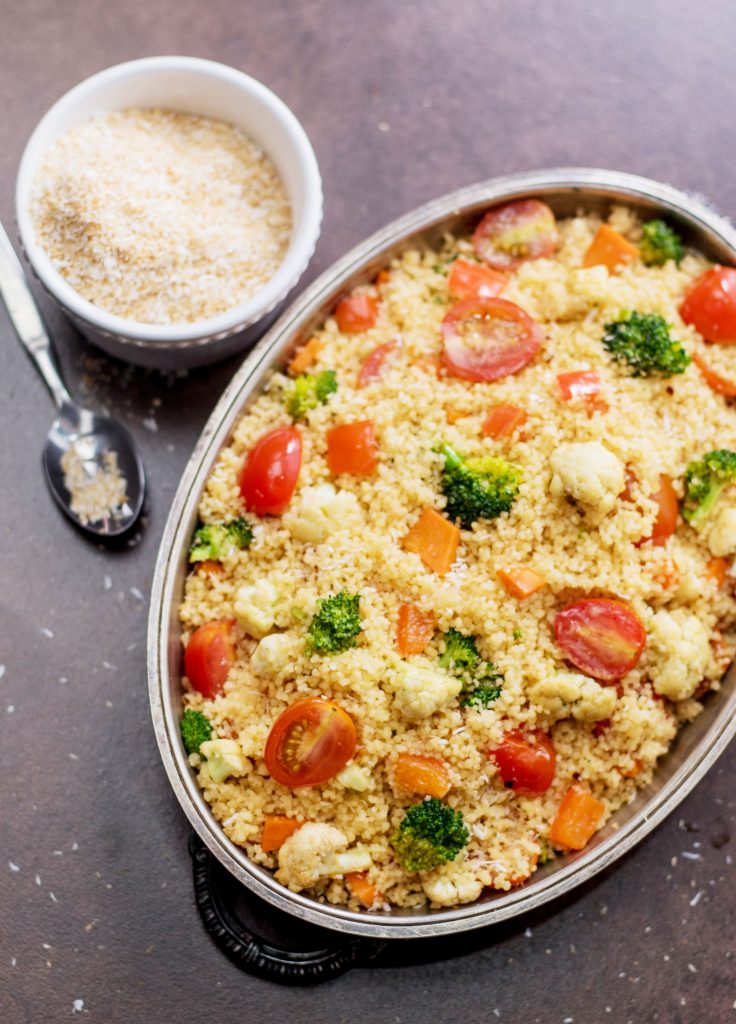 For this cookbook, she culled recipes from culinary personalities such as Purple Yam's Amy Besa and Romy Dorotan, Inquirer food columnist Norma Chikiamco and cookbook author Elizabeth Ann Quirino.
Recipes like Adobong Dilaw (chicken in turmeric and coconut milk), Zucchini Coconut Fritters (a favorite here on the blog!), and Meat Lasagna with a Coconut Twist (surprise, there's coconut milk) offer unexpected takes on familiar flavors.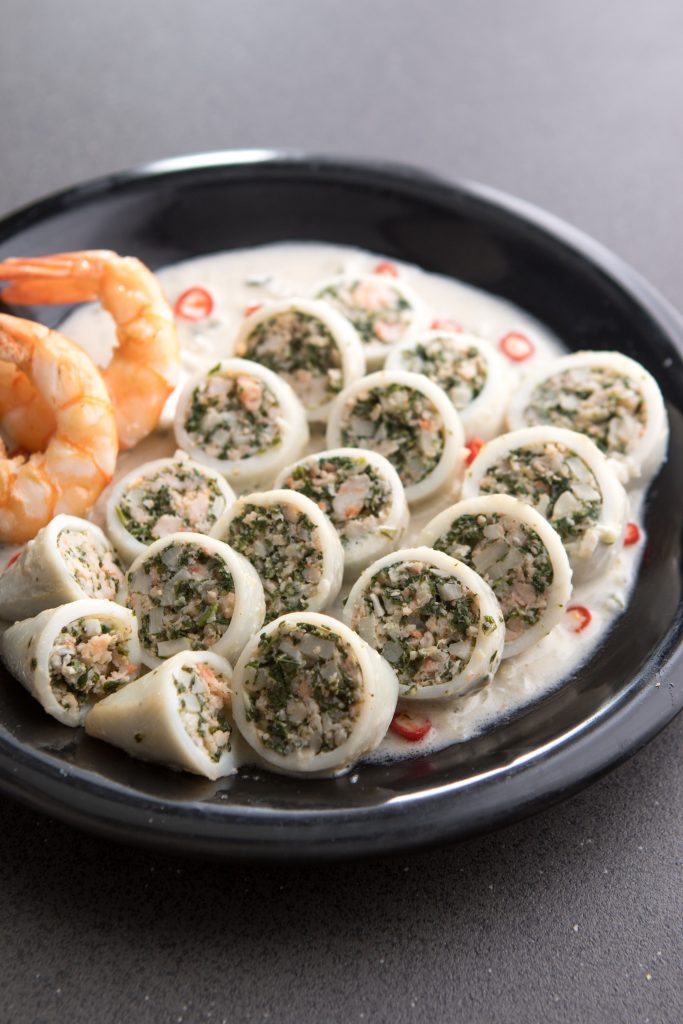 There's a creamed corn recipe enriched with coconut, which we've excerpted below. The recipe suggests that instead of tossing a packet of powdered cream of corn into a pot of boiling water, we look to Newport's mother's recipe. Comforting, inviting and surprising—elements of a cookbook I didn't know I needed till I discovered Coconut Kitchen.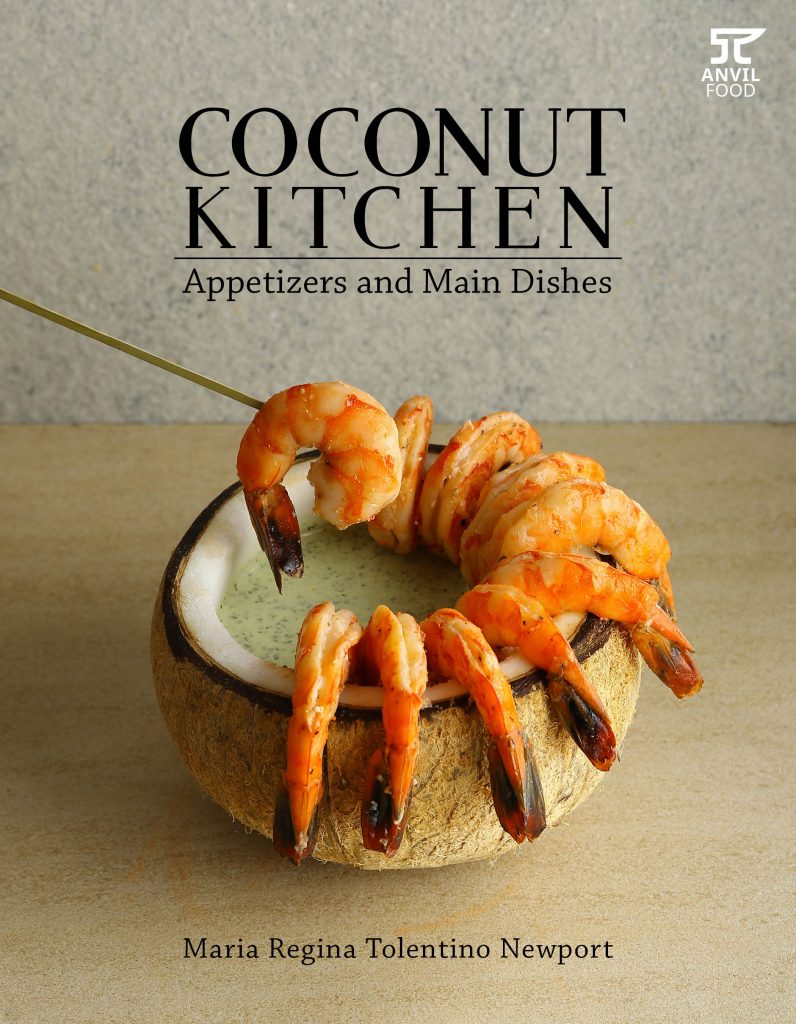 Creamed Corn Soup with Coconut and Vegetables
Serves 6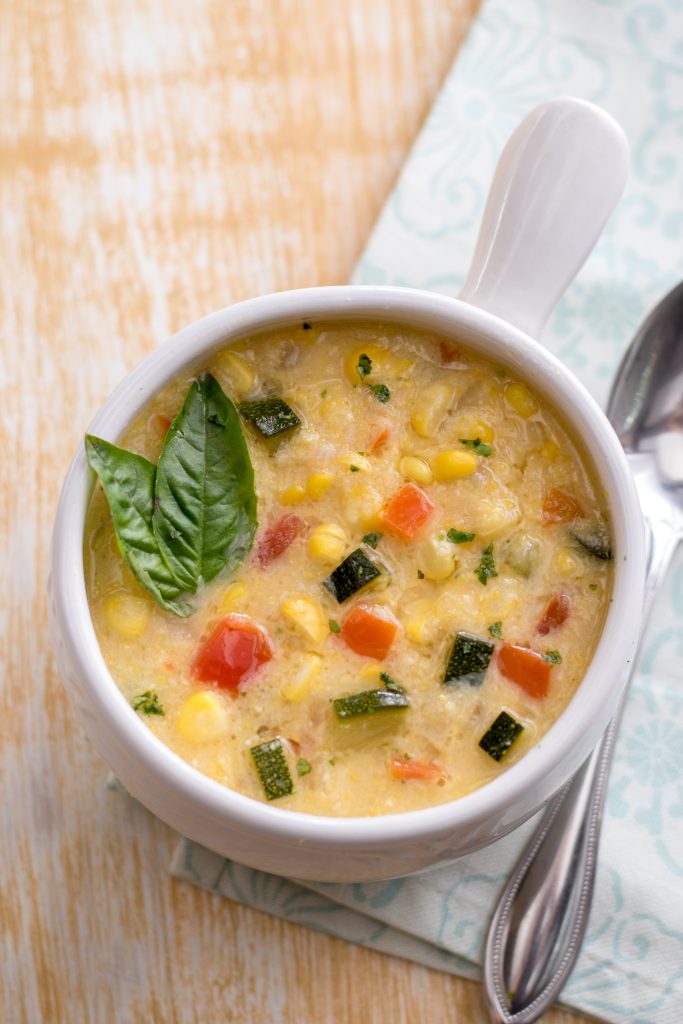 Ingredients
1 ½ cups fresh or canned coconut milk
4 cups corn kernels
2 tablespoons coconut oil
½ teaspoon minced garlic
½ cup diced onion
1 cup diced zucchini
1 cup diced red bell pepper
1 cup seeded and diced tomatoes
2 cups chicken broth
Salt and freshly ground black pepper to taste
5 Basil leaves, sliced into thin strips, for garnish
Procedure
1. Purée the coconut milk with two cups of the corn in a blender or food processor; set aside.
2. Heat the oil in a wok or saucepan over medium heat. Add the garlic and sauté until it starts to turn golden; add the onion and stir until softened, about four minutes.
3. Stir in the remaining two cups of corn, zucchini, bell pepper, and tomatoes. Toss for about three minutes. Add the chicken broth. Bring to a boil, then reduce the heat to low and simmer for four minutes, or until the vegetables are cooked but not mushy.
4. Add the coconut milk and corn mixture, and bring to a gentle simmer while stirring. Adjust the thickness of the liquid by adding or reducing the chicken broth. Season with salt and pepper. Scatter the basil strips on top, and serve hot.
Recipe excerpted from Coconut Kitchen by Maria Regina Tolentino Newport. Published by Anvil Food Publishing, 2017. Styled by Tina Concepcion Diaz, photographed by Paulo Antonio Valenzuela.
TAGS: adobo blog Coconut Kitchen coconut milk coconut recipes coconuts lasagna nolisoliph recipe soup