New futuristic library in China holds 1.2 million books
Warning: too overwhelming
Nov 17, 2017
New York City has its grand iconic public library. Denmark houses its "Royal Library" called The Black Diamond and Taipei, its "Green Library" in Beitou. Now, China just opened its own eyegasmic home for bibliophiles in the Binhai Cultural District in Tianjin, Beijing and it's probably the most futuristic library to date.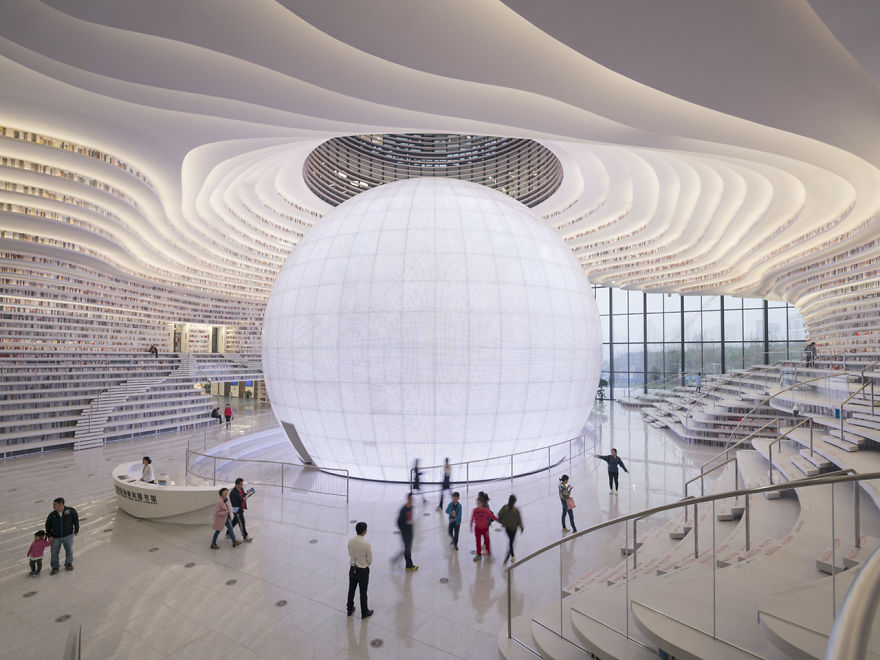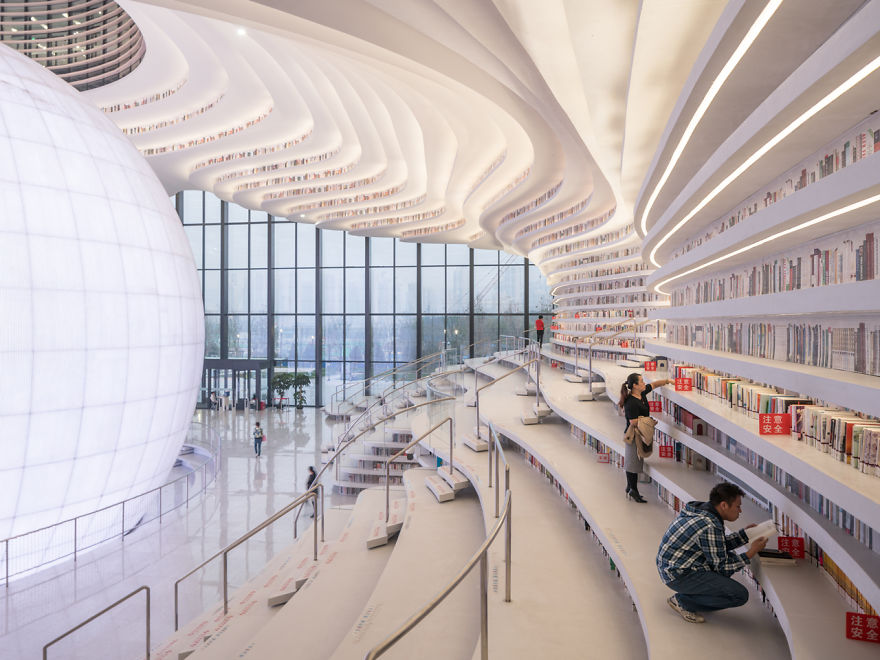 At the center of the five-story, 36,000 sq. ft. Tianjin Binhai library is the towering spherical auditorium. The bright, cavernous space is surrounded by curved and layered bookshelves (could carry 1.2 million books!) which people could also climb and sit on. Reading rooms and quiet lounges could be found at the bottom two floors hidden behind shelves. Audio and media rooms, meeting spaces, computer laboratories, and other facilities are on the upper third floors. Visitors also have the option to read at the two rooftops patios.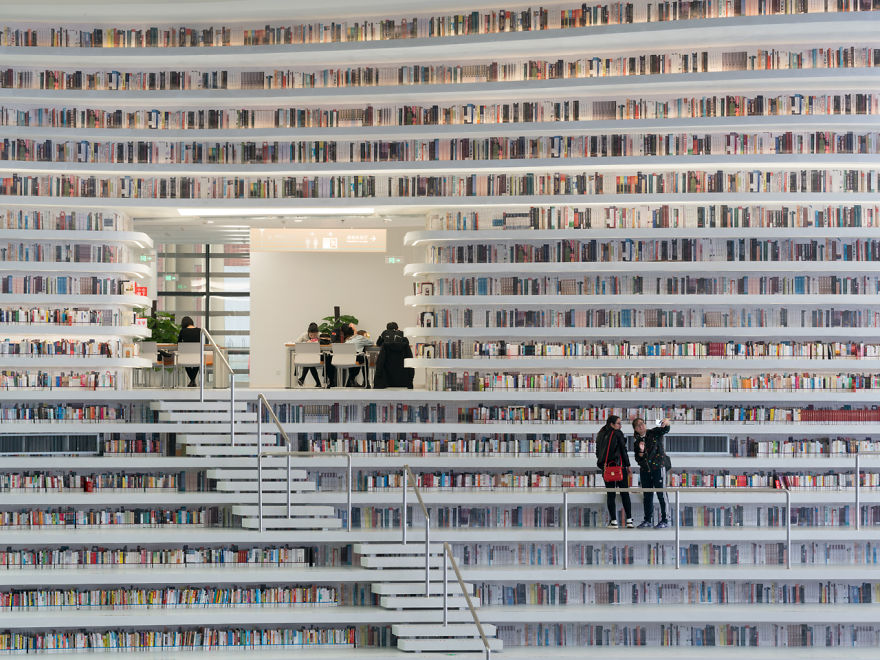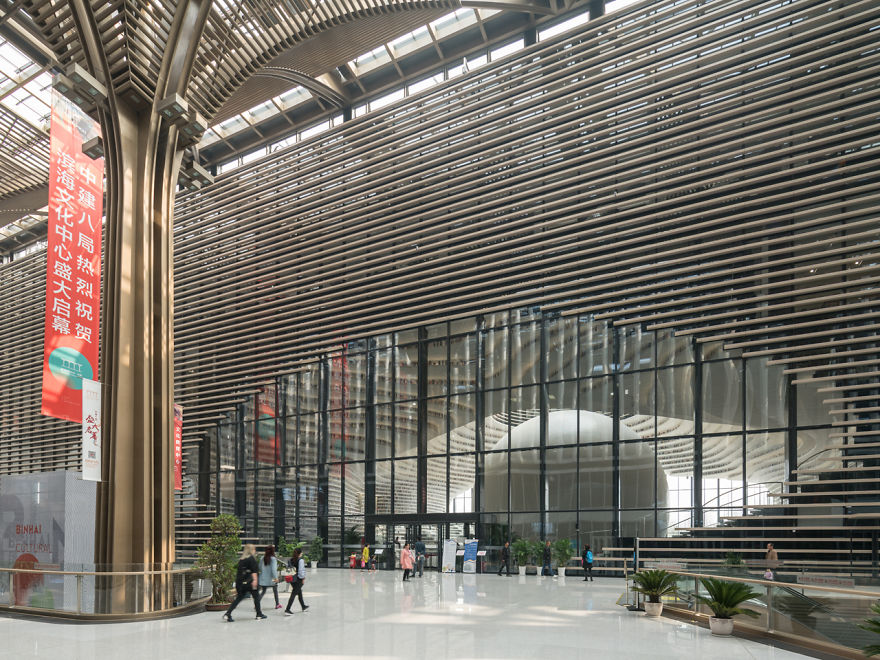 "We opened the building by creating a beautiful public space inside; a new urban living room is its center. The bookshelves are great spaces to sit and at the same time allow for access to the upper floors," says Winy Maas, co-founder of Dutch design firm MVRDV, in a press release.
"The angles and curves are meant to stimulate different uses of the space, such as reading, walking, meeting and discussing. Together they form the 'eye' of the building: to see and be seen."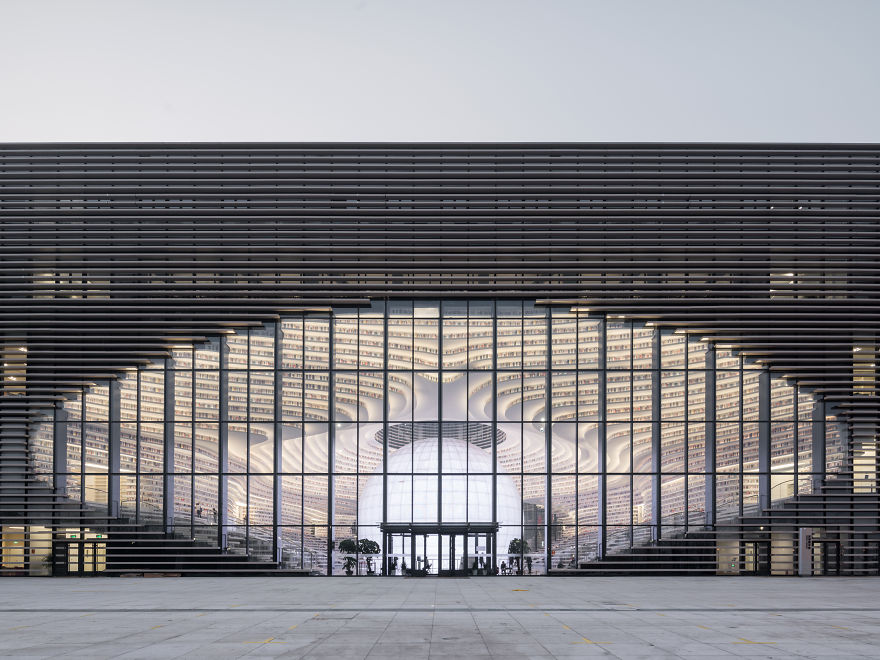 What's also amazing about the construction of this library is that it was designed and built in only three years (a "record-breaking time") following the local municipality's order. Also called "The Eye of Binhai," the library opened in October.
Photos courtesy of MVRDV
Read more:
Seven heavens in Manila for every bibliophile
Co-working spaces where people won't kick you out for studying
Ever wished you could eat and talk in the library? Enter Tweedle Book Café
TAGS: arts be Beijing china library nolisoliph