Resurrect leftovers like it was Christ with these almighty recipes
We listed creative recipes to revive inevitable holiday leftovers
Nov 27, 2017
The holidays call for two things: plenty of family and plenty more food.
A few days before Christmas and New Year's Eve, all effort in the household is dedicated to preparing as much food as the matriarch of the family deems necessary to impress the other matriarchs coming to visit. Then, Christ is born. We give each other gifts, titos get drunk with that one belligerent tita, and everyone else goes into food coma bliss.
Come morning after, all visitors pack up their stuff and we bid adieu to one another with a hefty pabalot for everyone who leaves. Anything left in your fridge? Usually, the S.O.P. is to stir-fry leftovers. But not anymore.
We've gathered the usual culprits left lingering inside the fridge after Christmas and reimagined them with more creative recipes. Spare yourselves from the umay of having the same dinner three nights in a row.
Leftover hamon rehashed into a chowder

Dice up your leftover ham and throw it into this quick and easy ham chowder recipe.
Cheesy Ham Chowder
Ingredients
10 bacon strips, diced
1 large onion, chopped
1 cup diced carrots
3 tablespoons all-purpose flour
3 cups milk
1-1/2 cups water
2-1/2 cups cubed potatoes
1 can (15-1/4 ounces) whole kernel corn, drained
2 teaspoons chicken bouillon granules
Pepper to taste
3 cups (12 ounces) shredded cheddar cheese
2 cups cubed fully cooked ham
Procedure
1. Cook bacon over medium heat until crisp. Using a slotted spoon, remove to paper towels to drain. In the drippings, saute onion and carrots until tender. Stir in flour until blended. Gradually add milk and water. Bring to a boil and stir for two minutes or until thickened.
2. Add the potatoes, corn bouillon, and pepper. Reduce heat; simmer uncovered for 20 minutes or until potatoes are tender. Add cheese and ham; heat until cheese is melted. Stir in bacon.
Yield: 10 servings
From Facebook.com/Solane.ph
Quezo de bola turned herb-marinated appetizer  
Slice up your quezo de bola into little cubes and marinate them in a tasteful herb mixture for an aesthetically pleasing and cheesy appetizer.
Herb-Marinated Wisconsin Edam (Quezo de Bola)

Ingredients 
2 fresh rosemary sprigs
2 cloves garlic, crushed
1 tablespoon flat-leaf Italian parsley, minced
1 small fresh chile pepper
1 1/3 cup (8 ounces) Wisconsin Edam Cheese, cubed
1/2 cup extra-virgin olive oil
Procedure
1. Place rosemary, garlic, parsley and chile pepper in a 12.5-ounce canning jar.
2. Add cubed Wisconsin Edam Cheese. Pour extra virgin olive oil over cheese. Mix to combine.
3. Place lid on top and marinate cheese for a minimum of two hours at room temperature. Refrigerate if not serving immediately. Olive oil may partially solidify when chilled; allow mixture to come to room temperature before serving to reliquefy.
Yield: 4–6 servings
From WisconsinCheeseTalk.com
Cold leftover pasta fried into a fritter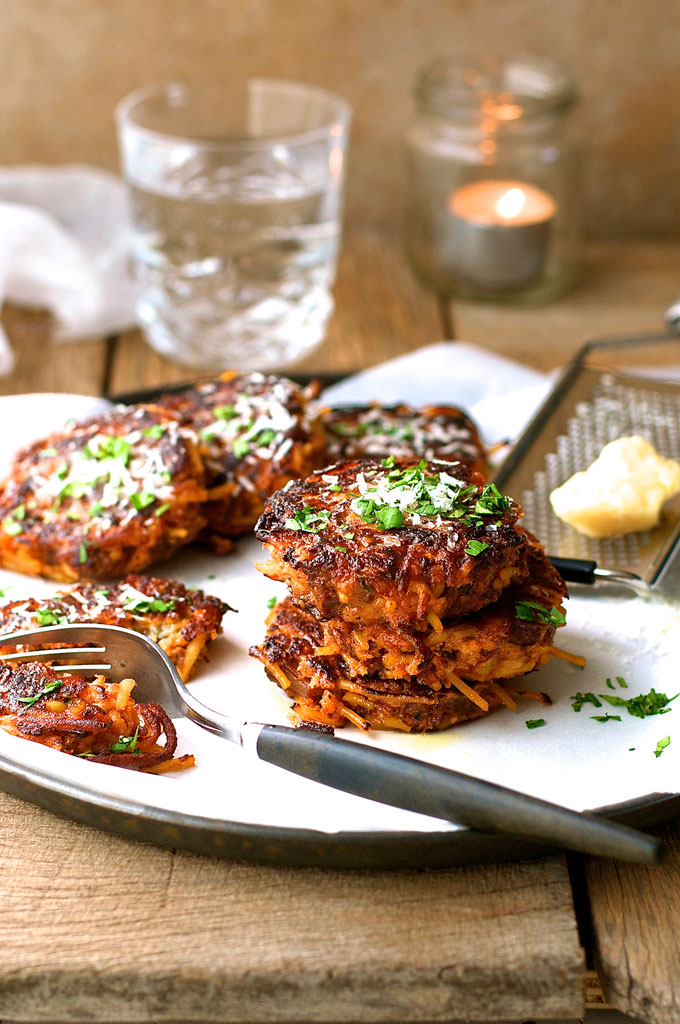 Take your leftover cooked pasta and pasta sauce, mix them together. Throw in some breadcrumbs, eggs, and cheese. Fry it. Voila, a new way of eating pasta for breakfast.
Leftover Pasta Fritters
Ingredients
3 cups (packed) cold leftover pasta (sauce and pasta mixed together)
2 eggs
¾ to 1¼ cups breadcrumbs
½ cup grated cheese (optional)
Salt and pepper, to taste
2 tbsp olive oil
Procedure
1. Roughly chop the pasta.
2. Add the eggs, breadcrumbs (start with ¾ cup) and cheese. Mix and add salt and pepper to taste.
3. Scoop up a ball and flatten it slightly to test if it holds together. If required, add more panko.
4. Heat olive oil in a frying pan over medium-high heat.
5. Scoop up a level ⅓ cup of the mixture (packed well) and place in the frying pan (tap the bottom of the cup to get the mixture to drop out into the pan). Use the bottom of the cup measure to pat the mixture into 1 cm thickness. Repeat to make however many fritters you can fit in the pan.
6. Cook the first side for around two minutes or until it turns a dark brown and crispy. Turn, then cook the other side until crispy (around one to 1½ minutes).
7. Remove from the pan onto a paper towel to drain. Repeat with remaining batter.
8. Serve immediately. Garnish with finely chopped parsley leaves and freshly grated Parmesan, if desired.
From RecipeTinEats.com
Sinful lechon made healthy with a salad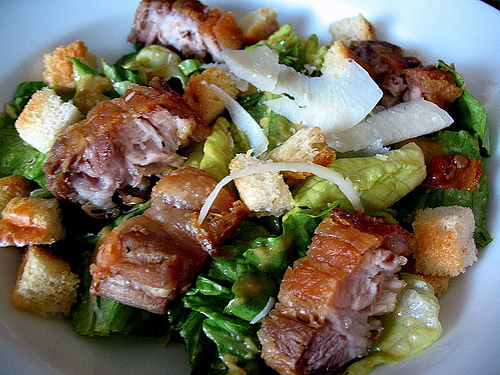 Transform your holiday lechon indulgence into a relatively healthier snack. Slice the pork into cubes, mix it with some lettuce, onions, and vinaigrette. Then, munch on with your salad.
Lechon Ceasar Salad
Ingredients
Chopped lechon kawali, homemade or store-bought
Hearts of romaine, torn into largish pieces
Garlic flavored croutons, homemade or store-bought
1 egg yolk
2 tablespoons lemon or calamansi juice
2 teaspoons Dijon mustard
2 anchovy fillets in olive oil
1 tablespoon Worcestershire sauce
¼ cup extra virgin olive oil
¼ cup finely grated Parmesan cheese
Shaved Parmesan for topping, optional
Procedure
1. In a large bowl, whisk egg yolk, lemon juice, mustard, anchovies, and Wooster sauce until well combined and thickened a bit. Slowly pour olive oil while constantly whisking. Stir in grated Parmesan cheese.
2. In another bowl, toss some lettuce and dressing. Transfer to a salad plate and top with croutons and chopped lechon kawali.
From Oggi-iCanDoThat.blogspot.com
Condensed milk buttered into a fancy french toast
Finish your can of condensed milk with this recipe for darjeeling tea pain perdu with condensed milk butter. It sounds intimidating and complicated but it's really just french toast made fancy.
Condensed Milk Butter
Ingredients
1 stick sweet (unsalted) butter, softened
1 can sweetened condensed milk
¼ cup powdered sugar
2 teaspoons flaky salt
Procedure
1. Beat butter and sugar with a hand mixer or in the bowl of a standing mixer on high, until creamy and light.
2. With the mixer running, slowly pour in condensed milk to incorporate.
3. Turn off mixer and fold in salt.
5. The butter will keep for a few days in the fridge.
Darjeeling Tea Pain Perdu
Ingredients
4 thick slices day-old brioche
1 ½ cups heavy cream
4 bags Darjeeling tea, or 4 tablespoons tea leaves
1 split vanilla bean
2 tablespoons honey
4 eggs
Pinch of salt
¼ cup raw sugar
2 to 3 tablespoons clarified butter or ghee
Procedure
1. Combine cream, vanilla bean, tea, and honey in a saucepan.
2. Bring to a boil over medium heat, then reduce heat and let simmer four to five minutes. Remove from heat and let sit at least an hour.
3. Strain and cool. (You can do this a day ahead.)
4. Whisk eggs with salt.
5. Whisk cooled cream into eggs slowly.
6. Dip bread into cream/egg mixture and set in baking dish, letting everything soak in well.
7. Pour remaining cream/egg mixture over top and let sit for at least an hour or refrigerate overnight.
8. Heat butter in a saute pan over medium-high heat.
9. Sprinkle bread with raw sugar. Fry first on the non-sugared side, then flip, making sure to cook all the way through.
10. Serve warm with a healthy dollop of condensed milk butter.
From Food52.com
Header photos courtesy of Food52.com and RecipeTinEats.com
Read more:
Unique gifts to buy your friends' loyalty
Choosing the right holiday stemware
Holiday table setting done right
TAGS: barbecue christmas condensed milk cooked pasta eats hamon holidays leftovers noche buena nolisoli pasta pasta sauce Quezo de bola