The city has seen a wave of hybrid cafés offering more than just the expected pastry and coffee. Shops are taking advantage of the fast-paced lifestyle of customers, stepping up their game and incorporating concepts like clothing shops, bookstores, pet stores, and salons. Here we've round up the multi-purpose shops gaining buzz for you to check out.
Art gallery/cafe: Art Circle Cafe
GF Ang Bahay Ng Alumni, R. Magsaysay Street, Diliman, Quezon City
925-0529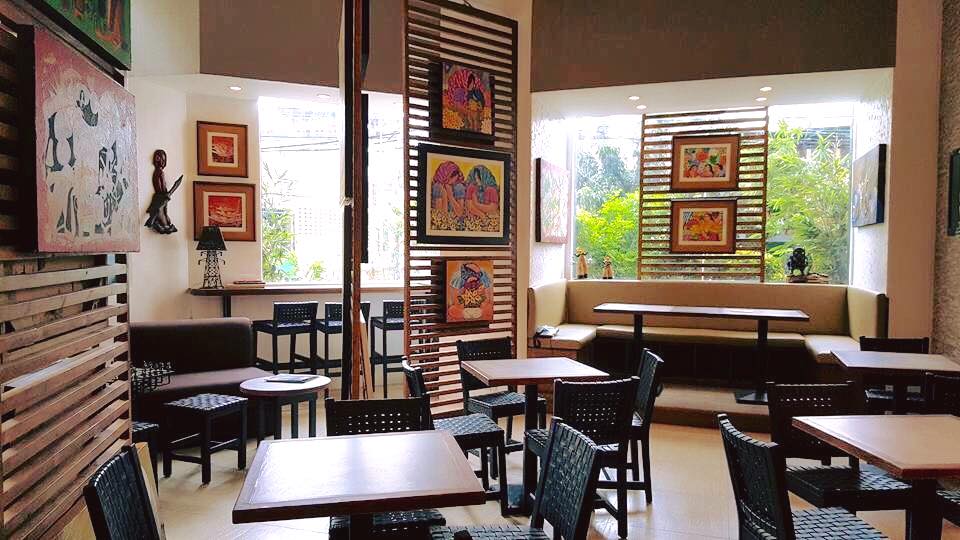 Art Circle Gallery currently has nine branches all over Metro Manila, and this one located at University of the Philippines' Bahay ng Alumni has a quaint cafe bundled with it. The café was established in February 2014 by Kitten Alcantara, one of the family members running the art gallery family business. As an art lover herself who enjoys the company of artists and art enthusiasts, Alcantara wanted the café to be a hub for anyone and everyone who shares the value for art and culture. Exhibits, workshops, and entertainment performances are regularly held in the café. Guests can also choose between dining in the air-conditioned room or the open area with the lovely trees around.
Bookstore/Cafe: Press Cafe by Fully Booked
Getting lost in the bookshelves of Fully Booked is a common occurrence, but finding a café inside the well-known bookstore is not. Press Café is usually found in select branches like Rockwell and Greenhills. Its contemporary interiors provide a conducive ambiance for light snacks, desserts, and coffee while you read your newly-purchased reading material. Various books and magazines are also displayed at the café and you can read them for free, and these are all picked by the Fully Booked team.
Pet Store/Cafe: Bengal Brew + Wolf & Bear
GF Manhattan Parkview, Araneta Center, Cubao, Quezon City
366-8287
This joint cat and dog cafe in Cubao houses some rare and exotic breeds for you to play with for a real pet paradise experience. Bengal Brew looks like a tropical jungle with mini tree trunks and a long overhead playground, where the felines lounge around the whole day. Most of them are Bengal cats raised in Ukraine, Russia, Thailand, and Manila, but there are also other interesting breeds in the store like the African Servals. They look intimidating but with gentle petting they can be charming, nonetheless.
Beside Bengal Brew is the brighter, friendlier dog area called Wolf & Bear, where you come across with Alaskan Malamutes, St. Bernards, Siberian Huskies, and Newfoundlands waiting for a good belly rub. Smaller breeds like Pomeranian, Jack Russell Terrier, Coton de Tulear, and Bichon Frise can also be found in the same area. Meanwhile, the café serves savory pastries, blended drinks, and cocktails to be enjoyed while petting the animals.
Laundromat/Cafe: The Washery
East Capitol Drive corner Sta. Clara St., Kapitolyo, Pasig
545-6120, 0975-1880061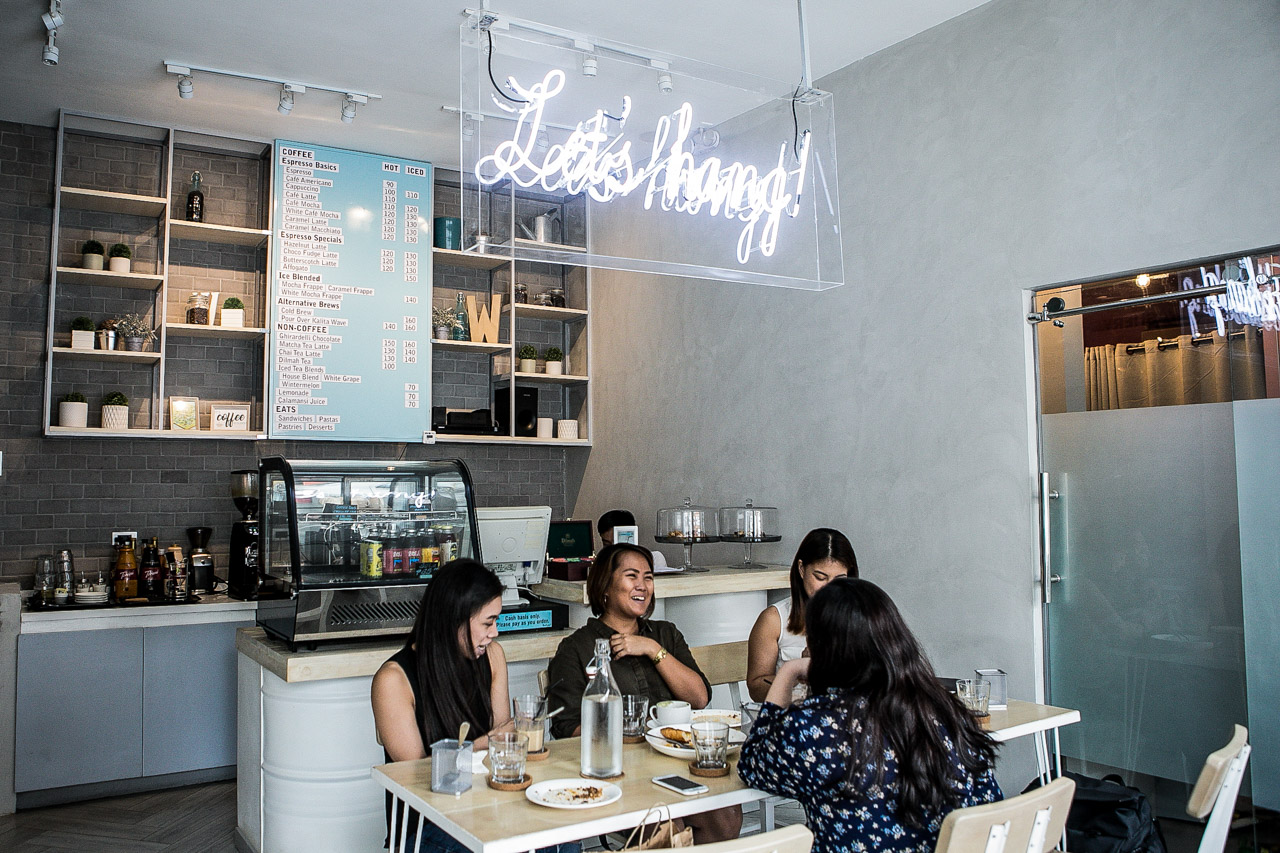 Laundromats are a blessing to every bedspacer out there, but this particular establishment in Kapitolyo is gaining attention for offering laundry service and tasty food. Siblings Camille Aquino and Therinne Aquino-Goyeneche came up with an idea to make the laundromat service more relevant, thus they merged it with a wi-fi café so customers won't waste their time waiting for their laundry to finish. Whether you visit The Washery to do laundry or just chill at the cafe, you won't even realize you've overstayed at the place.
Beauty Salon/Café: La Provence
3F Central Square Mall, 30th street corner 5th avenue, Bonifacio Global City, Taguig
0917-8083425


The recently-opened La Provence salon and café in Bonifacio Global City is already causing a buzz thanks to the modern French concept of this hybrid store. Rather than just reading magazines while you get your hair and nails done, you can actually order various French-inspired pastries and drinks at the salon, making it the perfect hang out place with your girlfriends. This Well flagship salon has a nail bar, a Wella hair color bar, facial beauty room, and cozy VIP rooms that have modern-French touches. Cut prices are fairly reasonable for such a sophisticated style of service. When it comes to the food, owners Lilibeth Ong Tiu, Kris Garcia, Frank, and Heather Ong hired a chef to develop the menu consisting of sweet and savory crepes, paninis, croissants, and French drinks.
Furniture store/Cafe: Caffeined by Artesania
7 Sheridan St. Mandaluyong City
634-5954, 477-2652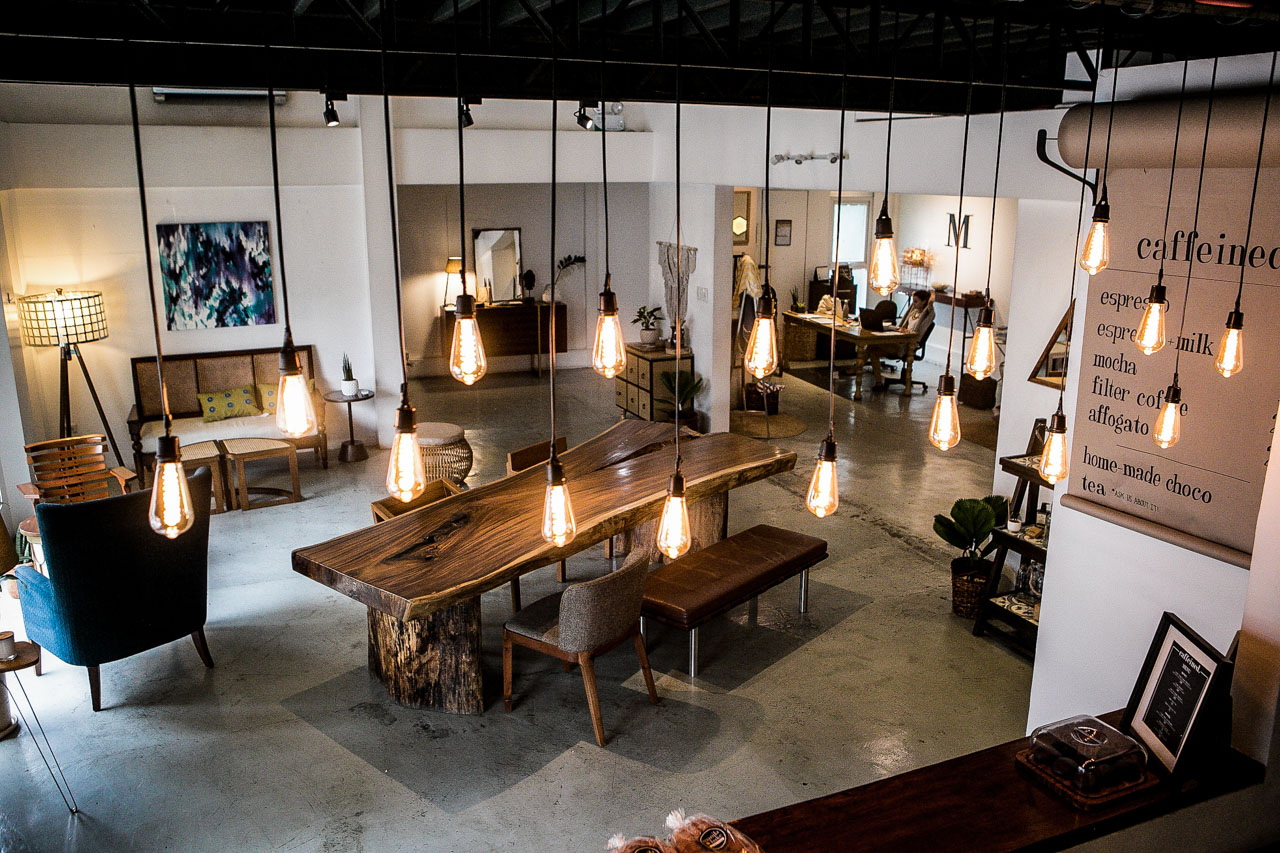 Although Artesania (formerly Mozaic Living) has been in the furniture business for six years now, the cozy coffee shop has only been around (or should I say, inside) this year. Siblings Francine Gacrama and Francesca Gacrama-Herring have a knack for good design and coffee, and so it was important for them that the café will showcase local crafts and libations. And because it's part of Artesania, you will be able to try out the sophisticated furniture while you enjoy your coffee. Caffeined isn't really announced to the public, and most of the people who hang out at there just happened to discover the place and loved the coffee, the furniture, or both. It's a good place to escape from the regular hustle and bustle of other coffee shops around.
Record shop/Cafe: Satchmi

Satchmi was widely talked about when it opened its first branch in SM Megamall in 2014. All the buzz was about the fact that it's a vinyl record store/café frequently visited by "cool" people who have a knack for art, vinyl records, and good food like owners Edric Chua, Ronald Sy, and Aislinn Chuahiock. Satchmi serves specialty coffee, gourmet snacks, flavored popcorn, and desserts; and it also has a booth where you could drown out the noise and listen to their trademark Motorino record players. Satchmi also holds a yearly "Vinyl Day" where they showcase over a thousand vinyl records for sale and music bands gather together to play for the audience.
Fish store/Cafe: Cafe Aquatica
619 Norberto St. Binondo, Manila
242-3143
Walking into Café Aquatica is unlike any other experience out there. It's actually a restaurant that doubles as a fish and aquarium shop for the more upscale customers. Owner Kenbert Chua came up with this unique concept of a hybrid restaurant. Interested guests can purchase rare fish and custom aquariums for premium prices. As for the food, they boast of some homemade recipes tried and tested by the Chua household. Guests also frequent the store to try their specialty frappes, shakes, and coffee.
Lifestyle store/Cafe: Empire Fashion Cafe
10 Lilac St. Concepcion Dos, Marikina City
954-3811


Empire Fashion Café has an overwhelming collection of clothes, makeup, and goodies from over a hundred online shops to help sellers showcase what they offer, but there's also a café where shoppers can lounge and try the food. The owners wanted to create a one-stop-shop for groups and families who prefer a smaller, more concentrated selection of items unlike in the big malls. Because of that, it's also frequented by local celebrities looking for particular fashion items. As for the food, they offer a double cheeseburger, Australian beef patties, and sauces made by their in-house chef. There's also pasta and snacks like spam fries, as well as over-the-top shakes that you can share with a friend.
Surf shop/Cafe: Tenant Manila
GF Solace Hotel, 9639 Kamagong Street, San Antonio, Makati City
751-3086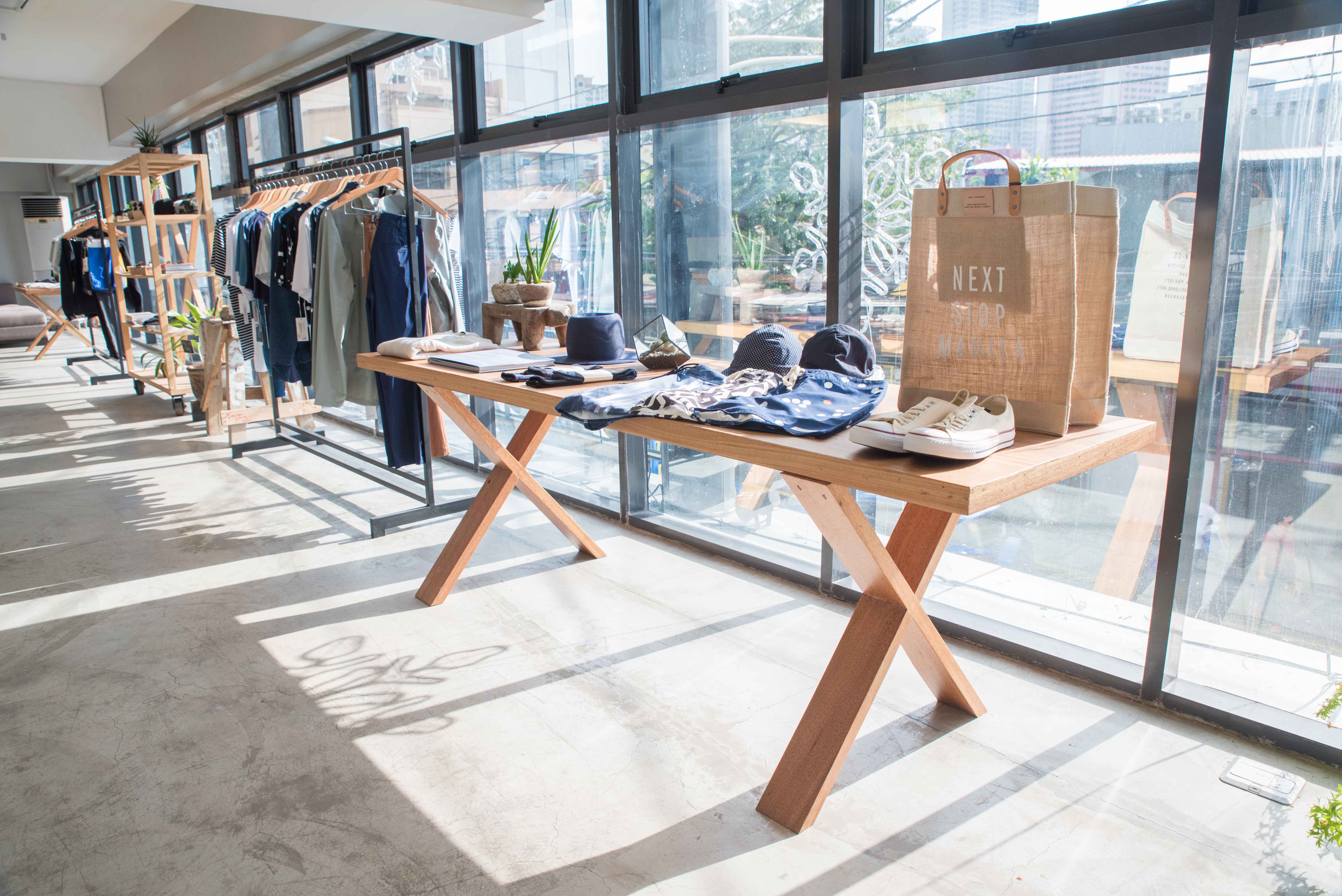 This concept store in Makati is the closest thing we'll have to an indoor beach, mainly showcasing beachwear and gear from local and foreign brands. Owners John Esguerra and Anton Lopez wanted to create a retail brand that's patterned in the local beach culture, and serve food that makes you feel like you're hanging by the shore. Aside from the surfboards and swimwear, you'll also find fresh and delicious sandwiches and even teas and cocktails aside from the usual coffee.
Read more:
We gathered the best cafés in the metro so you don't have to
When a furniture store is also a coffee shop
This coffee shop is your new after-meal stop near Banawe
Feel good food goes beyond taste at Hineleban Cafe
Coffee Tonya is every coffee lover's paradise
Writer: JANICA BALASOLLA