The churro, the Spanish version of a doughnut, is not a snack completely foreign to Filipinos. Everybody loves the churros by Dulcinea, one of the few establishments that sell quality churros around the metro, then S&R started to offer churros topped with cinnamon.
Today, churros are getting all the attention they can get, taking over social media with overeager people posting and raving about the crunchy and moist pastry dough enjoyed with a cup of decadent Belgian chocolate, the classic churros way. This is what Churreria La Lola offers—finally, a specialty store offering authentic Spanish churros.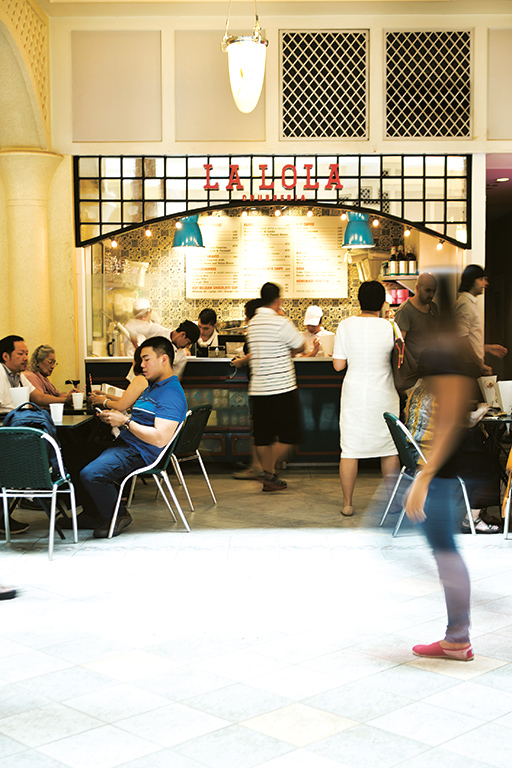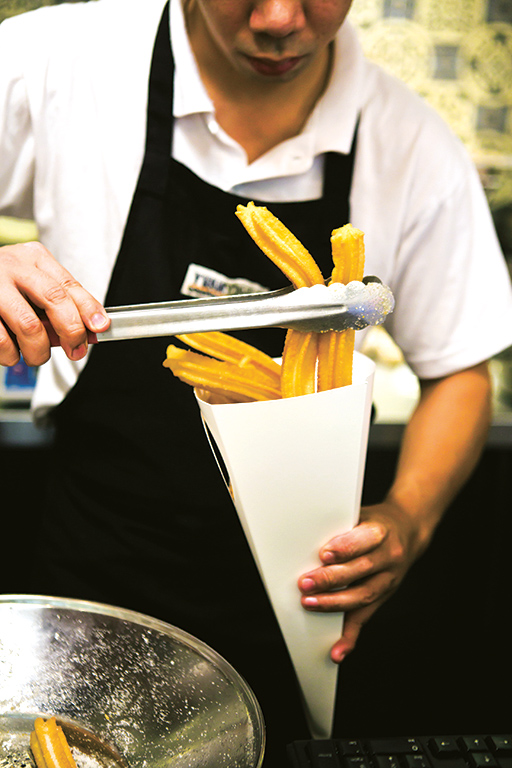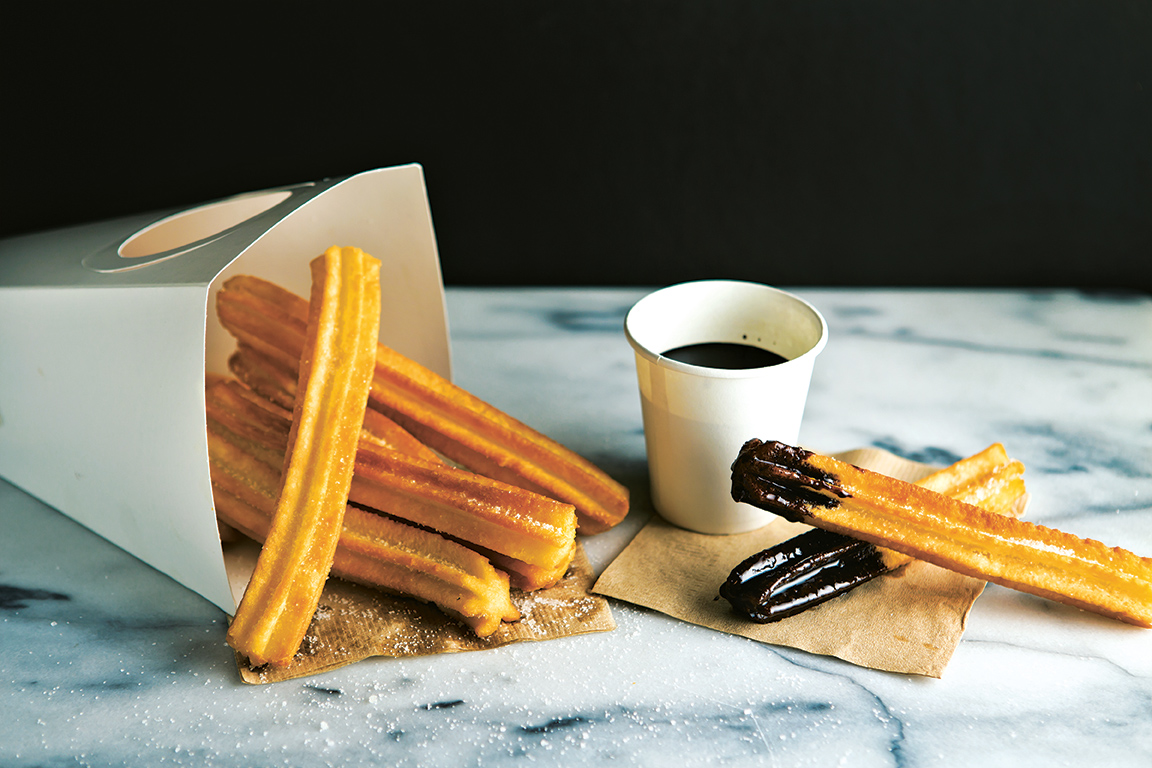 "Churrerias are common kiosks scattered in almost every street corner in Spain," describes Uri Singla, one of the owners of Churreria La Lola. Singla, together with two other partners, bring the common breakfast meal of the Spanish to the Philippines. "Here, Filipinos line up any time of the day. It doesn't matter if it's before a meal or for dessert. In Spain, we don't usually eat sweet food before a meal," he laughs. The churreria opened at a perfect time: when everyone is at the mall doing their Christmas shopping, and grabbing a quick bite to eat is one of the best decisions to make, to keep them going for an entire day of ticking off things on the shopping list.
With a sign fancied with big light bulbs and its long line of hungry customers, La Lola is hard to miss; it's essentially a counter where you buy and go. Their packaging is also takeout-friendly: a big paper cone to be filled with logs of churros, with a flap on the side where the cup of Belgian chocolate is placed. There are also a few tables available for people who'd want to rest for a bit, drilled with custom-made holes in the middle where your cones of churros fit perfectly. Just a note: an order of Classicos is sold separately from its chocolate dip, which are available in sizes medium, large, and extra large.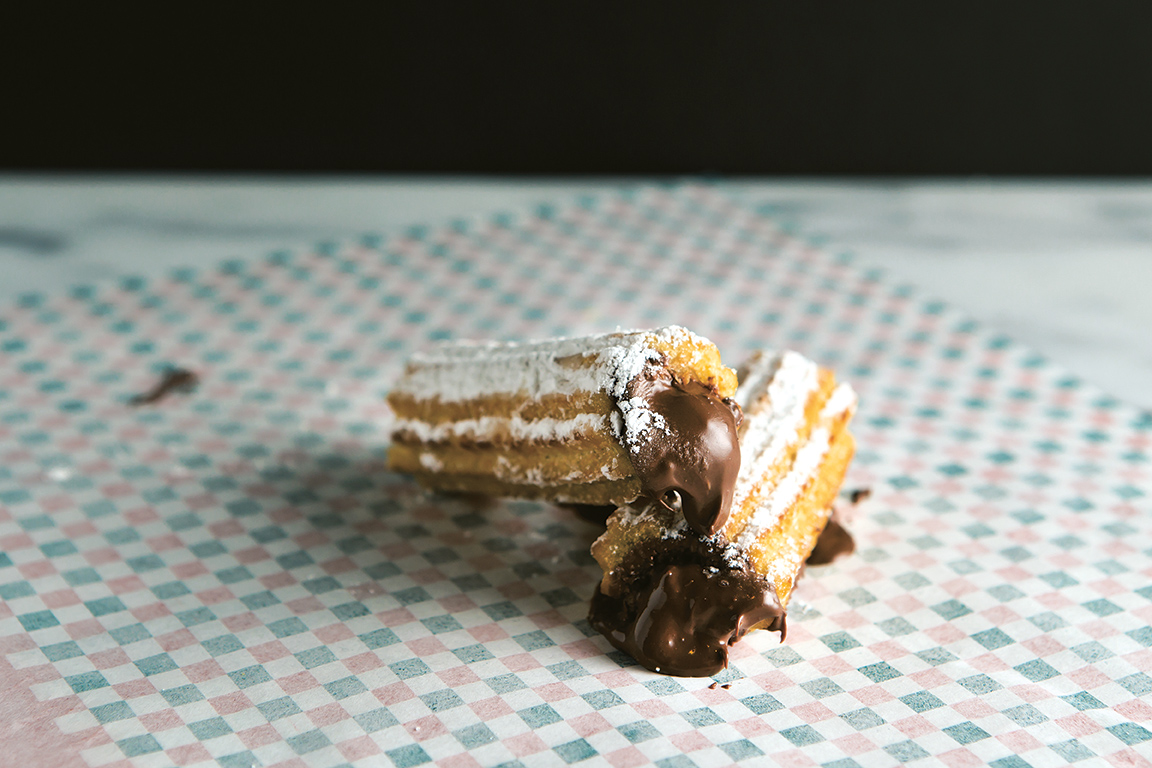 When dipping becomes a chore, why not purchase ready-made churros dipped with dark chocolate, the Chocochurros? Or go with Xuxos, the stuffed churros? The Xuxos come with different fillings: Nutella, dulce de leche, strawberry jam, or peanut butter. One order is a golden brown rod of airy dough stuffed with a generous amount of filling.
This story was originally published in Southern Living, February 2015.
Writer: DENISE DANIELLE ALCANTARA
PHOTOGRAPHY GABBY CANTERO