Safeguard your privacy against viral Facebook quizzes
No, this isn't a Black Mirror episode
Feb 13, 2018
Chances are you've taken that quiz that turns you into a member of the opposite sex. Or maybe you've found out how much you'd cost as a Valentine's date. And while these personalized results are funny—or in some cases, downright atrocious—your privacy might be at risk.
When you log into Facebook on an external site, you give it permission to access your account. It can be your posts, your friends list, and, in the case of that face change, your photos. Yes, unfortunately, that includes your private photos.
How much access do these sites and apps even get? The answer is uncertain. While they do send you to a page where you allow them to access your account, you're never fully sure if access ends once you're done using the app.
Worse, they could use such data to get more personal information. To be sure, here are some routine steps you should take to safeguard your Facebook account.
Regularly delete apps you don't use or remember
Go to your settings, then hit Apps. You'll see all the apps you're logged into via Facebook. You can delete these apps or edit their settings. What's important is choosing which information you provide, and which apps you trust with such info.
Waze, for example, needs your events and public profile. But that quiz app getting access to your photos and About page? Nope, delete.
Never click on sketchy links
This is a rule of thumb we early internet users learned the hard way via Limewire and such. The same rings true for Facebook links without previews or readable URLs.
Think before you click. Your account and your virus-free computer will thank you.
Be choosy about which apps or sites you give permission to
Ever take a quiz or plug in your profile to an app and it automatically posts on your account? No caption, no chance to review your results. Those are some of the sites to be wary about, as they can access your feed without notifying you. Only provide your location to apps you trust.
Who knows what else can be posted? Again, go back to your app settings, do Marie Kondo proud, and delete away.
Edit your privacy settings
It helps to set your publishing settings to private, and then review which posts to make public to your friends (or the rest of the internet). There's also a feature where you can limit how others see your past posts.
Seriously, explore Facebook's privacy settings. Think of it like detoxing your identity from theft.
Unlike and unsubscribe from pages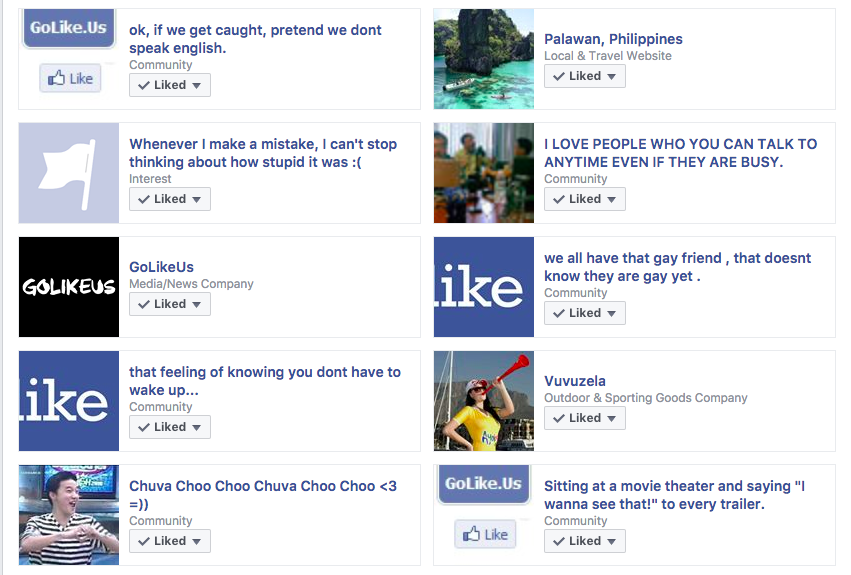 When did you ever like "Funnylolz Pic" on Facebook? Probably in 2007 when the social network was new and you liked pretty much everything your friends were liking. These pages are irrelevant and clog your news feed, and can sometimes be linked to external apps. They don't need access to your profile page either.
Check your Activity Log
You might be posting spam on your account without getting notified. It's a bit of a scroll, but check for suspicious activities. You can see which links those likes and comments circle around. You have the option of deleting from your page or muting notifications.
Check posts you're tagged in. If a friend is tagging you in sketchy, spam-like posts, do them a solid and tell them to up their Facebook security.
Photos courtesy of Unsplash and Kueez
Read more: 
ICYMI: Facebook is changing your news feed
Facebook can help you stop identity theft
Do you belong to the four kinds of Facebook users?
TAGS: Facebook fixture nolisoli nolisoli.ph nolisoliph privacy social media