You should register your e-bikes now
LTO is impounding unregistered units and unlicensed drivers
Feb 14, 2018
Electronic bicycles or e-bikes are on the rise. You may have seen a number of them traversing the same streets and roads as the big vehicles are. This is mainly because they're environment-friendly, economical, and convenient to use—rechargeable, cheap, and available almost anywhere.
One of their selling points, as well, is that anyone can use them. E-bike drivers won't need a license to drive one and units don't need to be registered.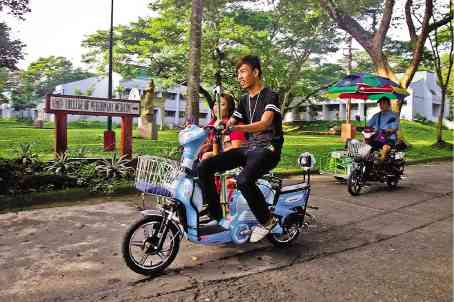 And that's the troublesome part because e-bike vendors are wrong in this aspect.
The Land Transportation Office (LTO) is impounding unlicensed e-bikes and penalizing unlicensed drivers. Last month, the authorities confiscated units that traveled along EDSA, Commonwealth Ave., and national roads in Pasay City.
In a report by ABS-CBN News, LTO said that the Land Transportation Code covers electronic vehicles.
So, how to register your e-bikes? Here's the guideline according to LTO's Administrative Order 2006-01. You can do it in the following LTO offices: Diliman District Office, Quezon City District Office, Pasay District Office, and Caloocan District Office.
1. Complete the following requirements:
Commercial Invoice or Certificate of Registration from the country of origin
BOC Certificate of Payment
Certificate of Stock Reported (CSR)
Sales Invoice of MV with sales evaluation from the regional office
PNP-HPG MV Clearance Certification
Duly accomplished and approved Motor Vehicle Inspection Report (MVIR) issued by the MVIS accredited by the LTO
Appropriate insurance certificate of cover
Taxpayer's Identification Number (TIN)
2. Proceed to the transaction counters and submit all the required documents to the Evaluator for evaluation and computation of fees.
3. Undergo actual inspection of motor vehicles with duly accomplished MVIR. The form can be downloaded from the LTO website, and accomplished prior to your visit to the LTO.
Owners of seized unregistered e-bikes would have to pay P10,000 and those who drive without driver's license will be banned from getting a student permit for a year.
Header image courtesy of Inquirer.net
Read more:
Why can't people follow simple traffic rules?
Manila traffic isn't only costing us money, but also costing us our health
Bambike takes green transportation to a new level with its use of sustainable material
TAGS: e-bike electronic bikes environment fixture land transportation office nolisoliph