Just when we think the issue with ride-hailing apps has settled, Uber shakes the status quo again, this time by striking a deal to sell its Southeast Asian operations to—here's the shocker—its rival, Grab.
In a report by Bloomberg, Uber will be buying around 20 percent of stakes in Grab, in exchange for selling its operations. This apparently isn't the first time Uber will be selling its operations for equity in rival companies. In 2016, Uber also struck a deal with Chinese ride-sharing service, Didi Chuxing.
This deal will ultimately end the "battle for leadership in Southeast Asia's fast-growing ride-hailing market," according to Grab co-founder and Chief Executive Officer Anthony Tan.
The deal is set to be finalized in a few weeks. What this means for us riders—aside from having just one go-to app now—is still unclear, especially in light of last year's LTFRB issue. Frankly, we too have a lot of questions. How will this affect the ride fares? What will happen to Uber drivers? How will our government respond? All we can do for now is to wait and see, it seems.
UPDATE (Mar. 26): It looks like they finally sealed the deal today.
If you check your Grab app notifications, you'll get a message like this: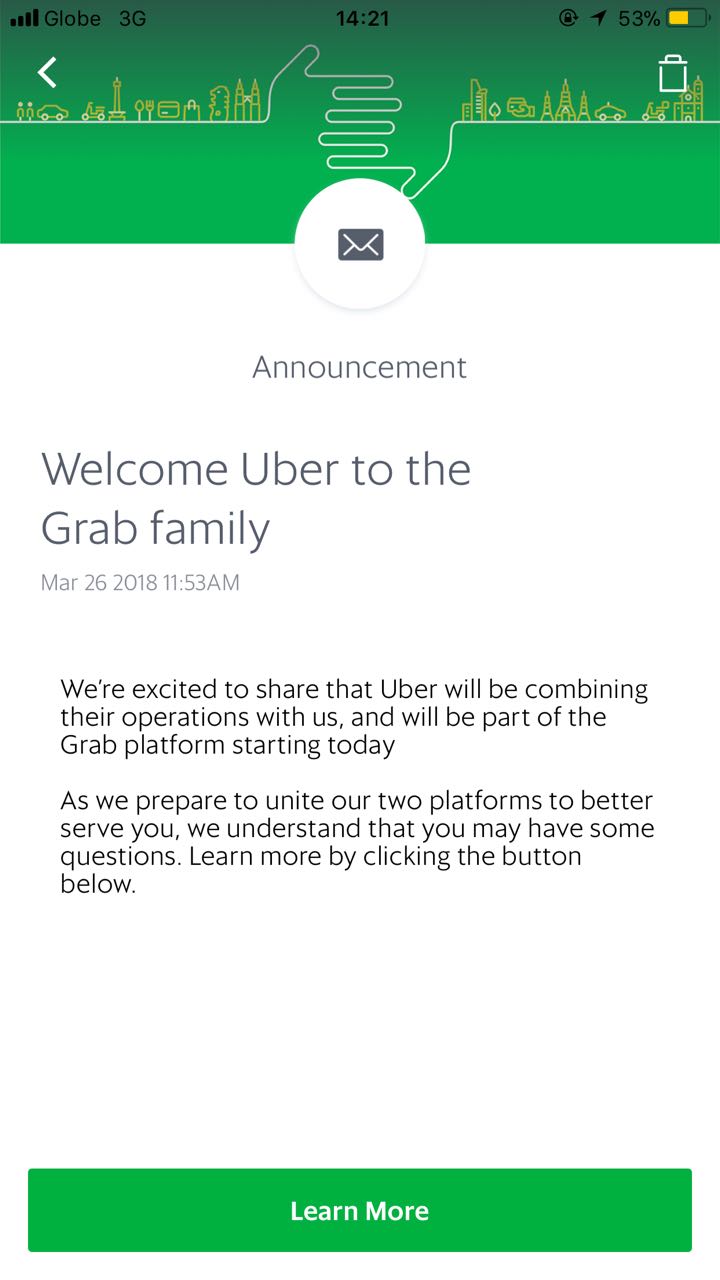 Surely you have a lot of questions. Grab (and Uber) reassures passengers that operations will continues as normal as of now. Both apps can still be used, but "in the near future, you'll be able to access all the benefits of both platforms via the Grab app."
The Uber service will be available in Southeast Asia until Apr. 8. Uber drivers will then be moved to Grab.
For those concerned about fares, don't worry: Grab/Uber assures passengers that there will be no changes to the fares. GrabCar and GrabShare fares will continue to be based on distance, with an increase according to demand and supply at any particular place and time, traffic conditions, etc. GrabTaxi will continue to be based on metered fare.
What happens to the Uber drivers, you might ask? They can continue driving as normal using the Uber app, but only until Apr. 8 as well. Uber drivers will then have to register to drive with Grab "after the Uber service closes," as noted in the Grab FAQs.
For more information, visit the Grab website.
Read more:
Why cash-only Uber riders are now required to provide Facebook verification
What the Uber blacklist could mean for your safety
App-based alternatives to Uber that you might want to try
What Uber can learn from its own corporate downfall
Read more from Pauline Miranda:
CONFIRMED: IKEA is opening at this mall complex
Expect higher electricity bills this March