Makati church gets backlash for overpriced wedding rates
A ceremony at Santuario de San Antonio Parish may cost couples up to P65,000
Mar 16, 2018
A Facebook post showing Santuario de San Antonio Parish's (SSAP) overpriced wedding rates has been driving the netizens nuts.
How overpriced? Here's SSAP's rates, the annual accreditation fees for suppliers and cash bonds, in particular, photographed by Facebook user Dominic Velasco during the parish's first Wedding Congress.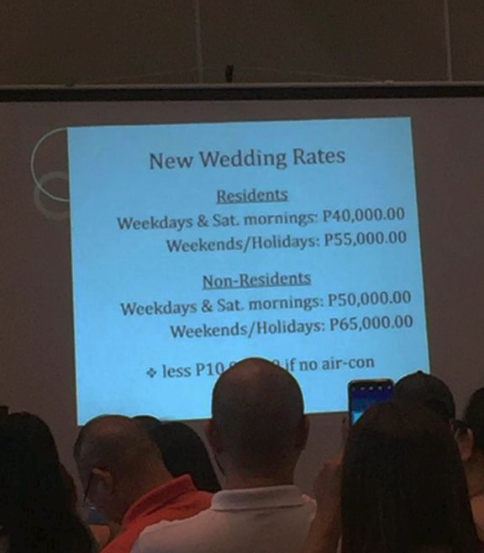 The wedding rates start at P40,000 for residents on weekdays and Saturday mornings to P65,000 for non-residents for weekends and holidays.
"The parish priest has this insane idea of milking the suppliers of the couples who book the church. So he comes up with a ridiculous table of accreditation rates," Velasco writes in his post published yesterday afternoon.
"It doesn't stop there. This church now wants more money from the couples by charging cash bonds for every supplier that they hire for their wedding. This amounts to something like P125,000." And this is only for the ceremony.
Netizens are mad and some are even advising the government to start taxing churches if the Catholic Church is just going to make the faithful pay more than they should (or even pay at all! For the sacraments!). The rates give off the impression that this Catholic rite has become a money-making scheme.
If Santuario De San Antonio Parish is going to treat weddings like a commercial venture from now on… if other churches are going to follow suit… then I think it's about time government looked into taxing them.

— Gerry Alanguilan (@komikero) March 15, 2018
The unjust and unreasonable fees that Santuario De San Antonio Parish would like to impose on suppliers contradicts their belief that Marriage is a sacrament not a Business…We as suppliers have to stand our ground and protect our rights too. We are not foolish! #AnnoyedSupplier

— MsWeddingPlanner💕 (@JustmeMajella) March 16, 2018
A lot of backlash and a few hours after, SSAP released a letter posted on their Facebook page.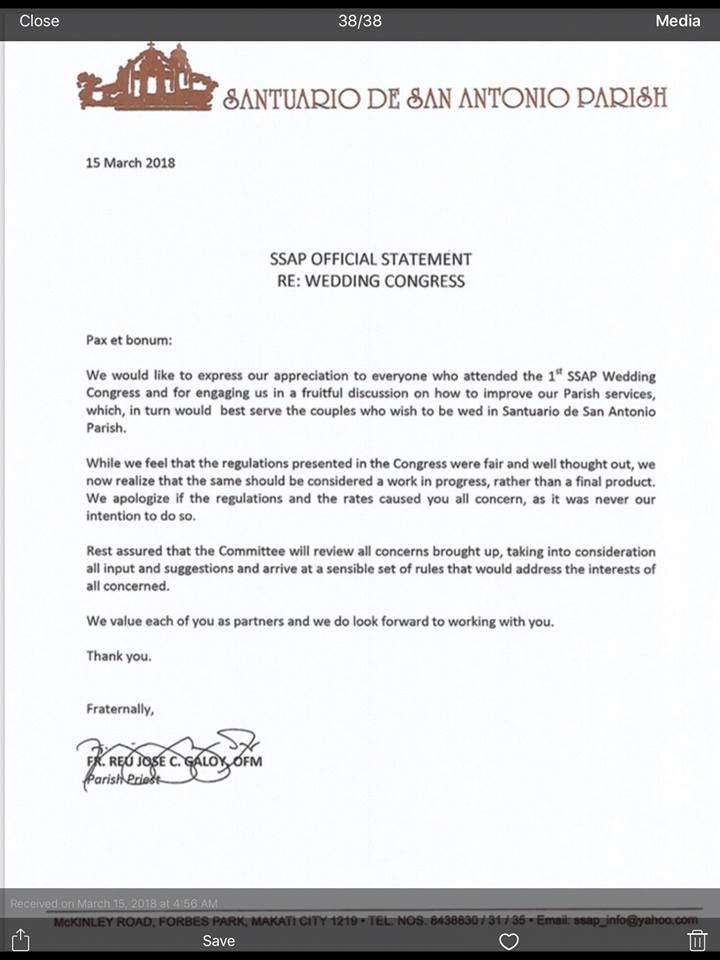 According to SSAP Priest Fr. Reu Jose Galoy, the rates presented should have been presented as "a work in progress, rather than a final product."
"We apologize if the regulations and the rates cause you all concern, as it was never our intention to do so," Galoy writes.
The parish will now revisit and tweak its rates especially now that people are venting on their Facebook page, giving one-star reviews and tirades.
Now, Velasco has a tip for SSAP staff to avoid future mistakes. (And I guess everyone can learn from this.)
Photos courtesy of Flowers by Sylvia and Weddings in the Philippines
Read more:
The Nuestra Señora dela Asuncion church in Bulacan is now a heritage site
Wedding goals: This couple had the most low-waste ceremony
TAGS: fixture forbes park makati nolisoliph santuario de san antonio parish social media wedding