As if differentiating between the one peso coin and the five peso coin wasn't hard enough, now Bangko Sentral ng Pilipinas (BSP) just released a teaser video showing the New Generation Currency (NGC) coin designs that—surprise!—shows our six coins looking exactly the same. Almost.
The new coins still have varying sizes, but now they share one color. (Ugh. Good luck fishing for coins on an evening commute.)
The P1, P5, and P10 coins will feature national heroes (Jose Rizal, Andres Bonifacio, and Apolinario Mabini respectively) on one side, while the 1 centavo, 5 centavo, and 25 centavo coins will have a stylized version of the Philippine flag (three stars and a sun) with the BSP logo. All coins will also feature indigenous plants on the reverse sides:
P10 – Kapa-kapa, an endangered plant also known as the Philippine orchid. It grows on the forks of large trees
P5 – Tayabak, a vine that grows in damp forests, also called the jade or emerald vine
P1 – Waling-waling, a type of orchid also called Sander's Vanda, and considered to be the "queen of Philippine flowers"
25 centavo – Katmon, a medicinal fruit (also called elephant apple)
5 centavo – Kapal-kapal baging, a flowering plant also known as the crown flower
1 centavo – Mangkono, a rare and endangered tree species known for being one of the hardest Philippine hardwood species. Indigenous in the Dinagat Island of Surigao, Homonhon Island in Samar, Babatngon, Leyte, and Palawan
Check out the other design features here:
The reason behind the redesign
Okay, great. But why are they even changing the designs, right? Is it just to highlight our indigenous plants? (Which seems to be the only major difference with these coins aside from the lack of color.)
Apparently not. BSP explains on their website that changing currency designs is a normal practice among central banks. This is to guard against counterfeiters. "By making it very difficult and costly for counterfeiters to produce exact copies of our money, we protect the integrity of our currency against criminals."
They also note that other central banks redesign their currency (or at least banknotes) every 10 years on average, while ours has been in place for already 25 years.
Is it worth it?
So our redesign is long overdue. And it's all for our money's security. But should it really be at the cost of the citizens' convenience?
Let's turn to our greatest source of public opinion, Facebook: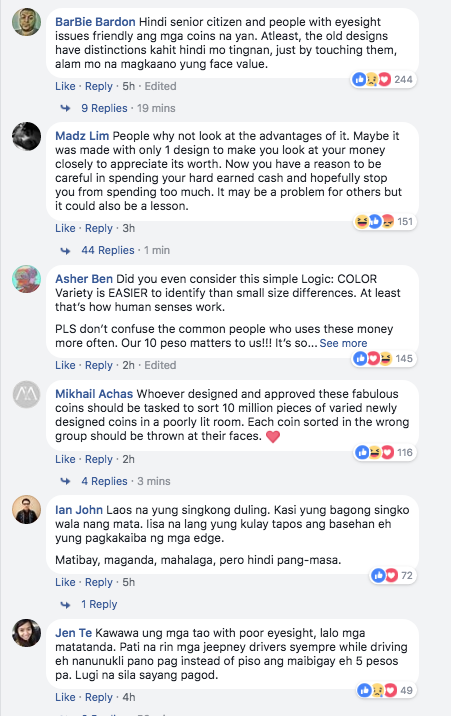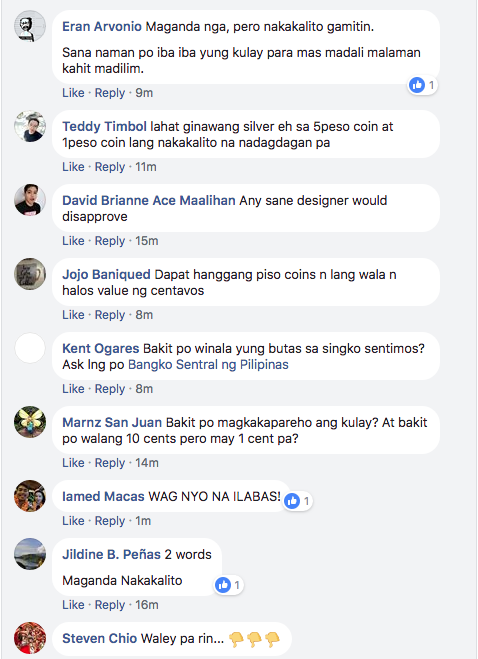 Maybe BSP took security too seriously and forgot all about user experience.
What now?
BSP has yet to announce when exactly these new coins will be in circulation and when our old ones will be demonetized. It's yet to be seen how public opinion will change the direction of the New Generation Currency program, so until then all we can do is think of ways to prepare ourselves for the inevitable.
Some simple ways could be to prepare your fare in advance before you ride your transport of choice. Or just be very careful before you hand in your money. Check out this infographic to fully familiarize yourself with the new coins: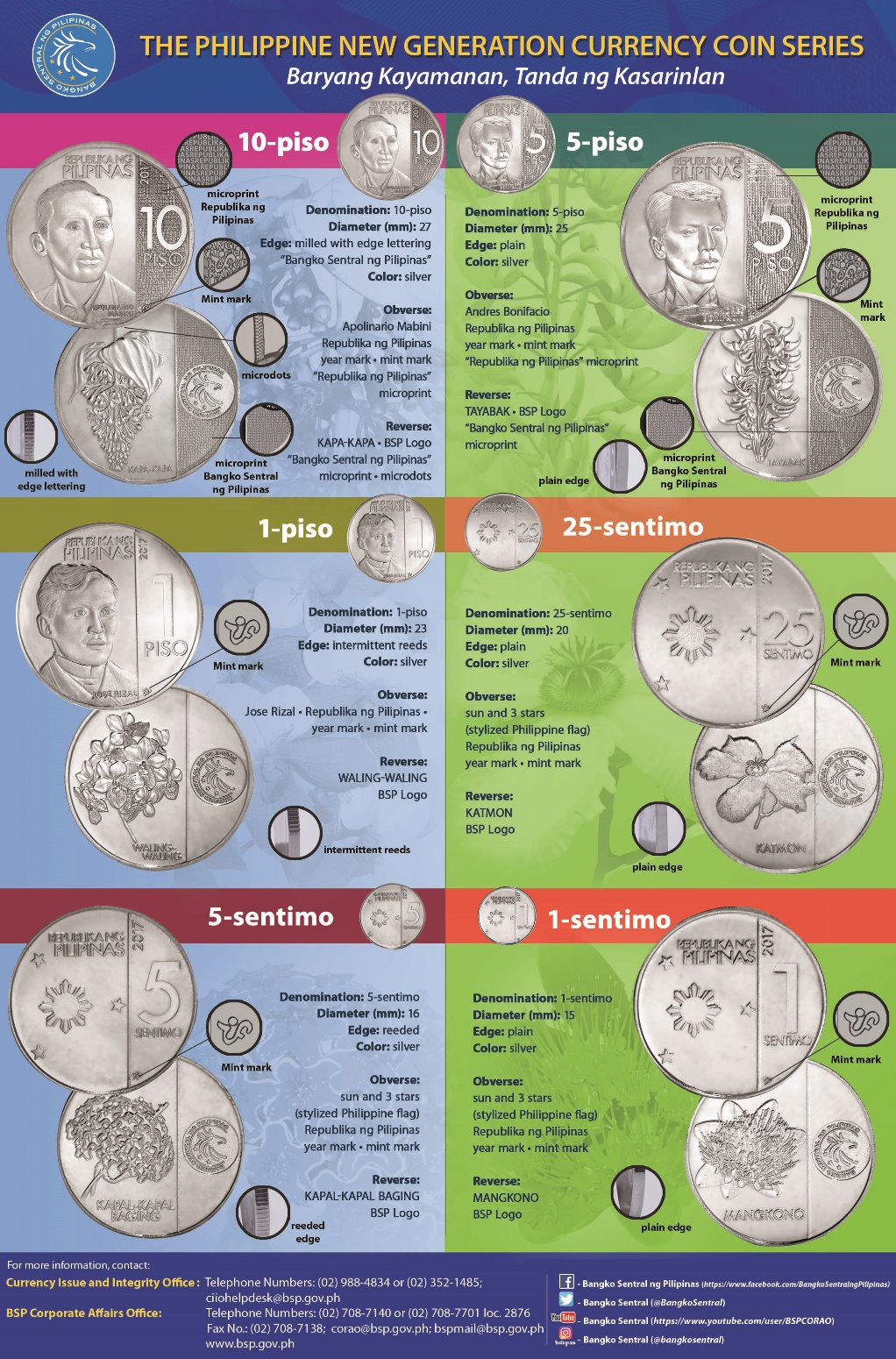 Read more:
NAIA is 10th most improved airport in the world
How to start your government ID collection
Don't get SOGIE? Check out this easy primer
Read more by Pauline Miranda:
The PH may soon have a national ID system
Self-employed? It's time to change your VAT status
Writer: PAULINE MIRANDA