The creepy way Facebook gets all your information
Just when you think it's the FBI you should watch out for
Mar 28, 2018
In light of the recent Cambridge Analytica scandal, social networking site Facebook has been under fire for apparently leaking the profile data of millions of users and is currently facing investigation.
In a statement released by the Federal Trade Commission (FTC) on Mar. 26, the FTC "takes very seriously the recent press reports raising substantial concerns about the privacy practices of Facebook. Today, the FTC is confirming that is has non-public investigation into these practices."
So how does Facebook gets all your information?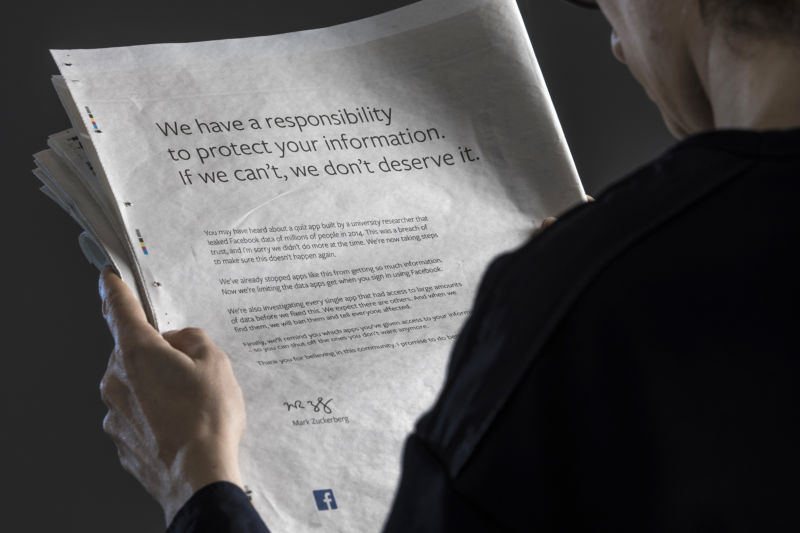 It follows you in and out of Facebook
Obviously, Facebook tracks your activities on the site, on your personal devices, and your location settings. What you don't know is that it also tracks you virtually on every site you visit. Creepy, huh?
According to The Washington Post, Facebook knows every time you visit a page with a "like" or "share" button (you can also see this in your activity log). Publishers are given access to a tool called Facebook Pixel which allows both parties to track visits from any Facebook user. Facebook also works with companies like Epsilon and Acxiom who collect information from government records, warranties and surveys, and commercial sources (i.e. magazine subscriptions) to learn more about its users.
Now that Facebook has an idea of what their user is like—married, a parent, shopaholic, an expat, or looking to purchase a new ride—they sell you as a target to advertisers. Yes, sell.
If you want to know just how extensive these data points are for Facebook to target ads to you, see the list below:
Location

Age

Generation

Gender

Language

Education level

Field of study

School

Ethnic affinity

Income and net worth

Home ownership and type

Home value

Property size

Square footage of home

Year home was built

Household composition

Users who have an anniversary within 30 days

Users who are away from family or hometown

Users who are friends with someone who has an anniversary, is newly married or engaged, recently moved, or has an upcoming birthday

Users in long-distance relationships

Users in new relationships

Users who have new jobs

Users who are newly engaged

Users who are newly married

Users who have recently moved

Users who have birthdays soon

Parents

Expectant parents

Mothers, divided by "type" (soccer, trendy, etc.)

Users who are likely to engage in politics

Conservatives and liberals

Relationship status

Employer

Industry

Job title

Office type

Interests

Users who own motorcycles

Users who plan to buy a car (and what kind/brand of car, and how soon)

Users who bought auto parts or accessories recently

Users who are likely to need auto parts or services

Style and brand of car you drive

Year car was bought

Age of car

How much money user is likely to spend on next car

Where user is likely to buy next car

How many employees your company has

Users who own small businesses

Users who work in management or are executives

Users who have donated to charity (divided by type)

Operating system

Users who play canvas games

Users who own a gaming console

Users who have created a Facebook event

Users who have used Facebook Payments

Users who have spent more than average on Facebook Payments

Users who administer a Facebook page

Users who have recently uploaded photos to Facebook

Internet browser

Email service

Early/late adopters of technology

Expats (divided by what country they are from originally)

Users who belong to a credit union, national bank or regional bank

Users who investor (divided by investment type)

Number of credit lines

Users who are active credit card users

Credit card type

Users who have a debit card

Users who carry a balance on their credit card

Users who listen to the radio

Preference in TV shows

Users who use a mobile device (divided by what brand they use)

Internet connection type

Users who recently acquired a smartphone or tablet

Users who access the Internet through a smartphone or tablet

Users who use coupons

Types of clothing user's household buys

Time of year user's household shops most

Users who are "heavy" buyers of beer, wine or spirits

Users who buy groceries (and what kinds)

Users who buy beauty products

Users who buy allergy medications, cough/cold medications, pain relief products, and over-the-counter meds

Users who spend money on household products

Users who spend money on products for kids or pets, and what kinds of pets

Users whose household makes more purchases than is average

Users who tend to shop online (or off)

Types of restaurants user eats at

Kinds of stores user shops at

Users who are "receptive" to offers from companies offering online auto insurance, igher education or mortgages, and prepaid debit cards/satellite TV

Length of time user has lived in house

Users who are likely to move soon

Users who are interested in the Olympics, fall football, cricket or Ramadan

Users who travel frequently, for work or pleasure

Users who commute to work

Types of vacations user tends to go on

Users who recently returned from a trip

Users who recently used a travel app

Users who participate in a timeshare
Before you think of deactivating your account, there's actually a way to retrieve every single one of your data—including your activities and interactions (even from people you have already unfriended).
Photos courtesy of Unsplash and Ars Technica
Read more:
Safeguard your privacy against viral Facebook quizzes
What to do when you're not ready to unfriend someone on Facebook yet
Read more from Bea Llagas:
This Philippine drug war drama is coming to Netflix this April
Beware of fake paracetamol tablets
TAGS: Facebook facebook scandal fixture mark zuckerberg nolisoliph privacy provacy profile technology