Move over, unli grill: There's unli deep fry in Makati now
Try DIY kushikatsu at the new Japanese restaurant in Salcedo
info
Osakatsu

Japanese

11 a.m. to 10 p.m.

838-7591

₱

P600
We're suckers for unlimited Korean barbecue grill promos in the metro. Maybe it's because of the meat, the DIY experience, the unlimited part, or the K-drama we've been watching. But there's a new contender in town—or at least in Makati—that offers almost the same practice; just replace the grill on the table with a deep fryer.
Osakatsu, a new Japanese restaurant in Salcedo, boasts Osaka's dining concept kushikatsu and has it buffet style. Customers who avail this off the menu have the liberty to choose among 20 assorted skewered meats, seafood, and vegetables, and fry them on their tables. For 90 minutes, they'll get to pick as many as they'd like.
Customers will be given Japanese flour, batter, and breadcrumbs for a more experiential DIY deep frying. Once dipped in the scorching cooking oil, you may want to keep an eye on your stick lest you'll lose your, say, cheeseball (this one's a crowd favorite with its cheese that oozes when bitten) in a sea of flour-batter-breadcrumbed meats.
After taking your crispy golden brown treat out of the fryer and drain the excess oil on the insulated pan, dip your skewers on sauces (spicy and tonkatsu) that they make from scratch.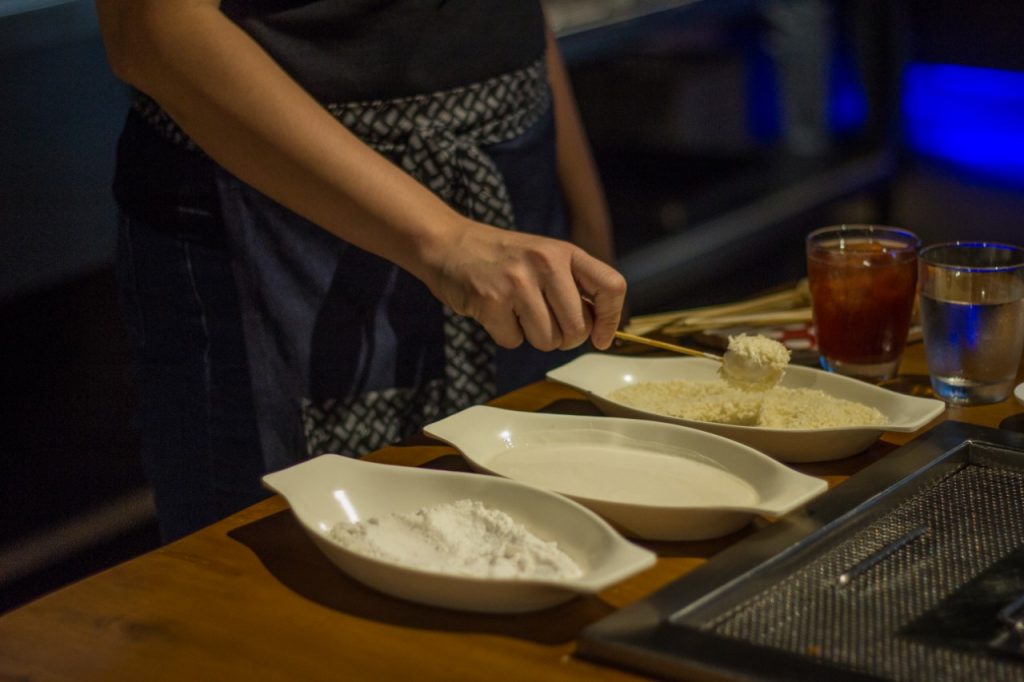 "It was an 'aha!' moment for me when we dined at a restaurant in Osaka that has kushikatsu. 'Ang ganda dalhin sa Philippines 'yung ganito,' I thought," owner LA Valles says. So he did after quitting his corporate job almost two years ago to start Osakatsu.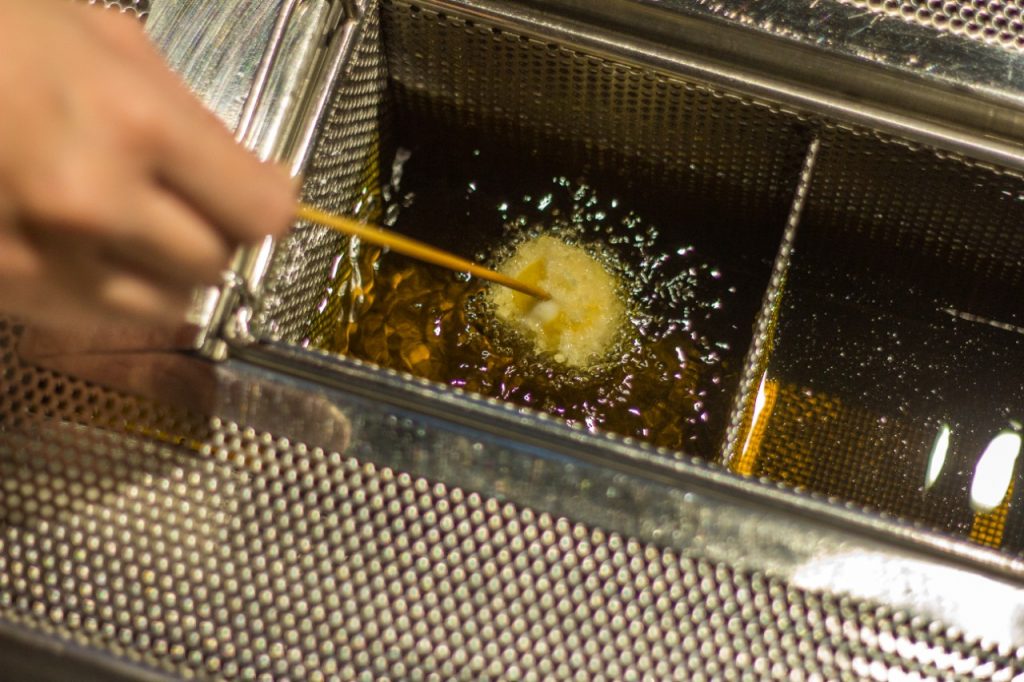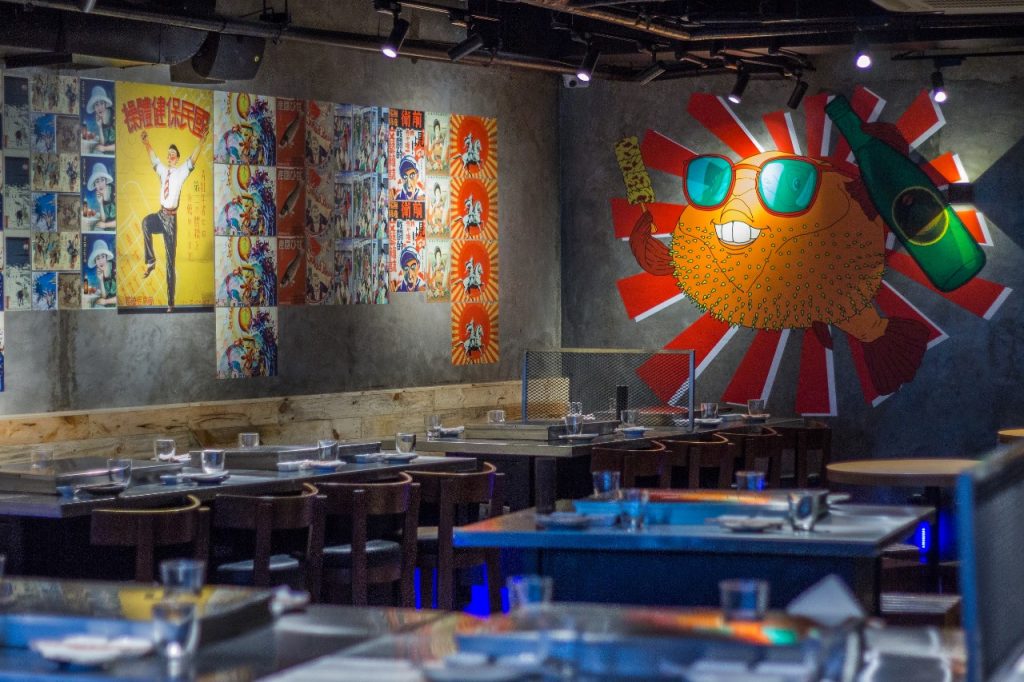 "We want to bring the street food style in a restaurant setting and marry it with the traditional Japanese menu," Valles says. With the help of Edo San, the former executive chef in Alphaland's Balesin Island Club and various five-star hotels, Valles created a menu full of must-try originals from the seasoned chef and of course, the usual Japanese suspects.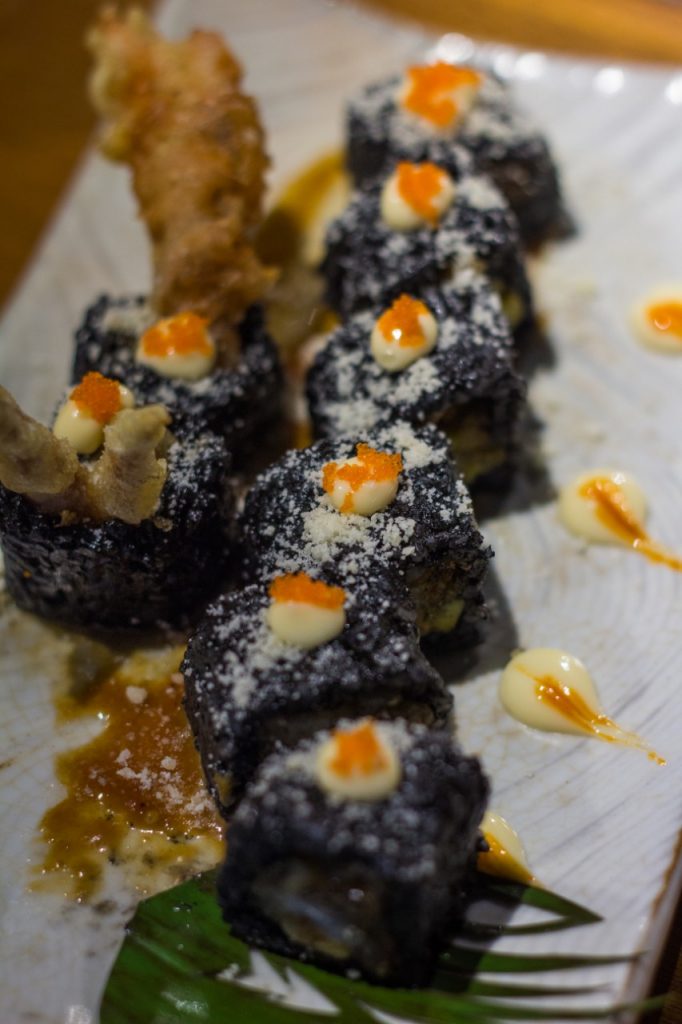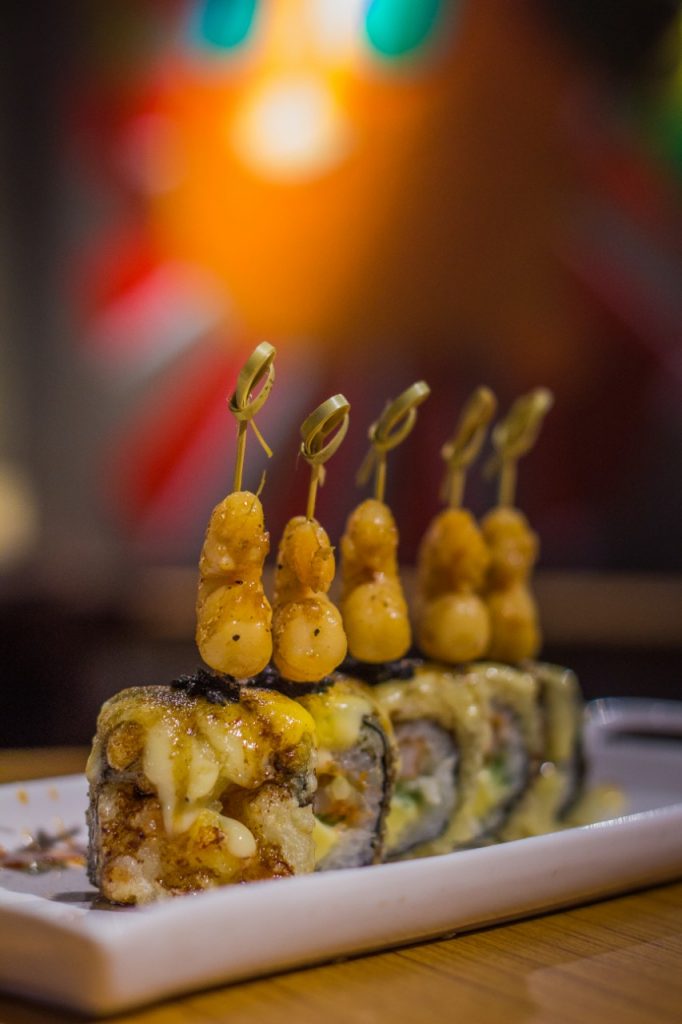 Here are some of chef Edo San's pride: Black Mamba and Edo San Special.
Although the squid ink infused in Black Mamba's rice doesn't give the makimono a significant change in taste, it gives the soft shell crab tempura and cheese roll an additional interesting flavor—a hint of the sea but not fishy, just a trace of saltiness. To add fun and more umami to the dark, edgy treat, it's topped with roe, which pops open when gnashed between teeth.
If only a scoop of ice cream (the mark of a true "special") goes well with Edo San Special, the chef will definitely top the dish with it, but it's not. We'll just have to settle with a mouthful of fried skewered makimono that effuses an explosion of flavors from the anago or saltwater eel, crab sticks, mango, and Japanese cucumber. It's topped with melted cream cheese, blackened roe, and a piece of juicy salted prawn. A piece of the Edo San Special can be bulky in your mouth, but try to devour one in just a go for a satisfyingly creamy sushi experience.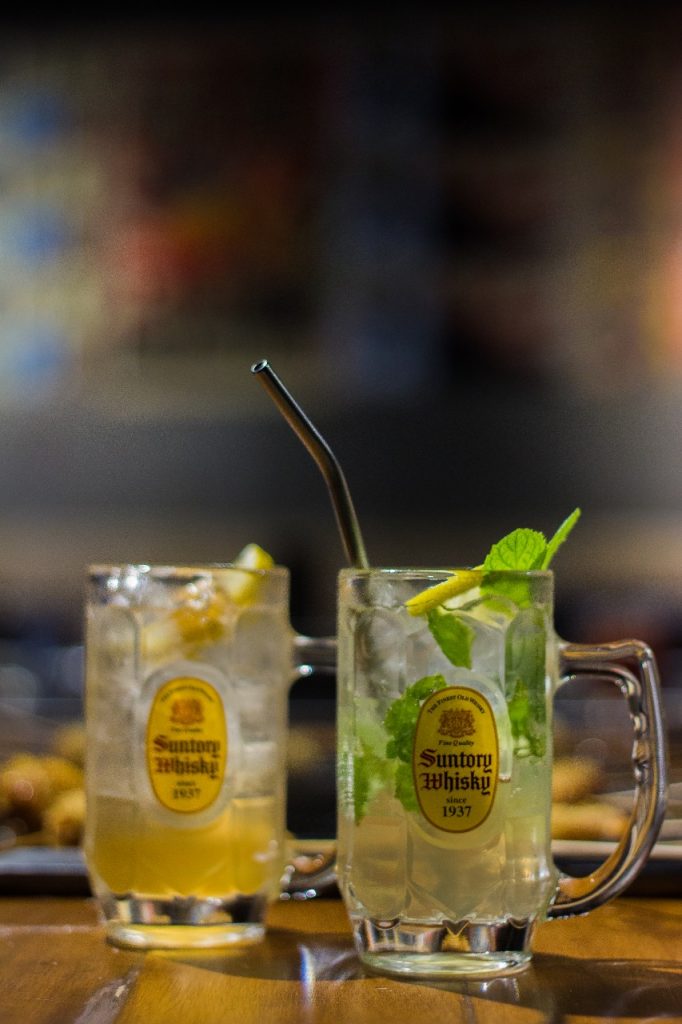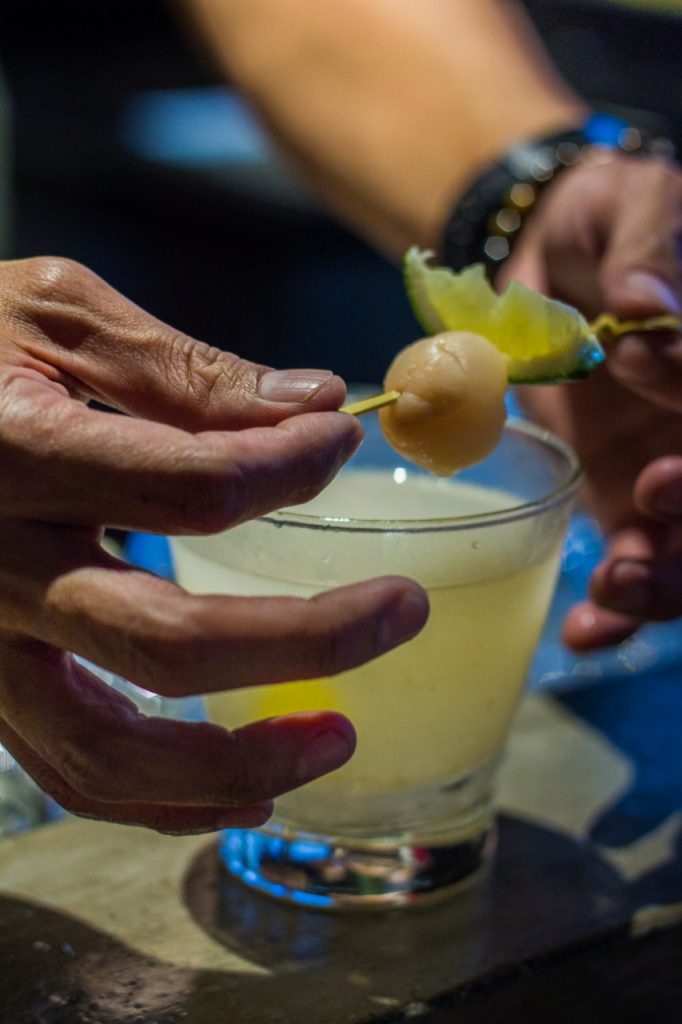 Pair your hearty meals with a glass of their refreshing Suntory Kakubin Highball. They have two flavors to choose from: ginger honey lemon and classic mojito. If you're looking for a more sweet and flavored booze, try their Sakeni or sake-infused lychee-flavored martini.
To cap off this gastronomic adventure, end with Osakatsu's Fried Chocolate, a fried chocolate maki wrapping chocolate, mochi, and nori together. Dip a piece of the seemingly odd maki on the icing and then ice cream that comes with it. The sweetness cuts the umay, but then there's nori… so it can get weird. But after a few chews, you'll surely grow into it.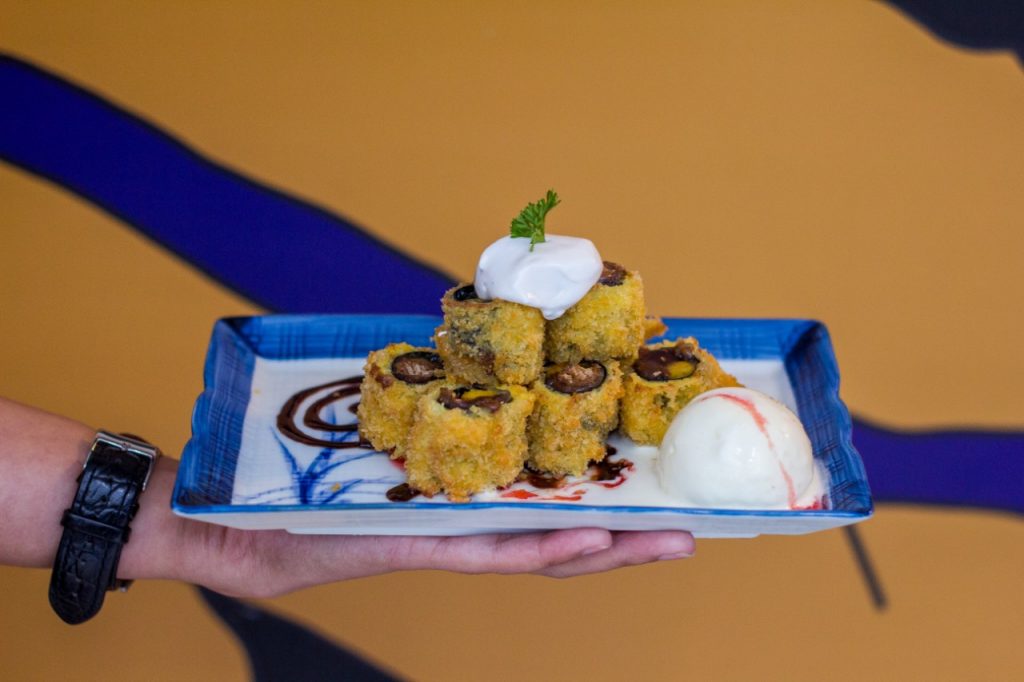 Osakatsu hasn't started an active online campaign to promote itself yet, surprising Valles as the restaurant brims with hungry souls during lunchtime and dinnertime. Soon, together with his partners, he plans to open more branches and make the DIY kushikatsu concept bigger locally.
Read more:
This izakaya shows us what progressive Japanese cuisine looks like
Yushoken and Mendokoro owner opens Japanese concept in a Mazda dealership
Japanese architect creates homes out of cardboard and soda crates
Read more by Yazhmin Malajito:
Craving taho at night? This vendor in Manila's just a call away
Video game soundtracks help you focus at work
Coffee stall in DLSU finds permanent spot in Quezon City
TAGS: city guide eats Japanese kushikatsu makati nolisoliph osakatsu restaurant salcedo south
WHY GO?
Aside from the fun kushikatsu, go for their Edo San Special, a towering skewered makimono with saltwater eel, crab sticks, cucumber, mango, and cream cheese. It's topped with a piece of juicy prawn.
MENU