Tsuta's Manila exclusive ramen mixes three very Pinoy flavors
It will be available on Apr. 7
Apr 3, 2018
We were able to try the world's first Michelin-starred ramen when Tsuta first opened its doors at Bonifacio High Street last December. After a quiet few months, Tsuta now announces that they're serving up chef Yuki Onishi's Philippine original ramen: the Sang La Tan Tan Soba.
The Sang La Tan Tan Soba is a Filipino-Japanese take on the tantanmen, which features a slightly sour and sweet taste, along with some spiciness. The new ramen is made from Tsuta's signature broth and shoyu tare, mixed with local ingredients: peanut ground into a paste, chilies, white cane vinegar, and minced crispy pork on top.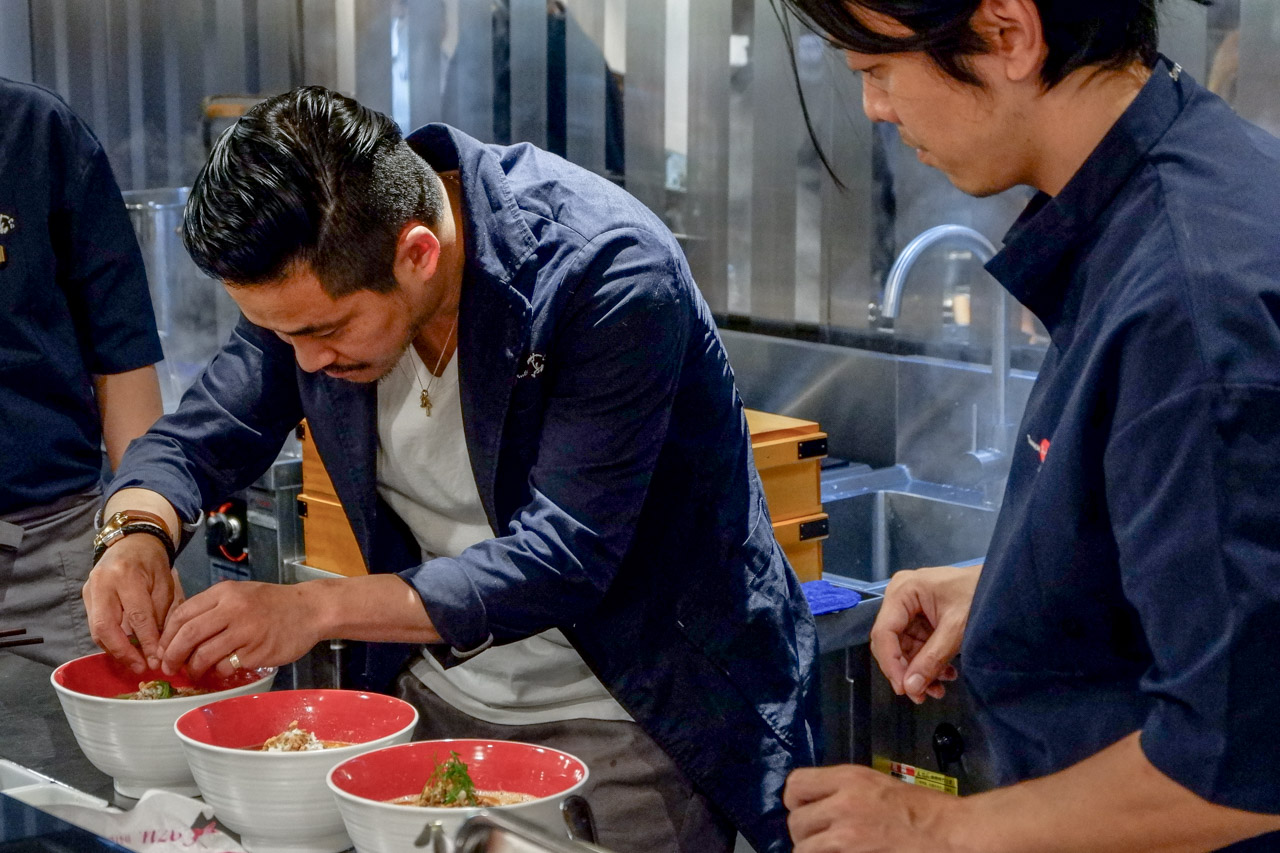 The result is a bowl that fuses three very distinct Filipino dishes: sinigang, kare-kare, and sisig—all of which chef Onishi was able to try and enjoy on his first visit to the country.
The moment you get your bowl, you're immediately greeted by the fragrance of the peanut paste—very similar to the feeling of getting close to a bowl of kare-kare. The soup bears a faint sourness on first taste, immediately followed by the flavor of peanut. As you go through the bowl, the soup becomes thicker, almost like a sauce (which might seem a bit weird if you're used to the usual ramen soup).
The crispy pork, reminiscent of sisig and chicharron, adds a nice texture and bite with each "slurp" of soup.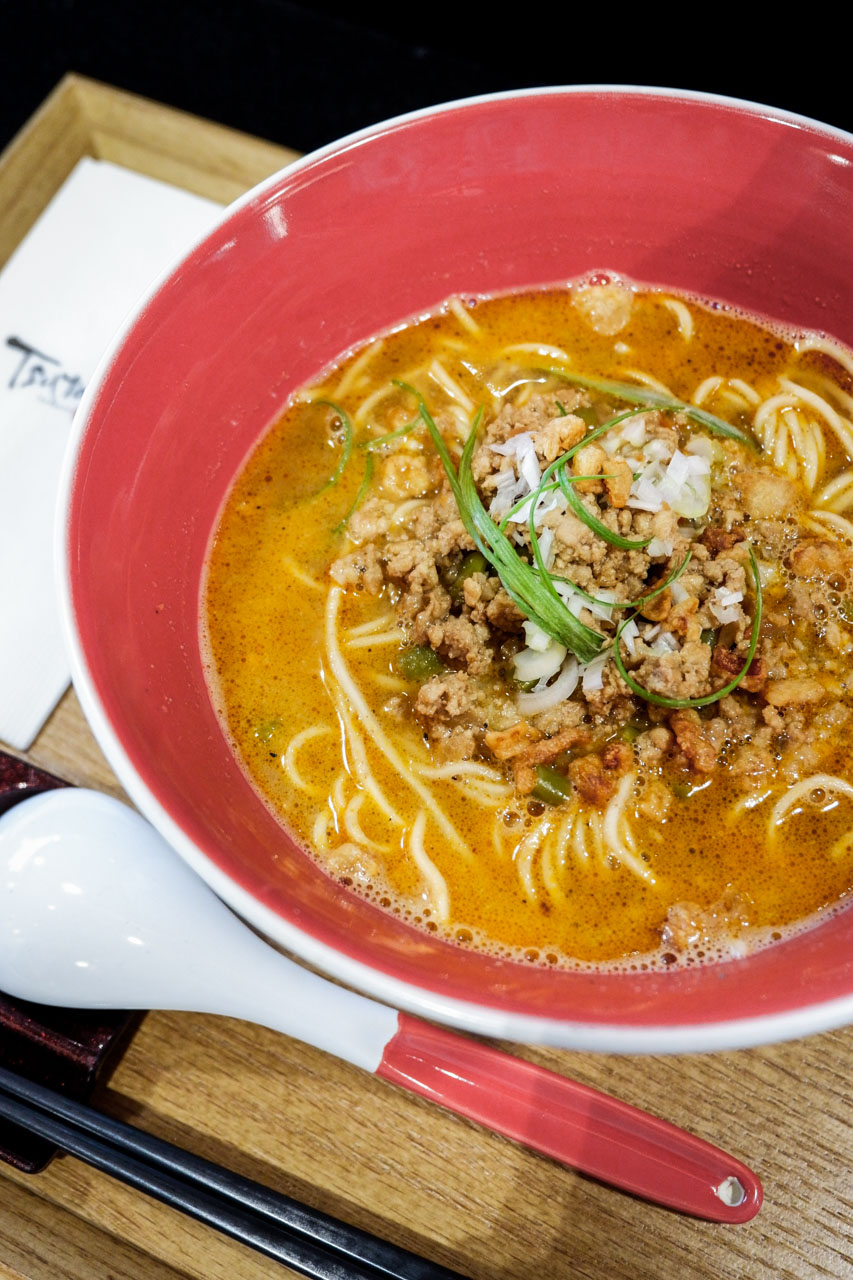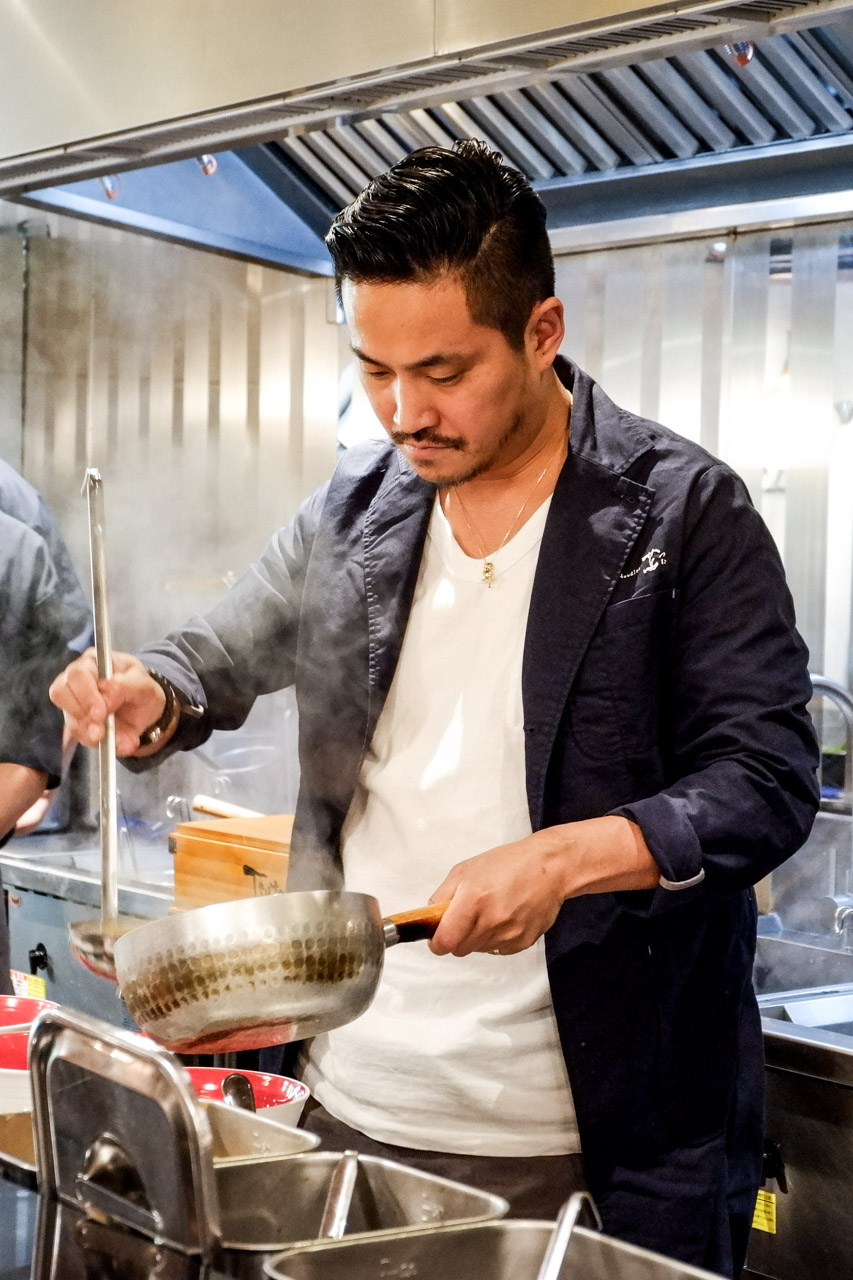 Aside from the new, limited edition ramen, the Philippine Original Series will also include chef Onishi's own take on gyoza, karaage, and green tea pudding. The gyoza, he shares, is healthier than the usual gyoza as it's made with momen tofu, ohba leaves, chives, and tengaiten salt. The karaage or fried chicken, meanwhile, is marinated in Tsuta's signature shoyu sauce.
These new side dishes will be launched first in the Philippines, and will eventually also be available at Tsuta Singapore, Hong Kong, and Taiwan. However, the Sang La Tan Tan will only be available in Manila and will be available starting Apr. 7, Saturday. Only 50 bowls will be served per day.
Read more:
What does it take to make Tsuta's Michelin-starred ramen?
TAGS: eats nolisoli ramen restaurant tantanmen Tsuta tsuta manila tsuta manila exclusive new ramen tsuta new ramen tsuta philippines tsuta ramen where to eat in bgc