Stylish yet functional, a good leather bag is a reliable accessory to get you through the week. When it comes to choosing the right one, texture, color, and the distinct smell of genuine leather are characteristics that we often take into consideration.
A well-crafted, high-quality leather bag is durable and can last through the years, if taken care of properly. It's not necessarily cheap, but you'll get your money's worth for sure. If you're planning on making that investment, here are a few local stores that sell genuine leather bags (and other goodies, too).
Hide and Seek takes pride in the imperfections of their leather. Why? Because scuffs, pores, and marks are telltale signs of high quality full grain and top grain leather, which is what they use for their durable designs. There are a number of elegant silhouettes to choose from, with equally elegant leathers in a a variety of brown and neutral colors. You can't go wrong with the Bunker messenger bag, which comes in medium and large. See them for yourself at The Park in Shangri-La Mall, or visit their website.
Functional and hardy, these Filipino-made genuine leather bags would make the perfect go-to. An online purchase of the Charlie Satchel comes with a luggage tag that you can personalize with a custom monogram. Photographers might want to check out the newly released Verso bag, a lightweight, durable camera bag that was designed in collaboration with a professional photographer. You can find their bags at The Park, Shangri-La Mall or order them online.
Mono offers a range of classic leather bags with a timeless design. Their briefcases, satchels, and backpacks come in tan, brown, and black, made with genuine top grain leather. To keep their bags at an affordable price, Mono bags can only be purchased online, which means you won't find them in stores—at least, for the mean time. To purchase, visit their website.
If you've been to the Legazpi Sunday Market, chances are you've already come across Harl's leather creations. Skillfully crafted by PWDs, this proud Pinoy social enterprise offers a variety of leather goods. Check out the EDC (Everyday Carrying) bag, which functions as a laptop, camera, or diaper bag. If you need something a little more tailored to your needs, they also do custom orders. Follow them on Facebook and Instagram for pop-up and bazaar schedules, or drop by the Philippine Artisan Trade store at Arnaiz and their shop at A. Venue to see their bags in the flesh—or in this case, leather.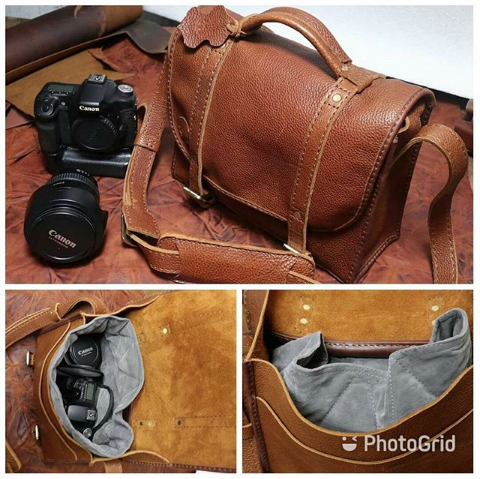 Main images courtesy of The School of Satchel and Hide and Seek on Instagram.
Read more:
Fun and functional bags for sunny days
You can now wear your favorite bowl of ramen
These swimwear brands are perfect for every beach body