Go on a Tokyo food tour with this Netflix series
Be warned: it will leave you craving for sweets
Apr 11, 2018
We're all pretty much guilty of having binge watched our way through a series on Netflix, but Kantaro: The Sweet Tooth Salaryman will have you binge-eating as well.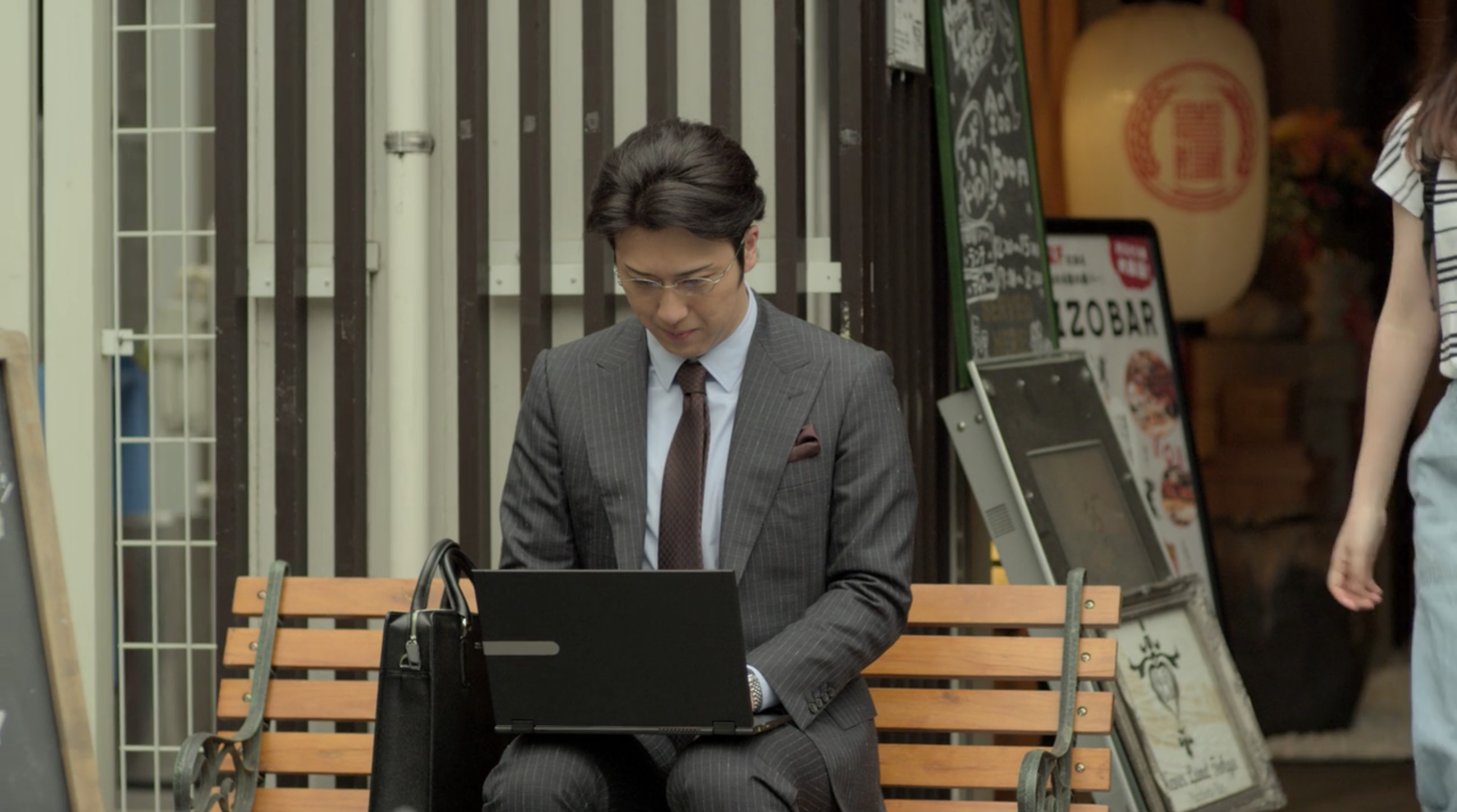 As the name implies, the series follows the daily grind of Kantaro, the seemingly perfect salaryman who works for a publishing company. His job involves being sent out to various districts in Tokyo as a book salesman, which works to his advantage because he secretly runs a popular food blog, reviewing sweets and cafes under his online persona: the Sweets Knight.
Watch as this stoic, superhuman salaryman play hooky and navigate his way through Tokyo, one dessert at a time—all while trying to prevent his coworkers from discovering his secret. Expect a lot of absurdity that only the Japanese are capable of.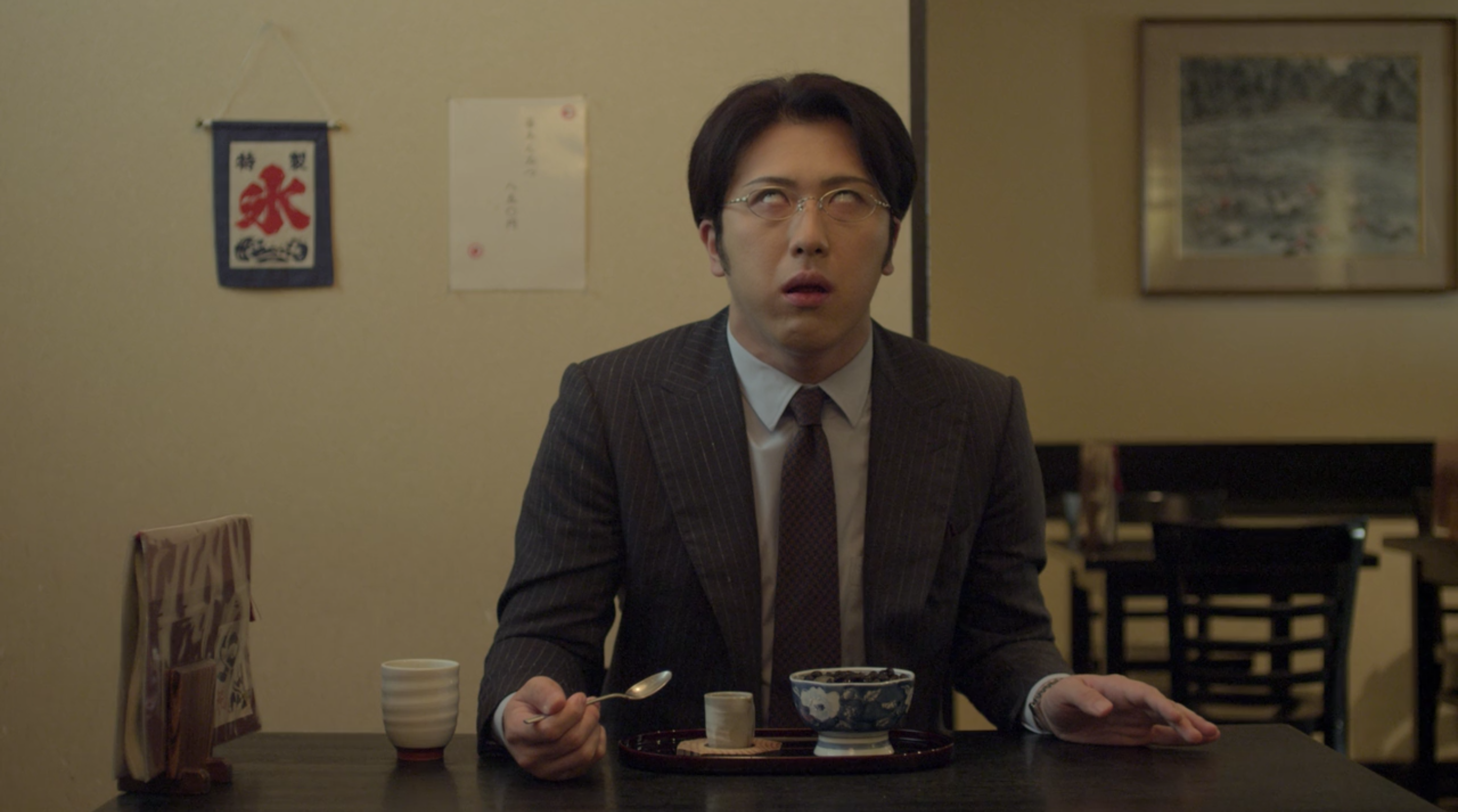 If you don't have the time (or patience) to watch twelve episodes of the Sweets Knight achieving transcendent levels of foodgasm, don't worry—we've compiled a comprehensive list the dessert spots he visited. Feel free to bookmark them for your next Tokyo trip.
Warning: mild spoilers ahead.
Anmistu – Hatsune, Ningyocho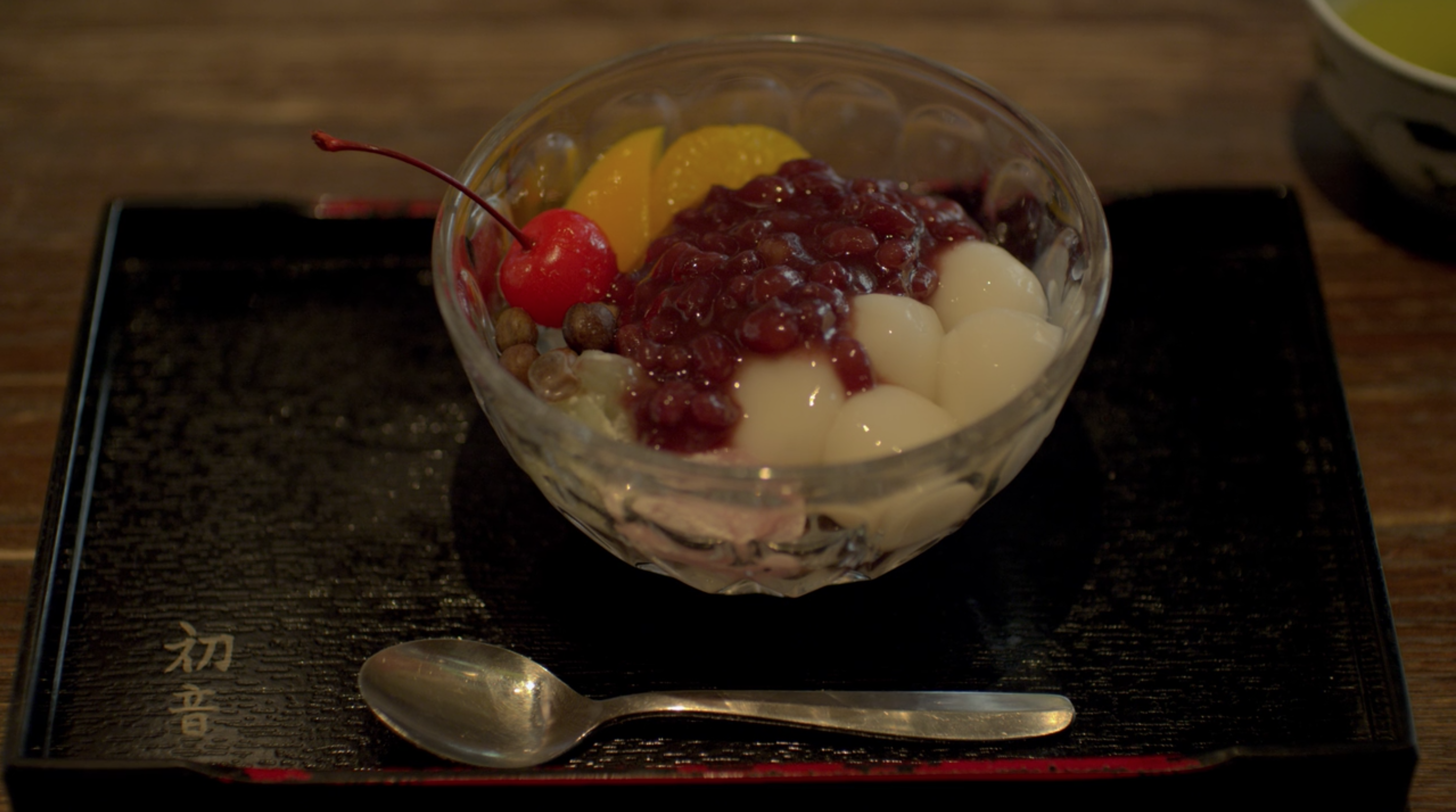 Starting off the series with a traditional Japanese dessert, anmitsu consists of agar jelly, slices of fresh fruit, and the two main components where it derives its name from: azuki bean paste, also known as anko, and syrup, or mitsu. Hatsune cafe lets you choose between shiromitsu, a clear sugar syrup, or kuromitsu, a black sugar syrup that is similar to molasses, but milder. Of course, being the meticulous man he is, Kantaro orders one of each.
Kakigori – Kouriya Peace, Kichijoji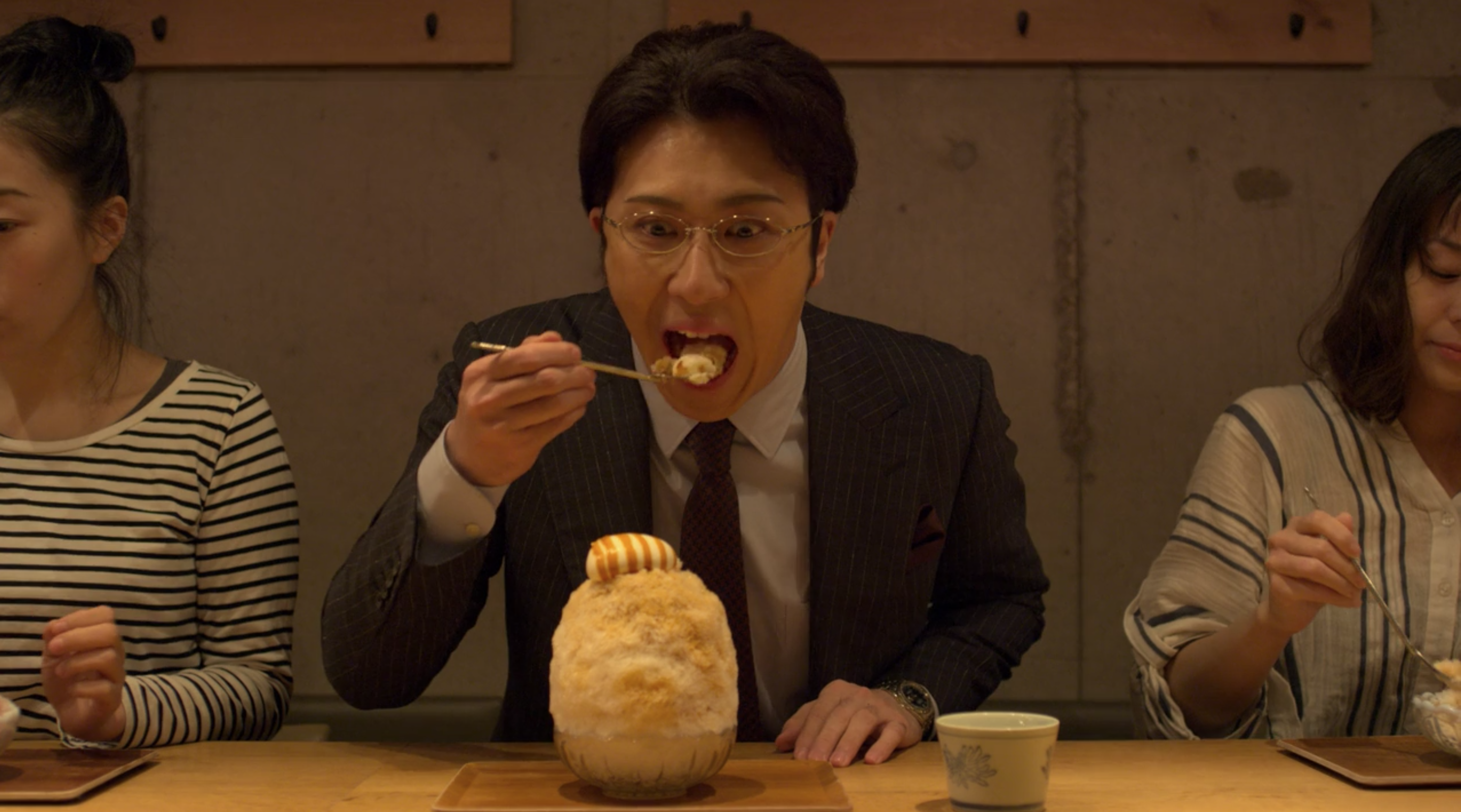 Leave it this masochist of a salaryman to wear heat tech under his suit to prepare for this icy treat on a hot summer day. Kakigori is a shaved ice dessert that's similar to a Korean bingsu. Kouriya Peace is a cozy hole in the wall that has just a handful of seats. Their desserts use finely shaved ice, and they offer a variety of flavors. Be sure to check out what fruits are in season.
Mamekan – Irie, Monzen Nakacho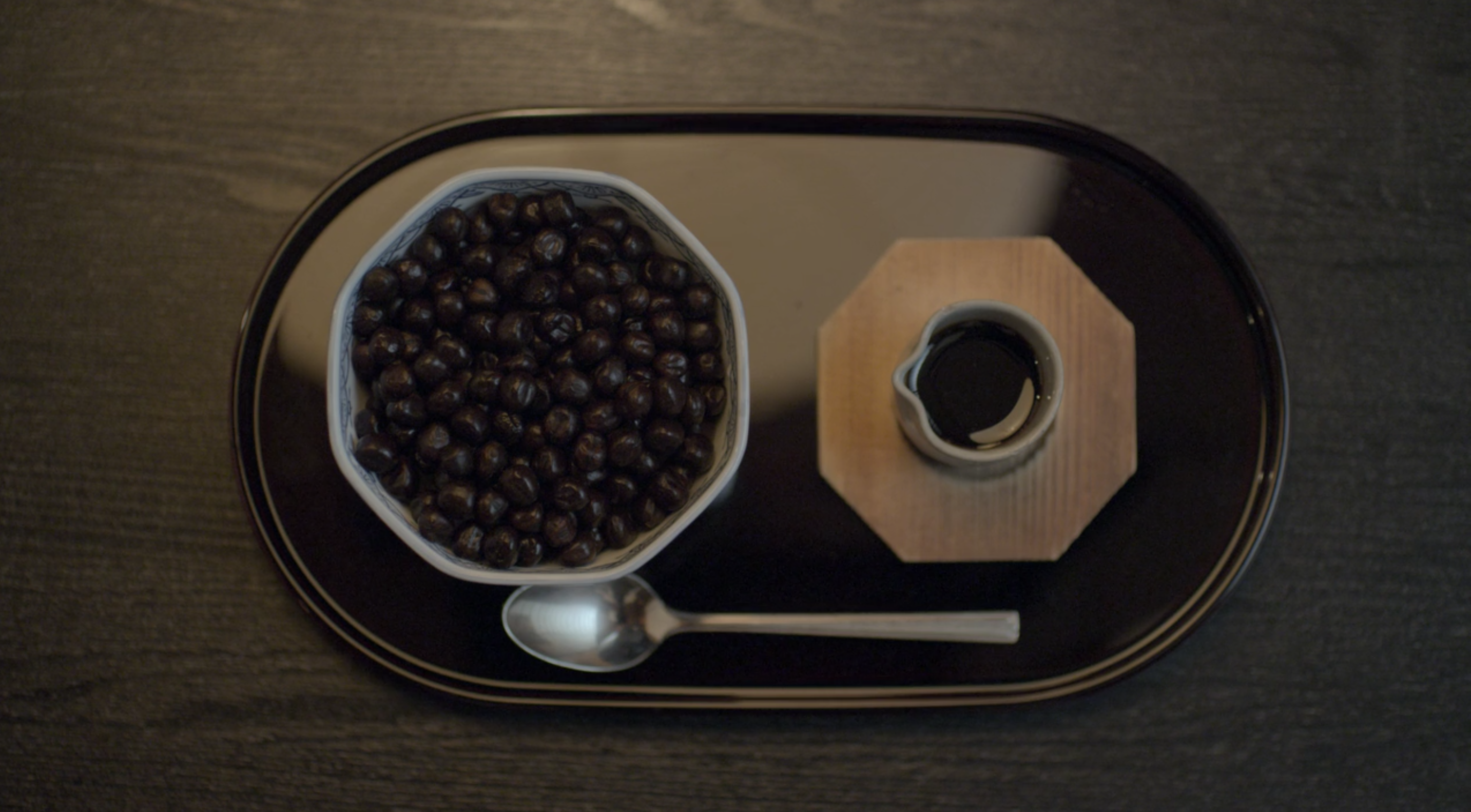 This dessert has only three components: beans, syrup, and kanten, jelly cubes made with agar-agar. That being said, the quality of the ingredients is essential. Described as "the most rigid" of all the sweets, Kantaro insists it be eaten only with kuromitsu.
Fruit Parfait – Kajitsuen Libre, Shinjuku
Kajitsuen Libre uses farm-fresh produce, which are meticulously handled and prepared by the head chef. Enjoy Japan's seasonal fruits in a parfait so beautiful, it almost feels like a sin to take a bite.
Hotcakes – Coffee Tengoku, Asakusa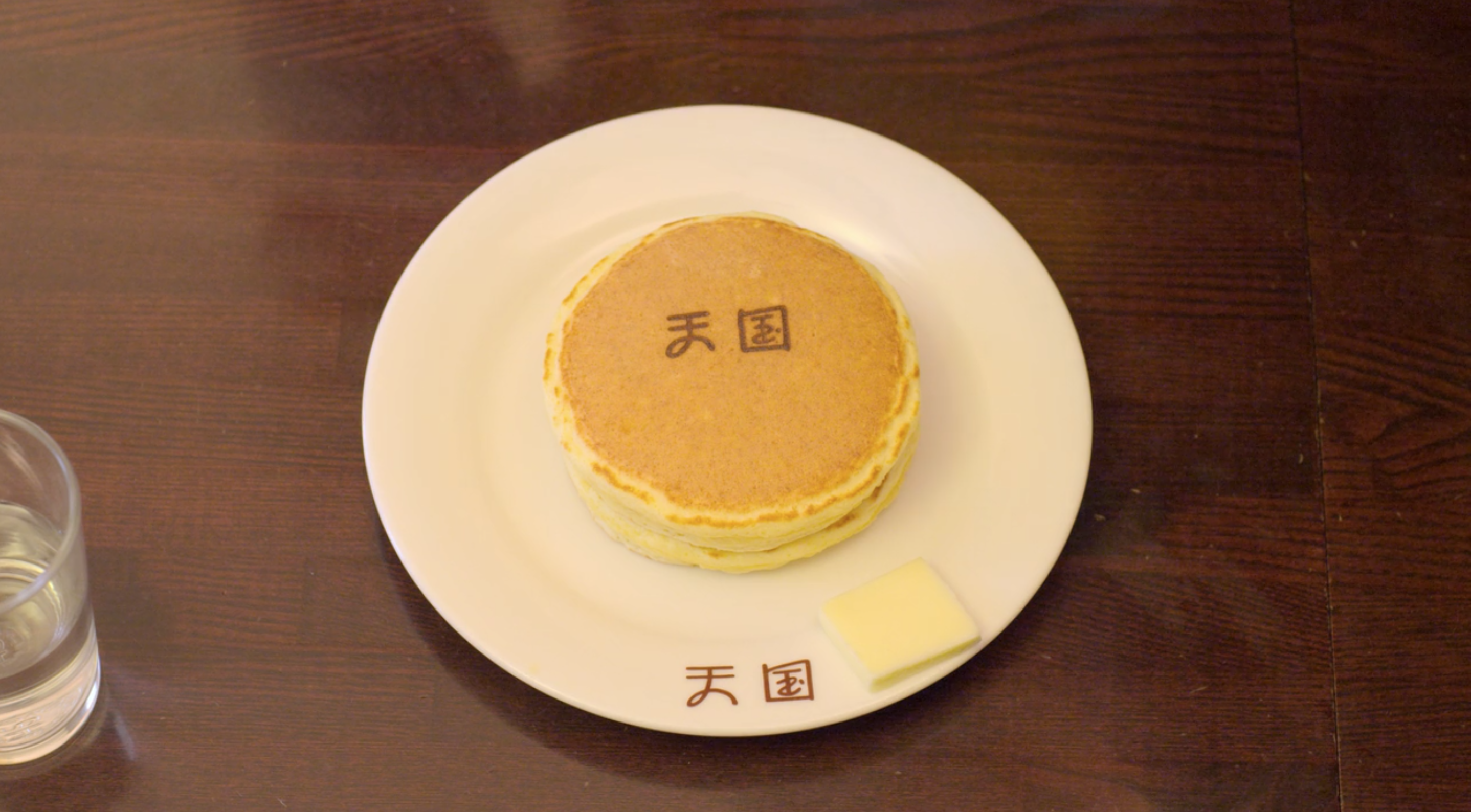 According to the Sweets Knight, there are five ways to eat this hotcake: first, eat it plain; second, with butter; third, with syrup; fourth: with both butter and syrup; and fifth, to eat the center containing the characters '天国,' which translates to 'heaven'—you'll literally be eating a slice of heaven.
Bavarian Matcha Cream – Kinozen, Iidabashi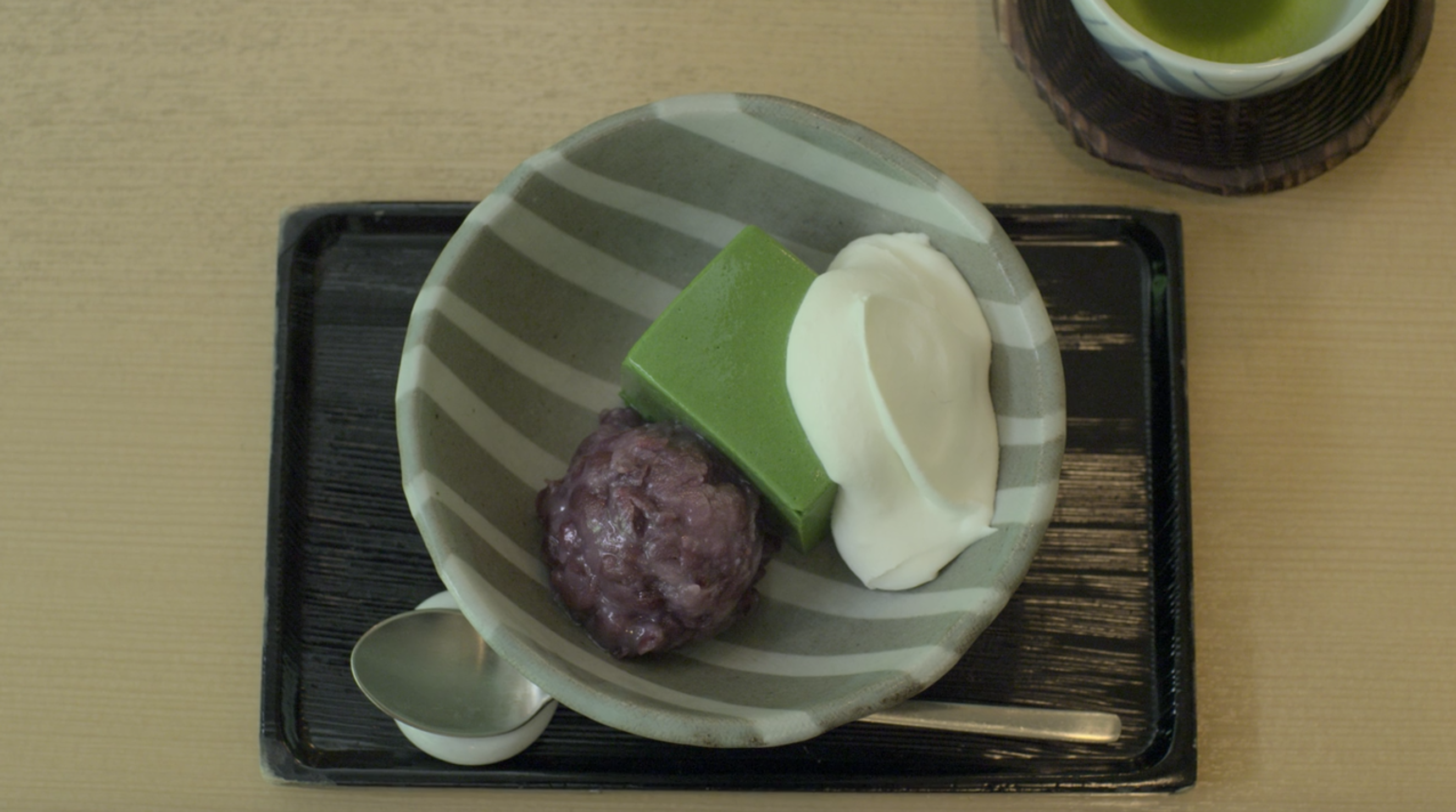 "Dark earth, white clouds, and a brilliant matcha mountain," as poetically described by the Sweets Knight, this episode tackles the identity crisis of the Bavarian matcha cream. Matcha bavarois, sweet red bean paste, and whipped cream—is it a Japanese or a European dessert? Watch the full episode to find out Kantaro's verdict.
Savarin – Cafe Recherche, Yamate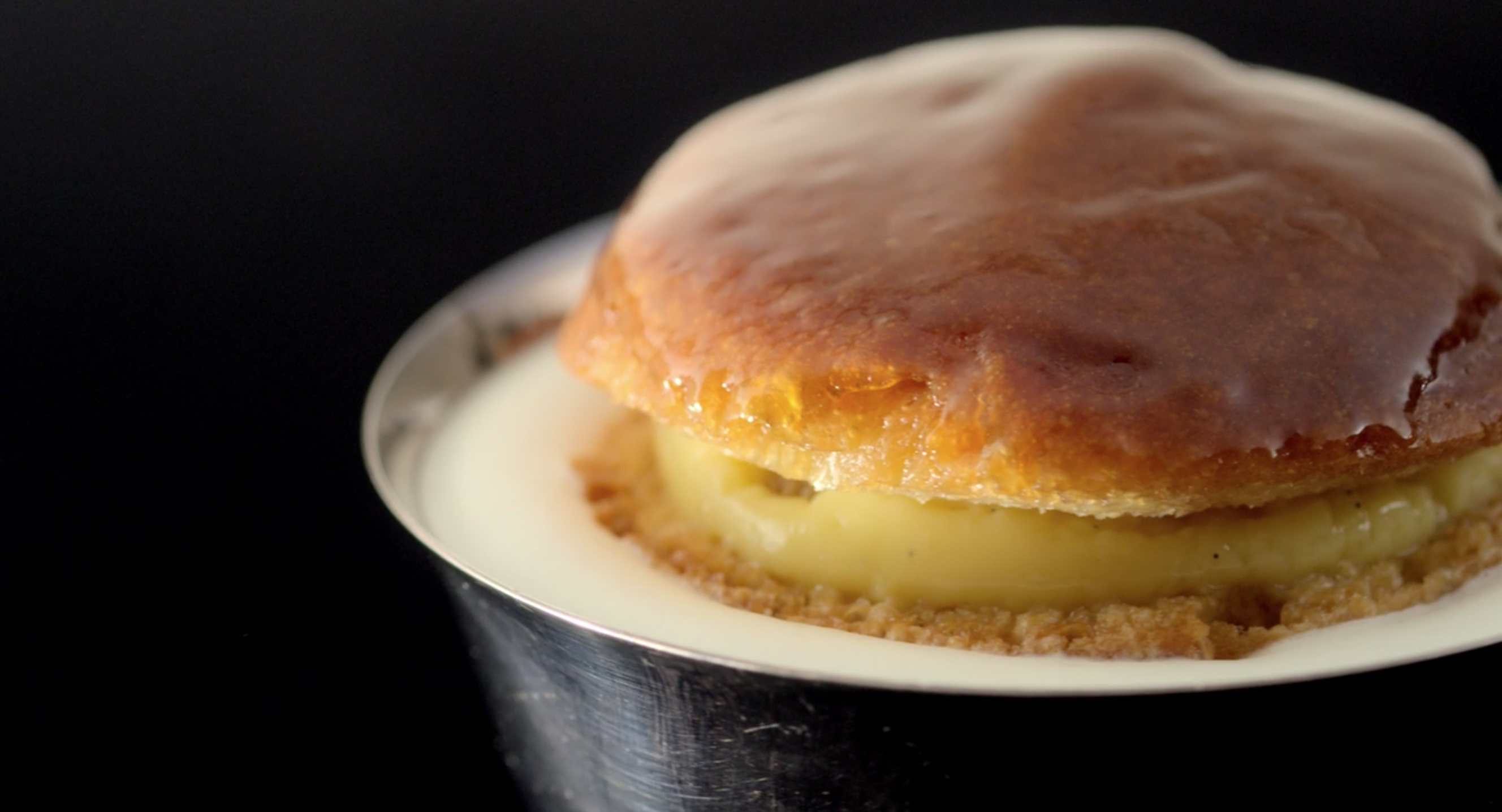 This cafe isn't in Tokyo, it's in Yokohama—just south of the capital. Also, this dessert isn't Japanese—it's actually originates from France. Also called rum baba, this baked sweet acts as a vessel to enjoy alcohol. Cafe Recherche's savarin is a brioche bun soaked in syrup and strong rum, sandwiching a layer of custard cream and rum raisins, placed on a bed of whipped cream, brushed with a coat of apricot jam on top, and served in a silver cup. This is an elegant dessert for adults.
Ohagi – Takeno to Ohagi, Sakura Shimmachi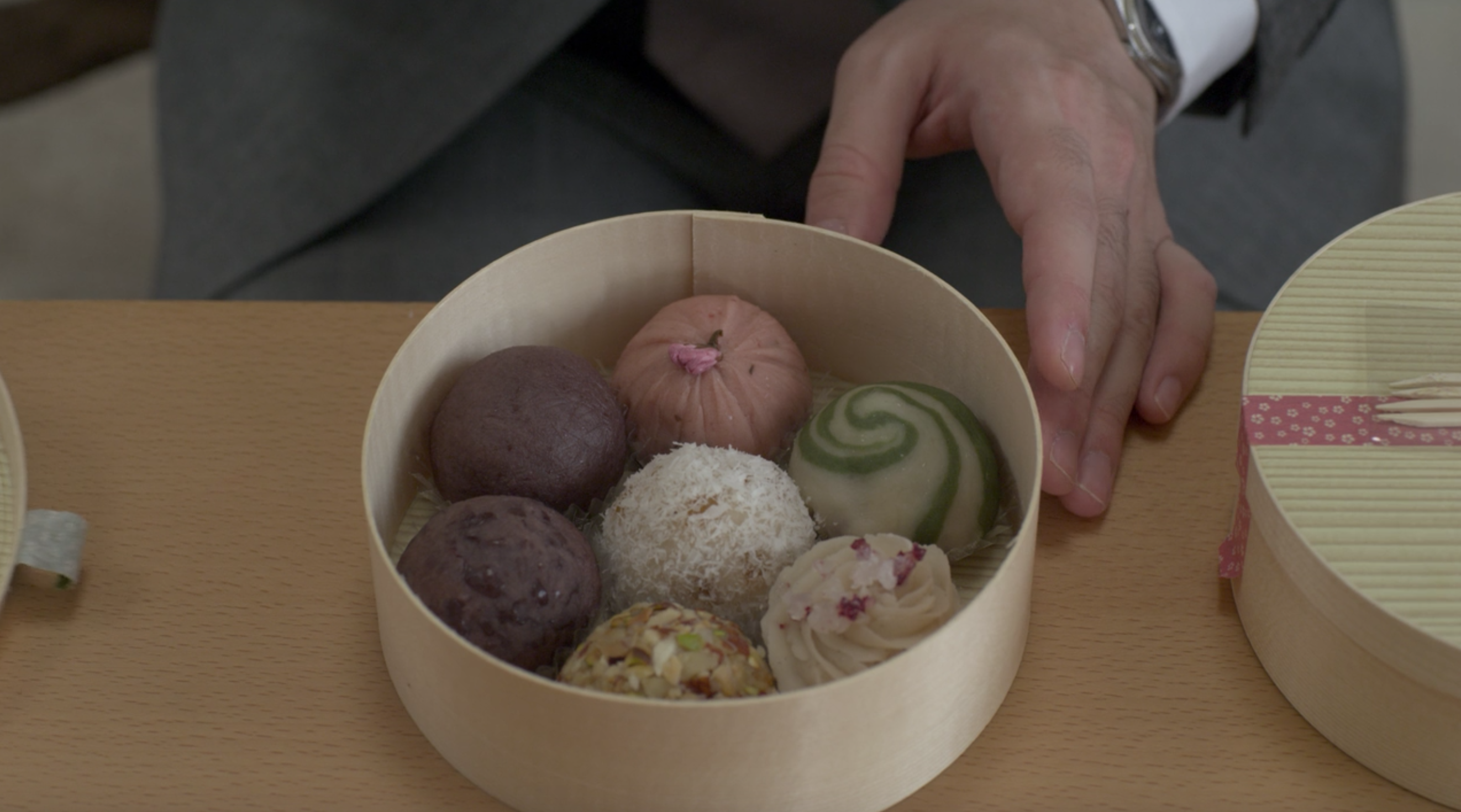 This traditional Japanese sweet is made with glutinous rice and sweet red bean paste. Takeno to Ohagi offers seven types of ohagi: the classic koshian and tsubuan (two different kinds of red bean), as well as five unique flavors which change everyday. Other flavors in Kantaro's assortment include apricot-vanilla, coconut, sakura, mugwort-matcha, and mixed nuts.
Eclairs – Rue de Passy, Gakugei Daigaku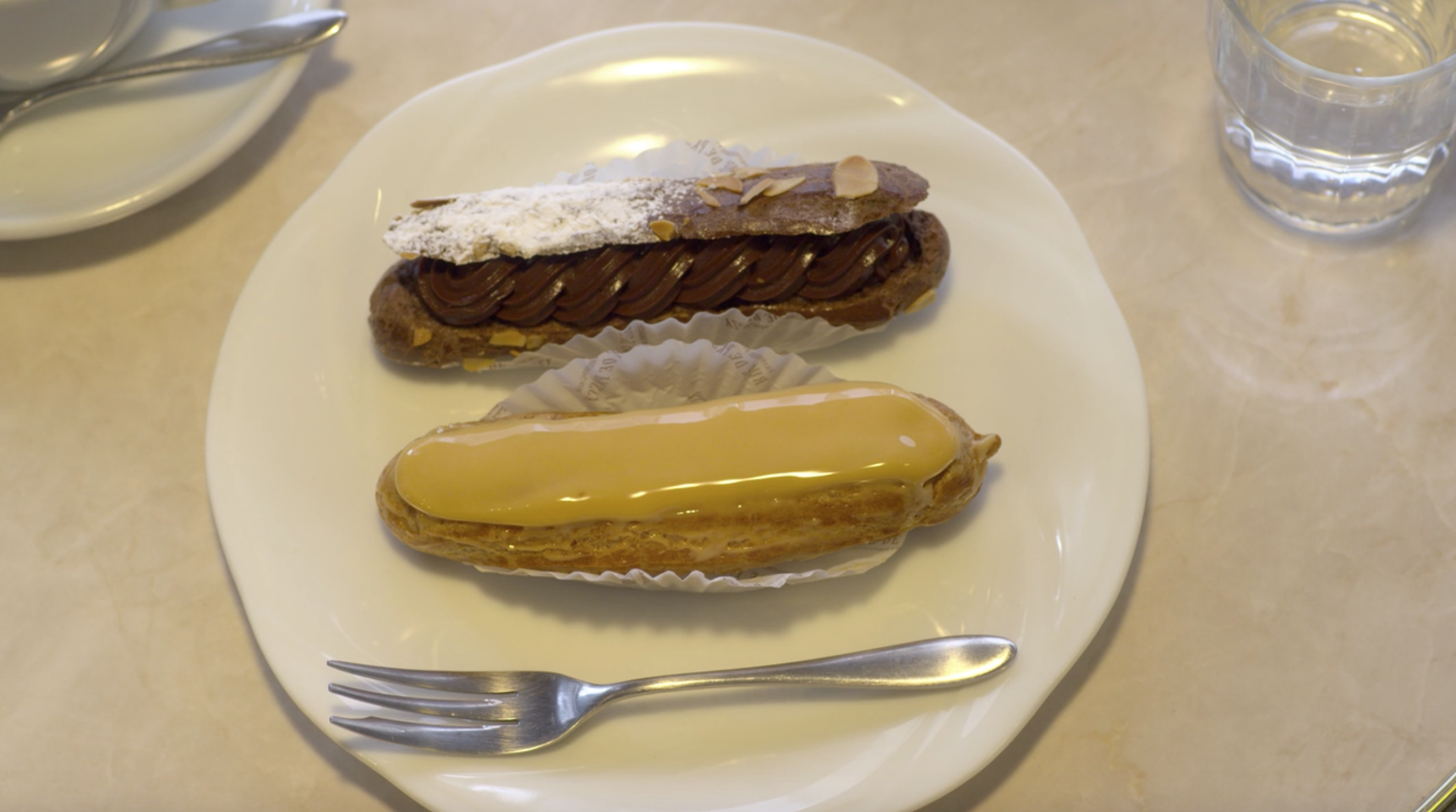 This cafe serves a variety of refined French sweets; their best-sellers are the eclairs, which Kantaro describes as his "origin of sweets." The chocolate eclair is made with a ganache mixed with custard cream, and the caramel eclair has a rich caramel cream that is made with some Guerande salt, which comes from a medieval town in the west coast of France. Apparently, eclair means 'lightning' in French; "you must eat it quickly, like a bolt of lightning" to prevent the cream from gushing out.
Caramel Pudding – Esse Due, Akasaka
Pudding may not be the first thing you order from an Italian restaurant like Esse Due, but in Italy, there is actually a dessert called crema caramellata, which resembles this restaurant's rich cream pudding: a slice of pudding (that looks like a slice of yellow cake), served with a dollop of cream and topped with berries, the texture is firm yet incredibly soft. Would it be safe to say that this is the Italian version of leche flan? Maybe.
Chocolate – Minimal, Yoyogi Koen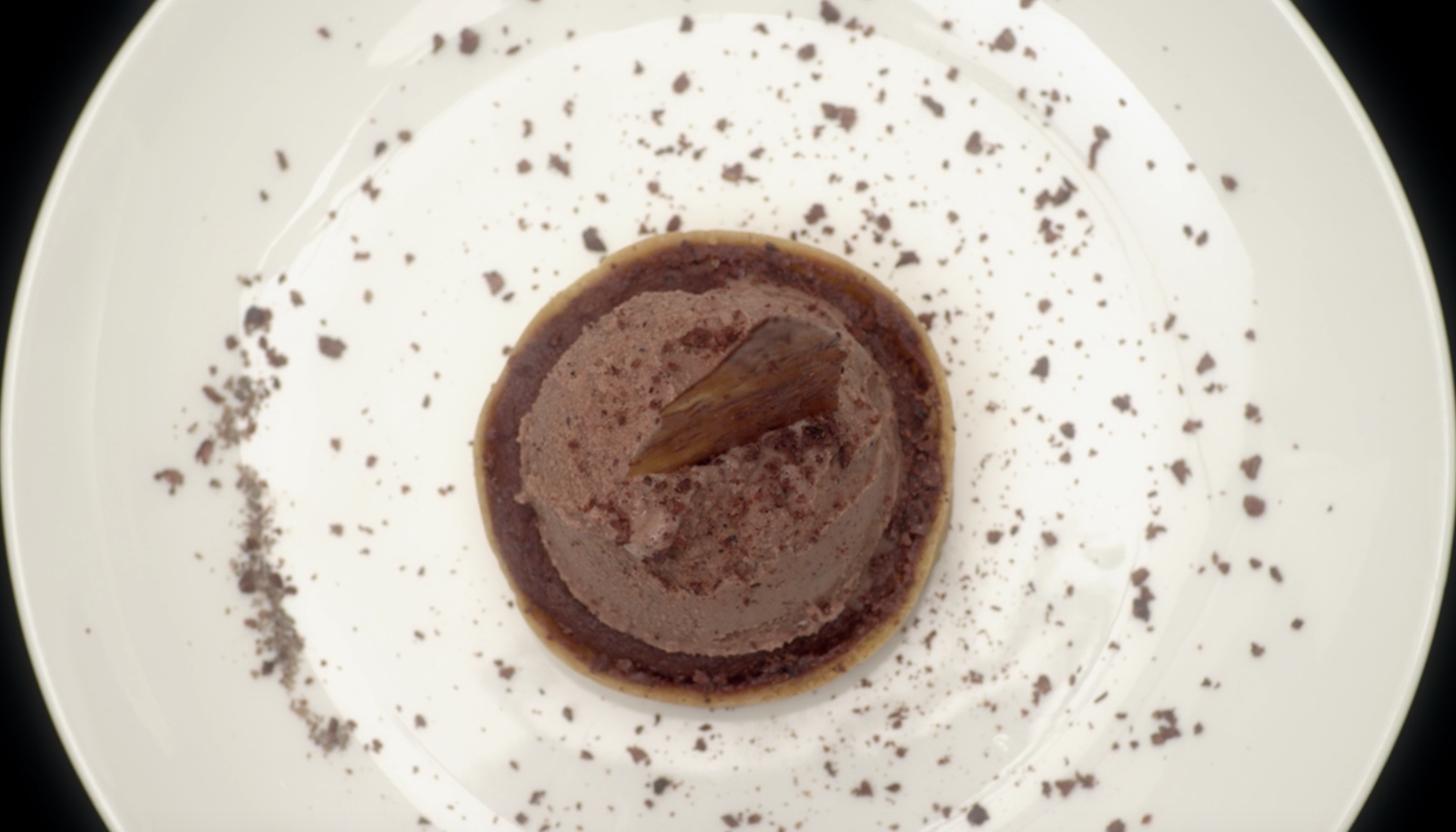 As the name implies, this chocolate specialty uses only minimal ingredients to highlight the distinct flavors of cacao. They serve a variety cacao derivatives, such as: cacao pulp juice, made with juice squeezed from the cacao fruit, crushed roasted cacao beans, chocolate bars, and special chocolate sweets like the chocolate fondant tart. It's a chocolate purist's dream come true.
Mont Blanc – Waguriya, Sendagi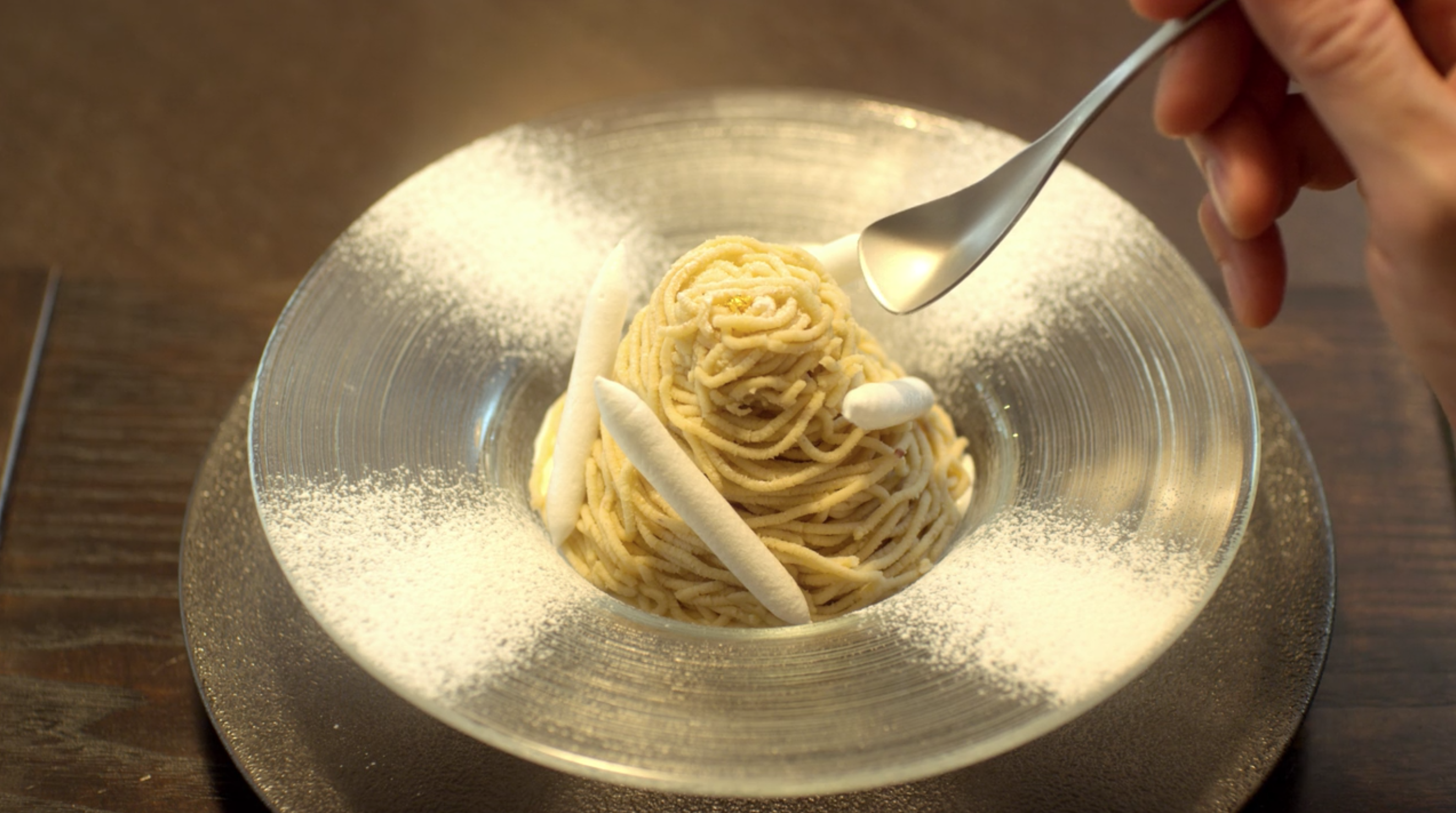 This sweets shop specializes in chestnuts. Our Sweets Knight orders the premium mont blanc Hitomaru, which is made with freshly harvested chestnuts, decorated with meringue shaped to mimic a chestnut burr, topped with a gold leaf, and light sprinkled with powdered sugar.
Photos courtesy of Kantaro: The Sweet Tooth Salary Man on Netflix.
Read more:
Here are the most common first Netflix binges in the Philippines
Self-confessed couch potato? Netflix needs you
This izakaya shows us what progressive Japanese cuisine looks like
TAGS: bavarian matcha cream dessert eats eclair food hotcakes japan Japanese desserts kakigori Kantaro the Sweet Tooth Salaryman mamekan Netflix parfait savarin Tokyo