Finally, Yale's most popular happiness class is online for free
They know exactly what we need
Apr 12, 2018
There are many reasons to be angry today—bad juju in the government, social media, the flat-earthers, and so much more. But here's something to look forward to in this bleak society: Yale University's most popular course on how to be happy is now accessible on the internet for free.
"Psychology and the Good Life," PSYC 157, or as it's famously called, "Laurie Santos' happiness course" has 1,200 students or a quarter of the undergraduate student body of Yale this semester, according to Quartz. This class "teaches practical advice such as how to pick a meaningful career and how to separate satisfying pursuits from hollow ones." Here, Santos actually teaches the things we wish we learned at school.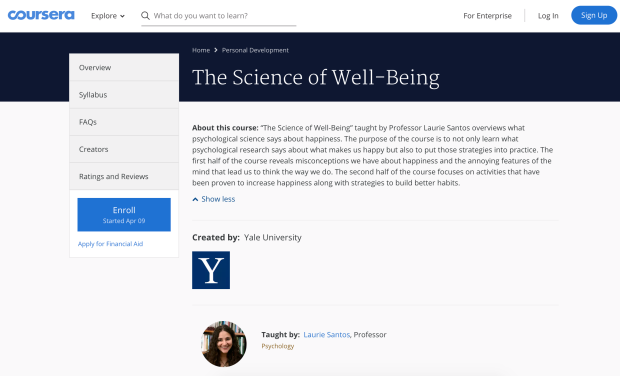 The expanded version of the class is now available on Coursera. It's filmed in Santos' own house and is part of a seminar-style series on "the science of well-being."
This class toppled the previous record-holder "Psychology and the Law," which enrolled about 1,050 students.
Everyone craves for meaning and purpose, happiness and contentment, and we gotta admit, it's difficult to tread the waters all by ourselves. So here's something you may wanna try. As Santos has said, students strive to "reconcile academic and professional rigor with social connectedness and life satisfaction."
Read more:
Feng shui colors that bring more positive energy into your home
Ikigai is the new Japanese lifestyle trend anyone can do
Buying time can make you happy
Read more by Yazhmin Malajito:
Sesame Place is world's first autism-certified theme park
New resolution requires school trips to museums and historical landmarks
Feeling anxious when you look at your phone? Here's a trick
TAGS: be care fixture happiness happiness class how to be happy nolisoli psychology psychology class yale yale university