This group of artists holds workshops for communities stricken by the drug war
And they're asking for your help
Apr 14, 2018
"Duterte's 'war on drugs' has revealed its true face: it is anti-people and anti-poor. It has encouraged the 'strategy of death squads' that has turned our streets and alleyways into an abattoir."
That's the statement of RESBAK or Respond and Break the Silence Against the Killings. It's an alliance of artists, media practitioners, and cultural workers who advance social awareness about the effects of President Rodrigo Duterte's war on drugs, and they united to "condemn in the strongest possible terms" the administration's brutal drug war.
This April, they're conducting Kalasag, an art workshop series for the families of victims of 'Oplan Tokhang' and 'Campaign Plan Double Barrel' in Brgy. Bagong Silangan, Batasan in Quezon. This community is one of the afflicted areas of the drug war.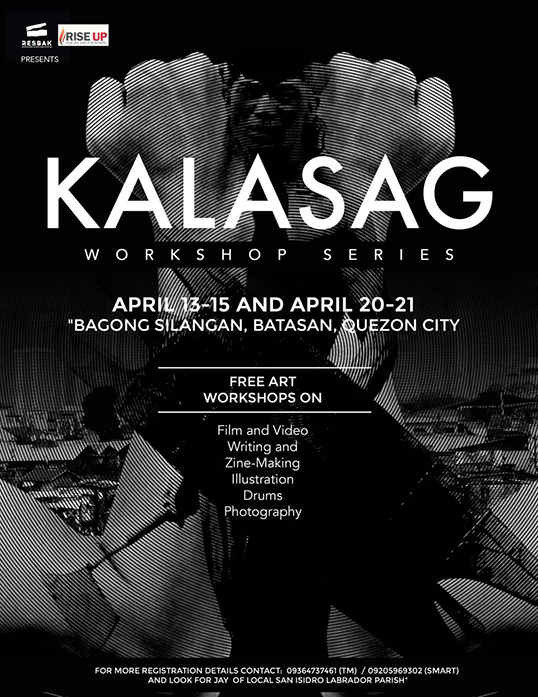 The series started yesterday, Apr. 13, and will run until Apr. 22. It will touch different fields of art—film and video, writing and zine-making, illustration, drums, and photography.
It's an "art therapy for children whose lives were affected by the neutralization of a loved one in the current drug war waged by this administration."
In a Facebook post by Carlos Celdran, RESBAK is looking for funding and donations of art materials and musical instruments.
"We at RESBAK believe that art not only heals but empowers communities in resisting tyrannical rule and fighting back." RESBAK is also partnering up with Rise Up for Life and For Rights, an organization that champions the same advocacy, too.
To know more about the event, check their website or Facebook page. You can also contact Jay of Local San Isidro Labrador Parish at 0936-4737461 or 0920-5969302.
Featured image courtesy of RESBAK
Read more:
This Instagram account documents Duterte's drug war
Voting for Duterte was a mistake
Guess how Duterte abolished drugs in six months
Read more by Yazhmin Malajito:
From street to store: Guerilla booksellers find home in Taft
Historical proof of Aguinaldo's betrayal now at Leon Gallery
A better coin design according to a creative
TAGS: arts be nolisoliph philippine drug war resbak respond and break the silence against the killings