Ice cream shops worth losing your teeth over
We'd like a lifetime supply of ice cream, please
Apr 24, 2018
When "Weird Al" Yankovic sang, "When I'm all alone, I just grab myself a cone / and if I get fat and lose my teeth, that's fine with me / Just lock me in the freezer and throw away the key," we at Nolisoli couldn't agree more. And you know what they say: Money might not be able to buy happiness, but it can buy ice cream, which is kind of the same thing.
That said, here are a few places to fit your sweet tooth and keep you cool for the summer.
Emack & Bolio's
GF, Ayala Malls The 30th, Meralco Avenue, Pasig City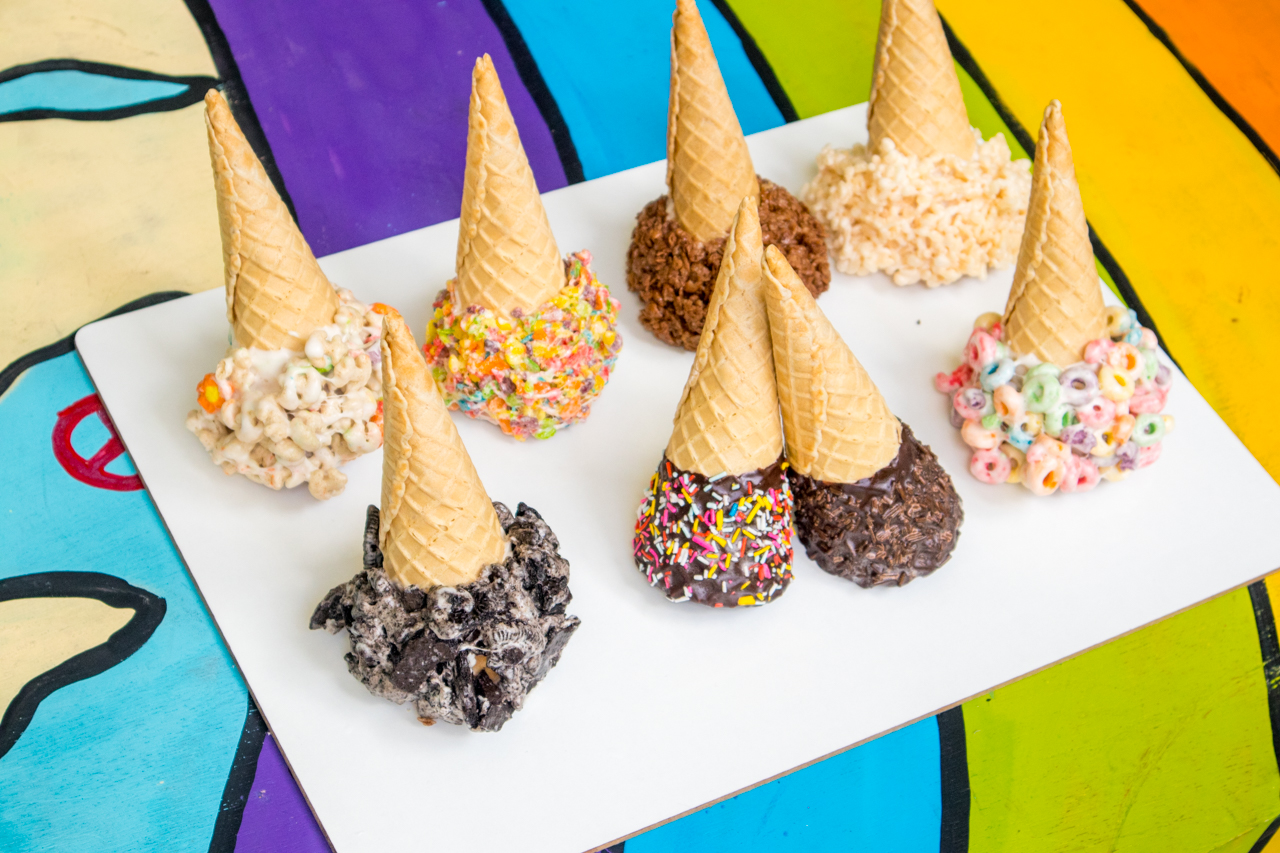 The first thing that you will notice about Emack & Bolio's is the bright, neon rainbow interior that looks like a '70s dream. Founder Robert Rook was a lawyer and a self-declared hippie who worked with Vietnam war protesters, homeless people, and fought for civil and gay rights. He built this globally known ice cream shop in the '70s and named it after two homeless men for whom he did pro bono work.
Next are their cones, outrageously covered with our favorite childhood cookies and cereals. Lastly, their ice cream and yogurt are made from live culture and non-fat milk. Their bestselling flavors include the Serious Chocolate Addiction, Deep Purple Chip, Grasshopper Pie, and Space Cake.
Elait
3F, Ayala Malls The 30th, Meralco Avenue, Ugong, Pasig City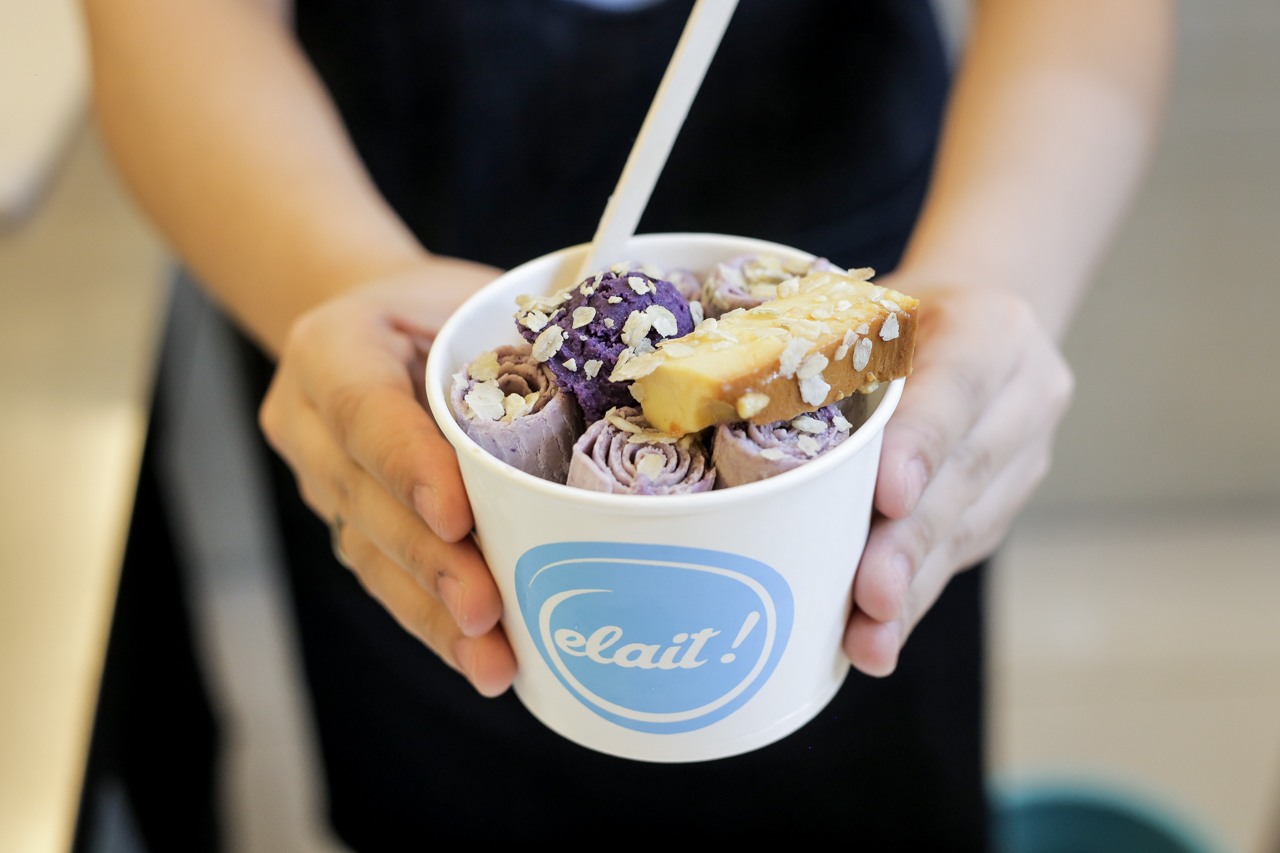 The name of this darling ice cream parlor derives from a play on  "elate" + "lait", French for milk, that reflects its fun quickness unique. This Thailand-inspired rolled ice cream is made with fresh local ingredients that you can customize as a yogurt or custard cream variety. What's more, Elait employs deaf and must servers to mirror their philanthropy of giving back to the community. There are special signs from which you can learn how to do certain gestures, such as please and thank you.
Froozy Snow Bar
Lower Veranda, Level 2, Robinsons Galleria
Ortigas, Quezon City
Inspired by the ever-popular Korean bingsu, Froozy offers a healthier option made with low-calorie ice cream, low-sugar frozen yogurt, and flavored shaved ice. There are many fun toppings to choose from—many of which are based on our favorite local flavors such as the modern halo-halo which is a top hit. There are other delicious options like the Mango Cheesecake and Summer Camp Smores.
llaollao
GF, Glorietta 2, Makati City
Another equally healthy option is llaollao's all-natural frozen yogurt. It is made from skimmed milk, a naturally healthier option compared to full cream milk. You can also add toppings to your yogurt, from fresh seasonal fruits to crunchy toppings and sweet sauces.
BLK 513
2F, Building A, SM Megamall
Ortigas, Mandaluyong City
If you want to switch from the classic white frozen yogurt, why not opt for BLK 531's charcoal-infused Greek yogurt instead? The charcoal is taken from coconuts and is mixed into U.S. imported premium Greek yogurt. This concoction not only wickedly creamy and thick, it also detoxifies and cleanses the body. You can also put additional syrup and toppings on your ice cream like the bestselling matcha milk sauce, fresh fruits, and cookies.
Mad Mark's Creamery & Good Eats
GF, Glorietta 3, Makati City
This rich ice cream is made entirely at home and from scratch. The creamy rich texture of the ice cream really lives up to its name. Some of its most popular flavors include Half-Baked Madagascar and Javan Hot Chocolate. You can also take a pint of their ice cream home for P299.
The Dessert Kitchen
Hidalgo Dr., Makati City
Originally Hong Kong-based, The Dessert Kitchen offers a wide range of guilt-free treats; from ice cream and eggettes to its award-winning Purple in Love shaved ice dessert, all made with healthy and wholesome ingredients. They also offer other desserts with equally unique tastes and textures, such as their famous raindrop gelatin dessert that captured our interests two years ago.
Read more:
The best ways to enjoy ice cream this summer
Easy 3-ingredient ice cream for summer
LOOK: Toblerone ice cream exists
Soy sauce, bibingka, and other unusual ice cream flavors will be your new favorite
TAGS: city guide elait Emack & Bolio's ice cream ice cream ph ice cream shops nolisoliph philippines