Wanna learn what Facebook knows about you? Download your data
I did and it's amusing and creepy at the same time
Apr 24, 2018
I don't post much on Facebook. At least not much nowadays. This is compared to my friends who'd post selfies just because. I'd only share news articles, videos, and such, but when it comes to personal stuff, I try to be reluctant.
But when I downloaded all of my information that Facebook has on me (here's how), the archive of my data since 2010 measured 2.5 gigabytes. This is a lot, enough to hold around 450 hours of music.
What does the zip folder of knowledge of good and evil contain? Look at the index here.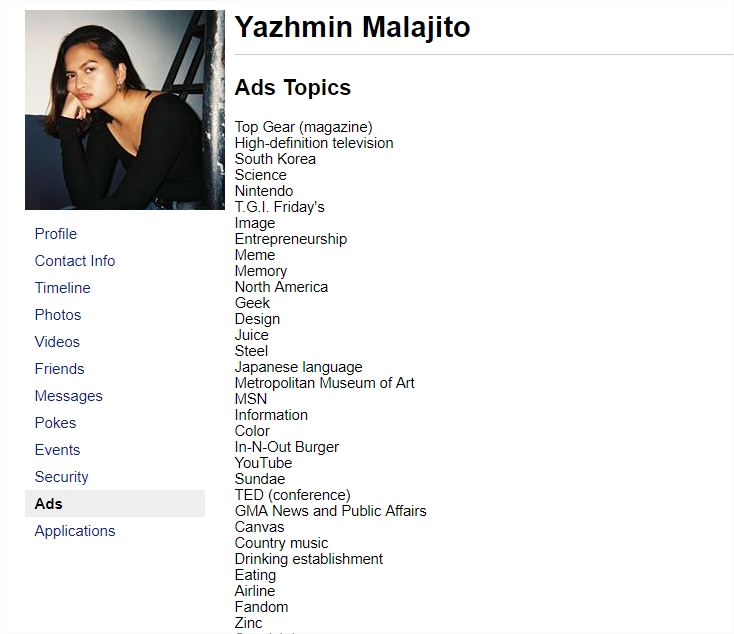 I understand the big slice of my 2.5 GB worth of data comprises photos and videos. But the data I'm most creeped out about is my ad topics and advertisers who uploaded a contact list with my info—I mean, Ansel Elgort? Sephora Hong Kong? Nace Global Talent Network?
Facebook also keeps the contact details of people whose numbers I've deleted from my phone already, as well as online friends I've unfriended (and the dates I've unfriended them. Receipts.) This only goes to show that it retains more data than we think.
The People You May Know section on our Facebook home page is creepy, too. It's a manifestation of how extensive Facebook's knowledge on us is by giving us a list of people we might be connected to. Sometimes, the information needed for this part isn't something you explicitly give to Facebook like contacts on your phone and people who have been in the same building or area as you.
We have to know that Facebook doesn't merely rely on the information you upload, but also your activities on the social networking site—the pages you like, events you attend, and other interactions, and even those stupid quizzes you take.
(READ: The creepy way Facebook gets all your information)
Aside from your age and gender, Facebook also knows if you own a car or if you recently went on a vacation based on your digital interactions and location data. And Facebook uses this information with the help of statistics to target ads at you (they sell your data to advertisers) and somewhat predict your future—like if you're soon going to buy a house or go to a particular island for a vacation (to target even more ads at you).
Although it's not the only company that collects information (just imagine what Google knows about you), feel free to not be too honest to these rather dishonest companies.
Featured image courtesy of Unsplash
Read more:
The creepy way Facebook gets all your information
According to this survey, Filipino netizens trust social media more than traditional media
Safeguard your privacy against viral Facebook quizzes
TAGS: data collection Facebook fixture nolisoliph social media