The University of the Philippines Marine Science Institute (UPMSI) just announced on Facebook that the giant clams they've been taking care of in the coastal town of Bolinao in Pangasinan are up for adoption.
It sounds farfetched to our urban ears, but it's not quite literally what you think it is. So what does adopting these endangered species mean? Here are the guidelines according to Bolinao Marine Laboratory (BML) of UPMSI.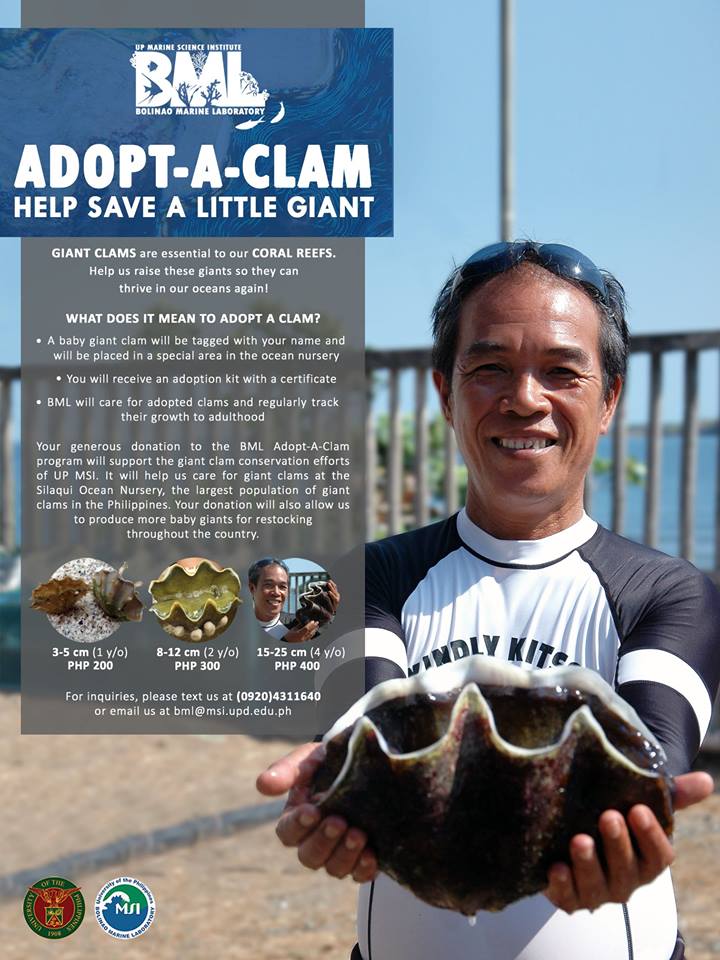 A baby giant clam will be tagged with your name and will be placed in a special area in the ocean nursery.
You will receive an adoption kit with a certificate.
BML will care for adopted clams and regularly track their growth to adulthood.
So no, you won't be taking home those clams because you most probably don't have the equipment and enough knowledge to tend to them. But if you adopt, you'll be giving donations to the program supporting the conservation efforts of the institute.
"It will help us care for giant clams at the Silaqui Ocen Nursery, the largest population of giant clams in the Philippines," the poster says. It's also an extension project of the conservation laboratory to raise awareness on the marine environment. "Your donations will be of great help in bringing back giant clams all over the Philippines and in protecting their homes on the reef."
Three to five cm. one-year-old clam is priced at P200, eight to 12 cm. two-year-old at P300, and 15 to 25 cm. four-year-old at P400.
As of now though, clam adoption is only available at the BML Grand Exhibit today. The Facebook post has gained over 7,200 likes and almost 8,000 shares, so it's not impossible BML can extend this project especially to those who live far away from Pangasinan.
If you want to know more about giant clams in the Philippines, watch this video:
For inquiries, text UP MSI at 0920-4311640 or send an e-mail at [email protected]
Featured image courtesy of Professional Association of Diving Instructors
Read more:
Your sunscreen might be killing the coral reefs
Everyone wants to be an environmentalist these days
Dasol is a town that lives on salt
Read more by Yazhmin Malajito:
Are you stuffing your ecobricks right?
You can have four flavors of waffles in one serving at Batter or Dough
Why women should go commando
Writer: YAZHMIN MALAJITO