Planning to try urban farming? Get help from this Facebook group
Manila Grows Food is your planting support group
Apr 20, 2018
Facebook can be toxic and scrolling through it after some time would make you realize that you're just dwindling your time and brainpower. But there are some factors that make the app good—dogs and cats videos, nostalgic posts, and some Facebook groups like Buhay Zero-Waste, Ketogenic Diet Philippines, and Manila Grows Food (the trinity?).
For now, let's focus on the last.
If it isn't intimidating, planting and growing your own food—be it in containers on roof decks, balconies, or backyard—can be difficult especially in the city. It's easy to think that buying from the groceries is much convenient and safe. But Manila Grows Food aims to start the Food is Free movement here in the country.

"[The goal is to] get people to adopt more sustainable lifestyles. Composting, seed-bombing, and guerrilla gardening are activities we highly encourage," admins write on their Facebook description. Following the said movement, they give support to those who plan to grow edibles in the city.
"The group aims to be an online resource for people with zero to little experience to find it easy to get into urban gardening. We want to inspire people to start gardening projects, and grow their own food."
And the big picture is to arouse the local government units to bolster the same idea. "If we can get our baranggays to grow vegetables in lawns, parks, and unused spaces, maybe our homeless wouldn't go hungry."
So what are you going to see in Manila Grows Food? Their own planting guide, which they update from time to time, members posting their harvest and tips on how to grow more edibles, composting tips, and how gardening is fulfilling.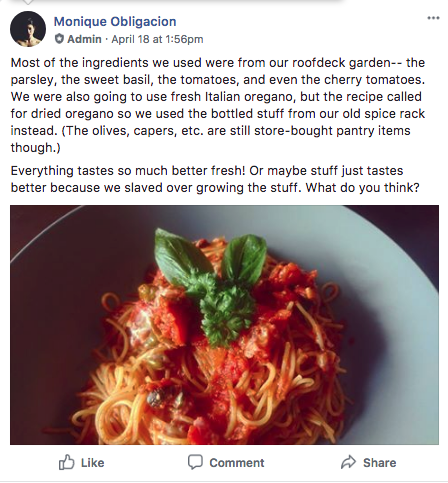 I've only been in this group for a couple of days but their enthusiasm for the advocacy is absolutely contagious. I don't have enough space to grow my own plants yet, but soon, for sure.
Featured image courtesy of Unsplash
Read more:
Thinking of going zero-waste? You're not alone
Here's how New Zealand can help Philippine agriculture
Why we need to start teaching agriculture in our schools ASAP
Read more by Yazhmin Malajito:
Yes, vegan donuts are real
You know what's better than naps? Coffee naps
Ever wondered how indigenous groups bury their dead?
TAGS: agriculture facebook group fixture manila grows food nolisoliph