How to handle an awkward situation according to the US Ambassador
The tricks and tips of H.E. Sung Kim
Apr 27, 2018
Meeting your significant other's parents, running into your ex, seeing your terror boss in the mall—awkward situations are a dime a dozen, and thing's get more complicated when there's some sort of tension involved. During the latest installment of Asia Society's Ambassador Series, H.E. Sung Kim showed us how to expertly maneuver an awkward situation with only charm and wit in your arsenal.
Over the course of the evening, the United States Ambassador talked about the state of Philippines' relationship with the United States. To say that broaching this particular subject was tricky would be an understatement. With Karen Davila as the night's host, the ambassador was thrown hard-hitting questions left and right. But there wasn't a spare moment when his excellency lost his cool or grace. Here are the four things we picked up on how the ambassador did it.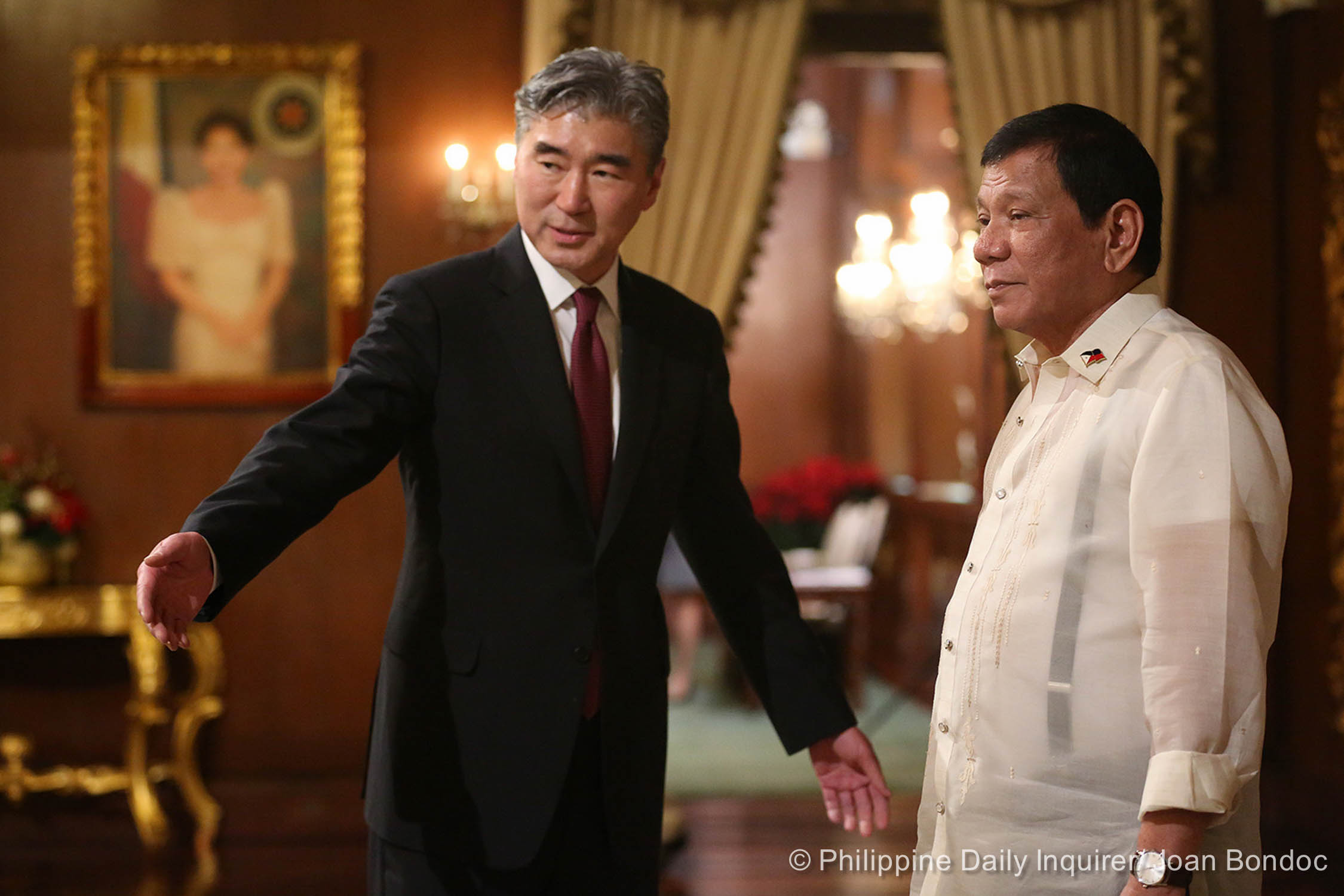 Flattery will get you plenty
After giving his speech, H.E. Kim sat down for a question and answer portion with Davila. Right off the bat, Davila asked the ambassador how he turned the tide with Pres. Duterte, making the president see America as a beneficial ally instead of an intruder or a detractor.
To ease the sudden tension brought by this question, H.E. Kim expressed how honored he was that such a renowned and award-winning journalist with 3.48 million followers on Twitter was interviewing him. This didn't distract Davila from getting an answer from the ambassador, but it made the entire room laugh and let the ambassador explain his exchange with the president in a much lighter note.
A sense of humor is an important tool
Sometime during the evening, someone brought up the topic of visas. After clarifying to everyone that she already had an approved U.S. Visa, one of the guests asked why is it that Filipinos are still required to get a U.S. Visa to travel to United States? If the relationship between the two nations were so good, why not let Filipinos travel to the states visa-free?
Before delving into the reasons why, H.E. Kim joked that he might just have the guest's visa revoked for giving him such a hard question. Everyone laughed, and then the ambassador coolly explained that the Philippines simply did not meet the requirements for a visa-free back-and-forth from the States.  
Empathy is an important skill
To reassure the room of his sincerity, the ambassador shared his own experience with America's openness in terms of accepting immigrants and helping them get a better chance at exceeding in life. H.E. Kim acknowledged the fact that without this openness, he wouldn't be where he was today. This let the room breathe a little easier and believe that the ambassador's concern was genuine.
If all else fails, just keep smiling until you can get out of there. That's a tried and tested method. 
Photos courtesy of Inquirer.net
Read more:
The creepy way Facebook gets all your information
Ten countries you shouldn't visit in 2018
This retired Filipina cook says Donald Trump is actually nice
TAGS: Ambassador Sung Kim Asia's Society Philippines fixture nolisoli.ph politics United States Embassy