The caste system of service elevators in Manila
Another condo in Manila is being discriminatory against hired helpers
May 10, 2018
Just when you thought we'd be more socially aware and sensitive by now, you're wrong.
A condominium in Greenhills has a "house rule" where it bars hired helpers from using passenger elevators like they're some sort of an eyesore. And if they don't obey the rules, "May kaukulang MULTA ang paglabag sa alituntuning ito."
The management even specified the people prohibited from using passenger elevators:
Bawal sa elevator na ito:
Mga kasambahay

Mga

driver

Mga yaya na walang dalang mga alagang bata

Mga

delivery personnel
Sa SERVICE ELEVATOR ang sakayan ng mga nabanggit.
That's House Rule 11.6 for you.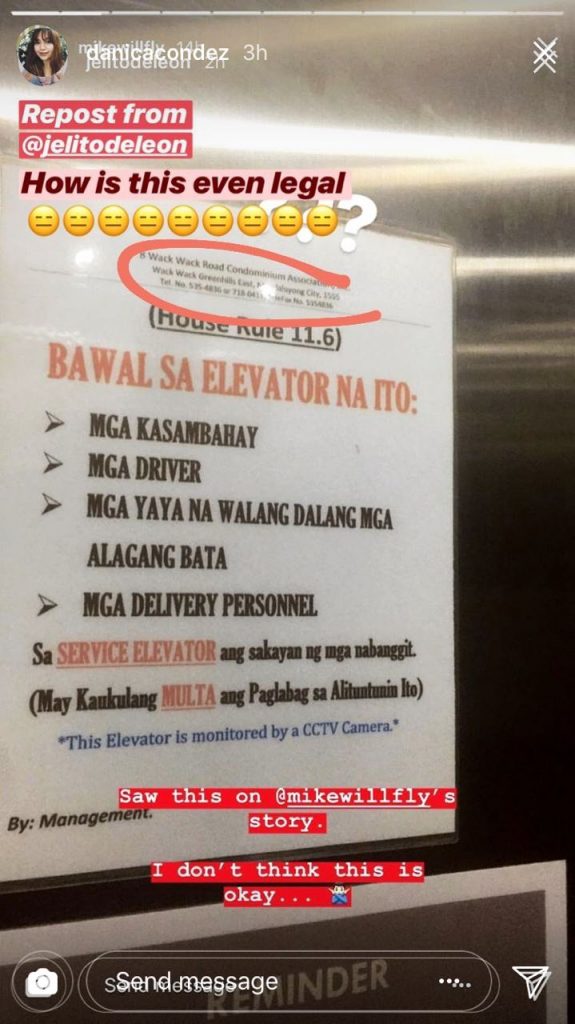 We saw this discriminatory guideline from visual artist and blogger Mike Miguel's Instagram Story when he used the lift of 8 Wack Wack Road Condominium. And we're sure 8 Wack Wack's not the only condo guilty of this; this is just an example of what the majority of condo managements do.
This is actually reminiscent of the same issue that transpired four years ago. Icons Residences drew flak after making the same policy in its condominium. The issue blew up, Kris Aquino and Boy Abunda even slammed the management's rule (and the property manager herself) on their primetime entertainment news program. The Catholic Bishops Conference of the Philippines expressed its dismay, too.
I would like to echo Nadine Lustre's logic about this one. "Come on, guys. It's [2018]." Property managers should've learned from Icons, the sacrificial lamb. We should be shunning elitism and discrimination, not elevating it.
Featured image courtesy of The Guardian
Read more:
Traitors in Philippine history who are only loyal to one thing
Don't get SOGIE? Check out this easy primer
Ten countries you shouldn't visit in 2018
Read more by Yazhmin Malajito:
The last wooden Art Deco school in Binondo was demolished
The agony and ecstasy of being a ballet dancer
Don't kill your creativity, be idle for a while
TAGS: 8 wack wack road condominiums discrimination fixture greenhills nolisoliph wack wack