Friends & Family may look like a snapshot in time, but they're not living in the past; their food is an ode to a slower and simpler time, back when home-cooked meals were the norm and recipes were passed down from one generation to the next—in the kitchen, not through Google. Chef Kalel, the head chef at Friends & Family, admits that Filipino food isn't the easiest to cook. In fact, it's quite labor-intensive; dishes that take hours to prep and cook are consumed within a matter of minutes, and time isn't a luxury that most people have these days.
Recently, there has been a revival in Filipino food, which might explain why so many of us revel in the mere sight of food from our childhood. Everything from embotido to the notorious sweet spaghetti (with a hotdog and marshmallow on a stick) is enough to stir a wave of nostalgia in anyone. This restaurant isn't just riding on bittersweet childhood memories, however; they're craving for those flavors just as much as we are.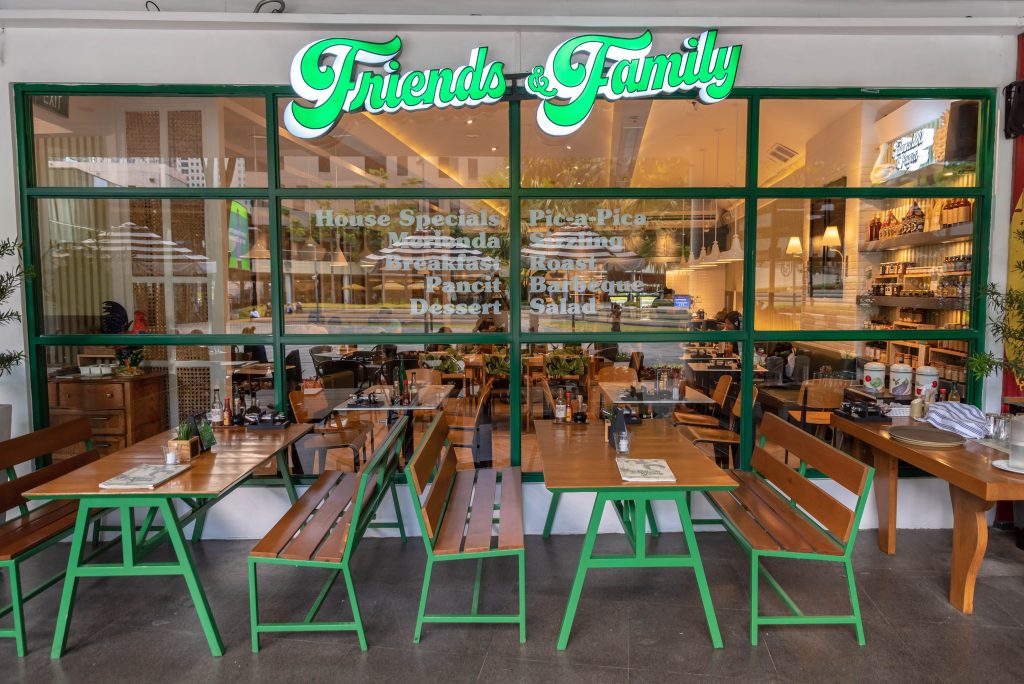 The drinks selection is as refreshing to the eye as they are to the palate, and most of them can double as a dessert. Feeling a bit sluggish from the heat? Have the Calamansi Lychee soda (one of their best-sellers) which has just the right amount sweetness to re-energize you and quench your thirst. In other words, hindi nakakaumay. Another one of their best-selling drinks is the Yema Crema which, personally, is more dessert than drink considering that it's a drinkable version of yema, and it's even topped with a chunk of leche flan.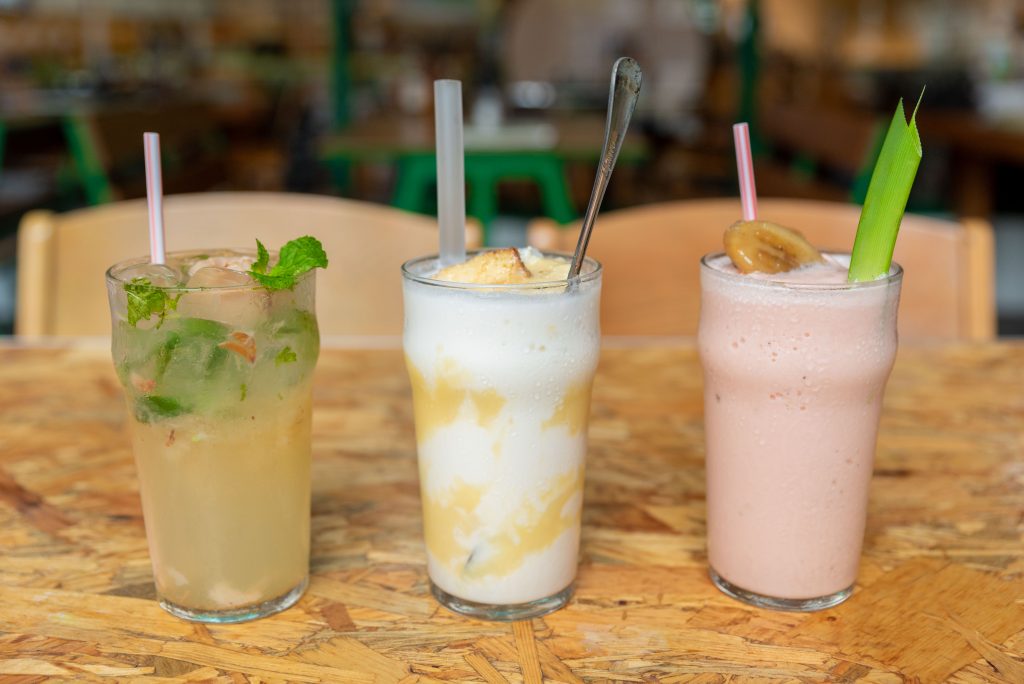 If American diners have strawberry milkshakes, then the Guavalicious, a flamingo pink guava smoothie topped with slices of caramelized banana, should be the Filipino equivalent.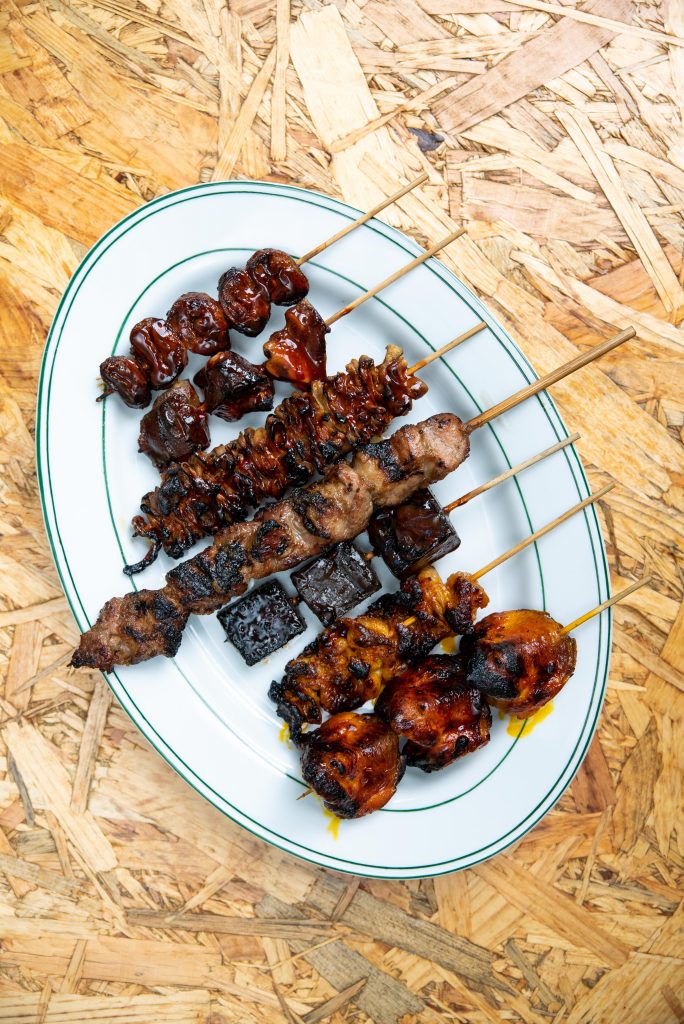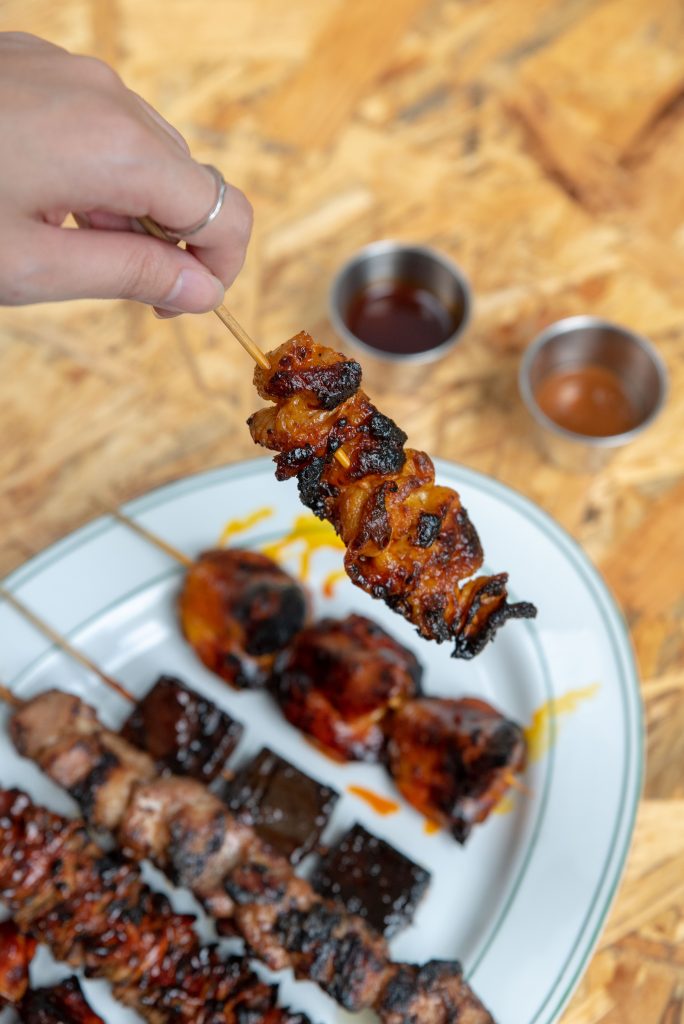 The 7 Kinds Barbeque Isawan Platter is your street food dreams come true: seven hepatitis-free skewers of pork tenga, isaw bilog, isaw manok, betamax (grilled pork blood), their special pork barbeque, chicken skin inasal, and everyone's favorite, chicken ass inasal (also called the 'pope's nose'). It's served with a sweet barbeque sauce and peanut sauce.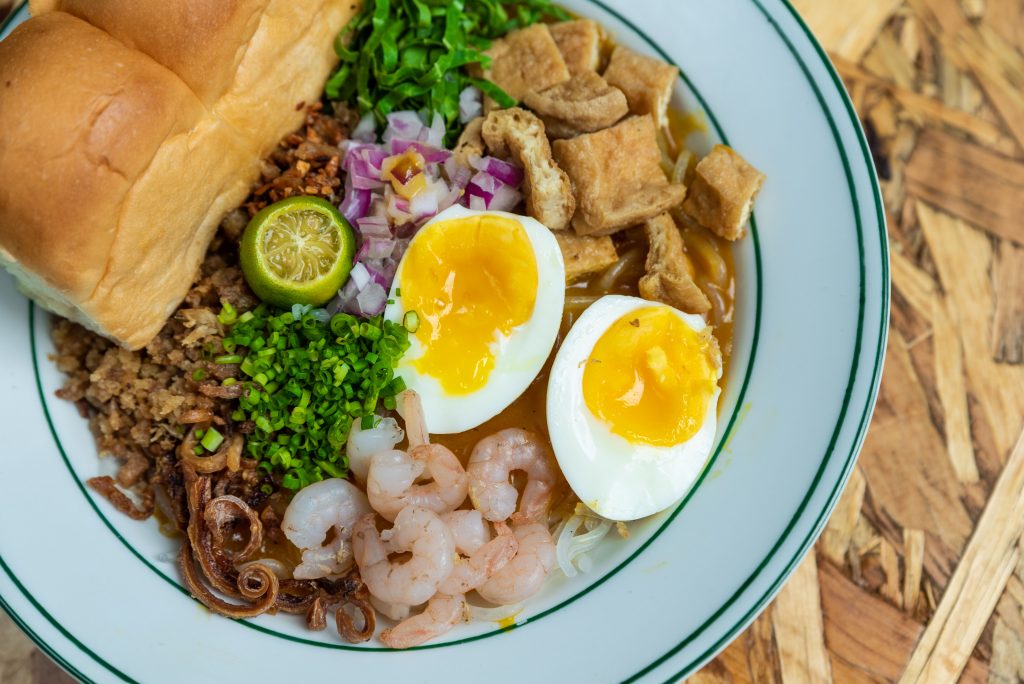 This is your quintessential palabok, but what really elevates it is the addition of the dried squid and garlic chunks fried in fat; it adds more texture and a depth of flavor, while six-minute boiled egg's runny yolk makes the sauce a little richer. And when was the last time you saw palabok this beautifully plated?
On to the sizzling plates.
For a slightly "healthier" option, you can order the crispy tofu and mushroom, topped with a generous serving of crispy kangkong. There's a little mayonnaise mixed in, which adds a nice creaminess to the dish. The mushrooms are crunchy and provide some texture to each bite.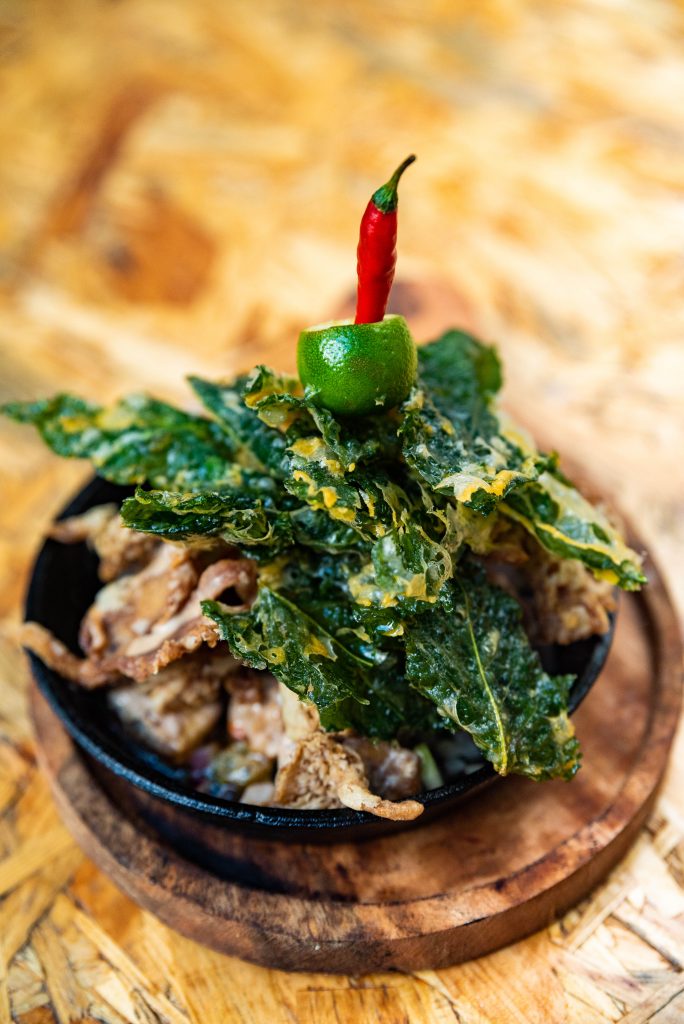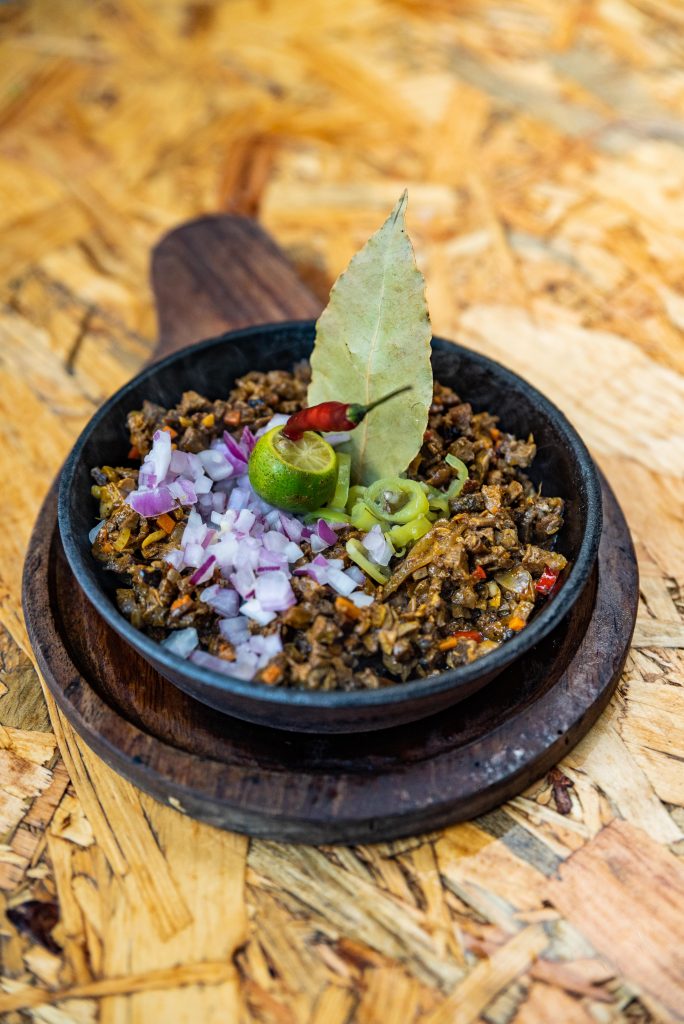 Bopis isn't the easiest of dishes to cook; the process of reducing the strong, earthy liver taste is quite tedious. Their spicy bopis is soft, juicy, and had a slight tanginess of vinegar.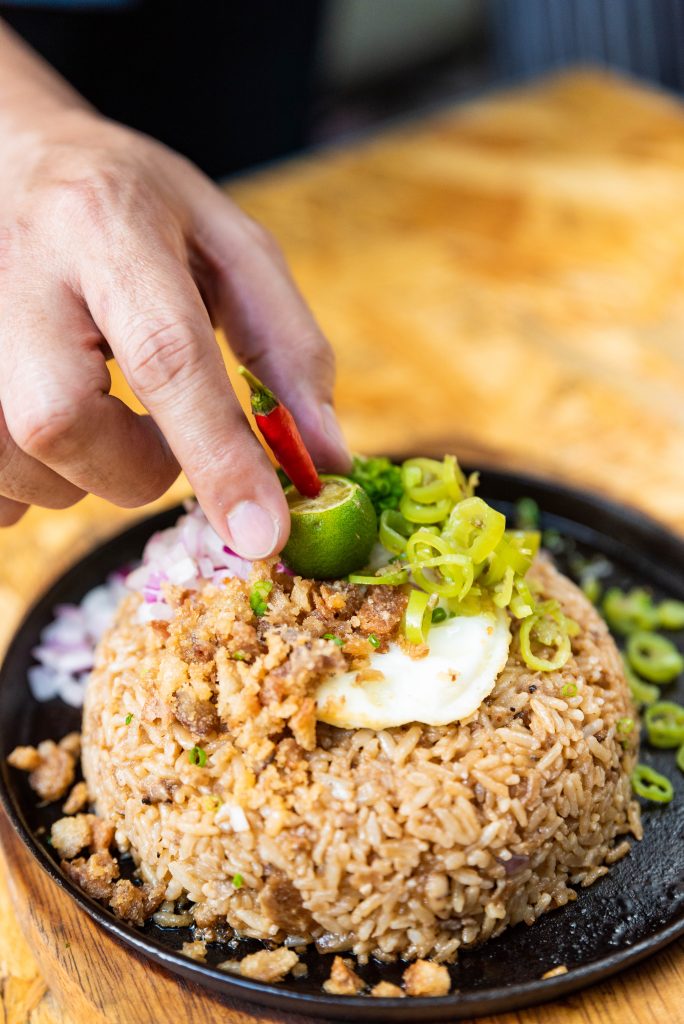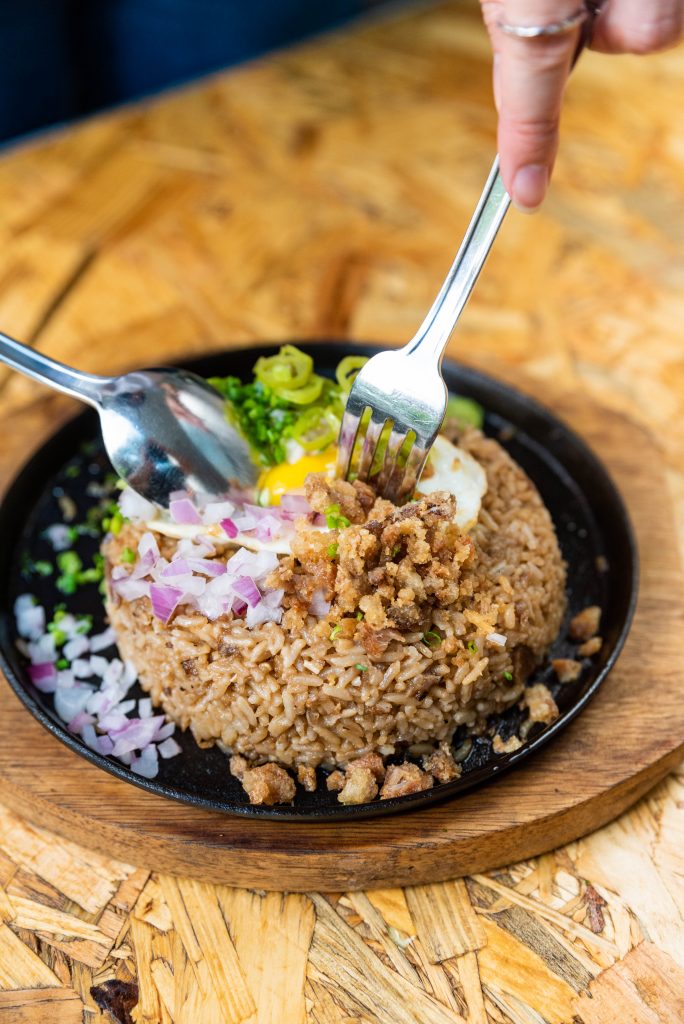 A mountain of pork sisig rice topped with even more sisig and a sunny side up egg served on a sizzling plate. What's not to love? It's a pretty generous serving, so feel free to share with a friend (or a member of the family).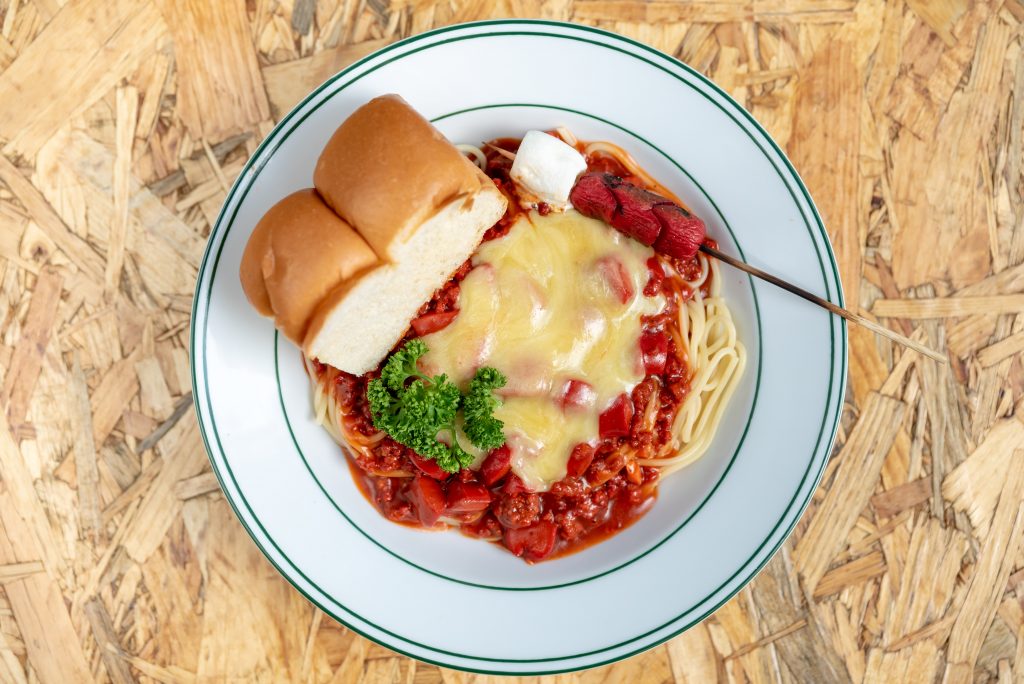 A cross between a bolognese and the traditional sweet Filipino spaghetti, the Birthday Spaghetti is definitely worth ordering, and not just for the sake of reliving your childhood kiddie parties. The sauce is sweet, just as it should be, but doesn't just taste like ketchup; it's flavored with spices that add more depth to it. Of course, it wouldn't be a classic if it didn't have the bright yellow cheese and classic red hotdog and marshmallow on a stick.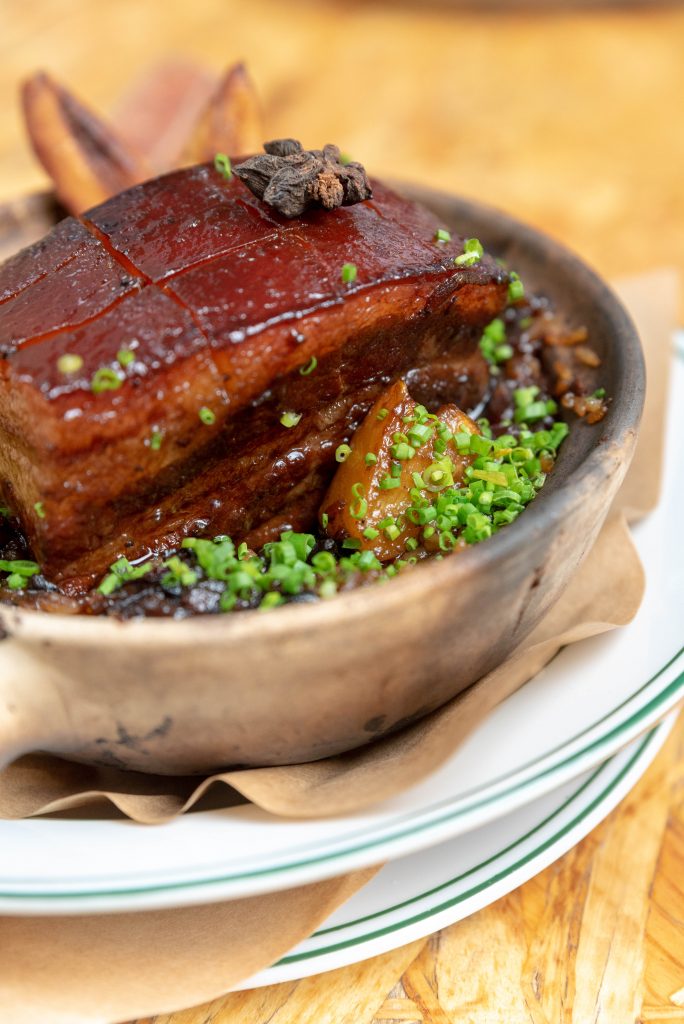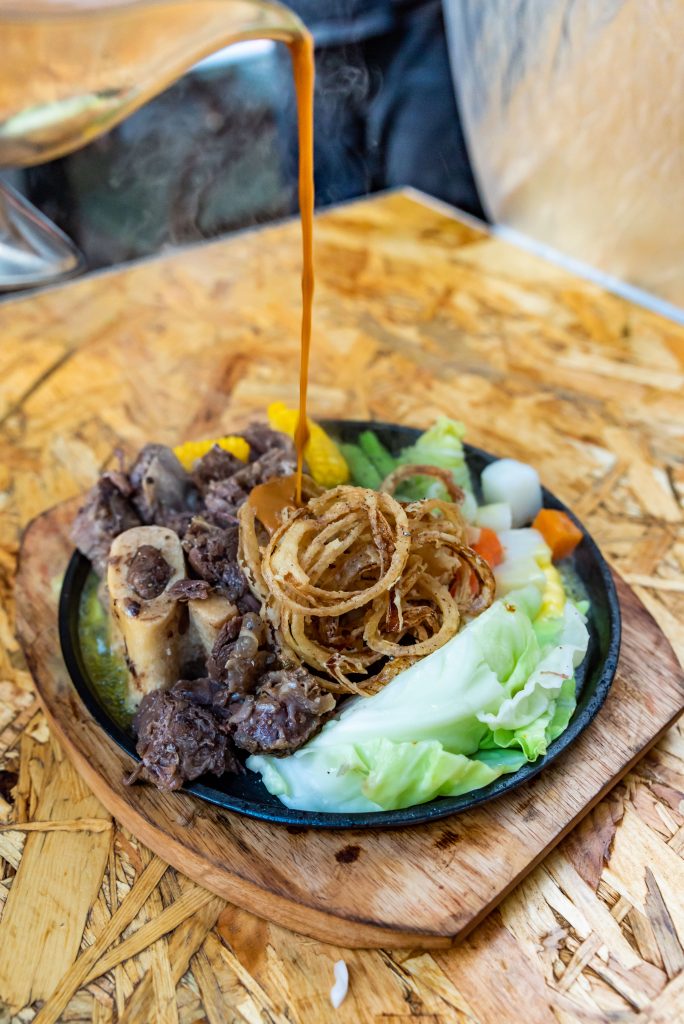 The claypot humba rice is covered in the juices of the large chunk of braised pork belly. It's on the sweeter side, so if you're looking for something more savory, the sizzling bulalo steak and U.S. beef belly with gravy are just as decadent.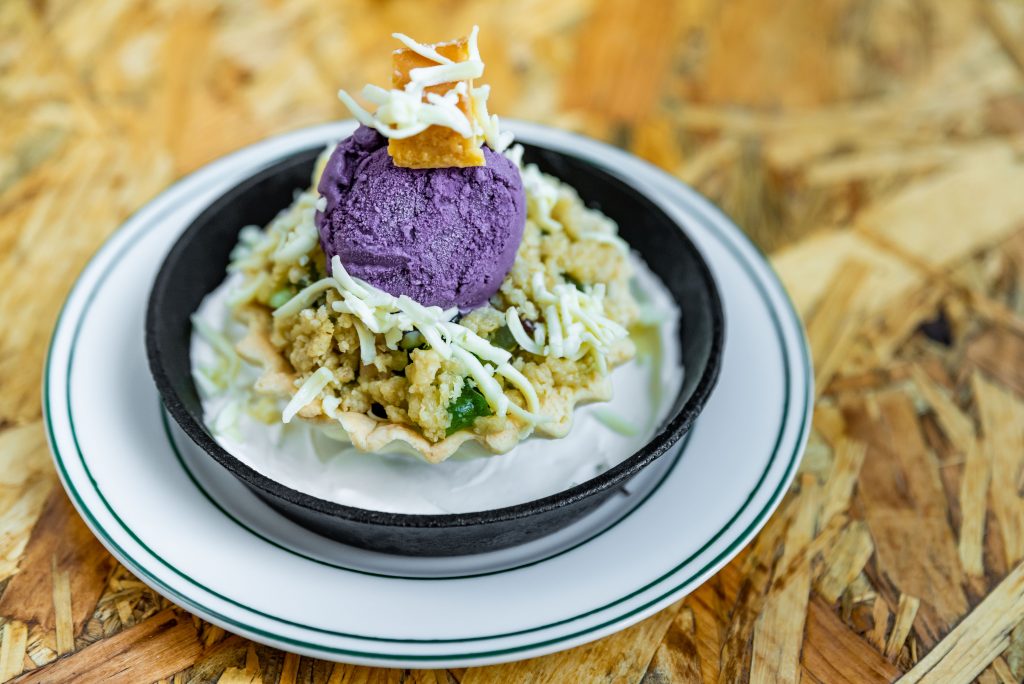 Friends & Family has a unique taste on the iconic halo-halo. They've taken the essential elements of a halo-halo (ube ice cream, sweet beans, gulaman, kaong, nata de coco, and macapuno) and made it into a tart. The "stuffing" and the crust are served warm, so it has a nice contrast in temperature with the ice cream—something you can't get in the typical shaved iced dessert. The pie crumbs are delicious and add more texture to each bite, and the cheese on top has just a hint of saltiness that blends well with the dessert.
Read more:
This restaurant's crispy pata is so tender, you can carve it with a popsicle stick
Pork is the real winner on the Kam's Roast menu
Indulge in bagnet, salted egg, and bone marrow without feeling too guilty